In case you are wondering, I.M. Hammered Brewing is:
Mark
-- Head brewer and drinker (brewer of over 65 batches of extract and all grain brews, drinker of many thousands of bottles and pints of beer), CEO and President of the finest Nano-brewery I know of, head bottle washer, and sanitation engineer
Liz
-- Vice President in charge of bar decorating, keeping me from becoming too fanatical in my brewing habits, and is also known as "she who must be obeyed"
Michael
-- Brewhouse assistant, equipment consultant, Chief IT Geek and self-appointed Official Beer Taster (great work if you can get it)
Schpankie
-- Newest convert from fizzy yellow water to finely crafted beers and ales, adds little value to the brewhouse, but we like him anyway
Scooter
-- The gas man (and I mean that in the kindest of ways) bringing propane and co2 when needed, also has keen interest in the brewing process
Knuckle Jefe
-- Newest convert to brewing (has four batches under his belt), has began a start up nano-brewery in Kentucky known as "Double-Wide Brewing" with the catchy slogan of "double wide beers at single wide prices". Boy has a brilliant future in marketing. IMH is helping with equipment in the start up. We all work for beer, then again, why wouldn't we.
Parrot Pete, aka, Pappa Draft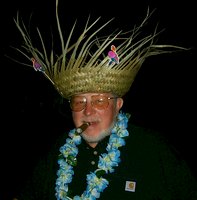 -- Bar designer, humidor raider, label celebrity, and Just because he should have been on the list the whole time.
We hope to make this site fun and informative and look for outside input, or inside output, whatever works.
Tuesday, December 19, 2006
See, I'm still Kicking.....A Year of Beer.....Brewmaster Update.....Get Well Soon.....What's Brewing...
Kicking: Yea, you can't get rid of me that easily. I'm still kicking and going strong. I know it's been a whole year since anyone heard from me, but that's just me recovering from web site burn out and working way too hard. That doesn't mean that there hasn't been brewing activity and more sampling and learning about the brews that are out there. That activity has continued, I just haven't been very good about attending to this web site. But it is still here and still active, and so am I. So here's to beer, and especially the brewing of great beer. Now, on to the rest of the information of the day!!
Year of Beer: There have been so many good beers going through here, I can't even begin to tell you. I am brewing very good beers these days, some say comercial quality at times. These brews have been great and fun to brew. There have been porters, ESB's, Kolsch beer, wheat beers, stock ale, pale ale, IPA, stout, Alt bier, strawberry blonde, cream ale, and more IPA. All of these brews have been very good and end up being DLL's (don't last longs). The brewing system has been very good to me and I have been experimenting with some malts from different malsters. Marris Otter from Munton's, Crystal malts from Weyermans, Durst malts, and others. Then there has been the yeast. Experiments with various yeasts has yielded new and better brews nearly every time out. I have even used yeast harvested from a new local brew pub (more on that in a minute) and have some special Belgian yeast from there waiting for a wort!! And the new commercial offerings are becoming too good, and too numerous to stay up to date with. Beers from Troegs such at Nugget Necter, and Victory Brewing such as Hop Wallop and 10 Year Alt have been nothing short of spectacular. Even old favorites have been getting tweaked and are getting better and better every time I try them. Favorites like Penn St Nicholas and Pyramid Snow Cap just keep getting better and better every time I drink them. The selection seems to continue to grow and grow. Then we have the sad news of breweries of repute changing hands, or selling off brands. The death of brewing in Old Latrobe with the sale of Rolling Rock to the Evil Empire, and Pittsburgh Brewing Company on the verge of being gone forever. Also, there have been some new adventures with Belgians and some of the upstart brewers out there like Dogfishhead, Southern Tier, East End Brewing, and one of my personal favorites, Hereford and Hops. Yes, it's been a big year of beer, and I look forward to brewing my way through 2007, hopefully documenting the I.M. Hammered Brewing Company's 100th brew day for example. It's going to be a great year for beer......
Brewmaster: It became official during 2006. Yes the Steelers won the Super Bowl and WVU became the Sugar Bowl Champions in college football, but that's not what I want to chronicle here. A good friend and fellow brewer documented in many of the archive pages here is making good and will soon be a decorated medal winner at the GABF or World Beer Cup as the new master brewer at Hereford and Hops. Jim Lieb, who is responsible for several of the great recipes served at IMHBC, is the brewmaster at Hereford and Hops in Cranberry, Pa, and is already wowing the beer drinking community in the area with fantastic beers. The IPA is as good as you will find anywhere. The ESB was authentic and just a joy to sip. A Begian Golden and a Barleywine (which I was fortunate enough to taste twice during fermentation from the tanks in the brewery) are going to turn some heads. Even the "crossover beers" that the pub produces to turn the Bud Light crowd to craft beer are well made, easy to drink, and emminantly enjoyable. Jim has a brilliant future in the industry and his beers are already a roaring success at the pub. If you haven't been there yet, shame on you, and if you have, then you already know what I'm talking about. Good luck Jim, and keep on producing these great brews.
Get Well: I would be remiss if I didn't mention a couple of people that we love very much and hope that they get well very soon. Lizzie's grandmother Nellie is in Chicago fighting her illness and we wish her the best and hope that she gets well soon. Also, one of my favorite people in world, my Uncle Nelson is also about to challenge his current condition with a vengence. Nelson is a frequent visitor to the pub and a big supporter of our brewing efforts. We wish both of these very special people our best and you are both in our prayers. Get well, whatever it takes, get well!!!
Brewing: Yes, there are brew days on the horizon. As mentioned earlier, I have some Belgian Golden yeast thanks to Jim, and I can only hope that I make a beer with it that is even remotely as good as the Belgian Golden he is currently serving at the pub. I also have the famous Pacman yeast proprietary to Rogue brewing company. I am going to make the Rogue clone of some repute and hopefully harvest it for another beer immediately after that. Can you say imperial IPA?? I knew you could. These two brews should be quite good for the "cold season" that we are about to enter. The I.M. Hammered Brewing Company should cross that 100th brew milestone this year. It has been an interesting trip to get this far, but the art and science of brewing continues to fascinate me as much today as it did when I first embarked on this journey many years ago. Thanks to everyone that has been so nice to tell me that the beers are good, even when I wasn't so happy with results. I hope that everyone who ever visits the pub or the site has a happy holiday season and healthy and prosperous new year.
Finally: I will be more active on the site. Come back often. I have so many good all grain recipes to post that I could spend weeks entering them. I also have reviews and other brewing knowledge to impart. If I can get one person interested enough in the hobby to brew regularly, I will consider my ramblings an unqualified success. Here's to a great year of beer passed, and a great year of beer upcoming. Happy Holidays to all.
Mark, The Brewer, and feeling good about being active on the site again....Drink Craft, and support your local brewers as much as you can. They really do make great beer just for you!!