In case you are wondering, I.M. Hammered Brewing is:
Mark
-- Head brewer and drinker (brewer of over 65 batches of extract and all grain brews, drinker of many thousands of bottles and pints of beer), CEO and President of the finest Nano-brewery I know of, head bottle washer, and sanitation engineer
Liz
-- Vice President in charge of bar decorating, keeping me from becoming too fanatical in my brewing habits, and is also known as "she who must be obeyed"
Michael
-- Brewhouse assistant, equipment consultant, Chief IT Geek and self-appointed Official Beer Taster (great work if you can get it)
Schpankie
-- Newest convert from fizzy yellow water to finely crafted beers and ales, adds little value to the brewhouse, but we like him anyway
Scooter
-- The gas man (and I mean that in the kindest of ways) bringing propane and co2 when needed, also has keen interest in the brewing process
Knuckle Jefe
-- Newest convert to brewing (has four batches under his belt), has began a start up nano-brewery in Kentucky known as "Double-Wide Brewing" with the catchy slogan of "double wide beers at single wide prices". Boy has a brilliant future in marketing. IMH is helping with equipment in the start up. We all work for beer, then again, why wouldn't we.
Parrot Pete, aka, Pappa Draft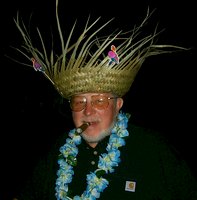 -- Bar designer, humidor raider, label celebrity, and Just because he should have been on the list the whole time.
We hope to make this site fun and informative and look for outside input, or inside output, whatever works.
Sunday, October 16, 2005
Where Do I Begin.....Successful Brew Day......A Moment About Football......Next Brew Day.......
Where:
Another week goes by in a whrilwind fashion. The older I get the faster time goes. I'm guessing that it isn't just me....Anyway, it has been a big week and I am already making bad on my quest to post more often. Shame on me....Beer season is upon us and the hunt can already begin. With October half over the quest for fest beer is really great. The selection is better than I have seen in years including a myriad of choices from our crazy German friends from overseas. The selection from there alone is about 14 or so brewers here in Pa. It might even be better in other areas. I love fest beer personally, and i say, the more the better!! Christmas beer will be here before you know it. Take advantage of this situation because the beer is better than ever. Clearly the craft industry has shaken out and only the best of the best are left, and I might add, that they are very good. I can't wait to see the Christmas beer selection and I'm going to make my list real soon.......
Brew Day.....
We had a very successful brew day last week. The beer is going to be a fest grist with an alt bier type of yest. Alternafest...yea, that's the ticket.....a nice looking copper color, lots of munich malt, a touch of crystal and a pinch of special B in the grist with all hallertau hops. Only the yeast can make this not be a fest.....or can it. Only time will tell. That's what makes brewing so much fun. Anyway, the brew day went flawlessly and the beer had fermentation in about 4 hours or so give or take. A nice starte of Euro-trash ale went into it and voila, a fest beer sort of.....Stay tuned for the tasting.....
Football:
In case you have been on line on a desert island or something, in case you haven't noticed, it's football season. Not just another reason to drink beer this year either. My WVU Mountaineers are 6-1 after a classic win against a tough Louisville team. It puts them in the drivers seat to win the Big East conference. The Cards on the other hand are finding out that it ain't easy to step up in class, and that these other team really can play football. The Steelers are also off to a decent start though they had a little stumble today with several regular starters out of action. Hey, that's the NFL. Trust me, the cream generally always rises to the top in this league. Notre Dame gave USC all they wanted and the college football in general is really good this year. Yep, football season is ready to go down as one of the best in years, and it will get us through to the real hockey season......but that's another story for another day.....
Brew Day:
I got the brewing bug. There is another brew day coming very quickly, and I can't even tell you about it. It's a big secret and you'll just have to stay in suspense on this one. Let me just tell you that it will end up being a real good thing. And brewing is always a really good thing....
Now get out there and get some great fest or Christmas beers soon, and support your local and regional craft brewers. You'll miss them when they're gone if you don't.......
Mark, The Brewer, and letting the quest begin..........