In case you are wondering, I.M. Hammered Brewing is:
Mark
-- Head brewer and drinker (brewer of over 65 batches of extract and all grain brews, drinker of many thousands of bottles and pints of beer), CEO and President of the finest Nano-brewery I know of, head bottle washer, and sanitation engineer
Liz
-- Vice President in charge of bar decorating, keeping me from becoming too fanatical in my brewing habits, and is also known as "she who must be obeyed"
Michael
-- Brewhouse assistant, equipment consultant, Chief IT Geek and self-appointed Official Beer Taster (great work if you can get it)
Schpankie
-- Newest convert from fizzy yellow water to finely crafted beers and ales, adds little value to the brewhouse, but we like him anyway
Scooter
-- The gas man (and I mean that in the kindest of ways) bringing propane and co2 when needed, also has keen interest in the brewing process
Knuckle Jefe
-- Newest convert to brewing (has four batches under his belt), has began a start up nano-brewery in Kentucky known as "Double-Wide Brewing" with the catchy slogan of "double wide beers at single wide prices". Boy has a brilliant future in marketing. IMH is helping with equipment in the start up. We all work for beer, then again, why wouldn't we.
Parrot Pete, aka, Pappa Draft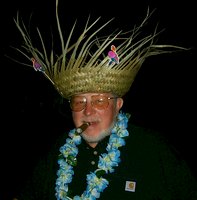 -- Bar designer, humidor raider, label celebrity, and Just because he should have been on the list the whole time.
We hope to make this site fun and informative and look for outside input, or inside output, whatever works.
Tuesday, October 04, 2005
Beer, Beer, Beer......New Brews......Brewing a Belgian......Pub Update......
Beer, Beer, Beer:
Okay, I know, its been a while since you have seen or heard my smiling face. I can't help it. It's been crazy foolish outrageous in our lives the past 6 months, really the past 9 months. This isn't an excuse, just the way it's been. Now, that means that I haven't done a very good job of keeping everyone up to date on all of the beer!!! And there has been some good ones too. Summer means that everyone who used to make the obligatory wheat beer has started brewing the new obligatory beer, the Wit Bier. Sounds crazy, but I saw more versions of this type of brewing than I have seen in a long time. Good news for lovers of the style. The fest beer season is already upon us, and yep, lots of those too. I'll have to give the lowdown on the Penn offering another day. To make a long story shorter, it has been quite a year of beer around the ole' craft brewing corral. Go get some!!!!
New Brews:
I have made a couple. The brewing has included ESB, Kolsch, a preprohibition style ale which is really like a heavy cream ale type of beer, a special ale that resembles a vienna lager grist, but with light handed hopping and ale yeast to finish it. And there is more to come too. I am looking at a recipe to brew for an octoberfest type of grist to be hopped with german nobles but will use an alt beer strain of yeast. I will be brewing a holiday stout (probably at XX), and of course the wonderful Parrot Pete's Porter. Fall brewing season is in full swing and look for at least two brews per month from now until, well, until I get too tired of brewing at least 2 beers a month......
Belgian:
Speaking of brewing, Jim and I have concocted a Belgian style Saison beer and we brewed it last week. We even used about 3 lbs of rye in a 10 lb batch. Everything you have ever heard about sparging issues when you brew with rye is true. Unbelievable. I thought we were going to be here about 4 hours trying to sparge the batch. We finally got it going and kept it going, but suffice it to say, it is the pain in the tuckus that you always heard that it was. Nevertheless, this beer is really coming along and I am looking forward to bottle aging this puppy for a while and breaking out some bottles for the holidays. At an opening 1.062, this one might be a real good beer. I tasted the green beer at racking and it was already developing some intersting flavor highlights. Stay tuned as I believe that Jim has put together a great recipe that will be duplicated again later (more on that to come). We even put a couple of ounces of Jim's home grown Perle and Fuggles hops in this beer. I'm excited about the prospects of the finished product here......
Pub Update:
Finally, the beers on tap at the pub currently include Das Boot(y) Kolsch Style Ale, and Old Timer Ale, a preprohibition ale. The guest tap is Yuengling traditional Lager (imagine that), and there might even be a couple of surprises in the fridge. More decorations are up and we are going to have to get some updated photo's of the pub posted as well. The place is starting to take on a life of it's own, and I like it like that. As far as my man Jim is concerned, he will be starting a professional brewing gig at a new pub going in nearby called Hereford and Hops. He is going to be the head brewer and is really excited about the opportunity to show just how good a brewer he really is to the world. I have already volunteered to be the beer tasting guinie pig if needbe and also volunteered to pilot any recipe he might want to test brew. Hence, we have brewed a saison just for this purpose. This one might just get his name on the craft brewing map!! Regardless, it is nice to know that one of our favorite pubgoers and a great brewing partner have made it. Good luck Jim from the whole crew at I.M. Hammered Brewing Company!!!!
Remember, drink better beer, and support you local and regional brewers as much as you can!!
Mark, The Brewer, and happy to back brewing again on a regular basis.........