In case you are wondering, I.M. Hammered Brewing is:
Mark
-- Head brewer and drinker (brewer of over 65 batches of extract and all grain brews, drinker of many thousands of bottles and pints of beer), CEO and President of the finest Nano-brewery I know of, head bottle washer, and sanitation engineer
Liz
-- Vice President in charge of bar decorating, keeping me from becoming too fanatical in my brewing habits, and is also known as "she who must be obeyed"
Michael
-- Brewhouse assistant, equipment consultant, Chief IT Geek and self-appointed Official Beer Taster (great work if you can get it)
Schpankie
-- Newest convert from fizzy yellow water to finely crafted beers and ales, adds little value to the brewhouse, but we like him anyway
Scooter
-- The gas man (and I mean that in the kindest of ways) bringing propane and co2 when needed, also has keen interest in the brewing process
Knuckle Jefe
-- Newest convert to brewing (has four batches under his belt), has began a start up nano-brewery in Kentucky known as "Double-Wide Brewing" with the catchy slogan of "double wide beers at single wide prices". Boy has a brilliant future in marketing. IMH is helping with equipment in the start up. We all work for beer, then again, why wouldn't we.
Parrot Pete, aka, Pappa Draft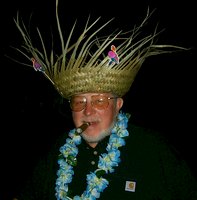 -- Bar designer, humidor raider, label celebrity, and Just because he should have been on the list the whole time.
We hope to make this site fun and informative and look for outside input, or inside output, whatever works.
Sunday, August 28, 2005
Happy Birthday To Me....It's Been A While....The Beer Is Here....New Brews Update....
Happy Birthday:
I am in day 3 of my weekend birthday celebration. I don't know exactly why I'm in day three, but by now, I really don't care much. Everyone has been so very nice to me the past couple of days, that I feel like $20 dollars. I know, everyone is shocked to see that I am actually posting here, but more on that later. At the end of the day, I am giving my 16 try at being 29 as of tomorrow. You would think that I could get it right by now. I'm guessing however, that it will be several more years before I finally get that 29 thing going the right way. Wish me luck!!
A While:
I haven't posted since April. Yea, I know, your first thought is that I've become a lazy slug. Even Barry is standing behind me giggling at the notion. It has been a wild and crazy year. No excuses, but there have been some extenuating circumstances that have prevented my posting, including total web page updating burnout. For those of you who have been suffering from withdrawal symptoms, I apologize greatly. I know that you have a hard time coping with life without words of wisdom from me, and that you are hurting badly from not reading my witicisms on a daily basis, but to bad. No, I should be back now for a long time to come. The reason for the hiatus is not really important, let's just say, it's all good now (which is a She Who Must Be Obeyed saying). It's good to be back, and look for more in the future on a regular basis......
The Beer Is Here:
And I do mean here. We have still been enjoying some good brews at the pub. The IPA has been fantastic and in between we have enjoyed an ESB and some other goodies. The guest tap has been rotating various regional light beers as it has been one of hottest summers I can remember. Unfortunately, those are the ones that satisfy the most in the hot weather. It is coming up to high brewing season, and I am looking at an agressive schedule. In fact, I have already been brewing with more dates already scheduled, but more on that in the next segment. One highlight was last nights tasting of this years Penn O-fest. It is nothing short of phenominal (as usual). The case we had was extremely bad, and we properly punished it last night. I know, you would expect no less from the members of the pub club. Another highlight was the Nitro Ranger T-Shirts that Nitro 4 provided the group. Many thanks to him for his thoughtfulness on the design, though I'm guessing that several copyrights were probably infringed (probably not for the first time either). Nitro 4, we salute you. Look for more tasting information coming soon as we are moving into the fall season of regional and craft specialties. That's what I'm talking about.
New Brews:
I have two beers that I have brewed that are now in various stages of readiness. The first is a Kolsch. I have never done one. This is kegged and awaiting it's turn on line (next) and tasting of the finished beer at packaging indicates it could be very good. The next is a great experiment for a historic type of beer. I made a pre-prohibition ale. What a nice recipe and it looks fantastic so far. I will post more information on both of these brews later on. There are many more on the way this fall as I look forward to getting into several places I've never been in the brewing spectrum. Stay tuned.....
It's great to be back!! Be sure to tune it to see more fun, beer info, and other tom foolery as the IMHBC web site is back active!!
Mark, the brewer, and back in the saddle again.........