In case you are wondering, I.M. Hammered Brewing is:
Mark
-- Head brewer and drinker (brewer of over 65 batches of extract and all grain brews, drinker of many thousands of bottles and pints of beer), CEO and President of the finest Nano-brewery I know of, head bottle washer, and sanitation engineer
Liz
-- Vice President in charge of bar decorating, keeping me from becoming too fanatical in my brewing habits, and is also known as "she who must be obeyed"
Michael
-- Brewhouse assistant, equipment consultant, Chief IT Geek and self-appointed Official Beer Taster (great work if you can get it)
Schpankie
-- Newest convert from fizzy yellow water to finely crafted beers and ales, adds little value to the brewhouse, but we like him anyway
Scooter
-- The gas man (and I mean that in the kindest of ways) bringing propane and co2 when needed, also has keen interest in the brewing process
Knuckle Jefe
-- Newest convert to brewing (has four batches under his belt), has began a start up nano-brewery in Kentucky known as "Double-Wide Brewing" with the catchy slogan of "double wide beers at single wide prices". Boy has a brilliant future in marketing. IMH is helping with equipment in the start up. We all work for beer, then again, why wouldn't we.
Parrot Pete, aka, Pappa Draft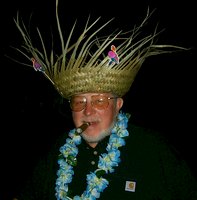 -- Bar designer, humidor raider, label celebrity, and Just because he should have been on the list the whole time.
We hope to make this site fun and informative and look for outside input, or inside output, whatever works.
Tuesday, March 29, 2005
Oh Please....Troeg's Trogenator Doppelbock....IMHBC Pub Update.....
Oh Please:
I'm still in denial. I thought for sure the Mountaineers had the game won. Wow. I guess it isn't over until the fat lady sings and she didn't even warm up Saturday. That said, it's a proud of a Mountaineer sports team as I've ever been. What a great group of guys doing what they do and handling themselves with such grace and humility off of the court. It was a pleasure to see these kids doing it the right way. In college sports there has been lately so much "me" and a lot less team, and to see a group that put the team and university first, and know that they are blessed to be there, and know that there is a greater scheme of things in life and that this is not the most important thing that they will ever do was very refeshing. Coach B. continue to do what you do for at long time at WVU and I'll continue to give you all the support I can. Thanks for a fantastic finish to a programs break through year.......
Troegenator:
Thanks Jim. Wow. This is about a 9% abv beer that tastes a little like a chocolate bar. There is virtually no alcohol presence in this really big German style doppelbock. What a great beer. I'm not surprised. I have an affinity for the Amber and the Pilsner as well. This is a great little brewer in the capital city of Pennsylvania. They know how to make beer and it shows in the finished product. The Amber was my sleeper pick last year at the Penn Brewfest. I look for big things from this brewer as they continue to break out in the bigger world of beer....
IMHBC:
Here is the the good thing. Really nothing has changed. But it is about to. We currently have Yuengling Traditional on tap on the guest line. On the IMHBC taps we still have Oatmeal stout (Nitro Ranger Stout) and the Bitter End Best Bitter. The stout is getting light however and up next is the one and only Parrot Pete's One Particular Porter. I look for this keg of this brew to be nothing short of outstanding. Following up the bitter will be a pale ale known as For Whom The Bell's Tolls. Waiting in the wings for a debut in about 3 to 4 weeks will be the IPA To Be Named Later. Brewing is inevitible and up next will be a true ESB (one of my favorite styles) and some summer brews are in the future. Perhaps a pre-pro ale and of course the obligatory wheat beers. Hey, I just brew it, I don't always set the lineup. After that, the world is my oyster. I know that Parrot Pete's will have to be brewed again to get ready for fall, and pale ale, IPA, and ESB are always on the list. I also am looking to get Deceased Dude Ale back in the fray and I would love another steam beer clone as well. Looks like I got a lot of work to do. Wish me luck.....
Get out there and enjoy some good beer. You owe it to yourself......
Mark, The Brewer, and contemplating the next brewing move.........