In case you are wondering, I.M. Hammered Brewing is:
Mark
-- Head brewer and drinker (brewer of over 65 batches of extract and all grain brews, drinker of many thousands of bottles and pints of beer), CEO and President of the finest Nano-brewery I know of, head bottle washer, and sanitation engineer
Liz
-- Vice President in charge of bar decorating, keeping me from becoming too fanatical in my brewing habits, and is also known as "she who must be obeyed"
Michael
-- Brewhouse assistant, equipment consultant, Chief IT Geek and self-appointed Official Beer Taster (great work if you can get it)
Schpankie
-- Newest convert from fizzy yellow water to finely crafted beers and ales, adds little value to the brewhouse, but we like him anyway
Scooter
-- The gas man (and I mean that in the kindest of ways) bringing propane and co2 when needed, also has keen interest in the brewing process
Knuckle Jefe
-- Newest convert to brewing (has four batches under his belt), has began a start up nano-brewery in Kentucky known as "Double-Wide Brewing" with the catchy slogan of "double wide beers at single wide prices". Boy has a brilliant future in marketing. IMH is helping with equipment in the start up. We all work for beer, then again, why wouldn't we.
Parrot Pete, aka, Pappa Draft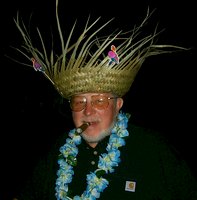 -- Bar designer, humidor raider, label celebrity, and Just because he should have been on the list the whole time.
We hope to make this site fun and informative and look for outside input, or inside output, whatever works.
Tuesday, March 29, 2005
Oh Please....Troeg's Trogenator Doppelbock....IMHBC Pub Update.....
Oh Please:
I'm still in denial. I thought for sure the Mountaineers had the game won. Wow. I guess it isn't over until the fat lady sings and she didn't even warm up Saturday. That said, it's a proud of a Mountaineer sports team as I've ever been. What a great group of guys doing what they do and handling themselves with such grace and humility off of the court. It was a pleasure to see these kids doing it the right way. In college sports there has been lately so much "me" and a lot less team, and to see a group that put the team and university first, and know that they are blessed to be there, and know that there is a greater scheme of things in life and that this is not the most important thing that they will ever do was very refeshing. Coach B. continue to do what you do for at long time at WVU and I'll continue to give you all the support I can. Thanks for a fantastic finish to a programs break through year.......
Troegenator:
Thanks Jim. Wow. This is about a 9% abv beer that tastes a little like a chocolate bar. There is virtually no alcohol presence in this really big German style doppelbock. What a great beer. I'm not surprised. I have an affinity for the Amber and the Pilsner as well. This is a great little brewer in the capital city of Pennsylvania. They know how to make beer and it shows in the finished product. The Amber was my sleeper pick last year at the Penn Brewfest. I look for big things from this brewer as they continue to break out in the bigger world of beer....
IMHBC:
Here is the the good thing. Really nothing has changed. But it is about to. We currently have Yuengling Traditional on tap on the guest line. On the IMHBC taps we still have Oatmeal stout (Nitro Ranger Stout) and the Bitter End Best Bitter. The stout is getting light however and up next is the one and only Parrot Pete's One Particular Porter. I look for this keg of this brew to be nothing short of outstanding. Following up the bitter will be a pale ale known as For Whom The Bell's Tolls. Waiting in the wings for a debut in about 3 to 4 weeks will be the IPA To Be Named Later. Brewing is inevitible and up next will be a true ESB (one of my favorite styles) and some summer brews are in the future. Perhaps a pre-pro ale and of course the obligatory wheat beers. Hey, I just brew it, I don't always set the lineup. After that, the world is my oyster. I know that Parrot Pete's will have to be brewed again to get ready for fall, and pale ale, IPA, and ESB are always on the list. I also am looking to get Deceased Dude Ale back in the fray and I would love another steam beer clone as well. Looks like I got a lot of work to do. Wish me luck.....
Get out there and enjoy some good beer. You owe it to yourself......
Mark, The Brewer, and contemplating the next brewing move.........
Wednesday, March 23, 2005
Fear The Eers....Local Pittsburgh Brew....IPA Still Looks Good....
Eers:
If you haven't been watching the drama that is the NCAA basketball tournament, then you either live under a rock, or you're a true non-sports fan. Even a casual spectator can't help but get caught up in the hoopla that is the tournament. I have a special rooting interest as my alma mater is dead in the middle of the deal, playing in the sweet sixteen for the first time in 8 years, and having a real chance to advance...again!! The WVU Mountaineers take the court tomorrow night at 9:40 eastern time against Bobby Knight and the Texas Tech whatever the heck their nickname is. I'll be watching and rooting loudly for my Eers. The way they beat Wake Forest last Saturday, playing as a team with the sum of the parts being far worth more that the individuals involved. That said, I like their chances. So if you don't have anything better to do tomorrow evening at about 9:40 or so, tune in to CBS and watch my Eers go after the golden shoe horn, or whatever it is they play for. You might just get excited about basketball again, at least for a couple of hours......
Local Brew:
There is a new brewery in the Pittsburgh area call East End Brewing. I tried their Big Hop IPA recently, and I have to say that I am impressed. It had a little bit of a homebrewer attitude about it, and that made it right as far as I'm concerned. The beer was a light amber color and had a big hop aroma (hence the name I think) and the first sip didn't disappoint. The hop assault was big up front and the malt character was big enough to balance. The beer finished nicely and I was impressed overall with the resulting beer. I will look for some more offerings from this new player and try them all if the IPA is any indication of the quality and taste of the beer being produced. I don't know who is in charge or who is brewing, but kudo's to my first taste. If I figure out where it is, I might even visit to get the full blown treatment. I you live in this area and you see the Big Hop, you can do a whole lot worse.....
IPA Update:
The update on the IPA to be named later is that there is no update. That's right, it's still resting comfortably in the secondary fermenters mellowing out and waiting to be packaged. I believe a package date will probably be this Saturday morning. I have to get some iodophor to take care of the sanitation needed to keg this brew, but that is only a quick stop to see Jim at Country Wines (another unadulterated free plug of a magnatude that is too big to even spell out anymore). I am looking forward to getting another taste of this beer now that it has had a couple of weeks to mellow and bulk age. The hop character at last tasting was very much in the front. It's an IPA and that wasn't really earth shattering, but a little mellower would be better. I'll let you know what we get in the next taste when it happens. That's the beauty of the internet you know. Immediate gratification and information sharing. What a time in which we live....
Now get out there and get some beer before the games start tomorrow. Better yet, go watch at your favorite local and if you do, be sure to drink responsibly or use a designated driver. Oh, and drink craft, regional or your favorite pub brews too!
Mark, The Brewer, and rooting on the Eers, all the way to the final four.........
Wednesday, March 16, 2005
St Patrick's Day Eve....Beer Store Success....Are You Ready....
SPDE:
Good evening web watchers and welcome to the I.M. Hammered Brewing Company Web Site!! And Happy St Patrick's Day Evening to ya!! It's the night before that magical evening when the beer flowing is generally black, or red, and sometimes green. Why green I don't know, but sometimes. My advice to all is that if you're out for evening, be careful, drink responsibly, or have a designated driver (and stay away from the green stuff). I want you all back to read my ramblings often, so please be an adult tomorrow and tomorrow night. That said, find some fun, wear some green and be Irish because, everybody is Irish on St Paddy's Day.....
Success:
My trip to the beer store was again a success. I procured a new keg for the pub in record time. That is a very fresh keg of Yuengling Traditional Lager. What this beer is, is a traditional American pre-prohibition lager. Amber in color, made with a portion of adjunct, in this case rice, but brewed with more malt than a typical American standard of today, and it has enough hops in it to taste them. Now, this is still a watered down version of what these beers must have been at the turn of the century as the old world brewers relocated from Germany to the US, but it is still a very strong example of it. I love it and it tells you what American beer can be and should be even today. I know this, they can't make it fast enough it sells so quickly. The last I heard, they are brewing three shifts a day at the big brewery and at least two shifts in the Carolina and Florida breweries. The beer is very hot on the east coast specifically in the Carolina region all the way up to Philly and into lower New York State. A testament to what you can do even in today's ultra light lager market if you make a good product at a reasonable price. Cheers to Dick Yuengling and the Yuengling brewing family.....
Are You Ready:
Well, are you?? Ready for spring? Tomorrow marks the first of the spring "fling" holidays (I don't count mardi gras, even though it is quite a bit more decadent, because it is much more regional in nature). SPD is the first real day that signals spring is right around the corner. In fact, the first day of spring is a short 5 days away. Winter went much faster this year than last but I'm still ready for nicer weather to bestow itself upon us. Part of being ready for tomorrow in particular, is to have stout on hand in your fridge. If you don't have any yet, shame on you. Get your buttocks down to the beer store and get some Guiness, Murphy's, Beamish, Samuel Smith, or American craft brewed stout (Bells Kalamazoo Stout is a good choice as is Sierra Nevada). I'm ready as I made an Oatmeal Stout (Samuel Smith's as a guide) and it is good. And I'm going to surely have one or two tomorrow for sure. I suggest it to all. Have fun and above all be careful!!
Now get out there and get that stout for tomorrow. If you don't like stout, look for an Irish Red (no Killian's doesn't count) like Smithwick's, Murphy's, or some of the American craft Irish Red's (Great Lake Brewing's Conway Irish Red Ale comes to mind as a good choice).
Happy St Patrick's Day!!
Mark, The Brewer, and wearin' the green but drinkin' the black liquid tomorrow evening..........
Monday, March 14, 2005
Beer Store Bound....Big Time Bass Ale Sale....Getting Set To Brew....It's Madness....
Beer Store:
A pub owners work is never done, even if it's just a pseudo pub and not a real one. At least it isn't a virtual pub, well maybe to all of you out there it is....Anyway, the keg ran out again. I don't know how that keeps happening. I checked to see if there was a hole in it or something, but nope, just empty. It seems to happen about every 4 or 5 weeks or so. The darn thing just gets empty. Well, the good news is, that means a trip to the beer store to purchase a keg!! The big question as always is, what do I want to buy this time...It's the age old question that ranks right up there with what came first the chicken or the egg, and why did the chicken cross the road (my apologies for blatant copyright infringement). Now there you go. I'm leaning toward something that I haven't bought in quite a while and kind of have a taste for. Yuengling Traditional Lager. Since She Who Must Be Obeyed is going to be at the NCAA Tournament while I stay home and deal with the children (what's wrong with that picture!!), I am going to get what I want this round. And unless something just jumps off of the floor at me when I go to the beer store, I'm thinking that could be the ticket this round....Stay tuned to see what happens on the next episode of, As The Empty Keg rolls.
Bass:
Speaking of the beer store, I found one of the all time great buys in history there last Friday. I was dispatched to get some Old Style, and as I was walking through the isles of beer, behold, I couldn't believe my eyes. There were cases of Bass Ale in the 16.9oz cans stacked up. The sign said, $22 per case on special, save $15 per case. What's the catch I asked? Nothing I was told, just reducing some of the older inventory. The cans don't sell very well. They did this past weekend. The beer was great as always, and the price was outstanding. I couldn't buy many of my favorite American Craft brews for that price. Even Captain Ron from down the street got in on the deal. Very cool!! I hope they run some additional sales on that stuff all summer long.....
Brew:
Well, I have the IPA to keg later this week, and I look forward to getting that beer conditioning and ready to drink. I also am looking forward to brewing again. I have pretty much decided that I will be making an ESB this next time out. Now, all I need is a day to do it. I am thinking that a week from this coming Saturday might be a good time to get it done. We'll see how it goes...
Madness:
I love this time of year. This week is really cool as it is St Patrick's Day and the beginning of the NCAA basketball tournament. It is truely a time of madness. The NCAA is one of the most fun television events going, especially in the beginning rounds. It is the beginning rounds where all of the mayhem takes place with six or eight games going on at one time, moving from buzzer beater to buzzer beater of a game. This is where the true David's fight the super conference Goliath's and occasionally find the mark with the rock. All of that said, you know what this means....That's right, you gotta get some darn beer in the house because you're going to be watching a lot of TV!!! And as always, support your local craft, pub, and regional brewer, or hometown brewer as much as you can. The day might come when they are gone and you won't realize how much you took them for granted until they are. And most of all, enjoy the "madness" as much as I do.
Cheers, and don't forget to be wearin' the green on Thursday.....
Mark, The Brewer, and looking forward to "shopping" tomorrow..........
Wednesday, March 09, 2005
I've About Had It....IPA Update....Big Events Scheduled.....
Had It:
I've about had it. No I mean it. This stupid posting site keeps screwing up my posts and I'm about to break stuff. I wrote for about 40 minutes the other night, tried to post, got timed out, then was told nothing was saved. Rather than break stuff like I wanted to, I practiced composure and turned everything off. I was exceptionally mad. Now I'm venting to all of you, that is if this will even post up like it's supposed to. Technology at it's worst if you ask me. I know, what do I expect for free. At least I expect some type of consideration that my post will get published to the proper location and not lost. All of that creative energy gone. All of that time spent sweating over the key board gone. All of my creativity and ties to the prose that came from my heart gone. The carpal tunnel pains that I endured the rest of the evening. What does all of this have to do with beer? Nothing at all, but it is making me feel a little better. Why can't these people build something that actually works on occasion. I don't know. Well, if anybody knows where you can get a nice free website that actually works on occasion, email the brewer at the link and tell me about it. I'm open to suggestions. It's enough to make you go out and buy some beers and drink them or something.......
IPA:
The IPA was transferred to secondary what seems like years ago. I tried to tell you about then, but nothing came of it because...well....see above for that explanation. It is resting nicely in secondary and looks marvelous with a light amber color and getting clearer by the day. The taste was bold to say the least. The hop presence and bitterness were big as was the malt flavors in the sample. Though still a little "green", this beer has some big potential and finishing the job and getting it into packaging is the next step. This beer had a lot of hop oils from the columbus hops and east kent goldings additions. I'm glad it was a big malt bill too!! Stay tuned because that's not all. With The Bitter End best bitter and Nitro Ranger Stout pouring (and pouring and pouring and pouring if you get my drift), it won't be long before we will be ready to taste the For Whom The Bell's Tolls. That means that I need to get this beer packaged and get more beer brewed. The brewer's work is never done I guess. Stay tuned for more from the IMHBC inventory.....
Event:
There are two major events taking place during the same weekend. I'm excited about it too. First on Saturday, June 25th, the Sharp Edge Beer Emporium is having it's annual European Beer festival. Some of the best imports available in this country including belgians will be available for the tasting at this event. We went last year and it was great!! Even Liz had a great time. Well, it's back and I'll be getting the $10 discount tickets in April. Tickets are $27.50 in April and $37.50 after that. Pays to get the tickets early, and maybe have a Piraat or something like that too. The second major event that weekend happens on Sunday at PNC Park in Pittsburgh. No, there isn't a baseball game, but something even better. That's right, it will time to make my annual migration to the holy grail of music. It will be show #36 and year #27 that I have been going to this one particular harbor. The beauty of this is, I already have tickets in the 18th row on the field and they haven't even gone on sale yet. I'll be there quietly making noise under my lone palm as I think about the good times in the Pittsburgh sunshine. Yes, my margarita glass will runneth over and I will trying to catch the proverbial parrot that will be flying around in my mind. It will be 5 o'clock the whole time I'm there and I'll be havana daydreaming alot that day. It's the changes in attitudes and changes in latitudes that get you by while you're on the slow boat to china. But I digress, you see margaritaville isn't really a place, it's just a state of mind, or mindlessness if you want to look at it from a slightly different point of view (if you know what I mean). In case you live under a rock and haven't figured it out yet, the icon of carribean soul, Mr. Jimmy Buffett will be here for his annual anthem singing and all around good time concert. This year it is a PNC park. I'll be there, rain, shine, snow, whatever. Yep another year in Margaritaville. That weekend will be part a great trip around the sun for us once again. If you've never been, shame on you, and if you're like me, shame on you. I don't know where I'm a gonna go when the volcano blows, but I'll be on the field at PNC Park on Sunday June 26th. Euro beer festival and JB same weekend. Now that's what I'm talking about......
Get tickets, get beer, get an opener, get a boom box, go tailgate, have some fun, get sunburned and enjoy the summer a little bit......
Mark, The Brewer, and mad at my web site, but otherwise in a pretty good mood as the summer get booked up with fun and brew.........
Monday, March 07, 2005
Good Evening, Remember Me....IPA Update....There's Some Beer Here....I'm Thirsty....
Good Evening:
You remember me don't you?? I haven't been here in a few days. No excuse this time, just a little busy with normal everyday life. I have some time now so I'm writing. Hey, I probably should have a beer, I deserve it I've been so busy with everything. Well, if you don't remember me, I'm Mark, The Brewer, and I'll be your tour guide to great beer, great information about beer, and plain talk about homebrewing, the hobby that makes life great!! If you don't homebrew now, and your reading this, you obviously have some level of interest. And if you don't homebrew now, you should. Hopefully after reading about beer and brewing and homebrewing, you might just want to start. It's easy, fun, and you can always drink your little mistakes. It usually still tastes something like beer!! You can start extract brewing tomorrow with only a small amount of equipment. Really, a pot, a fermenter, an extract "kit", and some bottles and caps (well and a capper of course). That's about all you need (a nylon hose and bottle filler, both together about $10). With that simple amount of equipment, you can be a brewer. And the beer you'll make will just amaze you!! So if you don't remember me, get acquainted again, and if you just miss me a little bit, read on. Posting is about to begin, and be much more timely......
IPA:
For those of you scoring at home, and you know who you are, the IPA is progressing along nicely. I got the beer racked to secondary last week finally after about 10 days in primary. The beer is a nifty light amber color and moved to secondary with no issues. The other great thing is the taste. I snuck a quick taste of the beer even though it is uncarbonated and a tad "green". The beer has a huge, no you don't understand, a huge hop character. The bitterness though clean is a real attention getter. But it's not just a hop tea, it also has a nice malt character about it as well. There is hop aroma present and the finish still needs to develop in secondary and later conditioning. The beer is working along very well and needs a few days to clear and get ready for the packaging phase of work. I liked it and it's a bit on the big side as well. This brew is going to be true blue IPA, will have great hop character, and pack a bit of a punch. It's about time I got one of these right.....
Beer:
With the IPA now resting nicely in secondary and waiting to be packaged, I am starting to finally get the inventory back up to snuff. It's about time. The For Whom The Bell's Tolls pale ale should be ready in a day or so for drinking, plus I still have another keg of Nitro Ranger Stout, and Parrot Pete's. The IPA will make 6 kegs at the ready and there are plans for a real authentic ESB coming real soon. I have to get some grain and stuff, but it will be coming quickly with a brew day to be determined in the next few days, probably about the 18th or 19th. Anyway you slice it, there's finally some beer around here....
Thirsty:
I don't know about all of you out there in cyberland, but the big man sitting here at the keyboard is getting real thirsty. It's about that time of the evening that after putting the day's work away, putting the kids away for the night, and getting the rest of the house ready for a cold spring evening, it's time for a good cold beer. And why not, I've worked hard today, and I'm guessing that I deserve one (as far as you know). I might even have to have a fine cigar with it. Stay tuned this week for more brewing and beer information, plus some additional items yet to be determined for sure, but that are running around my brain unchecked.
Good night all, and have a nice beer before bed. You'll sleep better for sure....
Mark, The Brewer, and about to quench that thirst and get some rest.............
Tuesday, March 01, 2005
Bell's Clone Gets Kegged....IPA Lookin' Good....Where Do We Go From Here....
Bell's Clone:
After 14 days in secondary I've finally gotten the
For Whom The Bell's Tolls
into kegs. The beer was crystal clear and had a very nice light golden color. It is light by Pale Ale standards for sure. The ending gravity on this beer was 1.012. With a starting gravity of 1.054, that brings the estimated ABV to 5.75%. This is actually very close to the real beer that this clone emulates. The gravity sample had the signature Hallertau hop aroma and was even sporting low levels of carbonation. What? Of course I tasted the gravity sample. Tasting your beer in various stages of process, from original wort prior to pitching the yeast, to the final gravity sample before conditioning, is a great learning experience of how the fermentation process works. As you take gravity samples of your beer, save and taste them. You will be surprised at how the beer changes over time as it matures to the final product. This beer tasted very nice. The Hallertau bittering hops gave a great smooth bitterness to the beer and the malt backbone is substantial. It is a very nice tasting beer and the addition of gas can only make it better. The entire kegging process went without a hitch and the beer looks like it is going to be a good one. As always in this hobby, time will tell the final outcome. We'll know very soon, in about 10 days or so.....
IPA:
The IPA has finally subsided primary fermentation. I hope to move it to secondary tomorrow. The beer worked hard and worked long going about 7 days with noticeable fermentation activity. Today is day 9 and it has abruptly subsided. Time to get the beer of of hop trub and yeast fallout for some clean conditioning and clearing. As I stated above, this beer has already been tasted. After the brewday, the gravity sample was tasted. You could already tasted the bitterness underneath the ample sweetness of the unfermented fresh wort. The color is clearing out and this beer will be a light copper/amber color. The transfer will begin to tell the color story a little better. One thing is for sure, this beer will be hoppy. And that will make me hoppy, hoppy, hoppy.....
Next:
Now that these brews are well along, it's time to get going on the next one. I have Burton Ale yeast. I can make virtually any style of English Ale with this yeast, from bitter to stout. I can also get a little creative on the grist and see what a nice English ale strain will do to it. For example, I could run an Octoberfest grist, hop a little more aggressively, and use this yeast. I could use a maibock grist and run this yeast at it. It's too estery of a yeast to try a preprohibition ale with it, but there's not reason why I couldn't try this with say and alt bier grist. The permutations of grain bills is virtually endless and you're always surprised at the end of it all with the finished product. This is one of the great things about this hobby. I will bet you right now any amount, that the finished product I make with this yeast, will taste something like beer!! I am actually still leaning toward an ESB type of beer, but that certainly isn't written in stone. As George W. Bush so eloquently said the other day in referent to a US invasion of Iran, everything is on the table for discussion. If any of you out there have a suggestion, I'm happy to take it into consideration. Let me think on this one a little longer and when I decide, I'll let you know.....
Now get out there and get some good beer, or make it, then drink it.....
Mark, The Brewer, and finally getting some of the inventory back up to par........