In case you are wondering, I.M. Hammered Brewing is:
Mark
-- Head brewer and drinker (brewer of over 65 batches of extract and all grain brews, drinker of many thousands of bottles and pints of beer), CEO and President of the finest Nano-brewery I know of, head bottle washer, and sanitation engineer
Liz
-- Vice President in charge of bar decorating, keeping me from becoming too fanatical in my brewing habits, and is also known as "she who must be obeyed"
Michael
-- Brewhouse assistant, equipment consultant, Chief IT Geek and self-appointed Official Beer Taster (great work if you can get it)
Schpankie
-- Newest convert from fizzy yellow water to finely crafted beers and ales, adds little value to the brewhouse, but we like him anyway
Scooter
-- The gas man (and I mean that in the kindest of ways) bringing propane and co2 when needed, also has keen interest in the brewing process
Knuckle Jefe
-- Newest convert to brewing (has four batches under his belt), has began a start up nano-brewery in Kentucky known as "Double-Wide Brewing" with the catchy slogan of "double wide beers at single wide prices". Boy has a brilliant future in marketing. IMH is helping with equipment in the start up. We all work for beer, then again, why wouldn't we.
Parrot Pete, aka, Pappa Draft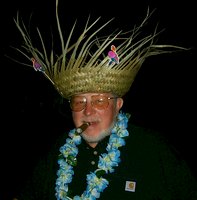 -- Bar designer, humidor raider, label celebrity, and Just because he should have been on the list the whole time.
We hope to make this site fun and informative and look for outside input, or inside output, whatever works.
Thursday, December 30, 2004
Brewing Again...Cellar Work...Sam Adams Holiday Porter
Brewing:
As I stated a couple of days ago, it is important to get that first brew of
the year in as quickly as possible. It pays homage to Gambrinus and makes
him smile down on all of your brews during the year. I was late last year
with my first brew. I had some issues on a couple of batches too. Well,
not this year. All of my brews are going to be good this year. I can feel
it coming and I'm going to make it a mortal lock by brewing early this year.
She Who Must Be Obeyed even suggested a new years eve brew that culminated
with yeast pitching after midnight. Though a good idea, it's just too much
commotion with too many people around. No, I want a nice solitary brew on
Monday and if a couple of stray neighbors come around, that's cool (they can
clean something). A nice easy brew day and a nice easy brew. I'll be
revisiting For Whom The Bell's Tolls. It was such a nice easy to drink beer
and is really a pretty simple all grain beer to brew. A good start for my
lighter bodied beer drinking friends, and I like it too. I'll be starting
early so I can be finishing early. It looks like decent weather outside as
well in the long term forecast. So I'm getting my first brew in right out
of the gate this year, and I know it will make the G-man smile.....
Cellar Work:
A brewers work is really never done. Just when you get everything clean and
repaired, it's time to brew again. If it isn't brewing, its some of the
"other" work that is involved with the brewing process. Time to do some
cellar work in this instance. The Nitro Ranger's Oatmeal Stout is done
doing it's deal and is ready to be packaged. It's going into kegs tonight.
That means, keg inspection, keg prep, making the priming solution, Keg
sanitation, racking, pressurizing, bleeding off O2, and repressurizing.
Then there is keg labeling and storage. Did I forget anything?? I don't
think I did. Oh, yea, post kegging clean up and equipment maintenance,
again. Brewing is a little more than just boiling wort and adding some
yeast to it. There is some real work involved. Those who do it at the
craft or pub level really are pioneers and have an innate love for the job.
You can define work with the daily routine of brewing at that level. Home
brewers have that same drive to make beer. Not only are we the head
brewers, we're also the chief bottle washers, grain mill operators,
procurement specialists, yeast culterers, and most importantly of all, we're
the head sanitation engineers. Not to mention the maintenance staff and
labor pool that moves and cleans everything. It's still the greatest hobby
of all time. That said, I'm looking forward to a little cellar work this
evening. It means I get a taste of the new brew......
Sam:
A beer from Sam Adams that I had never seen before was in the Holiday Pack.
There was a Sam Adams Holiday Porter. I was surprised and happy to see this
beer. It is excellent. Deep black color in the glass with some estery
notes in the aroma coupled with malt and roasted grain. The head of foam is
white as a ghost. The beer has a nice roasted grain quality with chocolate
and black malt notes. The beer has an attention getting bitterness that is
smooth and neutral, and a malty dry finish with hints of chocolate and
espresso. I was quite impressed with it actually, and as most of you know,
I am a certified porter nut. This could easily be a session ale and kudos'
for Sam Adams for getting this brew back out there. My only complaint with
the Holiday pack is that it contains Sam Adams Light in it as a blatant
attempt to get people to try this beer. I don't think a Holiday beer
sampler pack is the place for Sam Light, but then again, what do I know.
The rest of the offerings include the Porter, regular Sam Lager, Sam Winter
Lager, Sam Cherry Lambic (I'll let She Who Must Be Obeyed try this one), and
the classic ale Old Fezziweg. I think they would have been better served
including the double cream stout or the scotch ale in this package in place
of the Sam Light. Just one guys opinion. Hey, it's craft beer and it's
good so I guess I oughtta stop whining......
Be sure to ring in the new year with something good to drink will ya!! Only
two beer shopping days left.......
Mark, The Brewer, and I already have a brew pub of beer at my house for the
holiday.......
Wednesday, December 29, 2004
Belgian Glassware...Aging Weissbock...Home Brewing Belgians...
Glassware:
One of the craziest things you see in a better bar that sells a lot of
Belgian beers is the glassware collection. Every Belgian style of beer
seems to have its own specifically styled glass complete with brewery logo
and name. The thought process is that each beer has specific nuances about
it that the shape and openness of the mouth of each glass enhances for that
specific beer. That and it's a great marketing concept. I know people
(probably me included) who can tell you what someone is drinking in a
Belgian beer bar from a distance based upon the shape and size of the glass.
Well, recently, I see now that the English are getting into the act as well.
Old Speckled Hen and Bass have new pint glasses distinct and with the logos
emblazoned on them. I even saw a couple of American craft brewers who make
Belgian styles have glasses specific to that beer. Personally, I like the
concept. They do enhance the flavors of the beers, and I like drinking beer
out of some of the goblet and snifter shaped glasses. It is a great
diversion from the old fashioned pilsner glasses and boring straight sided
pints in which we are served beer in most of the pubs we visit. I hope more
brewers in this country get with this program. Besides, I love collecting
interesting glassware (much to the chagrin of She Who Must Be Obeyed) and
serving specific beer in the proper glass. Why not, you wouldn't serve an
award winning Cabernet in a straight sided glass, why would you serve Duvel
in one. I say, let's start a movement in the craft brewing world for beer
specific glassware!! Think of the sales potential and the amount of people
it will keep working making beer glasses!!......
Weissbock:
Our Weissbock is aging very gracefully. Each bottle has new nuances of
flavor when it's poured into, you guessed it, good glassware. I have been
enjoying keeping tasting notes on this beer as it ages. It was a fun beer
to brew as it was a little off the charts, and it has been a very tasty and
fun beer to drink. With about half of the batch left, I look forward to
tasting some more over the next couple of months. That is the beauty of
home brewing. We can brew a beer like this that doesn't have a "freshness"
date. It is a beer that will mellow and have flavor profile changes over
the course of several months. I also think I am going to alter the recipe
slightly and add some candi sugar to the boil. Then change the yeast strain
and shoot for a triple. This looks like a recipe that can take that kind of
change to me. Time will tell. Let me think about that for a little longer,
and try to decide what type of glass it would be suited for......
Belgians:
Since we are thinking about Belgians, lets talk a little about Belgian
brewing. It is a topic and dedication of the most recent Zymurgy magazine
issue. It is a good way to think about brewing. We get pigeon holed into
style guidelines as home brewers and try to emulate a certain type or style
of beer. Nothing wrong with that, as these beers are often outstanding. I
love porter and ESB and would continue to brew those styles to infinity
because of that fact. But Belgians are a little different. From a Flanders
Red sourness to the intense sourness of Lambic, to the dry wine like
character of a triple, to the chocolate and dark fruit sweetness of a
dubble. There don't seem to be many rules involved here. It is a home
brewers chance to be able to think "outside the box" if you will. Adjuncts,
sure why not. Sugars in the kettle? Almost a must in Belgian brewing. Odd
grains? Absolutely, use wheat, rye, oats, or whatever else floats your
boat. Spices? No question about it, feel free to experiment. Style
guidelines?? We don't need no stinkin' style guidelines. That's the beauty
of it. Think about the flavors you want in your beer, and the alcohol
content, and begin to write down a recipe. A little bit of math and yeast
attenuation formula's later, and you might have the next great beer style on
the paper in front of you. Be fearless and brew some beer. Saison? You
bet!! The first rule to remember is that there are no rules!! With the
high quality liquid Belgian yeasts out there readily available today to the
home brewer, let your imagination be your guide. I'll bet that whatever you
make, with great attention paid to sanitation, it will taste something like
beer at the end of the day......
Brew up something good will ya!!
Mark, The Brewer, and thinking outside of a very, very, very, big box these
days...........
Tuesday, December 28, 2004
Pub Review...Oatmeal Update...She Who Must Be Obeyed Is Fully Con verted...
Pub:
Thanks to the parental Drafts who have the little Drafts with them, She Who
Must Be Obeyed and I had the opportunity to venture out for a little us time
last night. We went to the chain pub called Rock Bottom. The local Rock
Bottom has a very hot young brewer named Matt Carroll in the boots on his
first head brewer assignment. At 32 he is one of the younger ones out there
you will find. I had not been to this pub as it is newer in the area and
was looking forward to trying some of Young Matt's brews. His profile
states that he looks for balance in his brewing technique and his list of
apprenticeship was both significant and strong. The pub itself is very open
and warm with decor of nice wood tones and warm colors of gold, auburn, and
soft reds. It is decorated sparsely but makes you feel at home pretty
quickly. On the walls are the logos of the beers produced and all of them
have reference to the steel industry that used to drive the local economy
here. The bar runs in sort of a half circle and includes a freeze strip
about 8 inches wide in the middle of the bar where you can place your beer
glass on the ice to keep it cold. The bar is wood frame with the top
textured copper (the material generally used on brewing kettles because of
it's heat distribution qualities) covered by about an inch of a plastic
polymer type material. It looks pretty cool. Taps are located on either
side of the bar with two English beer engines located in the middle. The
bar will seat about 30 or so folks and then there are many tables in the pub
area. TV's are plentiful with the game on, but the sound is muted and a
very eclectic and good selection of music plays the entire evening. I don't
recall hearing a repeat of any of the music while I was there. I would say
that this is great place to gather with friends and you feel welcome and
comfortable as soon as you sit down. The bar and pub staff is great. They
are friendly, fun, and attentive. The food is generally pub fare. We
enjoyed a great cheese and spinach dip followed by a tasty thin crust pizza
with pepperoni and a very nice sweet Italian sausage on it.
Now for the beer. The selection is pretty good and runs the gamut really.
There was light lager to keep the Bud drinkers interested, but it actually
is a pretty nice beer. In the heat of the summer, this would be a great
refresher and it appears to be adjunct free. A pale ale was more in the
American style with aggressive but not over the top hopping. The amber is
the flagship beer in my opinion. This was an excellent ESB type of amber
that was hop balanced, smooth, and very drinkable. Clearly this was the
best beer of the night. The brown ale was serviceable but lacked depth in
my opinion. I had it from the cask and the beer engine and I felt that it
just wasn't up to par as there weren't enough malt layers in the flavor to
keep me interested. I would normally drink cask all evening if available,
but I went back to the amber. The final beer was on nitro and called dark
ale. It was an interesting creamy beer that had hints of roast, stout like
if you will. Overall the beers were very drinkable and balanced. Hopping
was never over the top and the quality of the brewing was evident. Matt,
you passed with flying colors. On top of that, they have a mug club that I
would fully suggest, and I got another 20% discount from the bill because of
my American Home brewers Association affiliation. Not a bad deal. I give
the Rock Bottom Pittsburgh a thumbs up and be sure to test whatever is on
cask, and the amber when you visit......
Oatmeal Stout:
The oatmeal stout continues to mature and should be ready for packaging
sometime next week. The beer looks and smells just like it's supposed to
and I don't anticipate any issues getting this beer ready to drink. It
looks like we done good on this one. I hope to get set up to brew again on
Monday. We have one of those rare holiday's off and I think it would be a
great day to brew some more beer. I'm leaning towards the Bell's pale ale
clone recipe I call For Whom The Bell's Tolls. Okay, it's a lame literary
play on words, but I don't see any great ideas flying at me from any of you
out there in cyber land!! I'll update everyone later this week as to the
potential for brewing......
Fully Converted:
A quick word about She Who Must Be Obeyed. I knew there was a reason why I
loved this woman so much. She has now fully converted over to flavorful
craft type beer. Last night she tasted the light lager offering at the Rock
Bottom. I figured she would be happy sipping a couple of those during our
stay. She tasted it and said, "yea it's alright I guess." Then she grabbed
my amber glass and tasted the amber. "Oh, this is much better!", she said.
That is what she ended up drinking the rest of the evening. How about
that!! Don't give me no stinkin' light beer!! I want the real good stuff!!
That's my girl!! I'm so proud of her!! She has become a bonifide craft and
home brew lover. You go girl!!!......
Get some craft beer, oh, and go to a Rock Bottom if you get a chance, ours
is very good!!
Mark, The Brewer, and contemplating what to brew on Monday...........
Monday, December 27, 2004
Santa Left Beer...Boddingtons No Longer The Cream Of Manchester.. .Another Word On Pete's
Santa:
Santa left me some beer. What a great guy he is. Of course he left it at
the wrong house and, ahem, Captain Ron had to bring it up to me. But it's
the thought that counts right!! Well, he brought me a great case of the Sam
Adams Winter brews and this years case included the classic Old Fezziweg. I
haven't seen this beer in years. A little research (the internet is a
wonderful thing) and the next thing you know, I find out that the only way
you can get this winter classic is to buy the Winter Brews set. Okay, now I
have it so I guess that later this week, I'm just going to have to taste it.
The pack also includes Winter Lager, Winter Ale, and some other offerings as
well. It will be a nice evening of tasting good beer that is in my future.
Thanks Captain Ron, I mean for making sure that my package from Santa got to
me of course........
Boddingtons:
Some news that is disturbing. As Interbrew/Ambev reorganizes itself into
the global juggernaut that it has become, there will be some brewery
contraction. That is a fact of life for smaller brewers who get swallowed
up by the "Jolly Giants" as Ian Bowering likes to call them. That said, one
of the contractions bothers me greatly. The Boddingtons plant in
Manchester, England, the original brewery, is one of the breweries slated by
this large corporation to close. Wow!! This was the brewery where this all
started. This is a beer that is known world wide and enjoyed by millions of
people every day!! The cask conditioned beers produced here were some of
the best in all of England. The plant employs about 1200 people who will
be, well, displaced. How can you close the birthplace of such a fine beer,
when the brand is flourishing world wide?? Production will still be in
England, but at what they are calling, a "more modern facility that is under
capacity". If the facility is under capacity, it should make better beer!!
The Manchester plant can't brew fast enough. I don't get it. It's a bunch
of accountants run amuck apparently. What will this do to the quality of
this beer?? Part of the allure of Boddingtons is it's history and the
historical story of the Manchester area. Now somewhat depressed from loss
of industry, this is just another nail in the coffin of what was once one of
the hubs of the world wide industrial revolution. Now, there is a campaign
by CAMRA, England's watchdog group that promotes real ale (cask) and watches
to be sure consumers don't get the wrong end of change in the brewing
industry. The brewery workers are also suing under a law that could give
them license to the trademark "Cream Of Manchester" forcing Ambev to keep
the facility open as it would become the only place the brand could be made
if the workers win the suit. It would give the brewery an appellation
designation similar to what the French wine industry enjoys. But both of
these actions appear to be long shots at best. It doesn't look good for the
original brewery. You can help. If you love Boddingtons, email
Interbrew/Ambev and voice your concerns. I already have. The voices of
millions speak very loudly. So, raise a pint of Boddy's in this just cause
to save the brewery, and preserve the livelihood of the folks who work
there....
"Pete's":
Well, Parrot Pete's has been on the draught line now for about 3 weeks or
so. I have to tell you that I love it more with every pint I pour of it.
This was a very good effort. The different yeast strains seem to have
brought out more of the malty goodness of the all of the grains used, and
the less aggressive type of hops have given a cleaner bitterness. I like
the new recipe and I like the finished product. I'm glad I'm a home brewer
and I can play with these things as I brew. Besides, even the mistakes
usually taste pretty good. Here's to Parrot Pete's and looking forward to
the second keg sometime in February.....
I hope everyone had a very Merry Christmas and some good beer to drink while
you did!!!!!
Mark, The Brewer, and always playing with recipes to make better
beer........
Friday, December 24, 2004
Ho Ho Ho....Holiday Cheer...First Brew Of The Year
Ho:
Well, it's that magical evening that every kid has been waiting for over the
past 364 days. Christmas Eve. I know I've been waiting for it. I want to
take just a moment to say a couple of things. No, I'm not going to wax
poetic over this, just a couple of things. I want to thank everyone who
visits the site regularly. I have gotten a lot of nice emails this past
year and the site will have by year end about 6000 visitors. That might not
be a lot of visitors to say a Paris Hilton site, but for a little old home
brewing and beer site, that's quite an accomplishment. To all of you,
please have a very wonderful and safe holiday weekend. We want you to come
back more often. And may everyone in your families be together and enjoy
each others company. Merry Christmas to all. Oh, and don't forget to leave
Santa a little "sumthin' sumthin'" in the mug by the tree if you know what I
mean........
Holiday Cheer:
Speaking of Christmas, a little holiday cheer is in order. Be sure to get
out and get that special craft brew for the relatives this morning. The
stores close early. And if you are enjoying a little "holiday cheer", be
sure to be safe and responsible if you have to drive. That said, enjoy a
couple of fine craft brews for Christmas. It's a great gift to yourself,
and besides, you've earned it I'm sure. Oh, and don't forget a little
"sumthin' sumthin'" in Santa's mug by the tree if you know what I
mean........
First Brew Of The Year:
It is always important to get that first brew of the year made. I believe
the quicker you get a brew made in the new year, the better your brewing
luck will be throughout the rest of the year. You'll be showing Gambrinus
that you have an agenda for the brews for the year, and he will smile down
on you. That said, what to make is the next question. I'm leaning towards
that clone of Bell's Pale Ale that I call For Whom The Bell's Tolls. I have
made and we have been sipping some darker brews like porter, amber, and
stout here lately, so I'm thinking I should make something for my lighter
beer liking friends. Hey, I like it too you know. Last years first brew
was a Rogue clone so I guess I should give equal billing to the gang in
Kalamazoo. Right now I have January 3rd penciled in for a brew day. I have
a holiday from the "real" job on that day, and that would get the 2005
brewing season off to a great start. It also would mean that the stock is
getting back up to "par" and the inventory will start looking a lot better
in 2005. See, Gambrinus is smiling on me already....
Don't forget the holiday beer, and there's only one shopping day left!!!!!
Mark, The Brewer, and trying to decide what "sumthin' sumthin'" to leave in
old Santa's mug tonight...........
Happy Holidays to Everyone!!!
Thursday, December 23, 2004
More Cask Ale...The Mad Elf...Oatmeal Update...
More Cask:
Actually, I want all I can get. If you remember, there were two cask ales
that I sampled last weekend. Now there is one left to tell you about. It
is a beer that last summer, in my humble opinion, was the best IPA at the
Penn Brewfest. It went up against about 12 other IPA's in the festival (and
of course, I tried them all) and was outstanding. Well, I found Yard's IPA
at the Sharp Edge on cask and was a very happy guy. The beer pours light
gold in the glass with snow white foam. The beer has a nice floral hop and
malt aroma and is a beauty to look at. The beer has a big malty up front
flavor with strong clean bitterness at the fore. The middle is malty with
varying degrees of hop flavors and the finish is clean, dry, and filled with
a hop flavor at the end. This IPA isn't as bitter as many of the others
that you get from the craft industry in this country. It has a more muted
bitterness and claims to be an authentic English style IPA. The bottled
version of this beer is also real ale as it is bottle conditioned. This is
a great beer. I tried to emulate it in my own 15 Minute Addition IPA, and I
must say, after drinking this one on cask, I got closer than I originally
thought. For those of you not familiar with Yards, the brewery is located
outside of Philadelphia in Downingtown, Pa. They product real bottle
conditioned ales including the IPA, a special pale ale, and some other
specialty ales. The beers are nothing short of fantastic. Keep up the good
work guys, and I'll keep drinking your beer.....
Mad Elf:
The definition of "mad" is several fold. It ranges from just being upset at
an action or word, to the individual being slightly off center, as it were.
This holiday brew from Troegs Brewing in Harrisburg, Pa. is meant to
resemble the latter. This is a belgian strong ale that is fortified with
honey and cherries and brewed to a hefty 11% ABV. I would have to admit
that if you were brave enough to sample several of these fellas, you would
indeed probably become a little "mad" yourself. Well, this year, they made
some changes and they were for the better. Last years version was a little
overpowered by the cherries, and though good, the cherries dominated the
flavor profile. Well, they have cut back on the cherry additions in an
attempt to bring the spicy Belgian yeast strain more into the flavor
profile. It worked. The beer is much less sweet and much more flavorful.
It is a beer that I can't describe and on you'll just have to try to find
and taste. It is very different and a very good example of what you can do
with the brewing hobby. There is just so much more out there than Bud
Light, it's a shame that so many are just so uninformed and unwilling to try
something new. Oh well, more for the rest of us!!!!!
Oatmeal Update:
The oatmeal stout has been working well for the past 4 to 5 days. Primary
fermentation appears to have subsided and it is time to rack this beer to
secondary. Primary worked hard for about 3 days with tapering activity the
past couple. I will get a gravity reading at racking to see where we are
(and to sneak a taste of course), and we should let the brew rest in
secondary for another 7 to 10 days. I like our chances of having a very
nice beer though. I like our chances a lot. Stay tuned!! Oh, and hey
Nitro One and the rest of the Nitro Rangers, you should have some of this
beer drink by mid January at the latest. It's time now to start thinking
about the next great IMH beer to brew. I have a couple of thoughts on that
too.....
If you aren't supporting your local craft, regional, or pub brewers, shame
on you. If you are, kudos' to you. When you gonna take the plunge and
start home brewing????
Mark, The Brewer, and feeling a bit "Mad" these days myself.......
Tuesday, December 21, 2004
Cask Review...That Belgian Thing...Mid-Atlantic Still Behind...
Cask Review:
If you are a frequent reader you know that the post below this one talks
about cask ale. Cask conditioned ale is somewhat of a passion for me as it
probably is for most home brewers. Homebrew made with ale yeast is in
effect real ale if you bottle. The beer is naturally carbonated by the
yeast and sits on yeast in the bottle. This enhances the aging process for
fine homebrew. If your like me and keg your brew, you can also condition
that beer naturally in the keg. That's the way I do it. I guess I'm old
fashioned, but to me, it tastes better than force carbonated beer. That
said, homebrew is more like cask conditioned ale than you might know. Cask
conditioned ale is made very similarly to homebrew. It is fermented then
allowed to naturally carbonate in the cask. It is allowed to sit on the
yeast and mature. Well, I found the Rogue Mocha Porter on cask at Fat
Head's (shameless free plug number 487). It is real good. Pours very dark
brown in the glass with a dark tan head of foam. The beer looks regal in
the glass. There are strong bitter chocolate hints with a malt dominated
aroma of roasted grain and toffee. This beer isn't as aggressively hopped
as most Rogue beers and really showcased the malt flavors. Honey, toffee,
chocolate and a hint of espresso flavors were evident. The beer finishes
long and malty. You could replace food with this beer. It was outstanding
and of course, I had two. Drink anything you find on cask, but if you can
find one like this, you are the big winner......
Belgian:
Here we go with cold weather again. I get that Belgian thing going on
inside my brain. Some of these beers are so different that you just have to
have one. Well, we got to the Sharp Edge (Shameless free plug number 488)
and after I sampled the cask offering, I decided to feed that Belgian thing
I had going on. I went with the Bornem Tripel. This trappist ale poured
golden yellow in the glass with a big creamy head of snow white foam. The
beer had a hint of cloudiness as it was served, of course, in it's brand
specific glass (as all Belgian ales are). The aroma was of green apple and
pear with a sherry like or white wine like aroma as well. The beer at first
taste was quite fruity in nature with hints of honeyed malt flavors. A
sharp bitterness brings your attention to a dry sherry like or dry white
wine like middle and a wine like finish. The finish is very dry and comes
complete with some alcohol notes and alcohol warming on the back of the
throat. This tripel is a little different than some but I found it to be
quite unique and tasty. The wine like flavors complemented the malt and hop
burst and the fruitiness was very refreshing. This beer has a very
drinkable quality about it that could be very dangerous given it's 9% + ABV.
The light character of this beer is very deceiving so be careful because the
first one will probably taste like another one. I would pair this brew with
lighter fair such as fish, baked chicken dishes, or any egg dish. It would
also complement spicy far eastern foods as well. I was lucky enough to have
this on draught. Bottled versions are available in 11.5 oz and 23 oz
bottles. It's not a bad way to take care of the Belgian Thing if you have
it.......
Mid-Atlantic Brewing News:
The latest edition of the MABN is still behind the expert and quick
reporting you get here at IMHBC!!! I have been talking for months about the
lame Coors Light ads that say CL is the "coldest tasting beer". MABN has
finally caught up with that assertion and guess what? Their editor's
conclusion is the same as mine. "Cold" is a sensation not a taste. If cold
is what you taste, that means that there is no flavor. To their credit Greg
Kitsock does go on to talk about the new Miller and Bud ads and about the
semi-truths and half-lies that they both propagate in them. He also is
right on in telling us that there is little that can be done about it.
Bud's main man, young Augie B., even talks about how beers with strong
aftertastes probably aren't fresh. It isn't a part of the marketing plan to
let people know that some beers actually do taste better with age. Bud
wants you to swill it as fast as you can, get over your headache the next
day, and buy more. Pity. MABN is a great publication and Greg Kitsock is a
well decorated beer writer who is dedicated to the craft beer industry. I
just wish reaction to some of these ridiculous things the big 3 (well really
big 1, little 2) propagate as fact could come to the readership more
quickly. Greg, keep up the good work, just do it a little faster and
louder..........
Now go take care or your own Belgian Thing..........
Mark, The Brewer, and seeing a specialist to take care of the Belgian Thing
(i.e., the publican with the biggest selection of Belgians)............
Monday, December 20, 2004
A Few Days Off...Brew Day Review...Got Cask??...
Days:
I was unable to post for the last couple of days last week. I apologize for
all of that. It's that darn real job thing that keeps getting in the way.
But, on the bright side, I have finally upgraded my technology at the
brewery to get some on line time there as well as from my secret remote
location. That means you might be able to get brewing knowledge, beer
reviews, home brewing tips, and all of my otherwise geeky renditions and
speculations about brewing theory. I might even make you laugh on a
Saturday. Now wouldn't that be something to behold. Anyway, I hope to be
putting up posts right through Christmas Eve anyway, so be sure to come back
during the week. I've got some reviews for you from some recent tastings
and as you will see if you read on, there was an interesting brew day over
the weekend. Stay tuned, same beer channel, same beer time....
Brew Day:
The big chief, head nitro ranger, big kahuna, Parrot Pete was up at the
brewery on Saturday. You won't be surprised to know that we brewed. And a
good beer I believe we made too. We brewed an oatmeal stout recipe that
with a little help from Jim at Country Wines (shameless plug number 468) and
from a recipe know as Slow Elk Oatmeal Stout, I fashioned a recipe that
takes a little from both. Brew day went without a hitch, but as you know,
something always has to challenge the brew. That happened on prep night
Friday. As I was crushing the grain in my JSP mill, the darn crank handle
sheared off of the bolt, both leaving no easy way to crank the mill, and
putting a gash in my hand at the same time. Not only that, I still had
about 6 lbs to go!! Not good. I literally crushed the grain with arm
portion of the handle only, turning it with my now bloody stump of a hand.
I got all of the grain crushed though, a trooper through and through. The
brew day was nice and the kettles kept the brewing area warm. Here is the
recipe for this oatmeal stout to be named later:
13lbs 2-row
3lbs Munich Malt
3/4 lb chocolate malt
3/4 lb roasted unmalted barley
3/4 lb Special B
2 lbs Special Roast
2 lbs flaked oats
2 ozs Fuggles hops bittering 60 minutes
1 oz East Kent Goldings 30 minutes
1 oz East Kent Goldings 10 minutes
White Labs British Ale Yeast, 2 1-pint starters
I mashed in the grains with 5.72 gallons of water with a strike temperature
of 170 degrees. The mash stabilized at 159 degrees and was held for 75
minutes. This higher temperature will make a less fermentable wort that
should have a big silky mouth feel. This is basically a sweet English stout
that will be silky smooth from the addition of oats. And true to form the
runoff from this mash was slower than normal. It wasn't an issue and was
never stuck, but it was a little slower than a typical beer might be. I
collected about 12 gallons of wort, boiled it down to just over 10 with a 70
minute boil and the brew yielded an opening gravity of 1.054. Given the
mash temperature, I would expect a drop of only about 65% of the gravity, so
an ending gravity in the 1.018 to 1.020 range wouldn't surprise me. This
would be a 4.6% or so ABV beer. A nice session ale. The gravity sample
tasted very good so I am hoping for a good beer. The yeast went in clean
from the starter and I had full fledged fermentation in the fomenters from
the starters in about 5 hours from pitching. The beer was still working
quite well this morning at about 7:00am. Life is good if your yeast. The
other good news is that we can fix the malt mill to be as good as if not
better than new. A good brew day indeed!!!......
Got Cask?:
I found some this past Sunday. The Gas Man and I were out on our annual
Christmas shopping day. Of course it was snowing profusely and the
temperatures were very cold. That is always what happens on our Christmas
Day shopping outing. It's great, we shop for about 3 hours (because we're
men, we know where our prey is, we go there, and we kill it and take it
home), then we go to Fat Head's and the Sharp Edge for food and a couple of
guy type beverages. I of course am always on the look out for the hand
pumps. I wasn't disappointed this year. Fat Head's had Rogue Mocha Porter
on cask and the Edge had Yard's IPA. Can you say jackpot!!! Well, you all
know what that means. I have at least those two beers to report on. But,
you'll have to wait for these two reviews of these two gems. I'll be
posting them later this week. First, a little bit about cask ale. It is
beer the way it has been served for centuries. It is beer that is fermented
about 90% of the way, then placed in a cask or in some cases a container
called a firkin. The beer is then inoculated with some fresh wort that has
fresh yeast in it. That wort is generally at high krausen when it is added
to the keg, and the beer is then allowed to carbonate naturally in this
closed cask. The beer can then be served by pouring it directly out of the
keg or firkin using gravity, or is pulled to pints through a vacuum beer
engine. This beer is also served at "cellar" temperatures which translates
to about 52 degrees. It is cool to the touch but not very cold like the
bland lifeless lagers made in this country. The beer engine actually
aerates the beer creating a thick beautiful head of foam. The warmer
temperature brings out the nuances of the beers flavors and aroma's and beer
served this way is nothing short of an addiction. Once you go
cask.....well, you know the rest of that story. So come back later this
week to get the scoop on these two great cask conditioned beers, and the
other beers that were sampled during the trip.....
Drink Good Beer!!!!!!
Mark, The Brewer, and fighting a full fledged addiction to cask conditioned
ales, though admittedly not very hard.......
Tuesday, December 14, 2004
Ho, Ho, Ho...Batch 100 On The Horizon...Sampling Sunday...
Ho:
Last Friday I got the chance to finally sample the St Nicholas Bock from
Pennsylvania Brewing Company from the tap at the brewery. My suspicions
from the bottled version turned out to be correct. This years version of
the bock is a big hit. The beer is very malty and dark with balancing
bitterness probably from the noble Hallertau hop. It's all about the malt
flavor with a hint of sweetness, alcohol warming, and a nice clean malt
finish. The head on the beer is as white as the big man's beard and the
beer is substantial enough to substitute for food if need be. This is a
much better offering compared to last years version with much more mouth
feel and more residual sweetness in the malt backbone. I like it in case
you can't tell. As always, the beers produced by this small regional
brewery are nothing short of amazing. St Nick's is right on the money this
year. Good job to all of you who were involved in the production of this
fine product......
Batch 100:
As I was updating my hand written brew logs (I'm hoping that someday the
little drafts will understand the significance of this journal) I realized
something very amazing. That my current brewing regimen as the I.M.
Hammered Brewing Company is quickly approaching a very big milestone. We
are moving closer and closer to Batch 100 with every passing brew day. It
won't happen in 2005 (unless I win the lottery and can devote a lot of time
to this ambition), but should happen in 2006. It seems a long way off
today, but it will be here before you know it. It still seems like we
celebrated the year 2000 yesterday, and that Daughter Draft was born
yesterday. Yesterday is now about 7 years ago. Time flies. The big
question is what should I brew for Batch 100 and how should that celebration
take place? Now I know what your saying right now. Is this guy that
organized that he is planning an event that could be 18 to 24 months away.
Well, no I'm not. In fact, I'm not even sure what my schedule is for
tomorrow until I check it before I go home tonight. That said, it was just
kind of a thought that crossed my mind while I was writing in my brewing
journal. I wouldn't have in my wildest dreams thought that I would still be
so passionate about this hobby back in 2000 when I first put together the
IMH concept. Now I have probably brewed close to 100 batches all time
already, if not more if I go way back to when I first starting attempting to
make beer. I say attempting because there were some batches that were, how
shall we say, not very good. I started to get serious about the hobby again
in 2000 and came up with the I.M. Hammered Brewing concept. Well, actually,
She Who Must Be Obeyed came up with the actual name. In the last 4+ years
of serious brewing activity, and now pretty much moving to full time all
grain brewing, I have brewed a lot of beer. Most of them good, some very
good, some needing some help, and a couple that well, failed. I have won
first place ribbons in competitions, and entered an infected bottle in
competition. I think it scored an 11 on the 50 point scale (which they give
you for paying the entry fee). I know how to make great beer, but I also
know how it feels to have a batch totally fail. So I guess what I'm saying
here is that knowing that I'm quickly approaching Batch 100, to me is
amazing. The whole concept of brewing is amazing!! I'll let you know how I
feel about it all when we get to Batch 200 and beyond....My guess is, I'll
still find it all amazing.....
Sunday:
Sunday is going to be a fun day. It is when Scooter and I go out to
officially "Christmas Shop" for our families. Okay, I'll tell the truth
here, we shop for about 2 hours total, if that, then we go to a good draft
beer bar to eat, watch football, and sample some really good beers. Well,
last year it was great as there were some great winter time brews available
and some good selections on cask as well. I hope to find an even better
selection this year. We might end up at Fat Heads or even The Sharp Edge
this year. It's hard to tell with us. The presents?? Oh, yea, we actually
do get the necessary presents that we set out to get. I mean, what's wrong
with having a little bit of fun in the process??? Hey, we're guys, we go
out and kill our prey and drag it home as quickly as possible. Here's to
guys shopping days out!!!!!!!! We should do it more often.......
Get some great beer for the holidays, or make some great beer for the
holidays, whichever suits you best!!!!
Mark, The Brewer, and thinking about "shopping" this weekend......
Monday, December 13, 2004
Pa Relaxes On Sunday...Tap Change Alert...Parrot Pete's...
Relax:
Well, since the State package stores have been allowed to be open on
Sunday's, there has been a lot of lobbying going on to allow beer
distributors in the great state of Pa. to be open on Sunday's as well. Even
though this is the only state in the USA that doesn't allow beer and wine
sales in grocery stores, there was a secondary lobby among the bar owners in
the state claiming that is puts them at an unfair advantage. Unfair to
what??? Unfair that you won't be able to price gouge people on Sunday by
charging full single bottle retail for each sixer that leaves the premises??
Everywhere else in this country, bars have to deal with grocery stores, drug
stores, one stop shopping super stores that sell wine, beer, and liquor, and
everything else. They all seem to survive just fine. What Pa. needs to do
is step into the 21st century and eliminate this old antiquated
distributorship system. If the lobby currently at the national level to
eliminate the middle man distributors in the states wins, and retailers can
buy direct from brewers, it may not matter what Pa. wants to do. We can
only hope that this will come to pass. In the meantime, however, be happy
that you might just be able to buy beer at normal prices on Sundays in the
very near future.......
Tap:
The Angry Dog Amber bit the dust on Friday night. I knew last week that the
end was near, it just wouldn't give up the ghost. Well, it finally did.
Not to fear, there was keg right next to it ready to be tapped. The newest
version of the Parrot Pete's One Particular Porter poured it's first beer
and I got to be the first taster. The next beer up will be the second keg
of the 15 minute addition IPA. Now won't I be a happy camper for the next
several weeks. In the mean time, I've got to get some more beer made. I am
running short on inventory and that will never do. The Phil's Pholly ale is
just about done as well, so the IPA will be going in very quickly. That
will leave me with only 2 kegs in reserve until I can get the ESB packaged
and conditioned over the next couple of weeks. Brewing will be happening a
lot I hope over the next couple of months. Hey, it's cold here and there
isn't much else to do!!!
Pete's:
Speaking of Parrot Pete's, this batch turned out very nice. We made some
changes to the overall recipe, moving to more classic hops, changing the
grain bill around slightly, and using a British ale yeast strain. Actually,
I used two different British ale strains. The keg I just tapped was brewed
with a British dry ale yeast. The beer is very nice and I expect it to
disappear pretty quickly. It pours garnet in the glass with a nice off
white head of foam that is very thick and rich looking. The aroma is a hint
of chocolate with malt hints. The first sip is very nice with complex malt
flavors of toffee and chocolate followed by attention getting bitterness.
The middle is clean with malt accent and the finish is very quick and dry.
This yeast attenuated the beer down about another 3 or 4 gravity points
compared to it's sister strain of yeast in the other keg. This beer has
some complex malt flavors in it with balancing bitterness. There is a hint
of roasted grains from a healthy addition of chocolate malt and hints of
special B, black malt, and roasted unmalted barley. Flaked barley was also
added in the grist to allow for the thick creamy looking head of foam. I
like this beer a lot and the nuances of the recipe changes are, in my humble
opinion, for the better. It will be interesting to see the overall
difference of the version fermented with the regular British ale yeast.
Stay tuned, as there is more to come on this one.......
Go ferment something, will ya!!!
Mark, The Brewer, and hoping to get more fermentations going here real
soon......
Friday, December 10, 2004
St Nick's Tasting Today...Still Trying To Get A Tap...Weekend...
St Nick's:
Several of us are going to the brewery later today to sample the St Nick's
Bock on tap. That would be the Pennsylvania Brewing Company. I have had
this brew out of the bottles only this year, and I am noting marked
improvement over last years offering. The final taste test is of course the
draft version. If the draft is good, this years version is a rousing
success. This beer really isn't a doppel bock, but more like a bock and a
half. A little lighter than a doppel, but definitely more body and mouth
feel than a regular bock beer. Hard to describe. Let me have a couple
pints from the tap, and I'll be able to really give you the big picture.....
Tap:
I am very slow in my impending old age. Sipping is really in vogue and with
Geek Boy gone off to Illinois, the kegs last a lot longer than they used
too. I have been trying to get Parrot Pete's on line now for a couple of
weeks. To no avail. The Angry Dog and Phil's just keep on pouring beer
into glasses, over, and over, and over again. One of them has got to kick
here pretty soon. Pete's has been in the cooler, so it is cold and ready
for the drinking. The next brew up in the rotation is the 15 Minute
Addition IPA. What a holiday this is going to be. Two of my favorite beer
styles, Porter, and authentic English IPA both on tap at the same time.
Life will be very good. Also, the Penn O-fest is still hanging on in the
big cooler. There are several gallons to go there as well. What a draft
lineup for a little hole in the wall pub that is. Porter, IPA, and
Oktoberfest. No wonder I don't seem to ever go anywhere anymore....
Weekend:
The weekend is again upon us. I hope to sample something new and different
this weekend so I can tell you about it. You should strive to do the same.
The variety of strong winter warmers is the best I've ever seen and the
overall quality of the craft beer available today is nothing short of
phenomenal. As an avid home brewer, I am amazed at some of the beers that I
can buy in the market, as well as amazed at some of the beers I can actual
authentically make. The level and quality of ingredients and high quality
yeast strains is better than ever and more are coming at us all the time.
Grains from all over the world are available along with the hops and yeast
to brew them with. Belgians?? No problem!! English ales?? No problem!!
West Coast IPA?? No problem!! Pre-prohibition Lagers?? No problem!!
Farmhouse Ales?? No problem!! If you have the equipment and the know how
to brew it, you can get high quality authentic malts, hops, and yeast you
need to get it done!! That is what makes home brewing so much fun. You can
make at home as high a quality beer as a commercial brewery, sometimes even
better beer because you have more leeway in your brewing budget in terms of
scale. Often only pennies are between a domestic base malt and authentic
maris otter from England. We as home brewers can duplicate anything if we
have the equipment and know-how. It's great to be a home brewer, and it's
great to have weekends to brew on!!!!!
Get involved!! Buy craft, regional, or pub brews. Brew your own beer.
Have fun and enjoy one of the oldest hobbies known to man!!! Beer!!
Mark, The Brewer, and getting beer geekier all the time..........
Thursday, December 09, 2004
Frozen Yeast...Where Will It End...Stout Clone...
Yeast:
I got my most recent copy of Brew Your Own magazine the other night and
there was a fascinating article in there about storing yeast cultures. Now
culturing yeast takes some practice and you have to have a very clean room
in your house to do it. It's not that hard to do, but it is hard keeping
the yeast from getting contaminated even in the cleanest of environments.
You can't do this in your basement or kitchen because there is just too much
bacteria present no matter how meticulous you are. That said, if you did
have the facility to culture, this article talked about long term storage.
If you brew, you know that your White Labs or Wyeast paks always say on them
do not freeze. Freezing yeast will rupture the membranes of the cells and
basically renders them useless (kills them). However there is one way that
this can be done. You can freeze the culture in glycerin solution. This
solution doesn't crystallize when it freezes so it doesn't rupture the cell
membranes. You simply thaw your yeast and pitch them into a starter. I
thought this was really wild. Cryogenics are alive and well in the world of
fungus. Now I'm not going to go into culturing slants and plates in this
forum. It is highly technical, I don't practice this because it takes
additional equipment (and She Who Must Be Obeyed has put me about at my
equipment quota) and a special place to do it. Also, perfect yeast strains
are available to me for reasonable prices that I know aren't contaminated.
There are a lot of good books and other literature out there that gives no
nonsense approaches to culturing. Start at the White Labs Web Site and see
where it leads you if your interested in this very scientific part of the
brewing process.....
End:
I am starting to wonder how far the envelope on big beers can go. As an
experiment a beer called Utopia was released a few years ago that weighed in
at an astounding 22% ABV. Okay, that's an event I guess, a one time thing,
but how good can it taste?? Well, it didn't stop there. It seems now that
every craft brewer is boiling up these huge beers. Everybody it seems has a
new Double Imperial Pilsner, or Double Imperial IPA on tap at the pub.
These beers are all 10 + % ABV brews and often have enough hops in them to
strip furniture with. It used to be these beers were just experiments, now
they have become year round offerings from a lot of brewers. My question
is, where will it all stop?? Don't get me wrong, I like a lot of the
stronger 7% range beers that are heavily hopped. I like IPA's and Imperial
stouts. But I have tasted some of these Double Imperial beers and I don't
know about a few of them. I had the Rogue Double Imperial Pilsner at 12%
ABV. It tasted a lot like lighter fluid to me. It had a nasty metallic
solvent flavor about it. Now I don't know what that stuff tastes like,
hence the fact that I'm alive and writing this, but if you smelled a strong
solvent or lighter fluid (the type for charcoal), you get a feel for what it
might taste like, and this beer was it. I am a big fan of a lot of the
Rogue beers, this isn't one of them. This has to end somewhere I guess. I
like to think that I have a pretty good gauge of how beers are supposed to
taste. These beers aren't in the mix for me. I love a good well made
Belgian Tripel. These beers are filled with wonderful flavors and many of
them you wouldn't know there was alcohol in them if they didn't warm your
throat a little bit. The Double Imperial Pils tasted like lighter fluid.
I think the envelope has been pushed to the limit. But that's just me.
Whatever happened to a nice tasty 4.5% ABV pale ale???????.......
Stout Clone:
Speaking of Brew Your Own magazine, this issue also had a couple of
interesting clone recipes. The first was a clone of Murphy's Irish Dry
stout. Interestingly enough, this recipe calls for 12 oz's of cane
sugar?????? I was a little surprised by that. The second is for one of my
all time favorite beers, Guinness Export. Now this isn't the Guinness you
think it is poured from the tap with nitrogen beer mix. This is the bottled
version of the export stout. This beer is very roasty and bitter, loaded
with nice molasses and rum hints in the flavor, is hopped to a high
bitterness, and has an ABV approaching 7%. This is a totally different
brew, and a very very good one. It's also carbonated with co2, not nitro
mix. If you've never tasted this beer, you really don't know what you are
missing. This is actually the beer that made Guinness famous world wide as
this was the original beer exported around the world. It is big beer made
strong with alcohol and hops for stability and the ability to hold up in
some of the Kingdom's old holdings in places like the Caribbean and along
the equator in India and the Far East. This is the real Guinness. Anyway,
there is what looks like a nice recipe for that beer as well. The magazine
is well worth the cover price just for these two jewels. This ought to get
your St. Patrick's Day plans started early.....
Get some real Guinness, you'll thank me later......
Mark, The Brewer, and already contemplating a beer for St. Patrick's
Day......
Wednesday, December 08, 2004
ESB Specs...A Tasty Ale...Starting To Clear...
Specs:
I plugged into the Beer Recipator on the internet to see how the ESB stacked
up to style guidelines and to get some of the final specs based upon the
assumptions of the spread sheet. I didn't do to badly according to this
device. I placed the overall efficiency of the system down to 68%. A very
respectable number and the brewery has been running between 66% and 75% on
virtually every brew I've made on it. The OG of 1.053 falls right in the
middle of the category with the low being 1.046 and the high 1.060 within
the ESB style. With an attenuation estimate of 75%, that would yield a
finishing gravity of 1.01325 yielding an ABV of 5.1%. Style guidelines call
for a range of 4.8% to 5.8%. The estimated color of the beer is about 11
SRM. This is a tad light for the style as the guideline calls for 12 - 14
SRM. still, pretty close and even an experienced judge might have a hard
time telling me it's too light. The bitterness comes in at an estimated 35
IBU. The style range is 30 to 55 IBU. So at the end of the day, it appears
that I have made a real middle of the road ESB. Only the color is off just
slightly, probably because I had to substitute some crystal 10 lov for
crystal 60 lov. The small portion of darker crystal apparently doesn't make
up totally for the lost color from the crystal 60. All of that said, this
might be a very serviceable English styled ESB....
Ale:
I was recently given a nice Sam Adams taster pack from someone who
occasionally comes to the pub and always has some of my beers. In the
taster box there was the Boston Ale. I must sheepishly admit that I haven't
tasted one of these in quite a while. I poured a clear clean looking amber
colored ale into a glass. The head was thick, creamy, and white. The aroma
of this beer was very malt pronounced with little to no hop aroma. There
might have been a hint of butter in the aroma as well. The beer is all
about the malt with a big malt presence up front. This ale is lightly
bittered to create some balance. The middle is loaded with crystal malt
sweetness, even a hint of toffee. The finish is malty and clean with just a
hint of hop flavor and a lingering finish with some sweetness. If you are a
total hop head, you won't like this one. But if you are a Scottish or
scotch ale lover, plug in and give this one a ride. I liked it. I have
been drinking some hoppy beers lately and this was a nice change of pace.
Clearly this is a well made craft beer and there is no wonder that the Sam
Adams label is so well respected in the craft brewing industry. Even though
most of the beer is now made via contract brewers across the US, the level
of quality has been maintained. This was a very nice beer. I also have the
scotch ale (I don't know how they're going to get a beer maltier than the
one I just tasted) and the cream stout to enjoy. She who must be obeyed has
already pilfered the regular SA lager and the SA light. There is also a
Hefeweizen in this mix as well. A very nice taster package and a great
gift. Thanks Scott!!
Clear:
The ESB is now working very slowly and is starting to clear here on day 4.
I should be able to rack either tomorrow or Friday. I am betting on Friday
as I believe my real job has a function on Thursday that might get in the
way. The beer looks great and probably will only need about 7 days in the
secondary and it will be ready for packaging. This beer is going to go into
kegs. Now all it needs is a name. It isn't Angry Dog Amber as there are
too many changes in the recipe. Let's see, its an ESB leaning to the
English style using English Ale yeast and the classic English hops fuggles
and east Kent goldings. Bittering is on the lower end of the scale so it
will showcase malt more than the hops. It has a nice light amber hue to it.
I have no idea what to call it. All I know is that I have enjoyed the
latest keg of Angry Dog and I am hopping that this ESB will be good also.
The next two beers up are Parrot Pete's and more of the 15 Minute Addition.
Brew Days got to be coming up soon so I can have more beer kegged and ready
to go!!!
Go try Sam Adams again if you haven't in a while. It's still a great
beer!!!
Mark, The Brewer, and always striving to hit the "specs".......
Tuesday, December 07, 2004
Gurgling Away...The Next Brew...More Bottling...
Gurgles:
That's what continues to come out of the fermentation room. The ESB to be
named later is still fermenting pretty stongly. That's the way you like it.
I should be able to transfer to secondary on Thursday or Friday night for
sure. The color is looking right on and the starter took no time getting
the brew going like gangbusters. By Sunday morning the air locks were
whistling Dixie and other show tunes as the co2 gas came out of the carboys.
Real strong. That's the importance of making starters. So you can get the
maximum amount of gurgles out of the airlock on your way to a smooth well
fermented brew......
Next:
Gotta be the oatmeal stout. All I need to do is get a date for brewing.
I'm thinking about seeing if the Nitro Rangers are interested in giving a
hand or two on this one. We could brew it say the 18th or 19th. Now it
won't be ready for Christmas, but it will be ready to help make it through
the colder months. What say you Captain Nitro and the rest of the Nitro
Rangers?? How's one of those dates for you guys?? What comes after that is
pretty open to interpretation. I'm thinking that another go at Deceased
Dude Ale is in the offing, or one of the Bell's clones that are out there.
I also want to make more IPA. I like it like that. I also have to have
more porter before the weather gets warm again and there is of course the
obligatory dry Irish Stout for that little celebration day in March (which
is only 3 short months away). I even have a recipe for Murphy's Irish Dry
Stout for this years offering. Yep, it looks like it could be a very busy
winter brewing season. Got kegs to get full (so they can be, ah, emptied
again). And there are some good brews remaining in inventory too. I have
another keg of IPA, two kegs of a very nice Parrot Pete's Porter, not to
mention the Dunkeweiss. ESB will soon join the rotation and then there will
be Oatmeal Stout and, well, you get the picture......
More Bottling:
Okay, I hate to admit it, but I will have to be doing some more bottling of
brews too. I might even be looking to enter the homebrewing competition
again this year after a year hiatus. The bock in bottles is quite good and
I will bottle some of the oatmeal stout for the Rangers as well.
Competition brews have to be in bottles, so if I want to enter some
competitions, I'll have to bottle some brews. Don't get me wrong here. 90%
+ of my brews will still be going into kegs, there will just be some batches
going half into bottles over the next couple of months, specifically if they
are really good beers and I think that I want to enter them into
competitions. Now, what style categories can I just absolutely ace......
Relax and have a beer or sumthin' will ya!!!
Mark, The Brewer, and already looking at the brewing calculator.......
Monday, December 06, 2004
I Have Bubbles...Tweaked Recipe...Brew Day...
Bubbles:
Well, my need to ferment something has finally been quelled for the time
being. After making a couple of 1qt starters on Friday, I pitched a mondo
amount of yeast cells into my finished wort on Saturday (about 24 hours
after making the starters, timing is everything). Within about 5 hours I
had visible fermentation starting with co2 expulsion, and 17 hours later it
was a full fledged fermentation eruption. I like it like that!!! So that
means that yesterday and this morning, I still have very strong fermentation
going on in the fermentation room. For lack of a scientific explanation,
lets just say, I have bubbles!!!!!......
Recipe:
I got to brew, but lets not get carried away and think that everything went
absolutely perfect. It didn't. As I was crushing my grain on Friday night,
I realized that I was short on a couple of ingredients. I had thought that
my inventory levels were a little better than they actually were. HHHMMMM,
a miscalculation that could have been a small problem. Not to worry, I'm a
homebrewer!! That means I'm not afraid to improvise and try something new.
To make a long story short, I was short on medium crystal (60 lov). I was
about 3/4 of a pound short. Not good. I searched in my grain bin and found
1/2 pound of crystal 10. That will work for the flavor aspects, but now I
might be short on the color spectrum. Not to worry, I found some crystal
135, so 4 ounces of that went right on into the mill. The color worked out
fine, and the the flavor components will be more complex if nothing else.
What?? Did I hurt the style guidelines?? Probably not, but if I did, who
really cares!! I also changed up the hop additions a little bit. I added
all fuggles for bittering using 3 ozs for 60 minutes instead of 2 ozs. I
then added 1.5oz's of East Kent Goldings hops at 30 minutes and knockout.
Just a little bit of a variation from the original recipe. It's still an
ESB, it just isn't quite exactly as I originally had it......
Brew Day:
Well, I've had bad brew days and good brew days, and I must say this one was
excellent. I made sure that I set up the system and inventoried ingredients
on Friday night. I also made starters on Friday and timed them to my
brewing schedule for Saturday to attempt to let the starters go for about 24
hours before pitching. I also crushed all of the grains on Friday night so
that all of that would be done and ready for a Saturday morning start. I
lit the first burner at about 9:45 AM and was off to the races. I mashed in
at 152 degrees for a single infusion mash in about 5.5 gallons of water. I
hit this temperature right out of the gate. After an hour rest, I sparged
out the grains with 170 degree water. After collecting 11.5 gallons of nice
red wort, we hit the boil. Hop additions went in as scheduled and right
before the initial boil I got a very nice hot break in the kettle. The
first mishap of the day came when I dropped my sanitized wort chiller. It
didn't break but at the top where the two copper lines are joined together,
it came apart. It's an easy fix though, and it worked fine. I had to
re-rinse, then as a precaution, I put it into the boiling wort and let it
boil in there for 15 minutes. It was sanitary, I'll assure you. The wort
chilled quickly and efficiently and went into my clean and sanitized
fermenters. I pitched the 1qt starters into the wort, and sealed 'em up.
The opening gravity of the brew was 1.053 against a target of 1.055. With
temperature differential, it was probably closer to the 1.055. That put the
system at a tidy 70% efficiency for the brew day. From lighting the first
burner to final cleanup and stowing away of the system, I came in at about 5
hours. A great brew day for sure (chiller mishap not withstanding). The
wort tasted very good and I expect this to be a pretty nice beer. Oh, yea,
and the yeast was White Labs WLP002, English Ale. This is reputed to be an
ESB strain of yeast so I might just have a pretty authentic brew when it's
all done. I'll let you know in about 6 weeks.....
I hope everyone had a great weekend, and has a great week ahead. As for me,
I'll be off to Country Wines for some grain and hops later this week. I got
an oatmeal stout to make you know....
Get some quality beer, and drink in??? Brilliant!!!!
Mark, The Brewer, and happy that I got something fermenting in the
fermentation room.........
Thursday, December 02, 2004
Late Post...Samuel Smith's Nut Brown...It's December
Late:
Late post today. It is a mixture of being busy in my so called "real job"
and of having little if nothing to say. There just hasn't been much beer
excitement for me the past 48 hours. In fact, there hasn't been much
excitement at all the past 48 hours. I do have the garage spruced up for
the brewing the weekend. I do plan to make two, one quart starters of
WLP002, English Ale yeast tonight for brewing on Saturday. I might even
crush the grain to get it all over with and to be ready to go. Tomorrow
night will be setting up the brewery so It's ready to rock on Saturday
morning. All in, it looks like I might have a little bit of excitement
tonight after all. There, now I don't feel so boring any more.......
Samuel Smith's:
One of the oldest brewery's in England, the old Tadcaster brewery makes this
line of very nice specialty ales for the English and American markets. The
oatmeal stout and Taddy Porter are two of the beers of note from this fine
brewer. The Nut Brown Ale is another of the products this brewer produces.
I was given a very righteous 4 pack of this beer just on Monday, and well,
of course I had to drink one of them. The brew poured into the glass with a
pale brown color and had a very malty aroma laced with a hint of diacetyl.
The beer is smooth and very malty with a buttery mouth feel and hint of
buttery nutty flavor. The brewer utilizes open fermenters called squares
and the brewing methods employed often give their brews a hint of diacetyl
in the finished product. Some think this is a flaw in beer and in certain
styles it is (should never be present in light lagers for example). In this
style, I believe it adds to the mouth feel and complexity of the brew and I
like it. The beer is very lightly hopped and the purpose of it's existence
is to showcase the malt flavors. It does that very nicely. The beer was
clear and smooth and finished long and malty. The head on the beer was
small and the beer was really lightly carbonated, not a surprise for the
style. It was very good, but being packaged in the clear bottles (why they
do this I don't know) may have been slightly light struck. Overall, a good
example of English Brown and on the lighter side of that style. I liked
it!!! I prefer the porter or oatmeal stout, but this beer was good.....
December:
Well, winter is nearly here, but on the bright side, every day that goes by
is one day closer to spring again. Such is the circle of life. Not to
worry, the winter ales, winter warmers, and other winter brews that are out
there will keep us all warm and toasty where ever we may be hiding out or
hibernating. Brew, and brew a lot. That's what I plan to do. I have
enough fresh yeast for 5 batches and that is my quest over the next 10 or 12
weeks. To brew and brew a lot. And it looks like I'll be starting this
week. If I don't get shut down tonight and make starters, it's a stone cold
lead pipe lock that I'll be brewing on Saturday!! You have to go back over
two weeks to get the ESB recipe that I will be brewing, but it might just be
worth another look by all of you. That's what it will be and I like it like
that. I won't be posting tomorrow, so I hope everyone has a great weekend
(real job in the way again). So go get some great winter time brews for the
house this weekend. There is great college football and pro football on and
you know you have a lot of "honey do's" to get done anyway.....
Open, tilt, pour, smell, smile, tilt, sip, swallow, smile, look at
longingly, smile, repeat....
Mark, The Brewer, and about to get something fermenting in the house
again........
Wednesday, December 01, 2004
Weissbock Revisited...Winter Brews Are Winners...Could It Be...
Weissbock:
We sampled our second round of the Weissbock this past weekend. It passed
muster with flying colors. It was great. The aromas of green apple and
banana are just wonderful and the beer is smooth as silk. This is probably
due to an addition of oats in the grist. The beer has some level of warming
on the throat and that nice tart wheat character. The foam is white as snow
and this time it billowed above the liquid, thick and creamy. There was a
forum of tasters and they actually were fighting over the last few oz's in
the bottles. This beer is a success and it is thanks to a great recipe
developed by Jim from Country Wines. Thanks Jim!! This is a brew that may
have to become an annual holiday special. I like it. And I like the style.
I still think we could make this recipe a nice tripel with minor adjustments
and Abbey yeast. Just one guys opinion. Anyway, I'm already looking
forward to the next bottle....
Winter:
The weather is getting colder and the brews are getting stronger and/or
darker. The winter brews I have tasted so far have been just outstanding.
Stoudt's Fat Dog stout is an oatmeal imperial that is very pleasing. Sierra
Nevada Celebration ale is it's hoppy good as usual. The St Nickolas Bock
was very tasty again this year, better than last years iteration. Victory
Brewing's Hop Wallop Ale has been released and is nothing short of
fantastic. The Mad Elf is back and they changed the recipe slightly to
bring out the yeast character more in the brew and to tone down the
cherries. Good call. Harpoon Winter Warmer has that hint of nutmeg and
cinnamon on top of a big malt base...yummy. Anchor Christmas is just such a
high quality ale that is smooth as silk with hints of spices in it. It is a
veritable cornucopia of flavors out there to enjoy this winter. If you
haven't tried any of these brews yet, you are missing out big time. Get out
there and get some of this stuff!!!!!!!!
Could It Be:
As of today, and I know it's only Wednesday, I have the green light to brew
some beer on Saturday. I am hoping that this green light doesn't turn red
again. The only red I want to see on Saturday is the color of the ESB as I
sparge it off into the kettle. Tonight will be some prep work to that end
and I'll make starters on Thursday night. I am so needing to ferment
something that I can hardly stand it. I want to smell East Kent Goldings
hops in the kettle as the boil finishes up and the chiller gets put to work.
I need to crush some grains and get the old brewery set up for business. I
need to brew!!! I want to begin my assault on all ales English for the next
couple of months. Oatmeal stout, IPA, bitter, porter, I want to make them
all!!! And I will!!!! I want to make winter fun and to have some really
good craft made beer (by me of course) to sip during the cold winter months.
Is this a great hobby or what???
Get off your tush and get to your local retailer and get some winter warmers
before they are all gone. Go!!!
One more note. If you live in the Pittsburgh area, you may want to check
out the St Nickolas celebration this Friday night, 12/3, for the ceremonial
tapping of the first keg of St Nick's at the Penn Brewery. Go to the link
provided on this page for details. It is a great even and one that you
probably shouldn't miss!!!!
Mark, The Brewer, and looking forward to that first keg of Nick's......