In case you are wondering, I.M. Hammered Brewing is:
Mark
-- Head brewer and drinker (brewer of over 65 batches of extract and all grain brews, drinker of many thousands of bottles and pints of beer), CEO and President of the finest Nano-brewery I know of, head bottle washer, and sanitation engineer
Liz
-- Vice President in charge of bar decorating, keeping me from becoming too fanatical in my brewing habits, and is also known as "she who must be obeyed"
Michael
-- Brewhouse assistant, equipment consultant, Chief IT Geek and self-appointed Official Beer Taster (great work if you can get it)
Schpankie
-- Newest convert from fizzy yellow water to finely crafted beers and ales, adds little value to the brewhouse, but we like him anyway
Scooter
-- The gas man (and I mean that in the kindest of ways) bringing propane and co2 when needed, also has keen interest in the brewing process
Knuckle Jefe
-- Newest convert to brewing (has four batches under his belt), has began a start up nano-brewery in Kentucky known as "Double-Wide Brewing" with the catchy slogan of "double wide beers at single wide prices". Boy has a brilliant future in marketing. IMH is helping with equipment in the start up. We all work for beer, then again, why wouldn't we.
Parrot Pete, aka, Pappa Draft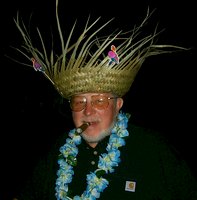 -- Bar designer, humidor raider, label celebrity, and Just because he should have been on the list the whole time.
We hope to make this site fun and informative and look for outside input, or inside output, whatever works.
Wednesday, May 26, 2004
Who's Next.......Ad's.......A Celebration Ale........Char Some Animal Flesh.....
Who:
Regional Beer Challenge....who should be next. Old Style has been quite the champion lasting through 6 challenges so far. The last contestant, Stoney's bowed out in the first sip or two. Actually, I gave it a fair taste and tried at least 5 examples of the Stoney's, but each was equally as vile as the prior one. Sorry Jone's Brewing, you didn't make the grade.
The next contestant up has a tough road to go on now. Old Style keeps picking up momentum and I don't know if the value priced regionals can make a run. I'll have to wander around in the beer store for a couple of minutes to find a worthy opponent. Maybe I'll just put it up against IMHBC
Steel City Cream Ale
.....no that's not fair to Old Style. Anyway, I hope to pick the next challenger within the next couple of days and as soon as I know, you'll know. Anyway, Kudo's to Old Style as that beer has been a great champion with longevity. Let's see who's next: Schmidts, Pabst Blue Ribbon (that's technically a national beer), Old German, Schaefer, Stroh's, Yuengling Premium, Genny Cream Ale, Hudepohl (I don't think I can get this one).....Time will tell and can any of them stand up to Old Style in the Regional Beer Challenge......
Ad's:
Okay, I usually hammer the big three when it comes to their TV ads. Coors with the T & A strategy, AB with their elitism strategy, etc., etc. I have to admit, the latest Miller ads are witty, funny, poke fun at the rest of the mega swill world, and most importantly, poke fun at themselves. The spokesman at the podium sporting his Bill Clintonesque mannerisms is too funny. Having him debate a Clydesdale in the beer president debate is even funnier. Having him argue with the league of voters monitor is even funnier. I can't remember when I have actually chuckled at a big three mega-swill ad because it was actually funny. Okay Miller, you get a couple of browny points for the TV campaign. But, unfortunately, I have to take some points away because these ads obviously drive your prices up and we still have to talk about the beer products themselves. If we can ever do anything about their bland presentation, then we might have something. But, and this is a weak moment for me, the Miller products are still the least offensive of the big three if you had to drink mega and those three were your only choices.....That hurt my head to say. Enough of this, go get a craft beer please......
Celebration:
I tasted a well aged bottle Of Jim's Celebration Ale clone and it was nothing short of terrific. Jim, thanks for the beer, and thanks for being such a good brewer. Maybe we should open our own Nano-swill outfit........In any event, if you live in the Pittsburgh area and want to brew, go to Country Wines and let Jim get you started. Hey, it's shameless plugs week, and I pass them out for free. What can I say......
Flesh:
It's Wednesday, and this is a friendly reminder. You need to go outside and clean up your grill. Then you need to check your canister to be sure you have plenty of propane gas in it. How can you possibly char animal flesh all weekend without plenty of propane gas available. Be sure to check and get it filled. You'll thank me on Sunday afternoon when that steak is perfect and you didn't run out of gas, Jefe......
So gear up for the weekend. Be sure to visit your favorite beer store, buy some really nice craft beer, and drink up while you char animal flesh, and have fun with the family.
Mark, The Brewer, and willing participant in long weekends........
Tuesday, May 25, 2004
What Do You Do If???......Just Add Water......Steak Marinade.....
What:
What do you do if you don't have anything rational to write about. I mean, the beer scene is in limbo for a week or two, I haven't tasted anything new, I've talked about Brewfest at Penn Brewing (another shameless plug) 10 times in the past two weeks, and its a holiday weekend coming up. I'm having some serious writers block here!!!!! This is semi-serious now. No, really it is!! I'm usually so full of topics that I can't get them all into this little space. So the question of the day is, what do you do if you don't have anything to write about?? I could make something up....no. I could tell an old Grimm's fairy tale........no. I could give an old beer review and pretend like it's a new one......nah. I could give a tip on homebrewing......that one has some promise..... I could just bail and not write anything today......no, that's not fair to you guys..... I could give a kick by kick account of daughter draft's soccer game last night.....oh please no. I mean wheat beer abounds in the city and it is, well, wheat beer, very good at the locals I've been to. That took up about 20 words I guess. I hate this. What is a bonafide amateur writer with writer's block to do....What was that item that had promise.......
Water:
Okay, when in doubt, give a homebrewing tip. Well, here goes. Summer is here, well technically it doesn't start for about 26 more days, but for all intents and purposes, it's here. That said, brewing in the summer heat can be pure drudgery. It's hard to boil for 90 minutes by a propane tank putting out 145,000 BTU's in 90 degree heat, then it gets real hard to get the wort down to 80 degrees F or under. Well, there is a solution for that, and you might be surprised at the results. NO boil kits have been around for a really long time. Many of them have been of very suspicious quality too. Now, some of the largest manufacturers of extracts are making ready to mix no boil kits. If you long for brewing during the hot summer, but don't want to commit to 6 hours outside in the hot sun and wild yeast, a no boil kit might get you through. Kits are now made by Munton's, Coopers, Alexander's, and other well known manufacturers. The beauty of a no boil kit is you only need limited equipment, and the water only needs to be heated to about 170 degrees. You can use top up water in the fermentor so you only have to heat a couple of gallons in the pot, and you can do this in the air conditioned comfort of your kitchen. Most of these kits are pre-hopped and literally have these simple instructions:
Sanitize your fermentation equipment, airlocks, etc.
Heat water to 170 degrees, about 1.5 to 2.5 gallons.
Add extract mix, stirring in vigorously.
Add mixture to fermenter and 3.5 to 2.5 gallons of cold water.
Stir and mix well with sanitized spoon.
Add yeast (liquid or dry) and close off fermenter with sanitized airlock.
That's it. Ferment for 7 days, transfer to secondary if you wish, prime, package and condition, then drink.
You will be surprised at the style availability in these kits today, including higher gravity Belgian style ales. As amazing as that sounds, it's true. So if you want to brew, but don't want to sweat for 6 or so hours over an all grain batch, or have to boil and extract and grains batch, try a no-boil kit. I am guessing that what you make will in deed taste something like beer.
Steak:
With the holiday weekend coming soon, you have to be ready to char animal flesh. It's what we do on holidays when the weather is nice. Here is a quick and handy marinade for your ribeye steak:
Season your steak dry with fresh cracked pepper, seasoned salt, Emeril's southwest essence, a pinch of garlic salt or equivalent and rub meat well with these seasonings. Let the meat rest in these seasonings for about 12 hours. Then add your favorite stout or porter to the pan covering the steak. I used my SPD Stout the last time, and Parrot Pete's the time before that. Let the steak sit covered in the fridge in this seasoning and beer mixture for 48 hours. Cook as normal to your taste on the grill basting repeatedly with this marinade while cooking. You will get a hint of the roasted grains in the finished steak and a light carmelized glaze on the outside of the steak. It doesn't get much better than this. Enjoy with au gratin potatoes, fresh cauliflower in cheese sause, a salad, or other food that will enhance the richness of the stout or porter in the meat. Enjoy!!!!!!
Fire up the grill, clean the grates, get a cold beer, open it up, put the meat on the grill, take a drink, and have a great cookout, repeat every day of the upcoming weekend.......
Mark, The Brewer, and household grillmaster........
Monday, May 24, 2004
IMHBC Lineup Change......Brewing This Week.......Long Weekend Coming.......I Love Summer.....
Lineup:
Well, I got surprised!! I know, I'm usually right on top of things, but last Friday night, I got surprised. The Keg of
Anchors Away
went on me out of the clear blue sky. I had no clue it was that light!! I even accused some of the neighbors of sneaking in at night and getting a couple of pints when I wasn't looking. I mean, somebody had to have drank all that beer!!!! Who done it???? Well, whoever "done it", the keg was empty....I'm double checking all of the locks every night from now on though.....
So, I got the SPD Stout keg out and put it into the cooler. What else can you do?? That turned out OKay as well as that beer is quite tasty, especially now that it has some age on it. It's all good. That means the inventory is starting to dwindle a little bit to a point that is lower than I like to see it. Now, I have cream ale ready to go and another keg of the Steam Beer at the ready, and there are two kegs of ESB that will soon be ready to drink. But a 5 keg reserve leaves me a little nervous. You can't ever have too much beer in reserve now can you???
Brewing:
Now, there is only one way to calm my nervousness about the beer reserve. That's right, I have to brew!!! So, that said, I hope to make the extract wheat recipe some evening this week. Since it is an extract recipe, I should be able to knock it out in about 2 hours on the big burners outside. This beer is so easy to make, that any beginner can make a great beer the first time out. I should have it brewed and basically ready to keg in 10 days or so. These beers don't need a lot of aging and they don't clear, so they don't need time to clear in secondary either. It's a great summer drink and I like it like that. The lady drafts of the family like it too. I may or may not fruit up half the batch. I'm still thinking about that.....
With the long weekend coming up, who knows....there could be another brew session not too far off.....well, I'm not going to worry about that right now. First things first, I got to make a couple of starters for the wheat beer, and get that brewed, then we'll start thinking about the next all-grain beer......
Weekend:
I know, it's only Monday, why am I thinking about the long weekend coming up. Because it is the first real summer weekend. Yes, we have had a couple of nice weather weekends already and I have already grilled quite a bit. But there is something about Memorial Day weekend. It is a welcome summer, have fun with family and friends, go to the ball park for a game, char large chunks of animal flesh, eat outside, laugh, and enjoy a few beers kind of weekend. We are planning to do just exactly what I said above. The Chicago Cubs are in town followed by the St. Louis Cardinals and it doesn't get any better than that at the ball park!! And I got some tickets!!!! Sam's Club has rib eyes on sale, and their sirloin steak burgers are real good too. Don't forget the brats, lightly grilled then held in a pan in beer (Penn Pilsner of course) with onions and peppers to soak up the beer character and get that light sweet carmelized glaze on them. I'm getting hungry already......
We'll be eating and sipping cold
Penn Pilsner
,
IMHB SPD Stout
,
IMHB Deceased Dude Ale
, and if needed I'll have
Steel City Cream Ale
in the on deck circle. The garage fridge will also have a selection of beer probably including some
Old Style
,
Penn Maerzen
, and whatever else I dream up. Yep, it's going to be a great weekend........
Summer:
I Love Summer. I love baseball, grilling out, sitting outside after being cooped up in the house all winter, sipping a cold beer after a satisfying day of work, and watching the kids get real tired and fall asleep early. I also like the local festivals!! Penn's Brewfest is coming up in less than two weeks!! I love this festival. We are attending the afternoon tasting this year including Pappa Draft. He has never been so I anticipate it to be a good time. With about 40 craft brewers and 120 beers to taste, how can it not be a good time..... The Sharp Edge will also have their festival coming up later in June. This is a three day event, and one you surely don't want to miss. They will have Belgians and hard to get imports available to taste at their sessions. Another fantastik event. So get out there and love summer!!!
It's getting hot, so get some brew cold, open it up, pour, smell, sip, smile, repeat.....
Mark, The Brewer, and ready for a long hot summer of fun.........
Friday, May 21, 2004
What A Week I'm Having.......Westmalle Dubbel News........Jefe's Wheezin' Delayed........Have A Great Weekend......
Week:
Well, if you thought it was safe to go outside, it's not. I've already chronicled the bar flooding so I don't really want to relive that. Although, I get to be reminded of it every day. Remember when you were a kid and you went fishing at the little pond down the road. You usually only caught bluegill or a frog. Well, remember how that puppy smelled come mid-August and the water level was down 4 or 5 feet below normal. You now know what my basement smells like. Nuff Said.....
To top off my week of disasters, we had another big storm this morning about 4:30am (yes I've been up since then) and our electric is out. The power company says it might be till 4:00pm today before it is restored. That can't be good. I hope my fridges are well insulated is all I can say because we have a lot of food and essential beverages in various refrigeration units thoughout the house (specifically the ones in the bar area if you get my drift). I would say, what else could go wrong but I won't. I won't even bore you with the problems with the washer on Wednesday. Enough bad news is enough!!!!!!
Westmalle:
Hey all of you Belgian fans out there. Good news!! Westmalle, one of the remaining Trappist Brewery's is now going to begin importing to the gool ole' US of A. This is considered one of the best beers in all of the world!! Look for it at a distributor or good beer bar near you!!!
Delayed:
I hate when this happens. My brew day is now delayed, maybe as much as a week. I have most of the ingredients that I need, but the events of this week will push back any brewdates that I had planned. So, the wheat beer is going to be a couple more weeks later than anticipated. This is going to be an extract beer so it won't be too taxing to try to get done, but it sure would have been nice to have a wheat beer ready in June. We still may, but it will be later in June than originally planned. Not to worry, there is the cream ale that is ready to tap whenever we're ready to tap it....
Weekend:
I want to wish everyone a great weekend. That includes me of course since I had a really bad week. I still count my blessings since I realize that even though I had some things happen this week that weren't top shelf, it all could have been worse!! For that I am Beery, Beery grateful. With some luck, the bar will be operational by later tonight and all will be back to some level of normal. I hope everyone else has some normalcy in their lives this weekend too. And, if you think of it, have a beer for me will ya!!!
Mark, The Brewer, and looking forward to a couple of well deserved pints tonight.......
Thursday, May 20, 2004
An Old Friend......Pub Update......Bud Just Became The Queen.......
Friend:
I spent some time last night with an old friend. I've known this friend for over 15 years. Amazingly, this friend hasn't changed a bit in all of that time. In fact, this friend is probably better than ever!! Wish I could say that.....Anyway, my friend looked just great and still had that effervescent quality that is so special. I was amazed that with all of the change that has gone on around my friend, that I didn't see any change. My friend is still honest, straightforward, and fun to hang out with. Now my friend was definately wearing some new clothes, but not so different from when we first met. My friend has moved and resided in many places over time. My friend is actually a native of Boston, but is most recently traveling from Cincinatti. My friend actually traveled from Pittsburgh for several years as well. My friend just recently won a big law suit that was a huge victory for the "little guy", standing up to one of the largest corporations in the world. I admire my friend for that. The other thing that I truely admire my friend for is the wonderful good taste that my friend has. But what would you expect from a friend that dresses great, looks great, has that effervescent spirit, and isn't afraid to fight for a just cause?
Who is my friend you ask? Why, Sam Adams Boston Lager of course!!!!!! I was over at Capt. Ron's last night and when the ship sailed he offered me a beer. Well of course I accepted, and he brought me a Sam Adams Boston Lager. I hate to admit it, but I haven't had one in quite a while. Shame on me too. This is one of the company's that paved the way for the craft beer industry in this country. They were unafraid to distribute against the mega-swill giants, and they cunningly, and efficiently carved themselves a niche in the marketplace. The mega's figured it was a fad and would fade, and also believed that making a competitive product was not only not necessary, they didn't want the expense of such a product. A fly buzzing around the ear, it eventually will go away on it's own. Not so. Sam Adams not only blazed the trail, it's still here 20 years later. The lawsuit? They beat SABMiller in court over contractual brewing agreements. Miller was contract brewing for Sam Adams, and then when SAB came into the picture, they didn't want to continue. So they told Sam to take a hike. Sam said, hey, we got a contract.....you either brew or pay!!!! SABMiller ended up paying and a handsome sum it was too. The beer? Yea, its just as good as it was 20 years ago. It was good to catch up with an old friend last night......
IMHBC Pub:
Still got the big fans going. It feels like it's drying out down there. I will be getting some disinfectant and mold stuff to apply tonight. Wish me luck (it doesn't smell real good down there right now). With a little luck, we should be back in operation, aka have everything back in the room and the TV plugged in with sports on it, by the end of the week. Beer still tastes good though.....
Bud The Queen:
Well, well, well......The King has been dethroned. The rice water makers from St. Louis are no longer the biggest boy in school. The recent union of Interbrew Inc. from Belgium, and AmBev from South America has created a new 800lb gorilla. Not only that, they have also created a marketing and distribution channel that will be unmatched in the industry. What does that mean for you??? Well, it's probably a good thing. First, you will get to see all of the beers made in South America. Some of them are lighter lagers made for tropical climates, but some of them also make some really good lagers too.
Brahma
is one of the largest selling domestic brands in South America and makes several lagers including amber lager or vienna lager. Most of the brewers in South America are actually German trained and they make really good beer. The distribution of beers such a Boddingtons, Hoegarten, and other Interbrew brands will become better as well. They will be distributed by AmBev so they will get a better entry channel into the USA and will get distribution in the quickly growing South American beer market. I would look for more of the Interbrew specialty beers on tap across the country real soon. So this union should increase your choices in the marketplace and drive competition with the "Queen" and SABMiller. I like it and think it will put additional craft or smaller brewery beers in our stores. I also like seeing the battery get knocked off of the ricewater boys shoulder too. Now if we could just find a way to interrupt this NASCAR thing, we would be on the way to the destruction of that St. Louis Ricewater Maker...........
Get a beer, open, pour, smell, gaze, taste, gaze, smile, repeat.......
Mark, The Brewer, and glad I spent some time with an old friend.......
Wednesday, May 19, 2004
Disaster Strikes.......Regional Beer Challenge Results........New Fridge (Well New Used Fridge).......Brewfest......
Disaster:
When I woke up yesterday, I felt fine. It could've been a regular good day with nothing to make it not so on my agenda. Yea, I had a couple of meetings at the "Real Job" but they weren't that painful. The morning routine was going along just fine, running late as usual. Well, it was a rainy day, but those don't always translate into bad days. It started going south on the way to work. Apparently it was bumper cars day on the road to the "Real Job" and I didn't get the memo. Well, there isn't any apparent damage to the vehicle or yours truely, and even though the person involved fled the scene, there wasn't any reason to be overly upset (well after some choice words anyway), so we will forget that bad start to the day and get on with it right? Not to be.
In the early afternoon we had the thunderstorm of storms. It poured down over 3 inches of rain in about 20 minutes or so. The storm drains were just overwhelmed with the water. So was the drainage culvert in my yard. The next thing I know, She Who Must Be Obeyed is calling me in a panic saying words that I didn't expect, and that I didn't want to hear. There's water rushing into the bar through the window!!!!!! What? Say that again.....There's water rushing into the bar through the window!!!!! Get your #$%$# home now!!!!!!
I won't bore you with the gory details, but suffice it to say that the I.M. Hammered Brewing Pub is a little damp. Thank goodness for wet/dry shop vac's is all I can say. Not to worry, all of the brewing equipment, kettles, grains, and beer were up off of the floor and did not get wet or damaged. All of the keg coolers are functioning fine and the beer is still cold (and good), but we got re-arranging to do to get the bar back into inhabitable shape. Luckily it was only water and it wasn't a rush of mud into the area. That will make it easier to get re-opened......
Challenge:
Enough of the gloom and doom from above. You can't stop what happened so clean it up and get on with it is what I say. Here is some more important business anyway. The Regional Beer Challenge this past week pitted the upstart Stoney's Beer against the incumbant winner Old Style. Now I expected a tight battle here and I was real surprised at the outcome. I usually give you a categorical comparison of the beers against one another, but today I'm not going to do that. This challenge ended very quickly with a stunning victory. Here's what happened......I picked up the obligatory case of both beers on my home looking forward to the challenge. I started with the current champ and Old Style continued to be as consistent as it always has been in the past. I then turned to the Stoney's to begin the "Challenge". Well, what I found was another beer that has become so foul tasting with adjuncts that is was nearly undrinkable. The DMS odor was unpleasant to say the least and the beer had a real funky taste that was not very pleasing at all. I'm thinking, Okay, it's a bad can of this stuff. Nope, just a really lousy beer. I remember Stoney's from the old days and it used to be a reasonable example of Am. Standard. Not any more. Whatever you've done to this beer Jone's Brewing, it isn't an improvement. There was no need to compare anything about the two beers and quite frankly, I don't care if drink any more of this stuff ever again. Stoney's has become as foul tasting as Rolling Rock. It's a pity because unlike Rolling Rock, a member of the giant international brewing conglomerate Interbrew family, Stoney's is just a little independent brewer, and will probably be another closed little independent brewer in the not to far distant future.
So, props out to Old Style again. It has consistently outperformed these other regional breweries regular beers challenge in an challenge out. Who's next on the regional beer challenge? I'll have the answer to that question later in the week.....
Fridge:
My man Scooter comes through again!!! He decided since he has the new bambino, that he needs more refridgerator space. So he went out and got a new one!! Well, he didn't have any space for his old one. Soooooo, it's now in my garage!!!! He figured that if it was in my garage he can still use it once in a while. Okay with me!!! So now we have the ability to lager some beer which gives us a whole new thought process on some of the beers we brew at IMHBC. She Who Must Be Obeyed believes that it will enhance the Thanksgiving type holidays where there needs to be additional food storage available. Well, Okay, if it will fit in there with all of the beer.....
Brewfest:
If you live in Western Pennsylvania and you don't have tickets for the Penn Brewing Brewfest yet, shame on you. I'm going to go over after work today to get tickets for myself, She Who Must Be Obeyed, and Pappa Draft (aka Parrot Pete). Forty brewers and 120 examples of beer to taste. Sounds like a great afternoon to me!!!!! Be there or be square!!!
Run the Wet/Dry Shop Vac, Pump out multiple gallons of water, get really thirsty, count your blessings that your keg fridge still works just fine, pour a cold Penn Pilsner, smell, sip, smile and, in this case, unfortunately, repeat.....
Mark, The Brewer, and surveying the dampness........
Monday, May 17, 2004
What A Weekend......Fantastic Brew Day.......Road Dogs.......Deceased Dude Ale Returns......
Weekend:
What a fantastic weekend this was. Yea, the weather was a little on the rainy side on Saturday, but we actually needed the rain. And I had a lot of fun anyway!! Sunday turned into a spectacular day with sunshine and lot of laughing kids having fun in the newly tilled garden. Yea, the shower now needs cleaned I think. And there was beer in the mix too. But more on that in the next segment.
The downside of the weekend was that I really didn't get anything accomplished outside. The rain on Saturday kind of stopped that. Anyway, I hope your weekend was as beery and delightful as mine was!!!!
Uncle Draft and Chilly Draft were in the house yesterday and a good time was had by all. Thanks for stopping by yesterday and I'm glad you enjoyed the beer.......
Brew:
Saturday I helped Jim teach his all-grain class. It went pretty smoothly and I was impressed with the beginner all-grain set up from Listerman. It works pretty well!! We didn't have any problems mashing in or lautering either, even with a wheat beer recipe featuring 44% wheat malts. It just goes to prove that you can get into all-grain brewing for less than $100. The gang that took the class seemed to enjoy it and we tasted about 5 excellent beers that Jim has made. My favorites were the first beer, a Pale Ale that was just about perfect in balance and had a very smooth character about it, and the Imperial Stout that I helped brew. The Imperial has a very hoppy malty character and is going to continue to age very gracefully the rest of the year. We also tasted a Scotch Ale, very good, and Porter that was a very simple recipe and I thought a very good beer as well. We had a pretty uneventful brew day even though we narrowly escaped a boil over and this beer looks like it will be pretty good. Half of this beer is going to be racked over apricot puree to make a fruit beer with a bavarian wheat base. I may do this with my wheat beer that I plan to make later this week, though I am leaning towards a raspberry wheat. We'll see how it goes and I could change my mind many times in the interim.
Looking at the class and talking to some of the folks was very interesting. I have always said that homebrewers are either people who like to tinker which makes them become equipment guru's, or are people facinated with Math/Science. I fit into the second category. Jim is a combination of both but given his chemistry background, his love of brewing is a little more scientific. The majority of the class fit one way or another. In talking to them, they either focus on equipment improvements or ask questions about the science. Very interesting in deed!!
Oh, I almost forgot, Jim and I tasted a Roggan Stout that I also liked very much. I loved the tartness imparted by the rye and the way it melded with the roasted grains. We also ended up at IMHBC and sampled a few of my beers too.........
Dogs:
I have to mention my Pittsburgh Pirates today. They have become unbelievable road dogs. They had a 6 game losing streak including three ugly games against Los Angeles, then they go on the road, win 5 of 6 including a sweep of the Giants in San Fransisco. Nuff said.......
Dude:
Finally today,
Parrot Pete's Porter
bit the bullet Saturday. It was fitting that Jim got the last pint. I'll have to queue that up again real soon on the brewing radar to get more of that for drinking as soon as possible. That means that the
Deceased Dude Ale
is back and pouring. Jim really liked that beer with it's strong mai-bock type recipe with the fruityness imparted by the ale yeast and warm fermentation. It is next to the
Anchor's Away
which is also starting to get a tad on the light side. On deck is the last keg of SPD Stout and it should take the place of the Steam Beer when it is gone. Not to worry. There is another Steam Beer keg plus the cream ale which is just waiting it's turn, and the ESB should be ready for pouring in about 3 more weeks. When we get the wheat beer brewed, the inventory is about back to optimum levels.
Visit often this week as there will be some other news afloat. I will also have the surprising results of the Regional Beer Challenge where Stoney's, the challenger, went after Old Style's pack leading crown. You just might be surprised at the outcome of this one......We will be having a pre- brew wheat beer think through and other things of interest as well. Don't be afraid to give me some feedback on content, or lack there of either. If there is something you as the readers want, let me know and I as the writer will try to provide it. I hope to take a look at some of the new gadgets out there in homebrew land in the next few weeks as well.......
It's getting hot, buy a case, chill it, grab one, open, pour, smell, taste, smile, repeat often...........
Mark, The Brewer, and itching to get some more beer in fermenters.........
Friday, May 14, 2004
Tomorrow's A Brew Day......One With The Parrot.......Weekend......
Brew Day:
It's not my brew day, but it will be a brew day. And as far as I'm concerned, any day is a good day if it's a brew day. I will be assisting Jim's class tomorrow and I know it will be fun and informative. He gives these classes several times a year and if you just click on the link to Country Wines, you too could find out the information you need to learn how to be an all-grain brewer (yea, second shameless plug in a week). Hey, along with brewing there has to be tasting, so we got that going for us as well. It's a great recipe for a wheat beer and I am looking forward to the challenge......
Parrot:
Tonight I may have to become one with the parrot. You see, the
Parrot Pete's Porter
is down to the last couple of pints in the pin. It was the best batch of that beer to date in my opinion, and it will be the first beer up in the brewing rotation this fall. I feel pretty confident that it will be pretty good then too. Not to fear though. The cooler already has the
Deceased Dude Ale
chilling and waiting it's turn on the tap. This beer is 14 weeks aged in the keg, and for a strong maibock type of beer, that should be just about optimum aging time. Actually this beer is what I call a Mai-alebock since it uses California Ale yeast instead of lager yeast. I might hybrid this recipe in early winter though and use the California Lager yeast that is now so widely available and attempt to really make this a lager using the warmer temperatures that this lager yeast tolerates. It makes a great steam beer, that's for sure.
Anyway, if your haveing a brew later tonight, have a toast to the Parrot, be one with the Parrot, pay homage to the Parrot, as it probably won't be back til September.....
Weekend:
The weekend is upon us again, and that means yard work. That's okay though, because yard work = thirst = beer = more yard work = more thirst = more beer, etc, etc. So given that thought process, go do some yard work. It'll make the beer taste that much better.
I also hope to get to the Regional Beer Challenge initial tastings this weekend as well. I hope to procure the Stoney's tonight and put it along side the Old Style. Could be interesting. I promise not to taste while a Cubs game is on, as it might cause there to be some level of bias. I actually believe that if Stoney's is up to the quality that I remember it to have, this could be a tough battle for Old Style. Only time and tasting over the next week will tell. At least these two beers a palatable, unlike the Rolling Rock that went down in flames the first week. How could a beer that used to be so enjoyable become so vile.......
Do some yard work, get thirsty, get a brew, sit down, open it up, drink it, smile, then repeat (omitting the yard work portion as you see fit of course).
Mark, The Brewer, and brewing some wheat beer tomorrow, and next week too..........
Thursday, May 13, 2004
All Grain Class.......Free Beer In Tampa.......Coors Ad Hits New Low.......Craft Up.......
All-Grain:
I have a fun day planned on Saturday. Jim from Country Wines (shameless plug) has asked me to assist him in his regular all-grain class and demonstration. Country Wines puts several of these on each year and they always fill all open spots. We are doing a wheat that will be split into a regular wheat and a fruit wheat. I am looking forward to it and I am sure it will be informational as well. Not only that, I haven't brewed in a while and could use the practice.....
Tampa:
Okay, I had to comment on this item. There is just no way that I couldn't. The Tampa Bay Lightning at their recent home playoff game (hockey team for the great unwashed) offered anyone putting a $100 deposit towards next year season tickets, free beer for the night. Of course the beer haters of the world were outraged and in the press with full force about how irresponsible this was and that people could have been killed, etc, etc, etc. Well the Lightning responded (silly don't you think) that they only had 21 people out of 21,000 in attendance take them up on the offer, and that they never serve intoxicated people. The club also has a long standing offer to anyone in attendance that feels they cannot drive, to get them a free cab ride home. Now this has been bantered about on sports talk radio (and probably other talk radio) for days. The club also came out and said that given the size of the beers, a normal person may only be able to drink 3 to 4 of them over the course of a game anyway. A game lasts about 3.5 hours during the playoffs, so most people (the type of beer drinker that takes up this offer anyway) is probably not intoxicated either visibly or legally anyway. The club didn't have to make this statement and in my opinion was stupid to do so. It only fueled the fire for more criticism. Which it got. The bottom line here is this, was the offer of free beer for the night stupid. Not really, and the fact that only 21 people, or 0.1% of the crowd, actually took them up on the offer is proof of that. Was it a threat to society and the people who got the free beer. Hardly. Did it bring a lot negative publicity to the club and beer drinking in general. Absolutely. Was that criticism justified. Not at all. It ranks right up there with the spotted owl. Oh, one was sighted, so we have to stop all commerce and trade to protect that one owl. Well, in this case, the negative publicity was out there to protect 0.1% of a finite population of people. I guess we'll have to enact some legislation about that. Geeeezzzzzz. Let's all go find a college bar drink and drown night. That's where kids, some of which I will assure you are underage (pick any college town, you'll see), will pay one price for all the beer they can drink. Now that population is 100% intoxicated when it leaves, in no condition to drive, and everyone in attendance is at risk. How come nobody ever talks about this in the press.
I'm off the box......
Coors:
I know someday I'll get a summons from one of these bozo's, but so what. You can't get nothin when I don't have nothin!! Colorado Corn Inc has scored again with an ad targeted at the under 25 crowd. It fits right into their normal ad campaigns glorifying T & A and what the "cool" guys do. I have to admit parts of it were funny. Specifically when the guy is helping the "hot" girl carry the cooler down the steps to the beach and says "I have no idea what this girls name is", implying that he forgot, or didn't really care as he has a chance to "score". The other funny part is when several guys talk about "dating girls with brains, really BIG brains" while they have that smirky smile on their faces. I don't think brains is what they were referring to. Now don't get me wrong, I'm no prude and very much appreciate pretty girls when I see them. But come on!! What does any of this have to do with the beer????? Oh yea, its bland, tasteless, almost clear in color, and if they tried to sell in on it's own merits, would go out of business really quick. On second thought, Keep selling the T&A, its your only chance. (yea, I know its like the third biggest selling brand in America....I wonder how many real people have as much fun as the "dudes" in the ads, or do they just wake up with large headaches.......)
Craft:
Well, today's post is just all the more reason to support your regional, craft, and brewpub operations as much as you can. They make real beer for real people. Since Megaswills' Inc., can only sell "lifestyle" these days because the beer is so tastelessly bad, it is all the more reason to support the craft movement. Hey, I was due for one of those rant about everything days as I haven't done it in a while. Go get some finely crafted beer from you "local" will ya!!!!
Drink Up and support your local regional, craft, and brewpub operations, and repeat as often as you can!!!
Mark, The Brewer, and craft beer supporter........
Wednesday, May 12, 2004
Work Is Not Fun.......Kegging Tonight.......THE EVENT on June 5th........Challenge Accepted......
Work:
You know work is not fun. It's not even fun if you work for beer. Besides, If it was called fun, your wife (or significant other) probably wouldn't let you go do it every day. It is however, one of those necessary evils that you must endure. That is why there is beer!! So that after a hard day at "work", you can go home and relax with a beer or two. The problem is, that after you get off of "Work" (defined as that place you go every day and actually call it work), you often have to go home to do more work. Yea, its of a different kind in most cases, and is often disguised as a thing called "chores", but you still have to go and do it. So let's recap shall we.....We go to a place called work, and we have to cater to the whims of others all day (and they don't let you drink beer), then you get to go home and you have to do "chores" which is just a fancy name for more work. The up side is you can have a beer before, during, or after the effort for the "chores" is expended......Why do I feel like I'm getting the short end of the stick here.....better get home soon so I can have a beer and think this through a little more......It might take two or three.....
Kegging:
The "Dog" has spent a couple of weeks in secondary already (time flies when your having fun) and it's time to keg it. I guess I'll have to work that in between the other "chores" that I have to attend to tonight. I have been looking forward to getting this beer kegged because it is just that much closer to drinking. I expect it will be mid-June before we get to the first keg of "Dog", but at least I'll get a good taste of it when I keg it. Beer looked great last night in the secondary and the temp in the fermentation room has been a steady eddie 68 degrees for the past couple of weeks. With the "Dog" on the kegged list, inventory stands like this:
On Tap:
Parrot Pete's
-- Nearly empty and I don't expect it to clear the week
Anchor's Away
-- Keg is about half gone, and tasting real good
Next Up:
Deceased Dude Ale
-- With 8 weeks in the keg, this beer should be at peak and it will follow Parrot Pete's. Since it is a Mai-Alebock, it is appropriate is should be next up
SPD Stout
-- This guy will follow the Anchor's Away. This is a good Irish Dry Stout and I doubt it will last long. Parrot Pete, are you reading this.....Look for this one to be up in about 7 days or so
In The Hole:
Anchor's Away
-- There is another keg of this great beer aging. I'm so happy....
Steel City Cream Ale
-- There are 2 kegs of this beer conditioning as we speak
Angry Dog Amber
-- 2 fresh kegs will be filled tonight and on deck, ready to play
Next Brew:
Jefe's Wheezin'
-- I hope to make one straight up, and the other fermenter to be a rasp-berry. Get it....Jefe's Wheezin....Rasp-berry....Oh, never mind.......
Event:
June 5th. Circle this on your calendar. This is the annual Penn Brewery Brewfest. This year it will feature 40 craft brewers who will bring at least 3 beers each for pouring and tasting during three separate sessions. Over 120 beers available to taste. This is one of the premier beer events of the summer in my area. Get you tickets now!!!!!! Click on the link to go to their web page and get more information.
Challenge:
Stoney's has accepted the bid to try to outshine Old Style in the Regional Brewery Challenge. To recap, this is a challenge of old regional beers (mini-mega's if you will) to try to find who makes the best beer. Our experienced beer tasting panel (me!) will taste these beers head to head and select the best regional beer to take the top of the hill (or the top shelf of the fridge) and become the winner of the Regional Beer Challenge. No craft brewers are included and the beer must be available in cans (except Straub, which has already lost). Old Style has already toppled the likes of Rolling Rock, Schlitz, Iron City, Gennessee, and Straub. Stoney's is next up for Old Style for the top of the rock. Will Old Style continue it's dominance of the regional brands.....or will the upstart Stoney's, from a little brewery in central Pa., have the huevo's to chop the goliath Old Style back down to size....Stay tuned as the Stoney's is about to be procured and the race is about to begin.....as the Regional Beer Challenge continues......I know, why do I subject myself to the torture of tasting all of these beers? To answer, I will use a phrase made famous by Mr. Blutarski of
Animal House
himself....."'burping sound' Why Not!!". No, really so you can just go buy the best one up front without torturing yourself. And believe me, a couple of these beers that lost were not real good.......so you all owe me......so I got that going for me, which is nice.......
Get yourself on some comfy shorts, a tee shirt, flip flops, and your most comfy outdoor chair.....Open a fine example of a famous beer style from a craft brewer, select a fine hand made cigar from your humidor, have a seat, enjoy them both, repeat as necessary.......
Mark, The Brewer, and hoping to endure more examples of American Standard from a can without having a total taste meltdown........
Tuesday, May 11, 2004
I'm Late Today.......Bourbon Daddy Stout.......Next Brew Day.......
Late:
I hate when this happens. You know, when your regular job gets in the way of what you want to do. I know, it can't be helped sometimes, but what is a poor boy to do. I guess I just have to suck it up and work for a living. I have been in meetings since 8:30 this morning, and the good news is, I'm still awake. That's also the bad news. If they just only served beer at these meetings, it wouldn't be so bad. That's what I'm thinking anyway. Just think, it would help pass the time, you would know what the lightweights are really thinking about the procession (truth serum effect), and it would make the lame lunch that they serve taste so much better.....Oh, I'm sorry, I was dreaming that the boss would consider serving beer at the all day meetings. Yea, and monkeys are flying out of my butt........
Stout:
Rich O's was incredible. I tasted several beers there but two stood out as outstanding as far as I'm concerned. One was the
Solidarity Porter
which was a Baltic style strong porter. Very yummy. The other was the
Bourbon Daddy Stout.
What can I say about this beer. The BDS was all of that and a bag of chips. This beer is an imperial stout, very roasty and bitter, that is conditioned for a long period of time in a used
Woodforde's Reserve
bourbon barrel. This beer didn't have character, it was a character!!!!! The beer starts with the aroma of the bourbon, sweet smelling with hints of caramel in the aroma along with a touch of alcohol. The first sip has the character of a Black Russian (Vodka and Kahlua for the uninitiated) with a toffee, coffee sweetness, the alcohol warming effect, and then wham. Here comes the Starbucks Expresso bitterness and strong coffee flavors of the roasted grains, plus a generous hop bitterness underneath that. Wow!!!! Your taste buds are just off to the races now. The middle is chewy with coffee and toffee hints. The finish is smooth with hop character muted underneath a big maltyness and some alcohol warmth. You look at the others drinking this beer with you and say, did you taste this!!!!!!! I have to tell you that this was a beer experience and a half. I have tasted stouts conditioned in bourbon barrels before, even served on cask. But none of them had the flavors and full bodied wonderfulness of this beer. The brewer was very generous with his time and spent several minutes with us discussing the basics for making this beer. He is one of the reasons people take up the hobby at home. He loves to talk about beer and appears to be a very helpful guy with other brewers, home and professional. We are on the hunt for a barrel even as I write this. Look out around the holidays of 2005 as we might just have a lot of this brew available for quaffing. Definately one of the top ten beers of all time on my list (which consists of about 220 beers currently). If you get to the Louisville, New Albany area, you have to go to Rich O's and pray that this beer is available. You won't be sorry, even if you went somewhat out of your way.....
Brew Day:
Well, the next brew is going to be an extract based wheat beer. I know what your thinking, what, Mark is going to brew an extract beer? You've got to be kidding right. NO, I'm not kidding. The fact is, wheat beer usually requires a step mash so that it won't be as bad a pain to lauter, and that takes a whole lot of work and isn't conducive to my system. That coupled with the fact that an extract wheat beer tastes just as good as an all grain wheat beer. Really, I can't tell the difference most of the time, and I like to think I know a little about beer and how to evaluate it's tastes. Stop laughing, will ya, I really do know a little bit about evaluating beer, honest......Anyway, the next step in the process is selecting a day to brew this wonderful beer. It won't be this week, or this weekend, but needs to be soon so I can get out of She Who Must Be Obeyed's doghouse. She wasn't real happy when the last time I brewed I was making the "Dog". She was expecting a wheat beer. I tried to explain yeast viability and the fact that I had some older yeast that needed used up, etc, etc. Do you think she really cared? Yea, right. "Where's my wheat beer that you promised me?" is what I heard. Okay, I probably deleted some of the expletives that were in that sentence. Give me a little bit of poetic license anyway.......So, I need to brew wheat beer. I am guessing it will be sometime around the 22nd or so. I need a couple more empty kegs anyway. Guess I'll just have to drink up a little faster. I really hate when that happens......
Get a brew, open, tilt, pour, smell, sip, taste, smile, repeat........
Mark, The Brewer, and still having visions of imperial pints of Bourbon Daddy dancing in my head...........
Monday, May 10, 2004
Seems Like Forever......On The Beer Front......."Dog" Update........Coming Week.......
Forever:
Have you missed me? I've missed me....I've been busier than a one armed wallpaper hanger with a really bad itch. I was unable to post for three days last week, and that's a shame because there really was a lot to tell. Not getting to write for all of you out there for a couple of days is really depressing to me. I hope none of you went off of the deep end because you didn't get to read any of my drivel for a couple of days. That said, it feels like it's been forever since I've posted anything on the site. I've got a lot to say, so hopefully, I'll have the time to say it all this week and in the weeks to come. So don't worry, I'm back and writing again. Just sit back and have a beer or sumthin' will ya!!!!!
Front:
The Beer Front is a little quiet. We are working our way out of the spring fest beer season and into the wheat and lighter ale season. That's OK with me too. Penn Brewings Maibock is already gone for the year and it is only the second week of May. The beer was that good this year. I believe that they are reserving some of it for their annual Brewfest on June 5th. I don't ever remember them selling it out that fast though. I'm glad I got some because it was absolutely terrific this season. Kudo's to the brewing team there as this was a memorable brew.
I was also able to procure a couple of cases of the Maerzen beer from Penn Brewing from a returned job lot. This beer was also outstanding this year and I understand that the brewery is on the last keg of this beer. I have some in bottles so I actually got some of the last of this seasons offering. Cool
I don't have time today to give you all of the reviews that I have planned, but I hope to get to them this week. I still have some of the Rich O's beers to give to you and let me tell you that they were terrific. I also hope to do some more Belgian tasting in the not too distant future as well. I wish this was actually my job!!!!
The Regional Challenge will get geared up again later this week too. Stoney's is going to challenge Old Style this week. Old Style could be up against it. Stoney's used to be a pretty good product with some real beer flavor. We'll see if Stoney's is up to the challenge, or if Old Style will continue to rule the roost and keep the top of the rock......
"Dog":
The
Angry Dog Amber
is in the final days of secondary fermentation and looks great. I hope to move this beer into kegs tomorrow or Wednesday, which means an updated taste will be in order as well. I love this brew and if it is up to standard, I'm looking forward to drinking it sometime in June.
I still have a keg of the
Deceased Dude Ale
which I am moving to the cooler tonight, along with the
SPD Stout
, and another
Anchor's Away
keg. The
Steel City Cream Ale
should be ready to drink in a matter of days and the
"Dog"
is going into kegs this week. Next up is the obligatory wheat beer that I affectionately call
Jefe's Wheezin
. I know it a horrible play on words, but what would you expect from me.
The IMHBC Pub is well stocked moving into summer, but I'm still itching to brew. More capacity perhaps???? Yea, and then I'll lose all of the equipment in divorce court. Better not go there. I'll just have to wait until I have kegs open I guess......
Week:
I will be working hard to get things updated and caught up on the site this week. Reviews, challenges, and various other insundry items are things
you
want to know. Check back often this week as we have a lot going on, and I know you want to know.....
Get a cold one, open, pour (always, and I mean always, use a glass will ya), smell, drink, smile, repeat.......
Mark, The Brewer, and glad to be back and as cranky as ever.........
Tuesday, May 04, 2004
Back In The Saddle........BBC Review.........Derby Story.....
Saddle:
Well, I'm back in the saddle again. And I am convinced that work is not fun. Of course if it was actually called fun, She Who Must Be Obeyed probably wouldn't let me go to it every day. I made the obligatory checks of the beer in the fermentation room. The "Dog" is beginning to clear out nicely and should be ready to keg in about another week. The
Steel City Cream Ale
is resting nicely in kegs and should be ready to drink in about another week. That makes the filled keg lineup look like this:
Cooler:
Tap 1 =
Parrot Pete's One Particular Porter
Tap 2 =
Anchor's Away California Common Lager
On Deck:
Deceased Dude Ale
(Mai-alebock)
In the Hole:
Anchor's Away CCL
SPD Stout
Conditioning:
Steel City Cream Ale
Secondary Fermentation:
Angry Dog Amber,
ESB
Next brewing date will yield
Jefe's Wheezin
bavarian style wheat beer. Whew!!!! That's a lot of beer!!!! Summer is starting out pretty darn good if you ask me.......
BBC:
That of course stands for the Bluegrass Brewing Company in the lovely St Mathew's area of Louisville, Ky. I sampled three of their brews while in Louisville last week and I hope to give you a sampling of the results. Here is the first one:
BBC Alt -- Bluegrass Brewing Company, Louisville, Ky = This is a classic old bier or alt bier. The beer pours with a deep copper color and a rocky white head. There is the hop aroma expected of this beer up front. The beer starts with malt flavors and has a crisp clean bitterness. The body of the beer was a bit light with the middle being very balanced and clean tasting. The finish had a hint of hop flavor and was crisp and refreshing with hints of caramel malt. This was a very good beer, well made and easy to drink. The only thing that I would suggest is a little bit more body to this beer. I thought it was much thinner than I remember it being years ago when I frequented this pub often. Still a great beer and I recommend it.
BBC Hot Brown -- Bluegrass Brewing Company, Louisville, Ky = If you don't know what this is, here it is in a nut shell. Two pieces of Texas toast covered with lots of shaved turkey, tomatoes, and parmesean cheese. This is then smothered in mornay sauce and a lot more parmesean cheese. They bet you that you can't eat it all. You can feel your arteries hardening a little bit more with every bite. Chilly Draft and I ate all of ours. They gave us a free beer for doing it. So we had that going for us, which was nice......
Derby Story #1:
This was too funny. Here we are on Derby day, having fun, laughing, and enjoying the scenery. I have to tell you that the Kentucky Derby will have more beautiful ladies gathered in one area than you will ever see anywhere else in the world. It just brings out all of them. Well, this young turk was standing off to the side of us with his "girlfriend" and all of a sudden she starts crying. I'm thinking what is up with that. Well, all of a sudden, she starts telling him that he'll never find anyone a good as she is and that she will take care of him and that he can't live without her. He very smugly looks around at all of the pretty young girls that were at every turn of your head and shakes is head and say, "No, I think I can find somebody better than you". I'm thinking what an idiot. You should have ditched her before you paid her $40 admission to the track!!!! Can you believe it. The guy gets inside and dumps his girlfriend when he sees all of the pretty girls running around inside. Now that is classic!!!! I wonder if too many Coor's Lights (the younger folks beer of choice at this event) had anything to do with it, you know subliminal messages and stuff like that????? Nah, probably not.......
Have a beer sumthin' will all of ya. Just tilt it!!!!
Mark, The Brewer, and still dreaming about New Albanian Brewing's Bourbon Daddy Stout.........
Monday, May 03, 2004
It's Great To Be Back.......Derby City Beer Tour......Smarty Jones.......Lots to Come This Week.....
Back:
It's great to be back home. I need the rest!! What a weekend!! It was a whirlwind tour of Louisville, Ky and Churchill Downs, and it was quite a beer excursion. Chilly Draft had way too much fun and as for myself, It was a new low, and I'm so ashamed......
Chilly liked one of the establishments we visited, called Liquor Barn, very much. I think he left with about half the store. And can you blame him, I mean, how can you not like a place called The Liquor Barn.....
There was a great beer selection here too. This organization has huge amounts of shelf space set aside for craft beer and local brewers. Kudo's for them for that. The selection was outstanding. It was a who's who of craft brewing. There also was an import and Belgian section in this store with very hard to find items like 22 oz corked bottles of Piraat and I remember (vaguely) them having at least three of the Trappist brewery's beers available. At risk of sounding like a commercial (no money or beer exchanged hands in return for this endorsement), this is one of the best beer stores I have seen in quite a while. To top all of that off, they also sell growlers for off premise consumption with 6 taps, all high end craft beer, available. Nice......
Tour:
Our Thursday Derby City Beer Tour did not disappoint in any way. An afternoon of tasting at the Bluegrass Brewing Company and Rich O's was just what the doctor ordered, and we ordered, and ordered, and ordered too. The beers were as good as ever and the selection at Rich O's was incredible. Look later this week for reviews on New Albanian Solidarity Baltic Porter, New Albanian Bourbon Daddy Stout, and other dilectible tidbits from Rich O's. Also, we tasted the BBC Maibock, Alt Bier, Dark Star Porter, and had a lunch dish called a Hot Brown. You'll hear all about these items and more later this week....
I also took a keg of
For Whom The Bell's Tolls
with me and the general concensus was that it was enjoyed by all in attendance. The keg was empty when we left if that is any indication of it's popularity with the group. The Troeg's doppel bock was a hit with the crowd and my brother in law especially, seemed to like the Penn Maerzen.
I will attempt to write reviews on all of the beers we tasted over the next several days as there are some outstanding ones in the group. If you ever get through Louisville in your travels, you must visit some of these places, specifically Rich O's as it is a classic better beer bar....
Smarty Jones:
Props must be given to this little horse from Philadelphia. What a runner he is!!! Yes, I had a win ticket on him though I actually lose a couple of dollars on the derby race overall. Not to worry, I hit a couple of 20+ to 1 shots over the two days of wagering so I did OKay overall.
The Derby itself was a fantastic day despite having to build an ark later in the day right before the race. I remembered to put pitch on the inside and out and we were able to float or backstroke our way out of the infield by days end. A good time was had by all the Drafts, and Knuckle Jefe and company, and fun and frivolity was the big winner for the day. It's already on my calendar for next year and looks like it will continue to be an annual event for us. If you have never been to the Derby infield, put it on your must do in my lifetime list. Be prepared to have way too much fun.....
Lots to Come:
Look for food and beer reviews this week along with other Derby stories that have to be told. I still have some good looking ESB in secondary that will probably be getting kegged in 6 or 8 days and the cream ale is conditioning in kegs. Wheat beer is going to be up next on the brewing schedule and I will have to think about what is to follow that. Spring is here and summer is shortly to follow and the brewing schedule could continue to be brisk over the next few months.
Let's raise a glass to the 130th running of the Kentucky Derby and Smarty Jones. It was way too much fun!!!!!!
Mark, The Brewer, and dreaming about New Albanian's Bourbon Daddy Stout...........