In case you are wondering, I.M. Hammered Brewing is:
Mark
-- Head brewer and drinker (brewer of over 65 batches of extract and all grain brews, drinker of many thousands of bottles and pints of beer), CEO and President of the finest Nano-brewery I know of, head bottle washer, and sanitation engineer
Liz
-- Vice President in charge of bar decorating, keeping me from becoming too fanatical in my brewing habits, and is also known as "she who must be obeyed"
Michael
-- Brewhouse assistant, equipment consultant, Chief IT Geek and self-appointed Official Beer Taster (great work if you can get it)
Schpankie
-- Newest convert from fizzy yellow water to finely crafted beers and ales, adds little value to the brewhouse, but we like him anyway
Scooter
-- The gas man (and I mean that in the kindest of ways) bringing propane and co2 when needed, also has keen interest in the brewing process
Knuckle Jefe
-- Newest convert to brewing (has four batches under his belt), has began a start up nano-brewery in Kentucky known as "Double-Wide Brewing" with the catchy slogan of "double wide beers at single wide prices". Boy has a brilliant future in marketing. IMH is helping with equipment in the start up. We all work for beer, then again, why wouldn't we.
Parrot Pete, aka, Pappa Draft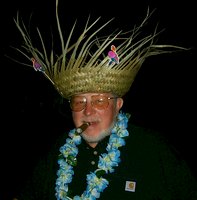 -- Bar designer, humidor raider, label celebrity, and Just because he should have been on the list the whole time.
We hope to make this site fun and informative and look for outside input, or inside output, whatever works.
Tuesday, April 27, 2004
Worthless Today........Beer In Louisville, Ky.........See Ya Next Week..........The Call........
Worthless:
Don't you just hate the day at work before you go on vacation for a few days? I do. It seems the later in the day it gets, the more absolutely worthless I become. I start not being able to think about anything, or care whether or not I'm thinking about anything. You start to focus on the trip you are about take and you can't even begin to think about anything work related. You don't want to start anything new because you know you won't remember anything about it when you get back five or six days later. You start humming fun songs to yourself and nobody can tell why you are in such a good mood. Yea, that day at work before a vacation...... And not only that, It will be a kidless vacation. Now don't get me wrong, there is nothing better and more rewarding than spending time, quality time, with your children. But that said, every once in a while, it is nice to not have them around for a couple of days so that you can enjoy some "adult" fun. This is one of those times. So if you are trying to call me, or wondering why I don't return your calls, it's because I'm totally worthless today (and hope to continue that trend for the next 5 or 6 days)......
Louisville:
Believe it or not, Louisville, Ky, has a very old and varied beer history. At the turn of this century, Louisville, Ky was about the same size as Chicago, Illinois. River travel had made this city one of the premier stops on the Ohio River to the Mississippi River, to New Orleans route. It was well known for it's "hospitality" and considered one of the finest places to spend a couple of days during your trip. With that type of popularity, there had to be beer and of course, bourbon (which is what the city is truely known for). That said, the beer history is amazing. At the turn of the century, there were 25 commercial breweries in Louisville alone. Across the river in New Albany, Indiana, there were another 10 or so, all of them churning out quality product. Breweries with names like Falls City, and Oertals, and Sterling were making beer with the Falls City Plant making a couple of million barrels a year. Remember Billy Beer? That was a Falls CIty product (and probably the one that put them out of business). Now all of these breweries are closed, no more. There are only 5 or 6 brewpubs left in the area. The decline of river travel and rail travel left Louisville as a mid sized city surrounded by the circle of Indianapolis, Cincy, Nashville, and St. Louis. Well, we know what's in St. Louis on the Ricewater front, and commercial brewing is still alive and well in Cincy, so Louisville brewing didn't have much of a chance.
The brewpubs there today, however are very dedicated to the craft beer movement and the number of good beer bars in the city is tremendous. There is a love there of good beer, and I hope to be gettin a little of that love over the next couple of days. The oldest and probably largest production pub is the Bluegrass Brewing Company. This place has been there over 10 years and is going stronger than ever as they are now bottling product and selling product to consumers in kegs. The pub had two big hitters with their
Alt Bier
, one of the first and still best examples I have enjoyed in my travels, and the
Dark Star Porter
.
Dark Star
is a very robust porter that is as flavorful as a porter can get. This is a classic beer and I am hoping to get my hands on a pint or two of it, or at least a couple of six packs to bring home. This pub also makes a very enjoyable
Kolsch
beer as well. The Bardstown Road area is the "Arts District" of the city and it is loaded with numerous good beer bars and Irish Pubs. The quantity is astounding and you can do a pub crawl on foot here and be out all night. There are a couple of the other smaller brewpubs located in this district as well. I am not as familiar with their beers, but am told you can't go wrong at either place.
One of the ultimate good beer and brewpub bars in the USA is Rich O's. Rich O's isn't actually in Louisville, but across the river in Jeffersonville, Indiana. This pub features beers made by the New Albanian Brewing Company in New Albany, Indiana, which is the first full scale brewing operation in that area in over 50 years. And they are a true good beer brewer too making Baltic porters, rich dark lagers, Belgian Trippels, and other dilectable beers. This pub also has about 20 or more taps dedicated to craft and superior commercial beers from around the world. They even recently had Zum Urige Sticke Alt on cask which only a handful of pubs could have possibly done this year. They also maintain two or three beer engines at all times with cask conditioned ales from all over the world. I hear a rumor that there might be some J.W. Lees Old Ale on cask still. One can only hope. The biggest problem at this bar is so many beers, and someone has to drive!!!! I am really looking forward to this stop on the tour.
So if you ever do go to the derby or to Louisville, Ky for any other reason, be sure to allow a day or so for the good bars and brewpubs in the city. You won't regret the tour!!!!!
See Ya:
This will be my last entry this week and I should return on Monday 5/3. I know you'll miss me greatly. But you don't have to not come to the site while I'm gone. The archives are working nicely and there is a lot of good information, and some fun stuff in here since we started this site back in September of 2003. Visit and read at your leisure and if you're not careful, you might just learn something...........
Count:
Yep, we're leaving tomorrow so it's ONE DAY and counting. Jefe, am I there yet??? The 'Ville Brewing Tour is only TWO DAYs away. Alert Rich O's and the BBC that we need some space available!!! And the Derby is a mere FOUR DAYS from today. I'll be back on Monday and I'm sure there will be stories to tell as it's always a new low, and I'm so ashamed when it's over.....
Have a couple of beers or sumthin' while I'm gone will ya........
Mark, The Brewer, and already hearing the call to the bar, er ah, post..............
Monday, April 26, 2004
Back And Better Than Ever........A Cellarman's Work Is Never Done........Here The Trumpets......
Back:
Did you miss me on Friday. To use a phrase made famous (sort of) by Carl in
Caddyshack
, " I was unavoidably detained". Anyway, if you missed me on Friday, you are not alone. I missed me too. Seems the entire Draft family was on the couch with another one of those notorious stomach flu's that has been going around. We can't catch a break. What does that mean to you?? Nothing really, well, other than the fact that I didn't taste anything over the weekend at all. Nor did I do any of the other brewery work that needed done.....which means I don't have too much to write about today on the beer front.....
Cellarman:
Some of the most important and labor intensive work is done by the cellarman. That is the work I had scheduled over the weekend that didn't get done. The cellarman is responsible for the transferring, monitoring, and packaging of finished beer in perfect sanitary conditions. Think of a brewery that is making 50,000 barrels per year, that's a lot of beer movement and bottling/kegging. OKay, think of Bud Light at 38 million barrels per year.......Wow, that's a lot of work. Now think of the I.M. Hammered Brewing Company, a nano brewery that brews, yea, 400 gallons per year, yea, that's the number, 400 gallons (you know, the federal limit of 200 gallons per adult per household....). Well, I don't have pumps and fancy conical bright tanks and carbonation tanks, etc, etc. Now, I do have some carboys, hoses, racking canes, and my own ingenuity to move my beer around. Which means I have to work a little bit.....
Anyway, I need to be kegging some cream ale and I need to be transferring some ESB to secondary. Luckily for me, beer is a very forgiving sort of thing. Will the cream ale be adversly affected by a couple of extra days in secondary? Not at all. All it does is make is a couple of more days before it is carbonated and ready to drink. Will a couple of days in Primary hurt the ESB? No, not at all. Transfer on day 8 instead of day 6 will make little if any difference in the finished beer. So I'm not overly spazzed about any of it. It just makes my day a little longer today, that's all..........but I'll assure you that before I go to bed tonight, this will all be finished.......Long Live the Beer.....
Trumpets:
Well, it is just 2 short days before we embark on our Kentucky Derby and beer drinking tour of Louisville. IMHBC on the road. If I can get to both Rich O's and the Bluegrass Brewing Company, I will deem the trip a huge success. If only one or the other, it is a huge success. Heck just making to the track for a couple of days is a huge success. If I leave without getting a big headache, it's a huge success. Anyway, I'm looking forward to a few days away from it all and to have some fun with Jefe and the Chicago gang. That means that we are 5 days til the running of the roses. Now I don't want to leave the ladies out, so remember that there is a big race on Friday for the 3 year old fillies called the Kentucky Oaks. It is also a big deal and a big day at the track. If you've never been to this race, put it on your life accomplishment list. If you've never been to Churchill Downs, you are missing a huge piece of Americana and American History. Walking through this facility brings goosebumps up on your arm as you can feel the history all around you. It is worth the trip. Derby week is one of the best weeks of horseracing in the world. The best of the best are all on the grounds with some of the most expensive and beautiful racehorses you have ever seen. Just Go......
I will be gone for a week from the site while in Louisville. If you are a regular reader, rejoin us May 4th for a full blown recap of the festivities. I will be on tomorrow, but after that, I'll be on vacation. Don't worry, when I return, there will be lots of fun and beer to talk about. So, until then, open, drink, repeat!!!!!
Mark, The Brewer (chief bottle washer, sanitation engineer, cellarman, bartender, etc, etc, etc,..), and looking forward to beer in the bluegrass.....
Thursday, April 22, 2004
You Gotta Hear This One.......IMHBC Taps Bulletin........New Brew Review.........And Counting......
As those of you who read my diatribes often have noticed, I am always searching for strange metaphors. I appreciate writers who think through the mess and come up with catchy or witty lines, or lines that have some deep significance. I mean, who can forget the line from the Christmas song
Grandma Got Run Over By A Reindeer
, "She had hoof marks on her forehead, and incriminating Clause marks on her back....." for goodness sake. That's why you often see lame references to Jimmy Buffett songs in much of the text that appears on here. He's one of the best at finding strange metaphors that I have ever read. Do I adhere to copyright laws, probably not, do I care, probably not (nothing from nothing is, well, nothing). I do however try to give the proper credits to the writers of excellent lines.
Zymurgy
Magazine's editor in chief, Jim Parker wrote a couple of good ones in the latest issue. As a voracious reader of topics that interest me, I found these lines to be classic. In his column titled "Radical Brewing", Jim was exploring what makes homebrewers so unique. It is the fact that we are an adventurous lot sometimes when it comes to looking for fermentables to add to our brew, or other flavorings. Having grown up in the 60's, Jim writes:
"Radicals were longhaired, tie-dyed peaceniks, marching for civil rights and against the war in Vietnam. Brewing was what they did in huge brick buildings, like our local Blitz Brewery, where they churned out several variations of the same pale yellow belch propellant thas was standard across the land."
"Today, if your reading this magazine you can count yourself among the ranks of radical brewers. You are part of a proud revolution that has transformed 'beer' from a monosyllabic, monochromatic commodity into an ever-expanding, ever-evolving movement based on the creation and enjoyment of an ancient beverage."
Pale yellow belch propellant is so classic I can't even tell you how long I laughed at that one. In retrospect, these words are very true and I for one am proud to be a part of this type of grass roots movement. We are the underdogs as the Arrogant Beastie (AB), and the other corn and rice water producers of this country indeed own the market place. But they can't stop us from talking to people, brewing great beers at home, making unsolicited suggestions in the market (yea, you could go ahead and buy that rice water headache in a bottle, or you could take a chance that you might actually like something that really tastes like beer....) and spreading the gospel of good beer to everyone!!! Once you switch to craft beers, you can never really go back. And they know that!!! That's why they work so hard to limit the market, hog the better shelf spaces, and try to brainwash everyone into thinking that beer brewed with rice and corn is really the best there is through advertising. Bottom line is, support your local brewpub, micro, craft, and regional brewer. You do make a difference!!!!!!!.....
Taps:
The
For Whom The Bell's Tolls
went quietly last night on the second pull to my 8 oz tasting glass. It was a sad moment, but just that, a moment, because waiting and with great anticipation on my part, was the
Anchor's Away
California Common Lager. I have been waiting because it has been a while since I brewed a lager and the first time for this yeast culture. I am excited that it might work because that opens up another world for me and my fermentation room set up. That said, I tapped that bad boy immediately!!! The beer is running perfect and the next section will be the review of this new IMHBC beer.
That brings me down to 4 kegs in inventory with the other FWTBT keg going to Kentucky next week. It won't last the weekend there as there will be a bunch of glasses asking for a taste. The
Steel City Cream Ale
will be entering kegs either tonight or tomorrow night. The "Dog" is still chuggin away in primary fermentation and I will be looking to transfer it this weekend for a nice secondary rest. There is some activity at the Old #5 Location coming this weekend, even if it is cellaring activity. I still like it like that.....
Review:
California Common is one of, or may be the only, truely American beer style. There are a couple of variations of this beer, one that was brewed in Southern Indiana and Kentucky that was called, oddly enough, Kentucky Common. This style was a beer built out of necessity during the gold rush days in California. Brewers with entrepenurial spirit followed the miners west knowing that they would need something to slake their thirsts after hard days of work. But brewing in California proved to be difficult. Barley grew there but might not have been of the highest quality. Hops were expensive to transport, but grew rather well in the temperate climate there. The hops that grew there were very earthy and spicy, not to mention quite pungent with odor. These Northern Brewer hops had to be used liberally to fortify the beers from infection and spoilage as there was no refrigeration. Fermentations were done in very shallow pans to help keep the wort as cool as possible and the yeast used must have been a mutated version of classic lager yeast. It was a yeast that held it's lager properties at low end ale temperatures (up to 64 degrees). Brewers had to be wiley, come up with new methods to make drikable beer, and the end result is what we know today as California Common. The remaining commercial example of course is
Anchor Steam
, Steam Beer. It is theorized that these brews were called steam beers because they were generously krausened at kegging with more fermenting beer added to the keg to carbonate the finished beer in the keg. The publican often had to bleed off gas from the kegs prior to tapping, and when the spile was driven to tap these kegs, they often omitted plumes of snow white foam. This looked like the steam that spewed from the steam powered locomotives of the time, hence the moniker, steam beer. The name Steam Beer is a very closely guarded trademark of Anchor Brewing today, so no one else is allowed to use that name on their product, hence the name California Common.
This is my first California Common beer. I tapped it last night and here is the review....
Anchor's Away California Common -- IMHammered Brewing Company, Mark's Garage and Basement (can you say nano brewery) = I had high expectation from this beer based upon gravity sample tastes and aromas. I naturally carbonated this brew with speis made from corn sugar as a primer and it is served on tap. The beer started pouring out of the tap and I could immediately smell the pungent aroma of northern brewer hops. Wow.....The beer pours an orangeish golden in to the glass with a big frothy white head. So far so good. The aroma was intoxicating in and of itself with the hop and malt aromas. The first sip was all I needed to be hooked. Big malt backbone with a strong earthy hop bite. There is then a wonderful hop flavor with malt underneath of it. It all moves to a long hoppy and malty finish that is clean and drying on the mouth. I couldn't wait for another taste, and another, and another, and another.......I know I brewed this beer and you don't really expect me to say anything other than it's great. But if you read here enough, You know I am usually pretty honest about the beers I brew and I have said on these pages that beer I have made is not up to standard, and was very open about the brewing mistakes that I have made. Well, honestly, this is an absolutely wonderful beer and a great experiment for me. This beer maintained it's lager characteristics as there are no esters present, no diacetyl, no sulfur flavors, just malt and hops in all of their glory. I think I've hit the style here too. I love this beer and I will make it at least twice a year, in the early spring, and late fall when I can maintain the 64 degrees needed in the fermentation room. This is a recipe and a beer for the ages and I can't wait to make it again and again........If you come to my pub and you're reading this today, don't walk, run over and get a glass of this beer..............
Counting:
I'd be remiss if I didn't revisit the Derby watch. We are gearing up for our annual trip to see the annual run for the roses. Departure toward Louisville is a scant 6 days away with the Derby itself 9 days away. It will be fun to see old friends and She Who Must Be Obeyed's family for a few days in an atmosphere of fun, frivolity, and with the presence of great beer. Jefe, get ready because the gang is comin' to town. Warn Rich O's and Kremer's cigars that the onslaught is about to begin..........
Open, sip, swallow, smile, sip, swallow, smile, sip, swallow, smile, repeat.........
Mark, The Brewer, and just steamin' along today.........
Wednesday, April 21, 2004
Penn Maibock Alert........Brew Review........Who's Next.......
Maibock:
Pennsylvania Brewing Company has just released one of it's crown jewels of fest beers. The 2004 Maibock is now on tap at the brewery. Last years version had a bit of fusel alcohol flavor to it and was very strong. This years version can only be described as perfect. It is what a maibock should be. It has a light or blonde golden color, had deep rich aroma of malt and a head that quickly dissapates, probably due to the level of alcohol in the beer. Some nice white foam stays on the edges all the way to the bottom though. The taste is unmistakeably malt driven with a great hallertau hop bite. The finish is long and clean with malty goodness. In case you couldn't tell, I loved this beer. Go get some while it's still there. It is a limited quantity and is usually gone by the second week in June. Good luck!!!!
Review:
Those wacky Belgian Beers are back in my head again. Here is one I tasted recently:
Petrus -- Got no idea who brewed it -- Somewhere over there = This beer poured with a clear deep golden color. It had a tightly beaded and frothy white head of foam on top that lasted. There was light cider or apple character to the aroma with a hint of hop aroma as well. The beer had a very light mouthfeel up front with a big hop bite. There was a following very strong hop flavor and the beer created a very dry sensation on the mouth. The beer finished very dry with more hop flavors that lingered. The initial head of the beer falls back into the beer pretty quickly but rim the beer all the way to the bottom of the glass and leaves the Belgian signature lace. I'm not too sure how I would like this beer standing alone, but it really did have a taste for food as I paired it with a veal/beef burger and it complemented the meal quite well. This brew is very different and is quite dry. It's worth a try if you get the chance. I had my example on draft in a signature glass (are you surprised by that). Good luck hunting this one down......
Next:
Who will be next in the Regional Beer Challenge. Since Old Style keeps dusting the rest of the field, maybe no one else wants a piece of it.....then again.....There has to be some beer out there that believes it can take on Old Style and beat it!!! I am open to suggestions. To recap, so far Old Style has dusted Rolling Rock, Gennessee, Schlitz, Iron City, and Straub. I'll have to give this next challenger some thought. It needs to be a beer that has a real chance of knocking Old Style off of the rock. It can't be some bland mamby pamby beer, it needs to have some sort of chance to be the one that kicks the champion out of the race. I believe it will be Stoney's. Stoney's you are the next challenger on the Regional Beer Challenge.......
Have a beer or sumthin', will ya.......
Mark, The Brewer, and ready for Stoney's to give Old Style a run for the money.......
Tuesday, April 20, 2004
There's A Fungus Among Us..........Regional Challenge Results..........Keg Hunting.........
Fungus:
I got home yesterday and hugged the children and She Who Must Be Obeyed, took Daughter Draft to Soccer practice and returned home. Now it was time to hug my "other" children, namely carboy #1, and carboy #2. I went to the fermentation room to check on the "Dog". Wow....there was a fungus among us. The yeast had already risen up to make a 4 inch covering on top of the beer. The beer was working real hard and fementation was fully in sync. I felt like the good yeast farmer, I treated them well, and they are giving me beer!!! It doesn't get any better than that.
Now don't forget about the
Steel City Cream Ale
!! I certainly haven't. It's still resting nicely in secondary and is tentatively scheduled for kegging (and tasting) on Friday. This beer has cleared perfectly and looks like it will be just fine once I get some gas on it. I am looking forward to a little "taste" of it when I confirm the final gravity and get it into kegs.
For Whom The Bell's Tolls
is still hanging on (and still tasting real good) but I doubt will last much more. The Steam Beer
Anchor's Away
, er ah, excuse me, the California Common Lager (trademarks, ssscccchhhheeeesssssse) isn't even waiting in the wings. It's in the chest waiting patiently for it's turn to be tapped. This week is shaping up pretty nicely.....
Challenge:
Ah, the Regional Beer Challenge is back in the news. The Staub examples have been tasted and the results are in. First I want to say that Straub is a very unobtrusive brew that is not unpleasant in any way. That's the problem with it. It is extremely bland to say the least. Is it well made, yes. But does it stand out in any way, no. It's just a beer. That said, it doesn't do anything that is terrible either.
Here we go
Packaging: Not a fair comparison as Straub only comes in bottles and the darn things are green. I hate green bottles so I'm not even going to consider packaging....
Price: Old Style goes at $10.95 for a 30 pack, Straub at $14.95 a case.....Advantage = Old Style...
Appearance: Both pour with, are you ready for this, light golden highlights in the glass with snow white foam on the top. Both have long lasting and tightly beaded head retention. Advantage = Push......
Aroma: Old Style has a hint of malt with a light level of DMS (appropriate for the style), Straub had no detectable nose. Advantage = Old Style
Initial Flavor: Old Style had a light malt accent with a noticeable hop bite, still the biggest hop bite of any of the challengers. Straub was simply bland and dry. Advantage = Old Style......
Middle: Old Style continued with a light honeyed malt flavor and a pleasant dryness on the tongue. Straub has a different flavor about it in the middle. I can't identify it, though I believe it has to do with using flaked corn or maize in the grist rather than corn grits. It is a light tangy sensation and I'm not real sure if I like it. Advantage = Old Style
Finish: Old Style finishes clean and dry with a lingering hint of malt sweetness. Straub finishes very dry and somewhat bland. There is no detectable hop flavor in either beer. Advantage = Old Style
And the winner is, in a land slide, and still the king of the rock ........ Old Style. Straub is just way too bland and has little character of any kind to it. That's not to say it isn't drinkable if that is what you are looking for. It appears many local people in this region are because they can't brew enough of it at the facility. That said, Old Style still is delivering more of what there is to be had in this beer style. Congratulations Old Style for another victory. Who will be next in the Regional Beer Challenge???? You'll have to come back later in the week to see........
Keg:
I will stopping at the old Penn Brewing facility later today to pick up another 1/2 barrel of one of their fine products. It is one of my favorite places to visit, and some of the best beer you will ever drink. Unfortunately, I won't be able to stay to sample too many today as I have to make several other stops on the way home. Too bad, I guess I'll have to make it another day. I don't know what will be available today, but whatever it is, I'm looking forward to having a taste of it. Maybe the Maibock is available......I hate when that happens (yea, right.....)................
Purchase, Chill, Open, Swill, Smile, Repeat............
Mark, The Brewer, and comtemplating the next keg's contents.......
Monday, April 19, 2004
What A Weekend.......The Dog Lives........Uh Oh, There's That Sound Again........Steam Beer Next Up........
Weekend:
The only word that even comes close to a description is WOW!!!!!!! As crazy as this sounds, we went from winter to August in just like three days. I just hope September isn't three more away. The weather was nothing short of spectacular this weekend. It made brewing on Sunday a treat for sure (more on that later). The kids got dirty, I got some work around the house done and of course, I brewed on Sunday (more on that later). Baseball is in full swing, we got the screened porch ready to go, and had the second official cookout of the year Sunday night, and of course, I brewed on Sunday (more on that later). There was bike riding, yard work as the first official mow of 2004 took place, kids with sidewalk chalk, bowling on Saturday night, and of course, I brewed on Sunday (more on that later). Daughter Draft had a soccer game, and diid I mention that I brewed on Sunday????? One more comment on the weekend. Art, if your out there on safari somewhere, e-mail me and let me know how your first all-grain brew went. Art brewed on Saturday, of course, I brewed on Sunday (more on that later). Okay, it's getting obnoxious, so on to the next topic.......
The "Dog":
I know I talked about it all last week, but I love this beer. Oh, by the way, this is where I'll be talking about brewing on Sunday......Anyway, I couldn't have asked for a more spectacular weekend or a nicer day to brew than Sunday was. The "Dog" started on Friday evening as I made 2 one quart starters for the California Ale yeast so that I could get it going. The yeast was right at expiration date, and I didn't want a repeat of the IFA (India Fest Ale) infection from long lag time disaster that we had earlier in the year because of old yeast. By Saturday afternoon the starters were going and the yeast was starting to rise up. By Sunday morning the starters were perfect and ready to go. The recipe for this beer is actually pretty simple, but it is the brewing that makes it work. Well, I got started about 9:30 setting up and mashed in by 11:00. I had some trouble getting the mash temperature to stabilize. For some reason, it settled too low at about 149 degrees. I think I misread the thermometer of the strike water. Anyway, not to worry. About 20 seconds worth of blasts of heat from the burner and it stabilized at about 153 degrees. By the end of the hour it had dropped four degrees to 149 degrees. I like this beer at 152 to 154 and the temperature drop was more than I have been experiencing with the set up. A little weird, but not a problem as we got complete conversion. Sparging went without any hitches at all and neither did the boil. I had everything cleaned disassembled and put away by 4:00 so 6.5 hours total time including set up and cleaning. It was 4 hours from mash in to pitching temperature. I actually crushed the grains on Saturday and sealed them in a bucket so that time is not included. A pretty efficient brew day for a ten gallon batch if I do say so myself. The starter worked wonders as I had co2 coming out of the airlocks in two hours after pitching. At 16 hours this morning, the beer was already working hard. That is almost zero lag time and I like it like that. The
Angry Dog Amber
is alive and well as of this morning as I have 10 beautiful gallons of this food of the gods fermenting even as I write. I hit an opening gravity of 1.058 putting efficiency at approximately 72%. All I need now is a full fermentation, a couple of weeks of aging, and a problem free kegging session and this beer will be ready to drink.........I'll let you know how we did in about 6 weeks......
Sound:
It's all my neighbor Bob's fault. He did it. I didn't even hear it happen, but he relayed the horror of it all to me. I was tending the grill making some absolutely perfect hamburgers. Then Bob appeared with the news. Yes, the Penn Pilsner Keg had kicked and the dreaded hiss of of co2 and foam was coming out the faucet. I can't believe it!! You have got to be kidding me right??? Nope, all gone. Guess I'll have to get to the brewery either tonight or tomorrow to get another one. Man I hate when that happens.....having to sit and have a couple of the Penn specialty beers while I'm waiting for the cellarman to free up to get me a keg.......I don't know if I can handle it........I'll just have to take one for the team I guess and tough it out......
IMHBC:
For Whom The Bell's Tolls
is just about empty. The keg is very light and I'm guessing will meet it's demise sometime this week if not tonight. Not to fear,
Anchor's Away
california common is already in the cooler and should be chilled and ready to go!!! I have been looking forward to tasting this beer now for several weeks and actually thought that it would be on line by now. Not to worry though, it's going to get it's day in the sun and that will be very soon. I love steam beer. For anyone who has never tasted Anchor Steam, you gotta try it sometime. It is an excellent lager loaded with flavor and hop expression. I just hope my foray into the lager world will be worthy enough to say, I made a good steam beer. Time will tell........
Lot's to talk about this week again. Beer season is gearing up as the weather gets warmer. Stay tuned to this site for more, more, and more, including the results of the Regional Beer Challenge........
Relax and have a beer or sumthin'.........
Mark, The Brewer, and happy to see the "Dog" again........
Friday, April 16, 2004
What A Day........Making Starters Tonight.......Recipe Day........German Glassware......
Day:
We have been waiting for today in our neck of the woods for a while now. What day is that you ask? Well, its the first real day of nice weather. Now, we've had the proverbial teaser days back in March where it got up to 70 or so degrees and you think, yea, spring is here. Then we got 2 inches of snow. No, today it's going to be 73 degrees, then tomorrow 75 degrees and a whopping 78 degrees on Sunday. This is the day we've been waiting for!!! When you get those three of four consistent days in a row, you have finally shaken winter. I will be mowing my lawn for the first time in 2004 tonight after work (assuming of course my mower will in fact start). That also is a tell tale sign that the cold is going away for the next 6 or so months. It also means that the next several brew days will be real nice with warm temps outside, the doors open to the garage, and the wonderful odor of hops in the boil waking up the neighborhood. It's amazing when the neighbors all walk over to see just what in the heck your doing. They are always shocked that you are actually making beer. This Sunday will be no different. I will have the doors open and will be enjoying a bright beautiful day of spring while I engage in one of my favorite passtimes, brewing the
Angry Dog Amber Ale
. It just doesn't get any better than that......
Starters:
Just for the record, I practice what I preach most of the time. I am going to make two starters tonight for the "Dog". I have some very fine white labs California ale yeast that has been resting in the fridge for the past 3 months. Its best before date is April 12th. Since that day has passed, I am going to make two 1 qt starters tonight, one for each vial, for each fermenter. I believe I went through this process recently on the site, but it bears repeating. A starter puts about triple the amount of yeast into your beer and that yeast is already active and looking for more food. It will give you quicker starts, less chance of contamination, and a cleaner tasting beer in the end that will always ferment to completion. It is a simple process:
Heat just over a quart of water to boiling. Shut down the heat and stir in 1 cup of extra light malt extract. Bring back up to a boil and boil for 15 minutes. Cool pot and the wort in an ice bath in the sink. Transfer the wort to a sanitized container that will accept an air lock. I am using two wine bottles with #5.5 stoppers and an airlock. You'll be out a whole $3 for this set up. When the container is cool to the touch, pitch the entire vial of yeast into the wort. Close it up and put it at room temperature. This will ferment just like your beer does. In 24 to 36 hours, it is ready to pitch so really minimal planning is required. After brewing and cooling your brews finished wort, pitch the entire starter into your wort in the fermenter. You will be amazed at how short your lag time is with a starter, specifically an ale. Be sure to swirl the starter container so you don't leave any yeast cake in the bottom. You will have effectively tripled the amount of live yeast cells, and that is a good thing........
Recipe:
By later today, the Dunkel Weiss that I reviewed yesterday will have it's recipe posted on the recipe page. Jim from Country Wines was kind enough to forward the recipe to me and I in turn will post it out there for you. This is a very good beer that I highly recommend you try somewhere in your brewing rotation. You won't be disappointed in the results. I also now know the actual name of this beer, though Jim is tight lipped about the name of his nano-brewery. I'll get it out of him. I think he can be bought with....beer. The name of the fine brew is
Dreamy Dunkelweizen
. Check this recipe out and give it a shot.....
Glassware:
My buddy and neighbor from down the street just returned from a 10 day trip to Germany (Aren't you just green with envy). It was a so called "business trip", but reviews from him sound like he spent as much time in the bier gartens as he did doing, ahem, "business". Anyway, Captain Ron was kind enough to bring me some German specialty glassware. They included a couple of authentic Kolsch glasses direct from the brewery's pubs, a Jever Pils glass (very nice), a Budvar glass (that actually says Budvar on it, not Czechvar), and another special Easter beer glass that I couldn't describe to you if I had to. Let's just say it's Belgianesque. All are very cool and all are greatly appreciated. I see many tastings in my future from some of these glasses. Thanks Captain Ron for thinking of little old me. Also, he brought me a bunch of coasters in German as well. Those will annoint the ceiling of shame as tonight I will be adding them to the rest of the collection of junk that makes up the ceiling of the bar area. Cool.
Everyone, have a fun and safe weekend, have a couple of beers, and enjoy the weather if you got it.
Relax, and have a beer or somthin' will ya!!!!!!!!! Then repeat as necessary!!!!!!!
Mark, The Brewer, and always in a good mood on a brewing weekend.........
Thursday, April 15, 2004
U.S. Beer Sales Results (Disappointed).......A Hoplicious Brew Review.......Days To Derby......Good Luck......
Sales:
AAAARRRRRGGGGGHHHHHH........I don't believe it!!! What is wrong with this picture. Total sales last year in the United States yields 5 light beers in the top seven. Ouch!!! To top all of that off, the top two by a substantial margin, are Bud Light, and Budwieser. The top five are rounded out by Miller Light, Coors Light, and really who cares who is number five. Oh yea, another Arrogant Beastie product, Natural Light. The top two combined for over 70 million barrels sold. Just to add insult to injury, AB also posted a 12% increase in profit for the 4th quarter 2003. Is anyone else out there feeling as nauseous as I am.......I just read a column from the
Great Lakes Brewing News
written by Ian Bowering. Now Ian is a Canadian that loves beer, and despises the big monopoly driven brewers. He's my kind of guy and I'd love to drink a beer with him. Anyway, he recently was marooned in a bar that only had AB products on tap. He took the plunge and ordered a regular Budweiser and his response is one of the best lines I've heard in a while. (sic)"I'm sorry, I just couldn't find the crisp, clean taste in there anywhere which goes to prove that 3 million beer drinkers can be wrong". Now if that isn't one of the best lines I've heard in a long time, I'll stop drinking beer......
I guess the one thing that I can't get out of my head is how can so many people believe that the headache in a bottle that AB sells is great beer (it's barely beer). There is nothing about it that is even remotely what old Augie Busch made there back in the day prior to prohibition. The companies business acumen must be applauded as they get results to the bottom line, but at the expense of ruining beer and beer culture for millions of Americans (and arrogantly attempting to conquer the world). Thank goodness for two things. Number one is that I live in a place that still embraces beer, has several local and regional brewers who still make products that range from outstanding (Penn Brewing), to drinkable (Yuengling) and really care about their products, not the almighty dollar, and Number two is that I have some God given ability to create beer on my own in my own brewery that sometimes actually rivals commercially made product, and gives me the freedom to make whatever kind of beer I have a thirst for (The "Dog" is up this Sunday). I guess that I should be thankful of these things.
The bottom line here is, embrace and support your local brewpubs, micobrewer, and regional brewer (and good beer bars). They are fighting an uphill battle against billion dollar corporations that would like nothing better than to put them out of business. The three tiered distribution system is geared to do just that. That's why I now boycott all products from the big "Three". Only you can make a difference by choosing products from smaller brewers and brewers who make real beer. Thanks for reading and thank you for supporting your "locals". I'm off the box.........
Review:
Speaking of fine craft made beers:
Tupper's Hop Pocket Amber Ale -- Old Dominion Brewing Company, Herndon, Va = This beer is all about the hops. In fact it states right on the bottle that it is "extravagantly hopped". It is. The hop aroma is all around you just after opening the bottle and gets stronger as the brew pours into a glass. A deep aztec golden color with a big white head of foam awaits the first taste. Hops, hops, and more hops right up front on the palatte. You can't fight city hall, so just enjoy. That big hop flavor is followed by a big hop bite. This is a hoppy beer in case you haven't gotten that yet. But then, there is a change in the wind as a big malt presence comes through in the middle. It is a honey sweet hint with some rich crystal malt overtones. That is followed by more hop flavor and a nice dry finish that is smooth and begs for another sip. This late balancing act is worth the price of admission. This could become a session beer with little effort as it seems to just call for you. I liked it and recommend it to anyone with a passion for the taste of lupulin!!!! Find this one and try it.....
Derby:
We are just mere days away from our excursion to good ole Louisville, Ky to sing
My Old Kentucky Home
with about 130,000 of our friends. This ought to be interesting to say the least. I plan to caravan with the mobile unit and take
For Whom The Bell's Tolls
down for some tasting. YUMMMM. Anyway, it is now a short 13 days until we get to the 'ville, and 16 days till the running for the roses. See Ya there!!!!
Good Luck:
Finally today I want to wish Artonsafari all the luck in the world as he takes the plunge into all grain brewing. Art is a very experienced extract brewer and has fashioned himself a system that will take him to the next level. Art, you won't leave that level once you get there. So on Saturday I will raise a glass to Art, and welcome him to the wonderful world of all grain brewing. I know this first batch will turn out great and with the hop additions he has planned it will make him hoppy, hoppy, hoppy!!!! Good Luck!!
Open fridge, extract brew, open, tilt, pour, sip, smile, sip, smile, sip smile, repeat...........
Mark, The Brewer, and gonna be the big "Dog" this Sunday...........
Wednesday, April 14, 2004
Ready To Go......An Interesting Beer.......Seasonal Grains........
Ready:
I got out of my "real Job" at a reasonable hour so I made that right turn instead of a left and made my way to Country Wines last night. I procured some crystal malt at 60 LOV and about 6 ounces of hops to make the
Angry Dog Amber
on Sunday. The weatherman has promised me a nice day so the doors can get opened up for the brew session and I like it like that. I also bought some equipment (if you want to call it that) to make starters with. Really simple stuff. Two half gallon wine jugs with drilled stoppers to fit, a couple of air locks, and some extra light malt extract. The malt extract cost about as much as the rest of the equipment. I also picked up some priming sugar (5 lbs) and a copy of the
Great Lakes Brewing News
. Jim the Brewer made some Cyser last fall and gave me a pint of that to take home and try as well. That should be interesting.....
With all of that, I am ready to start brewing the one and only
Angry Dog Amber Ale
. This was one of the first real successful beers that I ever made and has since been scaled from extract to all grain in the recipe. The extract recipe appears on the recipe page (click on the link if interested). This is a great beer and one I really look forward to getting made, fermented, and conditioned so that I can get it on tap!! We'll start on Sunday at a reasonable time and brew away.......
Beer:
This is a beer review. Jim also made a Dunkel Weizen recently using a chocolate wheat extract. This is a relatively new product so I thought I'd give it a try. So here is the review:
Jim's Chocolate Dunkelweiss -- Brewed on premise at Country Wines -- We'll have to come up with a catchy name for Jim's brewery to insert in these reviews = The beer pours very nice with a dark brown or chocolate color and a billowing tightly bubbled white head of foam. The obligatory aroma of fresh bananna bread was not only evident, but devine as well. The beer starts with the wheat flavor and tartness balanced by both the hop bite and a chocolate flavor. The middle is more of the same with a bit of chewyness. The finish is light and dry with a hint of dark chocolate flavors. The beer reminds me of a banannas Foster desert. This would be perfect after a meal as it's not sweet, but gives the good chocolate flavors you like coupled with the essence of wheat malt. Very good!! This is quite easy to make as it is an extract beer. I will attempt to get the recipe from Jim to post on the recipe page. This and many other recipes are available at Country Wines as well as the ingredients to make them. See the link above.
This recipe is appropriate as we swing into the summer season and the fine beers that are the trademark of summer. Trying to reason the hefeweizen season!!!!!
Grains:
Speaking of hefeweizen (notice how I so very slickly segwayed into the next topic...You'd think I did this for a living or somethin), summer brings with it a host of seasonal beers. To make these seasonal beers takes some special grains. Wheat obviously is the first the grain that comes to mind.
Wheat can be added to your beers in many ways. Extract brewers can simply buy wheat malt extract. These extracts range from 40 - 60% wheat with the remaining being two row barley. Wheat beers are great when made from extracts and are so simple to make with that technique, that I brew all of my wheat beers from extract. I can't tell much of a difference from an all grain wheat beer and an extract beer. That bodes well for warmer weather as you can brew all summer. An added bonus is wheat yeasts ability to ferment up to 72 degrees without imparting any off flavors or fusel alcohol. If you have a cave or basement that stays in this range throughout the summer, you can brew this beer!! All grain brewers have many choices on wheat and how to add it to the grist. There are red and white varieties of brewing wheat and it can be added malted or raw and unmalted. You must always mash wheat with barley and increase both your mash and lauter times. Unmalted wheat takes even longer to convert. Be patient if you make this beer with all grain. Lautering can be a problem too. The more wheat you add to the grist, the higher the probability of a stuck mash. Wheat has no husk to create the filter. Adding rice hulls is an alternative. Up to 35% wheat in the mash should not yield a problem however. At 60% I would add the hulls. Also, lauter with water at or as close to 170 degrees as you can get. That will lower the viscosity of the run off allowing it to flow to the kettle better.
Another grain that at one time was nearly all but forgotten is Rye. Rye like wheat is huskless and can have the same effect on a mash. Rye however only requires less than 20% of the grist in order to get the effects of this grain. Rye imparts a very spicey and earthy flavor to the beer. It will impart a tartness and a very refreshing finish. Rye beer, or Roggen Bier, is one of the old Germanic Ales (like Altbier and Wheat bier) and predates by a wide margin the lagers made in Germany today. There are only three commercial examples from Germany that are made now. Rye can also be used in small quantities, 10 to 13%, to give any beer you make some zest. Rye must be mashed and must be mashed with high enzyme barley like American two row in a step mash profile for best results. You can't really use rye in extract brewing as it requires mashing to get the goodness out of it.
Give these seasonal grains a try in your next beer. I'm sure it will taste something like beer.
Get a pint, raise it, swear allegiance to friends and family, tilt, sip, smile, repeat....
Mark, The Brew, and still trying to reason with hefeweizen season........
Tuesday, April 13, 2004
I Gotta Tell Ya.......Straub Beer Procured.......The Rites Of Spring......
Tell Ya:
I gotta tell ya this. Last night I was looking forward to a
For Whom The Bell's Tolls
when I realized I was pouring from the wrong tap. I was pouring Ole
Parrot Pete's
into my glass instead. I figured, okay, what the heck, it might give me some changes in lattitudes, or at least some changes in attitudes for the rest of the evening. I was in the mood for the lighter brew, but the porter would be fine since I made the mistake. I mean, I'm not going to pour it out or anything because I don't want all of you rioting outside my house calling for my head on a stick!! Anyway, I had the hockey game on and was settling in to do some research reading on using rye in beer when I sipped the porter. Oh My Goodness!!!! I haven't had one of these in about a week!!! The beer has matured to it's peak and is it ever good!!! Flavors of chocolate malt, perfect hop balance with a hint of roasted grain!!!! A middle full of chocolate and coffee hints!!! A long malty finish that begs for another sip!!!! You want to talk about totally contented with my mistake!!!! I was happier than a pig that slid into the slop trough!!!! Happier than a pirate landing in Tortuga with a ship full of plunder!!! What a beer!!! I can't wait to have another one tonight!!!
Just thought I would share that with all of you as the "Pete's" probably won't return until fall.......then again, after a couple more pints like that, we could move it up on the calendar a few weeks........
Straub:
Well, the Regional Beer challenge is "Game On". I procured a case of the infamous Straub Beer last night. In fact, I have already had a sample or two of it. It will have to go side by side with Old Style now to get a true reading on how it will do. Stay tuned for that exciting epic battle of the American Standard's in the Regional Beer Challenge. Okay, I know I'm stretching a little bit here. The style is pretty bland and light with little hop accent of any kind. There is little malt accent of any kind for that matter. These beers are lighter than light and brewed with so many adjuncts that it is getting difficult to tell many of them apart any more. But someone has to carry the torch here. Someone has to be leader of the expedition. Someone has to make the ultimate sacrifice and drink beer from cans. I guess that someone is me. So be happy that I am saving you the grief of buying any of these beers without at least some level of their blandness communicated to you.......What would you do without me....
Spring:
Before I go on with my "Spring" talk, I will be taking a little trip down to Country Wines today to get supplies for the Sunday Brew. There is nothing I like better than brewing and the weather is supposed to break and be great this weekend. I look forward to brewing the "Dog" almost as much as I look forward to drinking it.
That said, spring is here and we've had two inches of rain the past couple of days to prove it. I'll be mowing this weekend, assuming my mower will start. But that isn't the thing I want to talk about here. It has been brought to my attention that there will be the ultimate spring party happening here in the next few days. That would be on May 1st, the annual Run For The Roses. The Kentucky Derby!! That is just a short 18 days away from today. I will be there along with She Who Must Be Obeyed, Chilly Draft, and Knuckle Jefe among others (about 125,000 others). And the trip to Louisville also means a trip to Rich O's. What is Rich O's? It is one of the most eclectic brew pub and better beer bars I have ever been in. I have to tell you that it is a beer drinking experience like no other. The New Albanian Brewing Company brews exquisite beers that are dispensed at Rich O's, plus there are always about 20 additional taps that are dedicated to beers of the world. Some of the finest beers known to man are served here regularly. This bar just recently had two casks of Sticke Alt direct from Dusseldorf, Germany. This is a beer that is so rare that it rarely lasts a couple of days on premise at the producing brewerys. Rich O's is a beer experience like no other. I am really stoked to go there again. Talk about your "One Particular Harbors", this joint is one of the 450 or so that are in my all time top ten.......
Pour, tilt, sip, swallow, smile, repeat......
Mark, The Brewer, and Rich O's bound........
Monday, April 12, 2004
The Week Ahead......
Steel City Cream Ale
Update.........Who's Next In The Regional Beer Challenge......It Was Masters-Full........
Week:
The week ahead looks challenging, but the beer will always shine through. The plan is to brew this coming Sunday, so there will be the obligatory equipment checks and secondary cleaning, plus recipe and ingredient checks. I love brewing and advocate it as a hobby to anyone with a passion or interest in beer. But make no mistake about it, it is a lot of work!!! I don't want anyone to get lazy on me with sanitation or other aspects of brewing, but the bottom line is, if you want to get good at it, you have to give up some elbow grease. Your equipment has to be spotlessly clean and your detail to sanitation must be borderline fanatical.
Tomorrow or Thursday I will go get hops and possibly some specialty grains. I have to do some inventory in the grain bins to see if I have the needed amount of crystal malt to make this nice amber colored beer. The hops of course are willamette and tettnang hops and they give the "Dog" a nice hop bite and some seriously spicy aroma. I love it!!! With some cleaning and other details, all I will have to do is set up on Saturday night and get to brewing on Sunday morning. Welcome to the Church of the Brewer.
With a little luck, I should also have some reasonably coherent reviews of a couple of Belgian beers for you as well. It is shaping up to be a good week at the Ole' IMHBC.......
Cream Ale:
The
Steel City Cream Ale
is still resting nicely in secondary. Since it is a light and delicate brew, I will let this beer rest at least another 7 days. A total of 14 days in secondary is what I would recommend for an ale like this. It has cleared very nicely and you can see through the carboy. This will be nice light treat and a very good cross over beer for anyone looking to try a more craft type beer. With the adjunct level at 13% of the grist, it is enough to lighten a little bit in both color and body, but not enough to dominate the flavor or create excessive amounts of DMS (that creamed corn aroma that is so prevalent in today's 50% adjunct brewed American Standard Lagers). There will also be more hop character than American Standard brews with some flavor and aroma hops evident. With warmer weather just around the corner, this will be a good refreashing quaff for the hot days that will be here very soon. Stay tuned for more on the brew as it should be getting kegged in a week and will be ready to drink about 14 days after that........
Regional Challenge:
With Old Style still holding that top spot on the rock in the Regional Beer Challenge, it is time to escalate the event. Anything can happen and some of these more obscure little brewery's make some beer that could unseat Old Style. This week, it will be Straub Beer. Straub is made in a small brewery in St. Mary's, Pa. It has been made there for many years. The brewer is at total capacity brewing two shifts a day and still can't fill all of his orders. That's a good problem to have if your a commercial brewer. Their process is intersting as they use flaked corn or maize in the mash instead of corn grits. That is much like a homebrewer would do. It is the typical American Standard lager. Old Style, you will get another strong challenge from this beer. Let's see if Old Style can withstand the challenge from fresh Straub Beer. There is one caveat to this weeks challenge. Straub only comes in bottles. The competition was (unfortunately for me) set up to keep everything as static as possible, i.e., beer from cans. Straub deserves the chance given it's local popularity, and I will allow the examples to come in bottles for this round. So stay tuned later this week for the results of the Regional Beer Challenge......
Masters:
This is non-beer related, but I have to talk about it as I love golf and love to play golf. Phil Mickelson was unbelievable yesterday in the Masters. So was Ernie Els for that matter. What a final round of golf. It was a classic championship and one of the all time great final 9 holes at Augusta. Phil shoots a 5-under par 31 on the back nine including birdies on 16 to tie, and a birdie on 18 to win. Els shoots a 67 on the final day and looked like the winner with a three stroke lead and six holes to play for Phil. It doesn't get any better than that!!! If your not a golf fan, sorry for this intrusion, but if you are and you missed this, well, I hope ESPN Classic has this as an instant classic because this is what professional tournament golf is supposed to be like. It was as exciting as it could be. It even included two final round holes in one on 16 by players from two consecutive groups. Unbelieveable!!!! What a way to start the major's season......
Have a great week and check back as we are going to have a lot to post this week!!
Retrieve, open, tilt, swallow, smile, repeat.....
Mark, The Brewer, and dreaming of playing golf real soon........
Friday, April 09, 2004
All-Grain Temperature.......Munich Malt........Happy Easter........
Temp:
For anyone wishing to take the jump to all-grain brewing, there are a couple of important things to think through in your process, well, besides sanitation issues of course. Probably the most important item is temperature. We'll think about a single infusion mash for the time being as it is the simplest form of all-grain mashing (and I'm just a simple guy). In a single infusion mash, you want to rest the crushed grain in a stabilized temperature range. This range of temperature will activate the enzymes naturally found in highly modified base grains and cause the natural starches to be converted to various types of sugar. Wow. That's a mouth full!! The least you need to know (to steal a phrase for the Book's for Dummies series)? Get the mash to your desired temperature and let it sit. The rest of the chemistry occurs natually in nature if the grain is in this certain environment. Think of your task as creating the environment for the magic to work.
The obvious two questions are: 1. How do I get my mash to that temperature range?
2. What is the temperature range I need to be in and what happens at either end of the range?
See, you guys always ask the most important and to the point questions!! I'll start with number two first. The temperature range that the enzymes in grain convert starch to sugar the most efficiently are 148 - 160 degrees. There are two enzymes at work. One makes fermentable sugar, and the other makes unfermentable sugar, or dextrines. If you want a dry highly fermentable wort, stay closer to the lower end, say 150 degrees. If you want a sweeter beer with a wort that will leave residual dextrine sugar in the finished beer (aka Scottish Ale), Mash at 158 degrees. To make a beer that has both characteristics and both enzymes working together, mash at 152 to 154 degrees. Most ales can be mashed in the 152 to 154 temperature range with great success. As you can see, mashing gives you great control over flavor and alcohol content in your finished beer. Never let the mash temp exceed 170 degrees. This will denature the enzymes, or cause them to cease working, and can leetch protein compounds into your wort that will cause off flavors when boiled.
Question one is also a good one. Most of us must mix the crushed grain with hot water in the mash tun to stabilize the mash temperature. The hot water is often referred to as strike water. Your grain is going to be at room termperature. Generally speaking the amount of grain it takes to make a batch of beer at room temperature (5 gallons), when added to hot water (> 150 degrees) will cause the water temperature to drop approximately 10 degrees (again the least you need to know). So if you want to stabilize your mash temperature at 152 degrees, you must heat your strike water to at least 162 degrees to achive your target temperature. My suggestion to you is heat your strike water 12 degrees above your target. To mash in, start with foundation water, enough of the hot water to be about 1 inch above the false bottom in your tun. Begin adding grain and water while stirring until all of the grain and strike water are in the tun, and all of the grain is wet and there are no clumps or "dough" balls in the mash. Work quickly and efficiently as heat is always lost through stirring (hence the 12 degree cushion). Put your brewing thermometer right into the middle of the mash to get a reading. Don't worry if you miss your target high by a degree or two, the mash will cool a couple of degrees during the rest anyway and one or two degrees won't hurt a thing. Just like with the golf swing, perfection is unattainable. If you lose too much heat, just add some additional water heated to 170 degrees. Always have back up water heated. If you don't you will most certainly need it. Stir this water in to avoid "hot spots" in the mash. It won't take much to up the temperature a degree or two and be careful not to make the mash too thin. A quart or so is a good rule of thumb to get up two degrees. The least you need to know??? If your strike water is 12 degrees above your target, and you work efficiently mixing the grain and water, you shouldn't have to ever add hot water.
Once the mash temperature is stabilized at or near your target, cover up the tun and insulate, and sit back and have a home brew because your mash is now making sweet wort. Let it sit for 45 minutes to an hour. Some say conversion takes place in as little as seven minutes. I wouldn't go that short, but I've started to recirulate after 40 minutes before and had full conversion. A good rule of thumb is 1 hour to be sure.
Congratulations, you just made a mash in your mash tun, hit your target temperature through correct application and temperature of your strike water and grain, and used good technique to get it done. In about an hour you will be ready to recirculate and sparge. I guess we'll have to get to how to do that next time........It's just soaking grain in hot water!!!!!!!!!
Munich Malt:
An advantage of all-grain brewing is your ability to use other malts that extracts just can't duplicate. One of my favorite malts is Munich Malt. This is a base grain that is just slightly kilned. It has enzymatic power and can be used as part of, or all of your base grain in the grain bill. Extract brewers can't use it as it must be mashed to get the goodness out of it. Munich adds a deep golden color to the brew and a spectacular maltyness that regular base grains don't possess. The maltyness adds depth and body to the beer. It can be used to make virtually any beer from a pilsner, to a stout. An all munich pilsner is something to behold and drink, and the depth this malt adds to a porter or stout is fabulous. If you are into partial mashing or all-grain brewing you must experiment with this base grain in some quantity. One warning, if you are going to use munich as an exclusive base grain, move your mash time up to 90 minutes. The enzymatic power of Munich is less than a highly modified two row base grain. I think you get the best result using munich up to 60% of the bill in conjunction with regular two row. Munich does not convert adjuncts very well either, but then again, why would you be putting adjuncts into a beer with a high concentration of munich malt. It is one of my favorites and I'll put it in ales just as quickly as I'll put it into a lager. Have fun, and trust me, you'll be putting it into everything once you taste the difference........
Happy Easter:
To all of you daily or weekly visitors (we know who you are) I wish you and yours a very happy Easter. I hope fun and prosperity follow you all the rest of the year. I enjoy giving you tidbits every day and I hope you continue to enjoy the read. If your not careful, you just might learn something. If I get one person to start brewing or to switch to all-grain brewing from extract, I feel real good about it. Thanks for coming to the site and I hope you return often. I'll keep trying to give you some subject matter and maybe a little humor. My goal is to make brewing fun and easy to follow. All-grain has a mystique about it that doesn't need to be there. It can be approached simplistically and with easy to follow instructions. I hope to continue to get people there as often as I can and to make your brewing experience a good one. Thanks again, and again, have a Hoppy Easter (he, he, he)...........
Go spend time with family, open a brew, tilt, swallow, smile, eat something, repeat (not to many sweets now....)............
Mark, The Brewer, and planning to have a very hoppy Easter...........
Thursday, April 08, 2004
Clean Lines.......The Dog......Slow Week.......
Lines:
For those of you who have a draft system out there, I can't begin to tell you how important clean lines are. I recently went to a little neighborhood pub and had a local beer from their tap. It was just plain awful. I know why too. They probably don't maintain their lines properly. It just created some awful off flavors to the pint I had. You wouldn't think it has that much effect, but it does. The bacteria that can build up in your lines is way greater than you can imagine, and right on the faucett is another place where bacteria will grow. If you don't clean and sanitize the lines and faucett, it will effect your beer as it flows out. After going to all the trouble to set up a draft system, you need to clean the lines.
There are several ways to do this. Kits are available to clean commercial lines and it is as simple as getting a product called beer line cleaner and following the instructions. For corny kegs, it can be a little more complicated, but not that much. Simply put cleaning or iodophor solution in your corny keg. Put that keg on the gas and tap and run the fluid through the lines and faucet. YOu can remove the faucett for additional cleaning. Catch the solution in a bucket. Keep the fluids in the lines the recomended contact time. Flush the same way with water. Yea you lose some gas, but you also lose what you don't want, bacteria and stale beer. Home systems need to clean every other to every third keg as you don't pour as much as a pub would. Pubs should clean every week (remember that every week each tap runs 5 to 12 kegs depending upon the volume of business). Home brew systems are more closed using corny kegs. Clean the faucets after every keg, and use your taste and vision to inspect the lines for when to clean. The lines are generally air tight on this system even when disconnected because of the use of quick disconnects. Make sure to clean your kegs thoroughly after every use and sanitize, sanitize, sanitize.......
The Dog:
On April 18th I will be bringing the "Dog" back to life. The
Angry Dog Amber
is next up on the brewing schedule. I hope to make starters on Friday night for pitching on Sunday early afternoon and bring the Dog back on line after a short hiatus (since Christmas time). For those of you who don't know, this is an ESB recipe that is heavy on the hops, but is very drinkable and a beer that I love to session with. It never lasts real long even in 10 gallon batch increments, and that is a testament to it's popularity with the IMH pub goers.
The brew day should start by mid morning and be finished by mid afternoon. I hope to make starters for the California Ale yeast that makes this brew so good on Friday night and get to brewing on Sunday. Stay tuned for future IMHBC brew dates and the beers that will be created......
Slow Week:
As you can tell, this has been a slow beer week again for me. The weather is starting to break in our favor and there will be some brewing going on in the next couple of months for sure. I look forward to Wheat beer season as that seems to be enjoyed by many. Seasonal offereings locally should be out soon and don't forget about the upcoming Penn Brewing Brewfest activity in June. I won't!! It might be slow right now, but things are about to pick up here real soon.......
open, tilt, swallow, smile, repeat..........
Mark, The Brewer, and looking forward to some serious brewing sessions real soon.........
Wednesday, April 07, 2004
I'm Late, I'm Late, For a Very Important Date........A $25 Solution.........
Late:
I'm really late posting today (ya think!!). I've had a not so good day and an after work brew is definately in order. That said, there isn't much else to say today. This working for a living isn't much fun. Look for much more wit, wisdom (yea right!), and frivolous behavior tomorrow. That's the way the ball bounces sometimes........
Solution:
I won't leave everyone empty handed today. There are a lot of people looking to get into all grain brewing these days. The big fear is that there will be a lot of expense involved to get started. That can be very true if you really want a kick butt system. But if you want to just get started to see the process and how you like it, and you have at least a 7 gallon boil pot or kettle, the solution to introduce yourself to all grain doesn't have to be that expensive. Remember, you are soaking grain in hot liquid. Here is a excerpt from an email from earlier today about the the
$25 Solution
.
$25 solution to all grain brewing equipment. If you have a household drill, here is what you do. You will need to get some equipment, or some you may already have.
Two 6.5 to 7 gallon plastic brewing pails with handles, one pail should have spigot if possible (you may already have one on your bottling bucket) but is not necessary. $15 if you have to buy both buckets and one lid.
Enough transfer tubing to put a tubing length from the opening in the one bucket to the center of the bucket, and another length to run from the opening/spigot to the boil kettle. 4 ft at $.60 a foot or $2.40. Be sure to check the OD required first.
A stainless steel scouring type pad used to clean metal and a clamp that fits around it. As an alternative, a piece of stainless screen that can be clamped around the end of the tubing will work very well also. About $5.00 for the pad or small piece of screen and $.50 for the clamp. Look in the plumbing supply area at a Home Depot.
That is all of the equipment you really need.
First take the drill with the smallest bit in the kit and drill many holes in the bottom of the bucket without the spigot.
Take the short length of tubing and run it into the spigot. On the other end clamp the stainless scouring pad. This will act as a filter if any grain comes through the holes in the other bucket. Place the stainless covered end in the center of the bucket.
Place the bucket with holes in the bottom into the other bucket. Voila, you have a mash lauter tun. You can mash in this container, covering the top with the lid and wrapping a blanket around the vessel during mashing. Be sure to mash in about 3 to 5 degrees above your target strike water temp as the vessel will lose 3 to 5 degrees of heat during the 45 to 60 minute rest. For example, if you want to stabilize at 150 degrees, your strike water should be 162 to 165 degrees assuming about a 10degree loss of temperature by mashing in with room temperature grain.
Collect your wort run off through the spigot which can easily adjust your outflow rates during sparge. If you have a pot that can work, you have a simple mash set up for about $25. You would be surprised how many people use a set up like this to all grain brew. It works.
With this set up, think through and write down your procedure very carefully as to how you will sparge and heat enough water to mash and sparge your wort volume to 6 gallons for the boil, and get the temps you need. Not sure how you will sparge? A simple sparger can be fashioned out of a shower head, some tubing and a clamp. When all else fail, ladle the water by hand. Use your imagination. Or you can let go of another $12 or so and get a PHil's Sparger that works like a charm (I use one of these to sparge on my system).
The bottom line here is that for less than $50, you can be all grain brewing with single infusion mashes on a very simple and efficient set up. In many cases and with some good old fashioned ingenuity, your cost is around $25 for equipment. Good luck and be sure to e-mail if you have any questions.
Open a brew, turn on the game, drink up, and repeat (insert switching from hockey to baseball for "turn on the game" in the repeat phase).
Mark, The Brewer, and still late for the next place I gotta go............
Tuesday, April 06, 2004
Racking Cream Ale......Old Style Vs Schlitz.......Brewing Soon.......
Cream Ale:
Well, it must be spring, or at least I'm told that it is. You could challenge that with the 27 degree temperature outside this morning....The reason I know it is spring is because baseball has begun across the nation and I made cream ale and am racking that to secondary tonight. The beer looks great and is clearing nicely in primary and a nice little nap in secondary will do this delicate brew wonders. Fermentation was strong and good and that is the precurser to a good beer every time. As far as the IMHBC taps are concerned, the
Parrot Pete's
is still pouring famously as is the
For Whom The Bell's Tolls.
Next up is the ever present and ready to drink California Common,
Anchor's Away
. There is stout and
Deceased Dude Ale
continuing to age as well. Looks like a good spring is upon us.......
Challenge:
Multiple examples have been tasted and the results are in on the Regional Brewery Challenge. Schlitz was the challenger trying to get the top of the rock from Old Style. The competition is keen. You see, when you have beers with little body and taste, and virtually no hop bite, it's tough to differentiate them from one another. Here goes:
Schlitz -- Jos. Schlitz Brewing Co., Milwaukee, WI = I think that is just a mailing address as the examples I drank were actually brewed in Austin, Tx. These beers were similar in nature and that is no surprise as they are brewed by the same brewer, just in different locations. Here is the comparison.
Price: Old Style = $11.95 for a 30 pack of cans.....Schlitz = $8.95 for 24 pack of cans and $10.95 for a 24 pack of pounder cans. Advantage = Push
Appearance: The Schlitz appears a little bit lighter than the Old Style in color, a light yellow. The foam appearance is about the same, a snow white head of foam that lasts on top. With a little bit more of a golden color the advantage goes to Old Style.
Aroma: Both brews have a very light level of DMS aroma. Otherwise, there is very little aroma other than of a hint of malt. THere is no perceptable hop aroma. Avantage = Push
Initial Flavor = They again are similar in nature with a hint of malt sweetness, light body and mouth feel, and both have a perceptable hop bite. Advantage = Push
Middle = There is a difference here. The Old Style continues to have a malt sweetness on a lighter body. The Schlitz has a different flavor here, almost as if it was a hop flavor. I am guessing that actually it might be a difference in the malts used. I liked the flavor component of the Schlitz here. Advantage = Schlitz
Finish = Both beers continued to a dry finish with minimal aftertaste. The big difference here was the smoothness of the finish. The advantage there goes to Old Style. The Schlitz dried out much faster and the finish has a slight puckering effect, where the Old Style finished a little longer and smoother.
Overall Impression = Both were pleasant to drink, well, as pleasant as the American Standard style of beer can be. If you want a light bodied American beer for hot weather drinking, you probably can't go wrong with either. Both had qualities that shined over the other. Advantage = Push
Final Winner = Old Style!!!! Old Style keeps the top of the rock for now. Schlitz put up a good fight and this was a tight tough decision. I expect there to be some additional pressure on Old Style as this competition heats up. Here is a partial list of potential future challengers. None of these are craft brewers and all of the beers are in the American Standard or American Lager style. Examples are canned product unless totally unavailable (Straub only bottles their product as they don't have a canning line):
Straub
Yuengling Premium
Iron City
Old German
Stoney's
Hudepohl
Schmidt's
Pabst Blue Ribbon
There will be others as they are brought to my attention. If anyone out there has an old favorite that can be purchased in Pennsylvania, let me know and I'll put it into the competition. I think that Old Style will have a hard road to hoe to get through all of these competitors. We'll see!!! Join us next week for the Regional Beer Challenge.......
Brewing:
Bold prediction!!! Brew date will be on or about April 18th. This is a bold prediction, but one that I will make. Next up will be the one and only
Angry Dog Amber
. After this beer is brewed I will be making 10 gallons of wheat beer for the wife and other members of the draft family who have been clamoring for it. Trying to reason with Hefeweizen season.....That's what I'll be doing. I think that there will be more summer brewing that anyone can imagine as I have some level of temperature control in the fermentation room. I look forward to many brews gracing the fermenters as we stroll into the Good Old Summer Time.....
Relax, get a brew, open, pour, consume, repeat..........
Mark, The Brewer, and Trying To Reason with Hefeweizen Season........
Monday, April 05, 2004
I'm Back......A Little Grief.....Opening Day.......
Back:
Did you miss me on Friday??? You know you did!!! I was a little under the weather and unable to type for a sustained period of time. Now I know it only takes me about 30 seconds to figure out the subject manner and another 10 minutes or so to type it all, but I couldn't even muster that much enthusiasm. In fact, I didn't have much enthusiasm the entire weekend. Sofa city, sweetheart. That's where I was. Needless to say, I didn't taste anything, nor did I do any brewery work. That leaves me with very little to talk about on the brew, brewery, and brewing front. I did get to see some of the tongue in cheek Bud Light comercials. The one that really caught my eye was the finger treadmill, so we can all burn off those pesky carb grams. Let me ask the public at large, how did this country get so tasteless that Bud Light is the number one selling BEER in the United States. See, I don't think you got that, it's not the number one selling Light Beer, it's THE NUMBER ONE SELLING BEER!!!! We as a country should be not only be shocked and apalled at this, but we should be ASHAMED!!!!! Regardless, I have to give the folks at AB some level of disdain, er, uh, credit for using the ad agency to come up with this gimmick. Now if they could just do something with the darn beer.....
Grief:
I have been taking some real good natured ribbing about this Regional Beer Challenge. It has even been suggested that I am harnessing some repressed feelings that date back to my beer roots, and a secret love for fizzy yellow water that tastes like corn and rice.....well, I can tell you with some level of confidence that at one time, fizzy yellow beer was all there was. It was the beer I grew up drinking, and tolerating. And it wasn't like it is today. Twenty years or so ago, the beer had more body and taste than it does today. Not much more, but it did have more. Before that the classic American Pilsner of pre-prohibition days was a classic beer. It is one that brewpubs all over this country make every summer and it is great. And yea, I'll bite on the nostalgia thing as some of the old advertising materials are awesome. Oh, and I'm the one having to drink this stuff out of cans for goodness sake. Do you know how much I hate beer from a can??? Anyway, my goal here is to find the least offensive and/or most tolerable brew made at regional, non-craft breweries. Yes, the dreaded American Standard Style, or American Lager style. This can even include malt liquor's like Mickey's Malt Liquor, or Colt 45, and a variety of beers that are considered by today's uneducated beer drinking mobs as their "grandfather's beer", like Old Milwaukee and Pabst Blue Ribbon. So to answer the question.....what was the question again.....Oh, yea, NO, I don't have any repressed love for fizzy, yellow, non-descript beer deep inside of my psyche that is trying to get out. I am trying to do a public service here. I am the one suffering!!!!! And I'm doing all for you, my loyal readers, so that you can put something in your fridge that is easy to drink and will quench your thirst when it is August, 90+ degrees outside, and you just finished mowing the lawn and trimming the hedges. See, a stout doesn't seem too apealing right now, does it......So stay tuned to this site for further updates of the Regional Beer Challenge so you'll have the best option in your fridge for summer swilling........
Opening Day:
It's opening day this weekend in ballparks all around the country. Everyone has to wear their football foul weather gear to the ballpark, but it is opening day nonetheless. I will be one of 34,000 or so hearty souls at PNC Park today to watch our opening day. And even though the Pirates have little chance to contend again this year, it is baseball. It is big league baseball in all of it's glory. People who say that the team stinks, why would I go to the ball park don't get it. For all of the problems that there are with baseball at this level, it's still the same game our grandfathers and fathers enjoyed. It is timeless, yet always changing. It is a game that I played every day of summer in my youth, and dreamed of playing in the showplace ballparks of today. It is a regeneration of myself to watch this game played at it's highest level. The sounds and smells of the ballpark, peanuts roasting, hotdogs cooking, the crack of the bat bringing your attention to the action, the organ player playing a tune between innings. It is having a light hearted argument with the person sitting next to you about who the best right fielder of all time is. It is fellowship with other fans of the game. It is a love for the game that you pass on to your children. It is baseball. It's a beer and brat during the 5th inning, catching a foul ball to take home, seeing a home run over the right field bleachers and into the river. It's a beer with friends while you watch the game. I am hopeless and will always be a fan of the greatest game on earth.......
Get out your favorite teams hat, buy a ticket, have a beer and a brat, and watch a game at a ballpark near you real soon.....
Mark, The Brewer, and hoping to see a couple leave the ballpark for the good guys today........
Thursday, April 01, 2004
IMHBC Update.......Yeast Starters........Brew Review.........
IMHBC:
Not much to talk about today. That troubles you???? That I don't have much to say?? Sorry about that. I can't help it, it has been a slow week in terms of brewing and brewing news. I'm in hurry up and wait mode on the cream ale, and geeez, I have to stay within limits on the tasting side. So what else can I tell you!! The cream ale is really chugging along and the yeast have come up nicely. It should finish primary in another day or so. I might give it an extra day as the fermentation room started out a little cold. I really like the California Ale Yeast that I used in this brew, and I use this yeast in many of my beers. It is such a clean fermenter that enhances the hop character of the beer so well, that it is tough to use much else. I also found out that this yeast is extremely alcohol tolerant as well. A big starter of this can ferment a baleywine to 12% ABV. A very wise old brewer once said, " we brewers are merely yeast farmers. If we treat them well, they will give us beer". This is a very true statement. See, I had more to say than you thought I was going to.......
Yeast Starters:
I know, what are they and why do I need one? That is a very legitimate question and I can always count on you guys to ask the good ones. A yeast starter quite simply is a beer that you started to ferment, then transfered when the action got really going into your regular batch of beer. It's that simple. Why??? To increase the yeast count you are adding to the beer. By making a quart or half gallon of wort with malt extract, and pitching your yeast into it, you start the yeast on their quest for sugar. When they get going they begin to reproduce like mad. In a 24 to 36 hour starter you should increase your yeast cell count by 3 generations, that is if you pitched say a White Labs vial with 50 million cells, in 36 hours that should be 150 million cells. You will have tripled your cell count, and they will already be active. What does that do? It reduces your lag time to almost nothing which in turn fortifies your beer against infection from bacteria and wild yeast. Bacteria and wild yeast will be in your wort from your transfer process. It can't be avoided completely unless you have way too much money and can afford to build one of those filtered air rooms. Didn't think so. The bigger cell count will let the yeast easily dominate and kill the bacteria and wild yeast. The higher the gravity of your beer, the more you need a starter. White Labs yeasts are made to pitch right into a 5 gallon batch, and I have done it that way most of the time, made great beer with no infections and reasonable lag times. But if the wort is above 1.070 in gravity, you need to pitch a starter.
They are easy to make. Simply boil some light dry malt extract (about 1 to 1.5 cups) in a quart or half gallon of water for 15 minutes and cool in an ice bath. Transfer to a sanitized gallon jug, pitch the yeast, and have a stopper and airlock set up that will fit it (easily found at your homebrew shop). In about 24 to 36 hours you will have a beer fermenting at high kreusen, or the yeast will have risen up to the top if an ale. It is ready to pitch into your beer. You need a little timing for your brewing activity to be sure your starter is ready. 24 hours usually covers it. Simply swirl the starter to be sure to include any yeast flocculated on the bottom and pour it into your cooled wort in the fermenter. Place on your airlock and you are done. Pretty easy stuff. This will make your beer ferment faster, start faster, ferment cleaner, and finish at terminal gravity every time if you maintain the proper temperature. Most lager yeasts should be placed into starter before pitching. As the pro's say, the more viable yeast you can pitch into your batch, the better.
Review:
Here we go with another one of those nutty Belgians.
Augustijn Grand Cru -- Van Steenburgin, Somewhere in Belgium = This was more of the same as the Abbey ale of the same name, just a little more of it. The beer is fruity in the nose with green apple and pear aroma with a hint of citrus. The beer is a hazy golden color with a very tightly beaded head of foam. The first taste is malt and a citrus, almost lemon hint followed by some noticeable hop bite. The middle is more of the citrus and passion fruit hint in the malt flavor. The beer finishes clean and dry with a hint of alcohol warming. This is a very refeashing and enjoyable beer considering its hefty 8.5% ABV. It is, of course, served in it's own indiginous glass complete with logo information. It is really only slightly different from the Abbey in that it might be bit fruitier in the nose and has more of the lemon and citrus character on the mouth. I had this product on draft (I know, I'm very lucky) and I do recommend it. Cheers....
Warning, Belgian Ales can become habit forming and cause a large hole to appear in your wallet. Proceed with caution......
Mark, The Brewer, and had more to talk about than I thought..........