In case you are wondering, I.M. Hammered Brewing is:
Mark
-- Head brewer and drinker (brewer of over 65 batches of extract and all grain brews, drinker of many thousands of bottles and pints of beer), CEO and President of the finest Nano-brewery I know of, head bottle washer, and sanitation engineer
Liz
-- Vice President in charge of bar decorating, keeping me from becoming too fanatical in my brewing habits, and is also known as "she who must be obeyed"
Michael
-- Brewhouse assistant, equipment consultant, Chief IT Geek and self-appointed Official Beer Taster (great work if you can get it)
Schpankie
-- Newest convert from fizzy yellow water to finely crafted beers and ales, adds little value to the brewhouse, but we like him anyway
Scooter
-- The gas man (and I mean that in the kindest of ways) bringing propane and co2 when needed, also has keen interest in the brewing process
Knuckle Jefe
-- Newest convert to brewing (has four batches under his belt), has began a start up nano-brewery in Kentucky known as "Double-Wide Brewing" with the catchy slogan of "double wide beers at single wide prices". Boy has a brilliant future in marketing. IMH is helping with equipment in the start up. We all work for beer, then again, why wouldn't we.
Parrot Pete, aka, Pappa Draft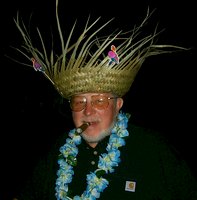 -- Bar designer, humidor raider, label celebrity, and Just because he should have been on the list the whole time.
We hope to make this site fun and informative and look for outside input, or inside output, whatever works.
Wednesday, March 31, 2004
Cream Ale Update......I've Got A Case Of The Schlitz........Looking For A Brew Day......
Ale:
The Cream Ale is working like a champ!!! I got home last night, hugged my real kids, then ran to the fermentation room to hug my surrogate kids and check on the fermentation situation. It's working just fine thank you very much.
At first I thought the yeast was a bit sluggish in the start, but it was Okay. There is some level of cold break that has precipitated out of the brew, but nothing out of the ordinary. It is just an all pale malt beer for all intents and purposes, and the yeast are acting accordingly. You would have thought that they were hungry after spending the better part of a month in my fridge.....and really they are as they continue to eat up the sugars in this beer. They say that changes in lattitudes cause changes in attitudes, and I'm going to find out later this week when I rack this beer to secondary. We'll see how it matures. I'm looking forward to a taste here soon......
The Schlitz:
When I got home last night I realized that I had picked up a case of the Schlitz. That means that the Regional challenge is again "game on". Old Style doesn't appear to be too worried as of this writing and thinks it is sitting firmly atop the rock. Not so fast my friend.......Schlitz used to be a top quality product and still bills itself as the "Beer That Made Milwaukee Famous". That's a big statement from a beer that is now made in Texas. I remember this brew from my youth. When in college it was available in pounder cans (16 oz's) by the six pack for $1.10. I might be dating myself a little bit with that one, but there it was in all of it's glory. We also used to go to a place in Morgantown, WV called Mario's Fishbowl. A 25oz fishbowl of Schlitz was $1.35. It was ice cold and Mario was a little older dude that wore a white apron and a little black bow tie. He made you put your ID into a magazine and if you couldn't remember the page number, he wouldn't serve you anymore beer (it also assured the return of the fishbowl). What a guy!! I am told he is still alive and he recently sold the business to a classmate of mine. That person, nostalgic like me I fear, hasn't changed a thing!!! I like it like that. So, as you can see, Schlitz holds a dear spot in my heart. That won't have anything to do with this competition as this is all about the beer (hopefully it still tastes like beer). I hope to do a tasting over this coming weekend and should have the results posted next week. Old Style Vs. Schlitz on the IMHBC web site regional beer challenge. Who would have ever thought it would come to this........
I can tell you that the price hasn't gone up much. A case of this stuff was a paltry $8.95 cold. That's still only $2.24 a six pack (though these are 12oz'ers). I have heard a rumor from at least three sources that tell me that there is supposed to be a marketing blitz for this beer this summer as the brewer tries to bring the brand back. I have my doubts, but the sources cannot be discounted. Good luck and may the best beer win......
Brew Day:
Angry Dog Amber
.....I always liked the ring to that name that I gave to my ESB when IMHBC was first born some 4 years ago. I looked back into my brewing log last night and relived some of the prototype labels that I used to put on my bottled product. This was one of the most fun labels, and one of the best beers I made in those early days. I have made many batches of this fine beer, and I'm looking for a brew day to make it again. It might be a quick turn around and I'll be brewing again this coming weekend. It depends upon the wife and her schedule at this point, and the weather of course. If not this weekend, it might be two more weeks before I can fit it in.........I'll let it be known when it will happen. Long live that Angry Dog!!!!!!!
I hope everyone has a very beery day today......
Relax, get a brew, drink it up, get another one, drink it up...you get the idea....
Mark, The Brewer, and one Angry Dog lover..........
Tuesday, March 30, 2004
Brewing Imperial Stout.....Cream Ale......Regional Beer Challenge.......1 Down, But 1 To Go......
Imperial Stout:
As I told everyone last week, I helped Jim from Country Wines (click on the link to go to their on line store) brew an Imperial Stout last Friday. We got to work about 10:00 am on Friday morning. This is a very big beer and the amount of grain that went into it was very large. I felt like I was in a field in Montana there was so much grain. Thankfully, Jim did all of the work the previous day in terms of getting the grain crushed.
The brew equipment got set up as we fashioned a three tier all grain system. We heated the strike water and began to mash in. We missed the target mash temperature a little low so we had to add some heat to the mash to get up to temperature. Once we got the mash to stabilize, it was hurry up and wait. After our saccharification rest we sparged out the batch. We actually collected too much wort for our fermenters, but that turned out Okay as you will see later. The boil was for 100 minutes and contained 5 big hop additions. I told you this is a big beer.
The boil was quite eventful. Because of all of the dark grains in this brew, the wort continually wanted to foam up as the boil coagulated proteins out of the wort. I have never seen a wort produce that much foaming for that long of a period of time. It seemed like it never wanted to stabilize in the kettle. Finally, with some heat adjustments and continual stirring, we were able to stabilize the wort and get to the hopping. And hop this brew we did!!!!!!
Now every brew day has some sort of glitch or even catastrophe. Even brewing with Jim, this was no exception. As we began to run the wort through the sanitized (or so we thought) counterflow wort chiller, there was a glitch in the flow. We realized that there must have been a loose fitting inside of the chiller. The wort, a very deep dark brown was running very clear into the fermenter. We had to stop the flow, disconnect the counter flow chiller and improvise cooling with immersion chiller technology. It was either that or lose about 5 hours worth of work. We were able to improvise the chilling of the wort and transfer the wort successfully to fermentation vessel. The wort that ran through the hose was dumped, the fermenter re-sanitized, and we hoped for the best. This was the during the period of time and temperature when wort is most likely to get infected by outside contaminants, of course. Time was of the essence!!!!
We had an ace in the hole though. Jim made a starter of high gravity ale yeast that Monday. When it was fermenting very actively, he dumped that into a second starter on Wednesday. I wouldn't want to venture a guess as to the yeast cell count, but I am guessing up to 6 generations by Friday. With such a bolus of yeast going in, bacteria didn't stand a chance. The wort was fermenting five hours later and worked so hard within 24 hours that the blow off, well blew off. By Monday the apparent attenuation was already at 67%. That's a fast fermentation that only has 8 or so gravity points to get to be finished.
As of today, the beer should be getting transferred to secondary for a long nap before bottling and another very long nap (about 6 months) before it will be ready to drink. Check out the recipe page for a 5 gallon all grain recipe for this very big beer.....
Cream Ale:
Not to be forgotten is the IMHBC beer that I brewed on Sunday. I am happy to announce that the yeast is getting busier than an aspiring model working the runway!! Everything looks real good. The fermentation temperature is about 65 degrees so it is actually a little lower than I would like, but that can make for a cleaner fermentation with California Ale yeast. And that would be appropriate for this style.
I look for this beer to be pretty good and it is off to a great start. I look to rack on day 7 or 8 and give this beer about 14 days in secondary before packaging. Now for those of you who are worrying that I have lost my brewing roots by making this lighter brew, fear not. The Angry Dog Amber is next up on the agenda as I have a massive taste for this brew and plan to brew it, probably a week from Saturday. That 400 gallon legal limit still doesn't have to worry any I don't think, but what a goal to have. Is this fun or what?????
Beer Challenge:
Genny couldn't unseat Old Style in the regional beer challenge. I want to caveat this challenge a little bit. I'm not just drinking one can (the challenge is cans only, yuck!) of each of the challengers. I am buying a case or 30 pack, depending upon availability, and drinking many examples of the beer before making tasting notes and final disposition. I didn't want anyone to think that I am just sipping half a can and chosing. That wouldn't be fair and equitable. That said, I'm spinning the wheel of beer to see who the next contestant is going to be. Note that there are no Arrogant Beastie, Corn Water Inc, or Colorado Corn Water products on the wheel. Round and round she goes, where she stops, no one knows (ah, come on and use your imagination a little bit will ya). Here it comes to a stop.....and the next challanger trying to knock Old Style off of the rock is........Schlitz!!!! Wow!!! The rumor is that this beer is going to be marketed heavily starting this summer in an attempt to make a come back. Interesting. This beer is also brewed by the same brewer as Old Style, but in different plants. Interesting. I'm looking forward to the challenge, and I know you can't wait for the results. I have gotten at least two people to try Old Style so far from my writing and both were impressed with it compared to the Big EEEEEvil Three. So, Old Style, Schlitz is gunning for you and hopes to be up to....The Regional Beer Challenge!!!!!!!!! I'm off later to buy some Schlitz and begin the tasting.......
Down:
The first Keg of SPD Stout is history. It actually kicked on Saturday night. I know, I am remiss in not reporting this tragedy of sorts to the masses. My humble apologies!! But the good news is that there is another keg of this brew in reserve. I will hold it until ole Parrot Pete's runs out, which might be another week or two. I feel like old Carlo Rossi, I like making the beer, but I'd rather be drinking it!!!!!!
Have a very beery week!!!!
Mark, The Brewer, and craving the ESB.........
Monday, March 29, 2004
Back With Lots To Tell.......Successful Brew Day.......Next Up On The Brewing Schedule..........33 Days......
Back:
Wow!!!! What a weekend!!!! I know you missed me on Friday, but it was worth it. I helped brew what turned out to be a massive imperial stout. I will get to the details of that brew day later in the week. It was fun, informative, and a learning experience. I will also try to get the exact final recipe posted for anyone adventurous enough to give it a go.
I finally got my garage cleaned out. That made for an excellent space for brewing. More on that later today. We had great weather and I got a lot accomplished this weekend, which usually allows for more time for brewing beer. That's what I'm talkin' about!!!!
There will be some good stuff on the site all week long as I relive Imperial brewing, yeast starters, and some other items. There will also be some more Belgian reviews later in the week. I also hope to get some additional tips posted this week. Don't miss a day as you will miss a lot.........
Brew Day:
What a beautiful morning it was yesterday. There wasn't a cloud in the sky and the temperature was a very comfortable 67 degrees most of the day. What a day for brewing. It couldn't have been better if it was a "Floriday", "with blue skies and ultraviolet rays"...... I got a late start because Geekboy kept me up way too late on Saturday night as they passed through on their way home. I'm not sure what he missed more, the beer or me.....Anyway, I got the system set up about 10:30 or so and began heating water. The grain was crushed on Saturday and everything was clean and ready to go. I mashed into 160 degree strike water at 11:30 am and the mash stabilized at 152 degrees. Exactly the target. We were off. Everything went incredibly well yesterday including a stress free sparge that took minimal adjustments during the process. It was a very enjoyable brew day. The mash rested for about 1 hour and the boil went for 70 minutes. All hop additions right on time. The opening gravity was 1.047, which put the efficiency pretty much as figured, at about 70%. I pitched the yeast at 4:17 pm so the brew went 4 hours and 47 minutes from mash in to pitching. For a ten gallon batch, that's a pretty efficient brew day. Clean up was a snap on such a pretty, sunny afternoon. Now all we need is for the yeast to do their duty. There wasn't much activity this morning, but the signs of life were there and I expect to see lots of action when I get home today. It was a very nice brew day filled with solitude and fun with the kids between the work. I hope that same character comes through in the beer. Anyway, to make a long story a little shorter, The
Steel City Cream Ale
has been made and is getting busy in the fermentation room.....
Next:
What's next for brewing??? As always thats another question that needs answered. I don't always have good answers. I'm having a taste for my ESB recipe though and since my last yeast double is California Ale, that might just be the ticket. I've been making some lighter beers lately and with the obligatory wheat fermentations in my future, I might want to sneak in the ESB right now. I also have looked at a couple more of the Rogue clones as well. HHHMMMMM, this is hard. But since I'm only growing older, but not up, my metabolically stuck brain is saying "make the ESB you idiot, make the ESB".......... I guess I'll just have to think on it for a while. I know, I'll try not to hurt myself during that process.
I will be ordering yeast again in the next couple of weeks. There will be bavarian wheat yeast, more California Ale, more Irish Ale, and I might have to get some sort of Belgian yeast to experiment with. I'm stuck between a saison type of ale or just to go for it and make a trippel. Any suggestions for the Belgian brew from out there in the cheap seats???? Just e-mail the brewer on the provided link. You know you want to......
33:
Hey, finally today, It is 33 days till the running of the roses. That's right the Kentucky Derby. Traditionally in the near south, the running of the roses is the beginning of the spring season. Louisville, Ky knows how to host a party too. It's way too much fun, I know It'll be a new low, and I'll be so ashamed, and I get to have a couple (dozen) beers with knuckle Hefe......Look out Rich O's cause the boy's are back in town in about 4 weeks.........
Sit back, relax, have a beer or something, and repeat..............
Mark, The Brewer, and contemplating the next beer to brew..........
Thursday, March 25, 2004
Tapping Of The For Whom The Bell's Tolls........Steel City Cream Ale..........Brew Review............Off Line Till Monday........
Tapping:
Last night was kind of special. It was a tapping event at the IMHBC pub. Yes, I stressed as I always do when I try one of my beers for the first time, especially when it is the first shot at a new recipe. Well, this beer experience went quite well.
The
For Whom The Bell's Tolls
is a recipe from BYO from their expose on Bell's brewing. I have always liked Bell's Beers as I have said in this forum on many occasions. I have drank this in its commercial version several times and it is one of those beers that fits any mood, any event, any time, and is a great cross over beer to get newby craft drinkers, or those who want to experiment hooked. Bell's Pale Ale, as with many of the Bell's brews, has a very high quaffability quotient and appeals to a much bigger audience than you might think. That said, this is an important recipe for me to try to hit.
Well....the beer poured very light golden in color, I was off to a good start as it definately resembled the real thing. The beer is reasonably clear, but the real thing is bottle conditioned and always has a little bit of a yeast haze in it as well. The head was snow white and very frothy looking, tightly beaded. I was two for two. The beer had a floral and hop aroma that was the hallertau signature. I'm standing on third and I haven't even taken a taste yet. I'm liking my prospects of "scoring" here real good. The first taste was of malt and a nice hop bite. The beer goes on to have a honeyed malt flavor with hop flavor mingled in. The finish is very clean and dry with more hop presence. Wow. I like it. I added a little more hops than the recipe called for and I got more hop character than the commercial version. The real thing is a little more malt dominated and has a sweeter character and a longer finish. No matter. This is a good beer that I've made here and I'm already looking forward to more. The hop character is real nice in this beer. The drinking Bell's are ringing......
Cream Ale:
I have already had several people ask me, "what are you nuts, why are you making a cream ale?" Well, that is because those people remember bad experiences with Genny Cream, Schoenling Little Kings, or Hoffenreffer in their youth. These commercial beers aren't what they once were. Many of this style have gone away. I mean who can forget Pittsburgh Brewing's Robin Hood Ale? Oh, none of you remember it. See what I mean!! A real old style cream ale was a standard brew at one time. The beer is very simple in it's make up, but unlike the standard lagers, cream ale had more malted barley in the grist, less corn, and was brewed with carapils or dextrine malt to give it some extra body. It was a crossover beer from a heavier pale ale moving lighter towards a lager, but keeping some body, mouth feel, ester aroma, and a little more kick.
In terms of adjunct brewing, this is about as far as I go. Yes this beer has some flaked maize in the grist. It will comprise less than 12% of the total grist. Over 83% of the bill remains pale 2-row with less than 6% of the total grist being carapils malt. This should produce a beer very light in color with a snow white head of foam, but will have some ale character from the use of California Ale yeast, and have much more body and flavor than the American Standard Lagers of today. The beer will be generously hopped for bittering with German Hallertau hops. These will be complemented with Czech Saaz hops in the flavor and aroma additions.
I will be brewing this beer on Sunday morning and I am looking forward to all of the hop additions as there is nothing better than the aroma of Hallertau and Saaz in the boil. Wish me luck!!! For the complete all grain recipe, click over to the recipe page......
Brew Review:
Yea, I'm still into the Belgian thing. What can I say. This beer was tried at home from a bottle. It is an American craft brewer's version of a Belgian Tripel. I might add that I love this brewery and their signature IPA. In fact, it is definately one of the 465 beers in my all time top ten!!!
Golden Monkey Belgian Tripel -- Victory Brewing Company, Downingtown, Pa. = This brewer makes some seriously good brew. The Victory Hop Devil has become one of my all time favorite IPA's both on draught and on cask. With that in mind, I was wandering through the beer store (imagine that) and found freshly bottled and conditioned Golden Monkey. Well, I had to have it!!! This beer is brewed as a Belgian style Tripel to a very high gravity. The twist is that it also uses some spices in the bittering as well as hops. It gives this beer a bit of a twist. The beer is very light golden in color and pours with a slight haze. The beer is bottle conditioned so the yeast culture is quite stealable, though I would guess that it also could be a repitch to get fermentation started in the bottle. However you go at it, it is a totally bottle conditioned product, just like a homebrewer would make. Very cool. The head of foam is tight, low, and very finely beaded. The head doesn't last real long, but leaves some foam on the edges. That is clearly due to the 9.5% ABV that this beer has been brewed to. Wow.....The aroma is of spice and hop with a hint of mild fusel alcohol. The beer is nice to look at and inviting to drink from the aroma. The first sip is an assault of malt flavor with some flavor of light candi sugar, probably used to achieve the high gravity and light color. The middle is more malt and spice flavors. The spice is difficult to zero in on, but my best guess is seeds of paradise and sour orange peel. There might be a hint of coriander in here as well. It is very hard to tell. The beer finishes surprisingly dry, but with a nice honeyed malt flavor and alcohol warmth. From an American Brewer, this is a great effort at duplicating the style. This beer was bottled in February, so it also should age quite well. If I can keep my grubby paws out of it, I should reserve 6 of these for Christmas, but alas, that is very hard to do. I liked this beer and am looking forward to changes in the flavor profile over the next few weeks or months (hopefully maybe 4 bottles will make it to Christmas)......
I have several more reviews upcoming next week, some on hard to find Belgian ales, so be sure to check back for those......
Off Line:
Though tomorrow is Friday, I will be off line. I will be assisting in the brewing of an all grain imperial stout tomorrow with Jim at Country Wines (click on link to visit their on line store). I am looking forward to brewing this beer and brewing with Jim. I am sure I will learn something. I will give details on this beer, the brew day, and the imperial stout recipe next week. You know you want to know about that.......plus the brewing of the Steel City Cream Ale will be reviewed as well.
Have a great weekend, and check back Monday as this is going to be a very active brewing and brewery activity weekend. I get to brew twice in three days and I really like it like that.
Stop by the beer sellers establishment....select the craft/pub/regional brew of your choice.....get your favorite glass....open a brew......sit comfortably in your easy chair....turn on the NCAA Sweet Sixteen game of your choice......sip as you watch....empty the glass......and repeat this process as needed!!!!!!
Mark, The Brewer, and to be a brewing fool the next couple of days..........
Wednesday, March 24, 2004
Did You Miss Me........IMHBC Taps Alert.........Brewing Sunday........
Miss Me:
I had one of those days yesterday. In fact, it has been one of those weeks. Yesterday, I had to do the proverbial "work for a living" thing at the office. To top that off, one of my little drafts has a tummy flu bug and hasn't slept in two nights (meaning, I haven't slept in two nights). I had to go to the pharmacy at 6:00am yesterday morning, and that coupled with the working for a living thing yesterday meant no time to talk to all of you out there. My loss or yours, you decide. Anyway, sorry that there wasn't anything new here for you to read. I mean, I know how much you look forward to listening to me ramble on about nothing and make really lame references to movies and television shows that haven't been aired in decades. That doesn't include the musical references and my very poor attempts at poetic license. On second thought, why do all of you read this every day.......Well, anyway, I have had a bad week so far, but I expect it to pick up as we move into the weekend. Friday I will be assisting in the making of the Imperial Stout, so it will be a brew day........and I like it like that......
Taps:
Taps is the appropriate word as you can hear it being played over the the first keg of
Deceased Dude Ale
. Please note that I said it was the
first
keg. It went on me last night as I was drawing the last full imperial pint out of it. The
Deceased Dude Ale
was, well, deceased. Not to worry though, there is a ready, available, and waiting replacement for that empty keg. In the cooler awaiting its IMHBC debut tonight is the first keg of
For Whom The Bell's Tolls
Pale Ale. I am anxiously awaiting this brew as I am a big Bell's Beer lover. This recipe is a clone of the Bell's Pale Ale from Kalamazoo Brewing in beautiful Kalamazoo, Michigan. I look for this beer to be interesting if nothing else and as always, you will be the first to know how the sampling of this new brew goes.
SPD Stout continues to pour and it is a good dry stout. I am reasonably happy with the results of this beer. I will up the roasted character of this beer in the next batch for sure. Look for the Parrot Pete's to be back on line very soon as the SPD is getting a little light.......and down the road there will be the California Common Lager
Anchor's Away
.......
Brewing:
This Sunday is going to be the brew day. I have to get up early on Sunday for another reason, and I am just going to get to the brewing. It is also the weekend that I believe we are finally putting Old Man Winter to rest for the next 8 months. Mr. Winter had his way with us for the past 75 or so days and I hope he's really tired. The weekend report suggests weather in the 70 degree range for both Saturday and Sunday. I'm excited about all of that. It will signal the beginning of the spring yard, garden, garage, and home maintenance season.....and brewing in the open with the doors up and nature all around me. The beer will be the cream ale and I hope to post the final recipe tomorrow. I am excited about brewing this beer as it really is a signal to the beginning of the spring and summer season. Wheat beers will be soon to follow. I will be ordering my yeast supply in the next week or so and I know I will be ordering Bavarian Wheat. I also think that California Ale Yeast and Irish Ale Yeast are regular brewing staples, but I think I am going to order a Belgian Strong ale as well..........I want to make a trippel......Yes, the Belgian Bug has given me a bite and you gotta go there when that happens.
Happy Brewing or Drinking (or both)
Favorite glass, Check.....Favorite Craft, Home, or Pub/Regional Brew, Check.....Filled to the top, Check......Drink it down, Check......Make a happy smiley face, Check.....Repeat the whole thing again, Check!!!!!!!!
Mark, The Brewer, and hearing the Bell's ringing in my ears............................
Monday, March 22, 2004
No Brew on Sunday, Maybe Be Brew Come Monday.........IMH Taps Update........Miller Ad......
Brew:
Brew day got cancelled. That's about all I can say about that. Only a true Jimmy Buffett fan gets the musical reference in the byline this morning too. How many of you actually got it?? I've been listening to James a lot lately as I have the winter doldrums and hope for better days, maybe some Floridays in my future. Sunday was just not going to happen for brewing, but its not a hopeless situation, I'll make the best of it, it's about all I can do, until I get to brew.......Okay, no more lame take off's on JB songs the rest of the post, I promise (as far as you know)......I hope to brew the cream ale next weekend and I will let those who might want to lend a hand know when that is supposed to happen. In the interim, there will be a lot of work to do around the Draft house this week.
In a related story, Chilly, Uncle, and Auntie Draft came to visit on sunday for a while. We had a couple of brews and some good conversation. They got to sample the stout and I am sure are better Drafts for it.
IMHBC:
An update on the brews at IMH yields no change really. The
Deceased Dude Ale
is still pouring and is quite a good quaff. This beer is way too easy to drink given it's ABV level and everyone who has tasted it has been impressed with it. I am still pouring the stout from St. Patrick's Day and I love it. It is a true dry stout, is easy to drink, is lower in ABV than my other beers, and is a great session ale. It also has been well recieved and the Draft's all liked it yesterday alot. I still have this beer pouring out of the
Parrot Pete's
tap with that beer sitting on co2 awaiting it's return. Still on deck is the same cast of characters that there was before.
For Whom The Bell's Tolls
is now fully conditioned and ready when there is a tap available. The
Anchor's Away
lager should be fully conditioned in another week and that will give me all kegs ready and available for drinking in the inventory. There is still another
Deceased Dude Ale
keg and another stout keg in inventory as well. I'm looking forward to getting into some of the untried beers later this month.
Upcoming beers include the cream ale recipe, the vastly popular
Angry Dog Amber
and Liz's favorite,
Hefe's Wheezin'
bavarian wheat. For fall I'm already thinking about dunkel weiss, IPA, and a belgian style creation like a tripel. Isn't brewing fun.......
MGD:
Miller has a much better advertising group than the self proclaimed King of Ricewater does. The masters of fermenting corn into beer aired a good commercial during the NCAA Tourney. The dinner table scene is reminicent of dysfunctional families everywhere, fighting while endlessly chomping on overdone roast beef. "Maybe I don't want to drink your beer, father, I want a beer with some taste". Too funny. Both the line and the reference to MGD having a taste other than that of DMS. The best line is at the end when the sheepish brother states (after dad has left the table), "I've tried it....It's good". Clearly he also has no taste, but you know that when he keeps quiet until dad leaves, and then makes a lame attempt to take up for his sister with the rest of the family. Kudo's to the marketing folks at Cornwater Inc. You beat the Arrogant Beastie (AB, the self-proclaimed King of Ricewater) again at their own game. And both of them have far outdistanced Colorado Cornwater Inc's bimbo laced ad campaigns. Now if only any of these beers were actually drinkable.........
Buy craft beer (or make your own), open, pour, drink, repeat......You won't regret it....
Mark, The Brewer, fervent stout lover, and obnoxious spokesperson for craft brewing, homebrewing, and the drinking of both..........
Friday, March 19, 2004
Brew Day Still On.........Regional Brewery Challenge Rages On..........March Really Is Maddness......
On:
Well, as of right now this minute (subject to changes and availability, shipping and handling extra) the brew day for Sunday is still on. The brew is still cream ale, and I hope to get it done. On the flip side to all of this, there are still some looming conflicts involved that could cut me out of this weekend. That would be a shame, and put the brewing schedule back where it was a few weeks ago. Behind. I hope that's not the case because this beer I want to brew contains Hallertau and Czech Saaz hops in it and the smell from those hops during the boil is just phenomenol. If you've never used them, don't be afraid to put them in ales, and once you do, you'll understand why they are called the noble hops.
I hope to brew this simple beer to an opening gravity of 1.045 to 1.048. The recipe is simple. 2 row, dextrine malt, flaked maize, hops, california ale yeast. I will give specifics next week after we get this one brewed. The beer should be light in color and have a very floral aroma. The taste should be smooth and light with some hop character in both the bittering and flavor components. Now, let's see if I can do as I say.........
Challenge:
As the regular readers might remember, on March 8th, I started the "Experiment" trying to find a regional brew that might find it's way into my fridge during the summer. The first beer I rated was Old Style and being the first beer rated, it is now in first place. That said, I also eliminated Rolling Rock from consideration having recently tasted it and being so reviled by it that I really don't want to have to drink it again. Some beers that will get tasted in the future include Iron City, Straub, Gennessee, and some others. These tests will consist of the regular beers only. I work hard all day and you want to give me light beer??? What are ya, nuts!!! Anyway, Who will knock Old Style off of the rock???????
Gennessee has tried and here are the results:
Gennessee -- Gennessee Brewing, Rochester, NY = A venerable old regional brand from upstate New York. This brew has been around a long time. It is brewed with corn grits in the mash in the American Standard Style. Genny force carbonates (according to their web site) and uses standard 6 row barley and corn grits with proprietary yeast. The beer pours the typical monochromatic gold into the glass. The head is snow white and actually lasts for some time on top of the beer. There is a definate waft of DMS at first pour as this volatile comes out of solution. In a couple of the examples the DMS odor was quite heavy, smelling like creamed corn at Thanksgiving dinner. After you get past that, the beer is pretty typical of American Standard lagers, though this one does have a little more oooommmmph. There is actually a malt flavor and some hop bite to this beer. There is no hop flavor or aroma that I could detect, though the DMS odor might have masked it. The middle of this brew is smooth, but pretty light on the taste and the beer has a medium to light mouth feel. The finish is dry with little else to talk about. The beer is smooth and the biggest highlight is a hop bite in the beginning. I would call this beer drinkable on a hot day and it is one that would not be unpleasant (like Rolling Rock has become) to drink. In fact it could be pretty refreshing.
And the current leader of this competition is............................................Old Style.
Sorry Genny, Old Style had more hop character and more of a malt flavor in it, plus didn't have the strong DMS odor. OS just had more of what I would look for in a beer than Genny.
Stay tuned as I am sure another regional favorite will soon challenge Old Style on these pages (as soon as I can stomach another beer from a can).
Madness:
Winter still is trying to hang on here with some snow on the ground this morning. Mr. Sun had something to say about that when he came up and that bodes well for the budding of spring. Between trying to figure out what to wear everyday as it's 70 degrees one day and 25 degrees the next, we also have the NCAA tournament to focus on for the next 4 weeks. March really is a Maddening month. I hope everyone keeps their wits about them. By the way, it's almost Maibock and Wheat beer season!!!!! Now that's what I'm talking about!!
Have a great weekend, enjoy your first day of spring, and check back Monday to see how the Queen City Cream Ale turned out!!!!!
Grab a brew, turn on the game, open, pour, sip, grab another brew and repeat. About 12 hours of Basketball a day throught the weekend, better stop by the store on the way home to stock up!!!!!
Mark, The Brewer, and already with 4 losses on his pool bracket............
Thursday, March 18, 2004
Wearin' O' The Green Is Over, But Not SPDS..........Brew Review.........Brew Day Up In The Air (I Can't Catch A Break).........
Green:
St. Patrick's Day 2004 is now just a memory, but the SPD Stout lives on!!!!! We had a small gathering of stout wanters at the pub last night and the overall concensus was that the stout was quite good. The tulip glasses were being filled and all was right with world as everyone was Irish (some actually were) last night.
The beer in my estimation turned out decent. I think it needs a little bit more roasted character in it. The beer has a malt aroma with zero (intended) hop presence. The color of the beer in the tulip glass was black with the expected garnet or deep ruby highlights on the edges. The head was a very frothy and nice tan color and the head retention was excellent. The beer was carbonated just fine (a worry with less than optimum conditioning days in the keg) and the overall appearance was just great. The first sip was malt and roast with clean hop bitterness. I thought the roast character could have been more pronounced. The beer was medium bodied and pleasant to drink. The finish was clean and dry as an Irish Dry Stout should be. I was well within the style guidelines. All in all, it was a good effort but I have made better. Don't get me wrong, I'm not disappointed in this beer, I think my taste has gravitated more towards the export level gravity of this type of beer. Let's face it, beers like this, and their commercial brethern Guiness, Beamish, Murphy's, etc., are really light beers containing only about 7 more grams of carbs and 30 more calories than a Bud Light. Why do people drink Bud Light again?????
The good news is that the keg is still kicking so I can enjoy a few more of these brews this weekend, and that I have another keg of this stuff. Life is good!!!
Brew Review:
In central Pennsylvania there is a little brewery named Stoudt's Brewing Company. They really know what they are doing. The beers are just terrific. They make a fest bier and an ESB that are fantastic. Well, here is a product that I had never tasted before from them:
Fat Dog Stout, served on cask from a hand pump -- Stoudt's Brewing Company, Central Pennsylvania = This stout was actually a deep dark brown color in the glass rather than black or ruby. The head of foam was also a lighter shade of brown and was quite frothy and nice to look at. The aroma from this beer was of darker roasted malts, chocolate, and a hint of coffee. The beer was different looking in the glass. I took the first sip and was just floored. The beer was quite substantial in body. The beer had a malty sweetness with hints of chocolate and toffee up front. The hop bitterness percieved was quite light and the beer had little bite, leaning more to the sweet side. The middle was like chewing toffee and was dominated by malt with chocolate notes. The finish, surprisingly, was lingering, but not as sweet, tapering to a drying sensation on the pallatte. The beer was almost perplexing with the flavor changes, but was quite good. This could be substituted for food. I thought everything you needed to live was right there. The head of the beer must have contained all of the antioxidents that you need, your A's, B's, C's, etc. It was all in there.........Seriously, this is a great beer on cask and if you are lucky enough to live in their disribution area, go get some of this......
Brew Day:
I can't catch a break. I was hoping to brew this weekend, specifically on Saturday. Now I don't know. There seem to be a lot of conflicting items going on this weekend and brewing may be difficult to get done. I will play it by ear and on Monday, all of you will be the first to know........if the Queen City Cream Ale get resurected......
Hope you had a wonderful St Patrick's Day, drank some stout, refilled your glass, sang an Irish drinking song, and repeated the process throughout the night....
Mark, The Brewer, and just hoping to mix a little hot water with some grain this weekend........
Wednesday, March 17, 2004
Oops, I Missed A Day........St. Patrick's Day.......Brew Review (As Promised)..........Brewing Evolution........
Oops:
Did you miss me yesterday???? I know you did!!! Sorry for no post, but I was, in the words of Karl from Caddyshack, "Unavoidably Detained". Besides, if I kill all the golfers on the golf course, they'll lock me up and throw away the key. Yea, I know, another lame reference to a 25 year old movie that I've seen 265 times. Would you expect any less. Hey, somebody's got to be the "Cinderella Boy". In my absence I did get to go talk brewing at Country Wines with their resident expert, so all was not lost. I got my grain for the next couple of brews and picked up some hops. The decision on which beer to brew is now final. It looks like a Saturday brew day and the beer will be a traditional cream ale. Just a little bit of a lighter treat for She Who Must Be Obeyed. The only other brewery update is that the
For Whom The Bell's Tolls
should be conditioned enough to drink and is probably the next beer on tap. Anchor's Away is still a couple of weeks away as I want it to condition in the keg a little longer. See, you didn't miss much stuff, just me........
SPD:
Today is the second best holiday of the year after Halloween, and I'm wearin' some green today. A local "joint" that is near my house was already packed this morning at 7:20 am as I drove by it. There was no room in their parking lot, and I'm guessing that is the way it should be. Unfortunately for me, I have a real job, run a brew pub part time including all of the brewing activity, am the chief bottle washer and head sanitation director, and have a house and family to take care of. So, I'm going to work today.
I will however be celebrating the holiday later today when I get home as I will be tapping the
SPD Stout
when I get home and serving it pretty much as a cask conditioned ale. I will be serving it at about 50 degrees from my travel set up which works like this. I tap the keg and pour as many brews at it will. I will then put co2 in the vacant head space of the keg. In the interim, additional pressure will build in the keg from the output of co2 from the beer. When we pour again, there will not be any additional co2 placed on the beer. After pouring pints, co2 will again be put in the vacant head space of the keg. This continues until the beer is gone. Now if you look at the definition of real ale, this loosly fits the definition as this is one of the acceptable dispensing methods in the absence of a beer engine.
HMMMMMM, any of the Drafts out there thinking about what to get the brewer for Christmas.........
Anyway, enjoy a wonderful and safe St. Patrick's Day out there. Remember, drink the black beer not the cheap nasty green stuff.......
Review:
Here's another one of those darn Belgian beers. I guess I'm gonna have to learn how to brew some of this higher gravity stuff.....
Maredsous -- I have no idea where the brewery is in Belgium and even if I did, I wouldn't be able to spell or pronounce it = This is an Abbey ale made in the Dubbel style. The beer is a cloudy dark brown in color with a billowing tan head of foam on top. The head has a real frothy look about it. The glass resembles a tall wine glass similar to what a rhine wine glass might look like. Again, the glass is indiginous to this particular beer complete with logo information. The aroma of this beer is sweet malt with a raison and plum hint. The beer is going to be sweet based upon this olfactory information. At first sip, I am correct. There is a big sweet malt taste and the beer is very heavy bodied, to the point that it is almost cloying. There is little hop bitterness detectable and this beer is all about the malt. The flavors resemble dark cherries, raisons, and ripe plum mixed with the malt sweetness. There is no detectable hop flavor. The beer finishes just like it starts with a malty sweetness and the finish is quite malty. If you like heavy malty beers, this one is for you. Though the beer is quite well made and very pleasing to the eye, it is not particularly my cup of tea. I'm glad I tasted it, but I think I'll stick to lighter bodied trippels instead.
Later this week I will review a big stout from Stoudt's brewing.......
Evolution:
You're getting your money's worth today. As a brewer, you can see that I have evolved to the "big beer" category or thought process. The biggest beer that I have actually brewed was the
Fargin' Bastige
that I made for last Christmas. That is not what I'm talking about when I say big beer. Though I am not a big fan of some barleywines, I am starting to appreciate imperial stouts and Belgian Trippels. I guess that is where your taste goes as a brewer. Don't get me wrong, I'll sip a well made pilsner or Munich Helles any day of the week, but I am becoming drawn to these intensely flavored bigger beers. I guess that is why I have been tasting so many of these Belgian creations lately.
With a little luck, I will be assisting Jim from Country Wines in the making of an Imperial Stout next week. I look forward to this brewing experience as these are not easy beers to make. They require a lot of work on brew day because of the massive grain bill, and take up brewing equipment in terms of fermenters and secondary containers as they require so much time to mature and age to a drinkable state. A 5 gallon batch may have as much as 24lbs of grain in the total grist when all is said and done. I make 10 gallons of 1.054 OG porter with that grist load if that helps to put this into perspective. If you used extracts, you are looking at 15 to 17 lbs of extract syrup for 5 gallons. An expensive proposition for sure. I'm looking forward to brewing this type of beer (and tasting it later this year) and hope to learn about brewing big beers. That means I can pass on what I learn to you right here on this site.
Tune in tomorrow for more from the IMHBC. Same Bat Time, Same Bat Channel......
Get a Beamish/Murphy's/Guiness/Young's/or if you lucky enough an IMHBC SPD Stout, drink it, sing an Irish drinking song, refill your imperial pint glass and repeat until the wee hours of the night......
Mark, The Brewer, and tapping SPDS at about 5:30pm today.........
Monday, March 15, 2004
Anticipation........Upcoming Tips........Brew Reviews.........
Anticipation:
Well, it's just about to that magical holiday that we all love. St. Patrick's Day!!! I love the Guiness ads that say to treat it like a real Holiday!!! The guys running downstairs in the morning to cases and kegs of Guiness underneath the shamrock tree is way too funny. Kudo's to the marketing guru's for that one. That is way better than the King Ricewater's "True" ads, which by the way have been pretty generally false. Interestingly, even during all of the major sporting events going on, the nationality ad from them has not aired again that I have seen. Interesting....maybe I'm not the only one who noticed and was, well offended by it.
Anyway, with the anticipation of SPD this Wednesday, comes the anticipation of tapping a keg of the SPD Stout!! We are going to chill this keg down to a cask temperature and serve it out of the travel set up, which means it will be poured under it's own power with CO2 only filling the open head space. Real Ale the way it's supposed to be drank. Stay tuned for the outcome of that taste test......
Reviews:
Okay, I gotta get off of this Belgian kick here pretty soon. These brews tend to be lethal and once you get hooked, it's hard to go back. I guess I'll just have to start making some of them. Check out this beer:
Gulden Carolus -- Steenburgin Brewing, Belgium = Another tripel ale that pours with a bright golden color with a slight haze in it. The beer has a frothy cream looking head of foam on top (is this starting to sound familiar??) that rides the edges all the down the brandy styled glass. The glass of course is indigenous to the beer as with most Belgians. The beer has a floral to citrus aroma and is very malty with a hint of citrus and a slight souring on the palatte up front. There is a strong hop balance and the beer becomes the same sensation in the middle with the citrus flavors dominating here. The finish is crisp with hints of malt and hop and a slight alcohol warming (again sound familiar??). This beer is very refreshing actually leaving little aftertaste in your mouth and is one that you could drink several of. Be careful if that is your plan as this beer weighs in around 9% ABV. I was a bit surprised at the citrusy, tangy flavor of this beer, but it actually was good. This was a draft example and I enjoyed it very much. Give it a try if you find it.
Tomorrow I will give a review on Maredsous Abbey, a "dubbel" styled ale.........
Tips:
I have been reading some of my recent back posts and noted that I have strayed from giving out homebrewing tips. I intend to change that and will start giving out more items that could be useful to both beginner brewers, and more advanced brewers alike. My apologies for this omission. I have been caught up in tasting some very eclectic brews lately, and brewing like crazy to get my inventory built up. So all of that said, look for homebrewing tips to be posted here more often. I am shooting for at least once a week anyway. I hope to give more insight on all grain questions and mashing, as well as recipe formulation, transfers, and thoughts on extracts. Stay tuned to this channel for your favorite topic!!!!!
Go have a beer or somethin' will ya.........
Mark, The Brewer, and becoming Belgianized, for you protection..........
Friday, March 12, 2004
It's Official......The Next Beers To Be Made.......Brew Review.......
Official:
Well, it's official. There won't be any brewing this weekend either. I'm a little disappointed about that, but She Who Must Be Obeyed asked that we take care of some other items around the house instead. Not wanting to sleep in the garage, I agreed to her terms (not that I had any negotiative clout). That will make the brewery dark for two weeks in a row. That's OK, we'll just have to brew two weeks in a row to remain caught up with the brewing schedule. I still have two batches worth of California Ale Yeast and it is just chomping at the bit to get into some beer.......
Next:
I must get to planning of the next couple of batches. I have two brews selected for the next two batches so that won't be too difficult. Let's look at the current inventory right now. Let's see, here is the list:
Deceased Dude Ale
-- 1 keg on line, 1 keg in reserve
Parrot Pete's
-- 1 keg on line
For Whom The Bell's Tolls
-- 2 kegs in reserve conditioning
Anchor's Away
-- 2 kegs in reserve conditioning
St. Patrick's Day Stout
-- 2 kegs in reserve conditioning
Empty -- 1 keg
That is a great range of brews with the stout being the dark roasty ale it is up to the pale ale Bell's clone which is very light in color with a fruity aroma. What's Next? All brew dates are to be determined. Well.......
Brew Day 1 -- Queen City Cream Ale makes it's all grain debut, but it might have a little bit of a New York flavor to it....
Brew Day 2 -- Angry Dog Amber. I can't stand it anymore and I have to make this fine ESB as it is good beer for spring quaffing
Brew Day 3 -- The Obligatory Spring Wheat Beer. This one has been requested by She Who Must Be Obeyed and some of the other family members.
Brew Day 4 and beyond -- Plans include more Parrot Pete's, Perhaps a Grand Cru or Saison type of ale for late summer drinking, A Belgian Tripel made soon to be enjoyed during the Holiday Season, More Wheat Beer, and whatever else I can muster up. I just love to brew...........
Review:
I have been bitten by the Belgian Bug. That is both a good thing and a bad thing. The beers are just so different and good (good thing), the beers are darn expensive even just to taste with draft versions often $7 to $10 per glass (bad thing for my wallet). Anyway, these beers are worth the adventure and if you got an extra $20 in your pocket, you can give 3 or 4 of these a try in an afternoon. You will think in the end it is money well spent, assuming you can still think after 4 high octane Belgian Ales.
Piraat Tripel, Brewery Steenburgin or something like that, somewhere in Belgium.....This is what a Belgian Tripel should be all about. This beer was all that and a bag of chips. The beer pours a bright golden color with an ever so slight haze. The head on this beer looked like fresh cream frothed on top of your favorite latte. This brew weighs in at 10.5% ABV and even with that high of an octane, the head had staying power and produced an unbelievable weave of lace on the glass. The beer is served in a glass that resembles a brandy glass and one sniff of the aroma from this beer tells you why. The aroma is strong from this beer filled with passion fruit, yeasty-ness, and a hint of alcohol. It also had a bready aroma and coupled with the bright golden color and creamy froth of a head, is one of the most inviting beers you'll ever hold in your hand. The first sip does not leave you disappointed. There is a strong malt presence with a sharp hop bitterness. The middle is more of the same with some level of sourness mixed into the malt flavor. You now get some alcohol warming, but not to the extent you would expect given the ABV of this beer. This finish is bright and malty with the end slightly puckering with hop flavor. Wow, your mouth gets quite a workout with this brew. You could easily quaff this beer and if you didn't know or understand the level of the ABV, you might. After three you would probably go nite, nite. I had this beer on draft obviously and I have been told that the bottled version of the beer is hit or miss. That said, treat yourself to some of this on draft if you find it. At $9 a glass, it isn't an everyday beer, but for an occasion or to just treat yourself, go for it. I can't tell you how much I enjoyed this brew and I highly recommend trying this one in the draft version, no it is a must try in the draft version.........
That's it for this week. I hope everyone has a beery good weekend. Fill, Sip Til Empty, Refill, and Repeat the Process......
Mark, The Brewer, and checking into beer excursions to Belgium..............
Thursday, March 11, 2004
Brew Day Or No Brew Day.......Brew Review......
Brew:
Well, I don't know if I'll be brewing this weekend or not. Strange. She Who Must Be Obeyed, also known as, She Who Can't Make Up Her Mind first asked me not to, then thought she might have to go out of town for the day, and now I can't get a straight answer. HMMMMMMM, all I want to know is, can I or can't I. I just don't know the answer to the question right now.
I do know that I had (note past tense) made up my mind to brew the Cream Ale recipe again, but that might have to wait at least a week now. Don't you just hate when that happens......
Review:
I had the opportunity to try a couple of great Belgian beers this week. Here is the outlook of the first one:
Augustijn Abbey Ale -- Brewed somewhere in Belgium to 8% ABV....I believe this beer would be called a Dubbel, though given it's light color and body it might be a tripel as well. It was just designated as an Abbey by the brewer. Either way, it is a big time Belgian brew. The beer has that signature yeasty aroma commonplace with fine Belgian ales, with a fruity aroma profile and a hint of alcohol. The beer was golden colored and clearly has a candi sugar addition in the kettle. The head on this beer was just beautiful. Very fine beads of foam that looked more like merangue than beer foam. The foam stayed on top of the beer (despite the alcohol content) all the way to the bottom of the glass. The body of this brew was light, almost effervescent in nature and the beer had a higher than normal level of carbonation. The beer was all about malt on the first sip. This brew only has enough hop character to offset the sweetness and provide some level of balance. The flavor had a bannana and green apple character and a yeasty malty presence. The middle was malt, followed by more malt, a little alcohol warming, and a long malty finish. Did I mention that malt was at the forefront of this beers flavor profile?? I liked this beer (probably too much) and highly recommend a tasting of this fine Belgian Abbey ale. This was the lighter of the two brews that I tried, but you'll have to wait until tomorrow to hear about the other one.......
It is a slow brewing and beer week. There will be some serious brewing coming up in the next 6 weeks though as I plan on filling all of the fermenters and secondary's again. We will be draining kegs as we go along and I certainly want to keep them all full as much a possible.
Until next time, fill 'er up, drain 'er down, fill 'er up again......and again......and again....
Mark, The Brewer, and suddenly researching Belgian Brewing techniques and recipes.............
Wednesday, March 10, 2004
Stout Stat's......We Need A Name.......Slow Week In The World Of Beer.......
Stats:
When I gave you the news that the stout was successfully kegged yesterday, I forgot to give you that all important sneak preview and final statistics on the beer. Shame on me for that. You the reader are probably chomping at the bit to know what the stout is going to be like and what it finished at after fermentation.
Well first of all the beer looks and smells terrific. It is clean and clear and the aroma accents on malt. The finishing gravity came it at 1.012, which is due to the higher mash temperature used as it created a little more dextrinous wort. This yields an apparent ABV of 4.20% and this is pretty much where I wanted to be when I fashioned the recipe for the grist. The gravity sample had that sharp roasted flavor with coffee overtones and the accent on malt. Hops were always in the background, as they should be in this style. I am looking forward to getting some gas on this over the next 7 to 8 days and we'll be tappin' one O' these kegs next Wednesday!!! Anybody know any Irish drinking songs?????
Name:
Now you can't have a holiday beer for such an important holiday as St. Patrick's Day, without a name. I'm about named out right now. I mean, I've been searching for strange metaphors most of my life, and I think I am at least moderately clever in some of the names that I come up with for my beers. Who can ever forget the Sierra Nevada Clone beer that was loaded with cascade hops that I called; Hops-along Cascade-y Pale Ale, complete with a picture of a gun slinger with the Cascade mountain range in the background. You know, Hopalong Cassidy...... OK, so that was a stretch. Give me a break sometime will ya!!!
Meanwhile, back at the ranch.......I need a name for this black elixer that I have created for the second best holiday of the year. Don't you wonder why it isn't a national holiday in the US too??? I mean, isn't everyone Irish at least for one day of the year, and if your not, shouldn't you be???? And shouldn't everyone who is Irish for a day be required to taste at least one pint of stout or Irish Red on that day???? Don't worry though, I'll take a few of the pints from the ones who don't want any. I NEED HELP!!!! No, I don't mean with the mental thing I've got going on, I need help with naming this beer. Be creative please and send it too me in an e-mail at the link provided. The name needs to be witty, subtle, funny, fun, and most of all it needs to meet with the approval of my moderately deranged mind. I know that is asking a lot of you all out there, but I know you're up to the task. Email the Brewer....Email the Brewer....Email the Brewer.....(the obligatory subliminal message at the end to get you to Email the Brewer)......
Slow:
This has been a slow beer week so far. I mean, I haven't been anywhere to taste anything, and I have been slaving in the brewery working the cellar issues and cleaning equipment afterwards. That doesn't get you very far. On the up side, I have been thoroughly enjoying the Parrot Pete's and the Deceased Dude Ale as a reward for all of my hard cellaring work. The Dude keeps getting better as each pint is drawn and the second keg should be even better with more maturing time. The new Pete's keg is better than the first one. I will be making this beer again real soon I'm sure. I might even give the Dude a couple of months in the keg to see what happens, and save it for May as it is a Maibock for goodness sake.
If anyone has a brew review let me know. I need to get out more I guess. Married with Children, I'm the Al Bundy of brewing. Peg, Where's my beer!!!......
Get a brew, pour it carefully into a clean glass, sip it til it's gone, and repeat the process again........
Mark, The Brewer, and all the kegs are full............
Tuesday, March 09, 2004
Pete's Update.......Pourin' O' The Black Ale.......What To Brew.......
Pete's:
There I was. Standing behind the bar. It was such a simple act, a movement that I've made a million times before. I lowered my glass to the tap faucet and pulled the handle. That beautiful black ale known as Parrot Pete's Porter was flowing lazily into my glass when out it came. That choking almost mournful sound of the tap going dry with CO2 exploding through the faucet head. You guessed it. The Parrot Pete's keg had gone empty. I closed the tap and stood there looking at the faucet, thinking to myself, I hope this isn't true!! Unfortunately, it was. I could only muster a look of total disbelief!!!
Then a thought ran through my brain. A happy thought it was as it was right then that I realized, I have another keg of this wonderful elixer. This bread of life, mother's milk, fortification for the day. I have it. I have another full keg. I moved with great relaxation to the fermentation and conditioning room and gazed upon the full keg inventory. There it was. With my label that said so very simply, Pete's. I carried out this keg filled with joy and placed into the cooling box for the kegs. Yes, Pete's lives for another day to quench our thirsts and fortify us from the cold. By now this wonderful necter of the gods is well chilled and ready for the tapping. And tap it we will. Oh yes, tap it we will. And it will be a pleasure to pull the tap handle once again and watch this silky ruby colored liquid fill my glass while I revel in the anticipation of a thirst well quenched........
Black Ale:
Well, enough of my poor excuse for literary excellence and over use of metaphoric dialogue. What about the Stout!!!! What about the Stout????? The stout is now conditioning in the packaging that makes it great, kegs. How else would you serve a stout. It is one of those beers that needs to be in a glass. It must sit there like a black hole of brewing, drawing you ever closer until you can't stand it and you must brew and drink this wonderful black ale. And there's nothing like the wearin' O' The Green and the Drinkin' O' the Stout, which is exactly what we will be doing on March 17th. The ceremonial tapping of the St. Patrick's Day keg will take place, well, probably as soon as I get home from work, change into my St. Patrick's Day clothes (whatever they might be) and get around to placing the disconnect on the keg terminal. There you have it!!! I'll be thinking of a toast between now and then to bring in the beer on such a hallowed event. If you have a favorite St Pat's day toast, or even some wheat or rye toast, let me know what it is. I'll post up any good ones that I get. I know you're out there!!! E-mail me, you know you want to.......
Brew:
Sunday is a regular brew day, but I can't for the life of me decide what I want to brew. I'm leaning toward another batch of Angry Dog Amber as I have been brewing some lighter bodied beers of late and wouldn't mind having a shot at this toothsome amber brew that I love so much. On the other hand, I have a taste for my Cream Ale recipe as well. Must be the coming of spring and talk of baseball, yard work, painting, and sore muscles from doing all of the above. The cream ale is intriguing and might just be the direction I take. There will be a wheat beer sometime this month as well, just not right now. I have to order some yeast first. In the meantime, which one will it be this week????? I'll have to sleep on it to make up my mind.......
Grab a brew, open it up, drink it down, and repeat the process as needed..........
Mark, The Brewer, and dreaming about the next brew (both to make and to sip).........
Monday, March 08, 2004
Sneak Preview.......The Experiment.......A Brew Review.........Don't Look Outside.......
Preview:
The brewery was dark this weekend so no new beers were created. That doesn't mean that there wasn't any activity. You see, I might be the brewer at IMHBC, but I'm also the cellarman as well, not to mention Head Bottle Washer and Chief Sanitation Engineer. As the cellarman, it is also my duty to rack the beer to the next waiting stage of maturation or finishing. Well, I racked 20 gallon of beer to kegs. I know, that doesn't sound like much compared to bigger brewers that move anywhere from 20 to 20,000 barrels at a time, but for a nano brewery that uses the latest siphoning technology, that was a lot of beer to move through a 1/2 inch OD hose.
One of the advantages of racking to kegs is that you must check the final gravity of the beers you have made. This sets up the opportunity to sneak a taste to preview the taste and aroma profiles of the batch. Though the beer is warm (about 64 degrees) and has no carbonation, you can still get a pretty good idea of how the finished beer will taste once it has carbonation in it. This is a fun and somewhat nerve wracking time as this is also where you will know if there are any off flavors or worse problems (the I word) with your beer. I am happy to report that neither of these brews had any perceptable off flavors to them upon tasting of the gravity samples.
The first beer racked was the Anchor's Away California Common, better known as Steam Beer. Since this is a registered trade mark of Anchor brewing, I can't call my steam beer a steam beer and must call it a California Common. Anyway, the finishing gravity of this brew was 1.012 yielding an apparent ABV of 4.85%. The beer was a brilliantly clear deep golden color with hints of an amber hue. Very pretty to look at. The Northern Brewer hops were giving out plenty of aroma and the taste was clean with decisive hop bite with a hearty malt base. I liked it and can't wait to get gas on this beer and taste it cold. This is the first time that I have used California Lager yeast and I am impressed with the results of this fermentation in the low 60 degrees range. Esters are minimal to none and the beer just looks great.
The second beer racked was the For Whom The Bell's Tolls. Yea, I know it is a corny play on words, but isn't that what I do most of the time??? Anyway, this beer was light golden in color and also brilliantly clear, very much like its commercial cousin. The beer finished at 1.010 giving an apparent ABV of 5.10%. The sample had a nice fruity nose and the taste was clean with good hop bite and a slight hop flavor in the middle. Again, I can't wait to get some gas on this beer and I believe that this beer will become a favorite and I'll have to make it often. That isn't such a bad thing.
I do know that it was nice seeing 7 full kegs of conditioning beer in the fermentation room, all of them conditioning and carbonating naturally in the kegs. Yes, cask conditioned if you will. I should be kegging again tonight so that the stout will be ready by the 17th. March madness might have a whole new meaning.......
Experiment:
Regular readers will remember that I was being profound in fondly remembering some regional brews in the American Standard style last week. My experiment was to try two of the more widely distributed brands that I have not tasted in some time. I am trying to see if any of these beers deserve to sit in my fridge during the hot summer months for fast quaffing after mowing the lawn, or during extended painting sessions. I will weigh in on the first one now:
Old Style Beer -- G. Heilmann Brewing, Milwaukee, WI. = This venerable old brew is still quite good. The beer has not been overly watered down, nor is the adjunct addition up to the maximum amount possible without turning the beer into a corn beer. There is little if any perceptable DMS aroma coming from the poured beer. The beer is a brilliant monochrome gold color with a very tight white head. Carbonation is still done with kreusening, which is naturally achieving carbonation through adding partially fermented beer to the finished beer to put carbonation into the brew. I am guessing that this helps this beer to be cleaner tasting and to promote the wonderful tight white head that sit on top. There is still malt flavor and a hop bite to this beer. Looking up some stats on this beer I found that it won a silver medal at The Great American Beer Festival in it's style category of American Lager. Genny will have a tough road to beat out this beer. This is still a pretty good lager and I can see myself drinking some of these in the summer heat.
Stay tuned as Gennessee Beer will give it's all to match or surpass Old Style to become the American Standard Lager in my fridge......
Brew Review:
Here is a review of a venerable old brand that helped start the micro brewing revolution back in 1974. It is the first time I have had the pleasure of drinking it on tap:
Anchor Porter -- Anchor Brewing Co., San Fancisco, Ca. = This venerable old brand is one of the beers that helped start it all. Originally released in bottles in 1974 by Anchor brewing, this beer has withstood the test of time. The beer pours with a rich looking dark chocolate color with a finely beaded tan head on top. The aroma of malt, both roasted barley and pale barley is evident. There is little if any hop aroma, but you just don't care. The initial sip of this beer gives a roasted grain and malt flavor up front followed by balancing bitterness. The middle of this beer is all dark malt and somewhat chewy, substantial in mouth feel, probably from a high range mash rest that promotes some dextrin development. The finish of this beer is of lingering maltyness and it is a long flavorful finish. I want more. I have had this beer in bottles before, but this is the first time on draft. As usual, the bottled version, though very good, doesn't give you the full appreciation of this beer that the fresh draft version gives you. No wonder this beer has survived and is sought out by beer lovers everywhere. This is a must drink beer!!!!!!
Outside:
If you live near where I do and you look outside, you will see the first March snowfall. This after a 78 degree day last Friday. That's March for you. I'm not complaining, afterall, February is over and we can only improve overall. Did I mention that the robins were back?????
Go find Anchor Porter, order, drink, and you
will
repeat as many times as you can.......
Mark, The Brewer (cellarman, head bottle washer, chief sanitation engineer, and all round good guy), and waiting for the gas to get on the beer.............
Friday, March 05, 2004
Beer Events.....What Ever Happened To.......Brewery Is Dark This Weekend......
Events:
I love good beer in case you haven't noticed yet. There are two events in spring and early summer that are as good as it gets in terms of tasting good beer here in the Pittsburgh area. The first one takes place on June 5th at Penn Brewery. It is the Penn Brewing Micobrewers fest. Last year there were 30 brewers there with over 100 beers per session available for tasting. For a $29 ticket, you get a glass, a buffet line ticket that has some great barbecue and chicken on it, you get to taste as much beer as you care to in the 3 hour session, and there is live music. It is in a covered area so it goes on rain or shine, and it is way too much fun. I have been to the afternoon tasting that has a reggae Jimmy Buffet kind of band, and I have been to the evening session that plays jazz and allows cigar smoking. It is a great time and the beer is nothing short of fantastic. Brewers like Victory, Heavyweight, Stone, Weyerbacher, Great Lakes, etc. It is a who's who of eastern and midwestern micro's.
On June 26 and 27, there is another great event at the Sharp Edge Beer Emporium located in the Shadyside area of Pittsburgh. This event features commercial imported beers and generally there are as many as 70 available to taste. The beers are from Belgium, Germany, etc and it is the best of the best. I am not sure of the ticket price, I believe in the $30 something range. Same type of set up with a tasting glass and a run at all of the offerings. The event is outdoors in their parking lot so you can actually get wet there if it rains, but you probably won't really care too much. This is another very good event that I highly recommend. Remember your designated driver or take a cab if you have a few tastes too many.
Happened....:
Whatever happened to some of the old time brands. Two that come to mind that were at one time big regional brewers here in the states are Falls City from Louisville, Ky, and the American version of Carling from I believe Milwaukee?? Carling used to make a beer called Red Cap Ale. It was an amber cream ale that we used to get in kegs when I was in college years ago. Another brand that they produced was Tuborg Gold. This was actually a pretty good beer too. I searched for some information on these recently. I couldn't find anything on the net about Red Cap or Tuborg Gold. The Tuborg label was brewed under contract from some Danish brewer and the Red Cap was fashioned after old style Canadian cream ales. Falls City information was readily available with a look at the history of the brands and the fall of not only that brewer, but of all 25 independent brewers that used to produce beer in the Louisville, Ky area. Sadly, today there are two brewpubs, and one micro producing beer in that area with the Pub at Slugger Field, the Bluegrass Brewing Company, and the owners of Rich O's brewing under the New Albanian Brewing Company logo. What a shame as Falls City used to produce about 750,000 barrels per year at it's peak in the early 70's. Along with the old Oertels Brewery and the smaller players, Louisville produced nearly 2 million barrels per year. Now the production is down to the aforementioned three micro's. It's a little sad really. Do you remember Billy Beer during the Carter Presidency? That was the beer to commerate Jimmy's beer swilling, gas station owner, Georgia Everyman, brother, Billy Carter. That was actually the beginning of the end for Falls City as they were the makers of that beer....Do any of you remember a brand or a brewer that you want to wax nostalgic over, let me know the story and I'll post it here on the site. I personally love this type of brewing history and in a way miss some of the old vererable brands that are out of production......
Dark:
The brewery will be dark this weekend. For the uninitiated, that is a horse racing term that means there will be no racing on dark days. So that means that there will be no brewing this weekend. Stay tuned though as we will be brewing again here real soon, probably next weekend and it will be a beer to be named later.
Everyone, have a great weekend, get out of the house for a couple of days, have a beer, repeat the process.....
Mark, The Brewer, and waxing poetic over old breweries of late.......
Thursday, March 04, 2004
Penn Brew.......Kegging Tonight......Weekend Is Upon Us......
Penn:
Well, it's off to get a new commercial keg for the ole' keggerator. Now this has been a tough chore in the past because of so many choices. That hasn't been the case here the past 3 months. I have been exclusively purchasing Penn Brewing products directly from the brewery. I am now convinced that not only is this the only way to go, this is some of the best beer made in the United States, possibly the world, today. Sound like I'm crazy? No way. This beer is German Purity Law eligible, made from recipe's that came from German Brewhouses that are in operation today, use a proprietary yeast strain that came from, you guessed it, Germany, and uses the finest German grown barley malt and hallertau hops. Not only that, the coppers were fashioned in Germany and the entire brewing system was built to emulate the German style of brewing. Forget Warsteiner, drink Penn Pils. Forget Bitburger, drink The Kaiser Pils, Forget Spaten, Drink Penn Gold. Forget Becks Dark, drink Penn Dark. Forget Franzikaner Wheat, drink Penn Weizen. Forget Weinhenstephan Oktoberfest, drink Penn Octoberfest or Penn Maerzen. Try the Penn Maibock too!!! And don't get me started on the St. Nicholas Bock!!!!! This is some of the best beer you will ever drink, period!!!!! So if you ever get to the area near Western Pennsylvania, you gotta go there and drink some beer!!!!
Keg:
Tonight will see the kegging of the Anchor's Away (yea, I know it's spelled wrong). I was originally going to do this Tuesday, but was unavoidably detained. I actually have a real job in addition to brewing, running a small brewpub, writing daily on a web sight, and taking care of a family of 4. Sorry. Anyway, this lager has been resting nicely in secondary now for nearly 3 weeks, is crystal clear in the carboy, and is going into kegs tonight. I then hope to keg the For Whom The Bell's Tolls tomorrow night. By the end of the month, there will be quite a supply of beer at the I.M. Hammered Brewing Company. That said, I still can't keep up with the federal maximum of 200 gallons per adult per household that you can brew per year (400 gallons allowed at IMHBC). Wow!! That's a lot of beer. Think of it as nearly 4 of the big bright/serving tanks you see in most brewpubs (the tall upsidedown conical vessels) full of beer. That's a lot of beer. In layman's terms, about 176 or so cases of 12oz bottles. That means that you would have to consume about 14 cases of beer per month to keep up. I don't know if that is an afront to my freedoms as a citizen of the United States, or something to aspire too.....HHHHHHMMMMMMMM!!!!!!!
Weekend:
Is it me or is this week flying by. It's Thursday already and the weekend will be upon us before we know it. Wow.....Summer better slow down at least a little bit. Have a great weekend!!
Go get some craft beer, chill it, open one, pour it into a glass, drink it, repeat often....
Mark, The Brewer, and chilling beer even as we speak........
Wednesday, March 03, 2004
Commercial Beer Web Sites.......An Experiment.......More DDA Reaction........A Robin Sighting.........
Web:
I was out on the web recently and decided to do some research on the old information highway. While cruising up route 66, as it were, I decided to check out some of the regional brewery web sights. I mean, if they can't keep up with the Jones's, what can their futures possibly hold for them. I went out and looked for G. Heilman, Pittsburgh Brewing, Highfalls Brewing, Straub Brewing, Rolling Rock, and a couple of others that I either couldn't find, or they just don't have one. Heilman is interesting. They prefer to set up sights based upon brand recognition. Pretty slick as all of the brand sights are linked and all funnel you to the swag store where you can get the latest in t-shirt and hat wear. The sight I was interested in was the Old Style sight as that is really the only beer that Heilman produces that is worth drinking. Pretty good, talked alot about their affiliation with the Chicago Cubs and the links to Wisconsin brewing history. Enjoyable reading. The best sight of the group belongs to, of all brewers, Straub. This is a little brewery in the mountains of Western Central Pennsylvania in a little town called St. Mary's. The beer is drinkable and the sight was very informative of brewing history in the region. I thought it was a good read with a lot of brewery and brewing technique information. Well done for such a small brewer. Highfalls Brewing from Rochester, NY was the next best. Their sight has sex appeal and good information about the brewery and the products. Gennessee, the flagship brand, is also a drinkable American Standard lager that hasn't gotten too out of control with corn addition yet. Pittsburgh Brewing, the makers of Iron City and the original low carb beer from 25 years ago, Iron City Light had a so-so sight at best, though it was informative in terms of brewing history in the region. At one time there were 25 or so brewery's in the Pittsburgh area. I thought that to be somewhat amazing. The Rolling Rock sight was poor at best. There was a lame attempt at humor and the sight, like the beer was pretty weak. Rock now brews with corn and rice, which explains a lot about the product of late.
These are worth a look if you got some time to kill and want to read about some brewing history in the northeast. You might find some of the information interesting.....
Experiment:
After my visits to the web sights, I decided to try a little experiment. I have recently tasted Iron City, Straub, and Rolling Rock. Rolling Rock has become a watery product with little flavor of any kind. Iron City is still drinkable if you can get past the initial waft of DMS aroma when you first pour it. There actually is some level of malt flavor and bitterness that is detectable in the beer. The big three will tell you that's why is doesn't sell. Don't you hate that. The Straub has an interesting flavor that is a little different. The sight claims that they use corn "flakes" in the mash as opposed to corn grits. I find that interesting as a usage of terms and wonder if that means flaked maize or corn is used. I am guessing yes and that would explain why this brew has a little heavier body than the other two. It is refreshing and would be a decent choice in August when it is hot. The other two I have not tasted in a while. Old Style is a Chicagoland favorite and Gennesse is an upstate New York staple. So, I bought a 30 pack of each one. That should be enough of a sample to give you an update on the state of regional american standard style beer. We know that Bud, Miller, and Coors have sold out to adjuncts and more water in their products and that they are blander than ever. I guess, if you can find a commercial american standard with some level of flavor, you are at least a little bit ahead of the game. Stay tuned for tasting notes on these two very venerable american brands, and we'll see if they are going the way of the big three (bland and tasteless)......or if they will find a way into my refrigerator during the hot summer months (detectable malt and hop character)......
DDA:
In my totally biased and unrelenting opinion, the Deceased Dude Ale is a very good brew. Just to be sure I still have some functioning brain cells, Schpankie and Scooter were over last night to administer an objective tasting. Well, both thought the beer was excellent. In fact, I had to cut Scooter off after the third one, reminding him of the lethal combination of drinkability and high ABV. He agreed (as if he had a choice) and went along merrily. The bottom line here of course is, this brew turned out really well (stand back while I pat myself on the back) and is a great recipe.......Feel free to find it on this site and duplicate it.....
Robin:
It's official. There has been a confirmed Robin sighting in my back yard. Who cares what that stupid old groundhog thinks, I've seen a Robin. They are back, and that means that spring is nearly upon us with all of its glory. I am happy with that fact, see ya old man winter, have a nice sleep......
Pour, sip, empty, refill, repeat.......
Mark, The Brewer, and hoping to find a decent american standard beer afterall........
Tuesday, March 02, 2004
Stout Update......DDA Review......Busy Brewery Week......
Stout:
The stout, as usual, is bubbling up a storm. There was visible fermentation in what seemed like no time and by the 24 hour mark there was 4 inches of foam on the top of both fermenters and the airlocks were whistling. Looks like about a 5 day primary fermentation and I should be packaging on day 8. Plenty of time to be ready for the holiday on the 17th. Look for a tasting on that day. I love it when a plan comes together.....
DDA:
DDA, or Deceased Dude Ale, was tapped last Saturday afternoon. The brew is a pleasant surprise. It has big malt accent with some hints of fruit in the aroma. The beer has a short white head that doesn't want to linger for long, probably because of the alcohol content of the beer. There is foam that lingers around the edges of the glass and that foam hangs on pretty much all the way down the glass. At first I thought it lacked the proper level of carbonation, but it is well carbonated. The alcohol doesn't let it stay around long. The last appearance item for this brew is that it is brilliantly clear. No haze. It looks real good in the glass when you pour it.
I stated when this beer was made that it was a Maibock with ale yeast. That is still holding true. The beer weighs in at a hefty 7.01% ABV like a Maibock would, has that golden color, but also has some of the esters in the aroma associated with ale. The initial flavor of this beer is a big malt assault followed by balancing hop bitterness. The hops are understated and maltiness prevails in the middle. As the beer approaches the finish there is slight alcohol warming from the big ABV. There are no fusel flavors involved with this however and the beer finishes pretty smooth and dry. That can be attributed to the lower mash temperature making a highly fermentable wort. I like this beer, and I got about 8.5 gallons of it left. Lucky me!! It is definately similar to the beer that inspires it, Rogue's Dead Guy Ale. The beer is rich in flavor like, well, a Maibock. Rights of Spring anyone????
Busy:
This is going to be a very busy brewery week at IMHBC. I am going to be kegging both the Anchor's Away California Common Lager and the For Whom The Bell's Tolls Pale Ale this week. That gives me quite a few choices for drinking come mid month. The inventory of kegs in waiting would include Parrot Pete's Porter, Deceased Dude Ale, Anchor's Away, and For Whom The Bell's Tolls. I am scheduling the 8th as the kegging date for the stout, so that can be added to the list for mid month availability as well. Sounds like about 8 kegs will be in inventory very soon, though the current Parrot Pete's on line is starting to get low. With more brew dates to come in March, it could be a very, very good brewing year. I can also state with accuracy that I have gotten back on my brewing schedule. I have officially made up the week I lost. I have 4 vials of California Ale yeast available for the next two brews, plus I owe She Who Must Be Obeyed a wheat beer. I wonder if Penn Hefe is available in kegs to the public yet........
Get a cold one, drink it, get another one, drink it, and repeat as your needs dicatate.....
Mark, The Brewer, and soon to be a keg and carboy cleaning fool...........
Monday, March 01, 2004
Ding Dong The Keg is Dead.......It's a New Low......Brew Day......It's Here!!!!......
Ding Dong:
Regeneration Stout has bit the dust, finally. The keg kicked on Friday evening, which was a good thing as it gave me the opportunity to place Deceased Dude Ale in the cooler. Yes we tapped it on Saturday and I will give you a full report later this week (I can't give up all of my material on Monday....).
New Low:
I didn't think it was possible really. I was quite surprised. Watching the Academy Awards last night and cheering for Johnny Depp even though he didn't win, I saw some of the new St. Louis Rice Water Brewing Co. Ads. It seems that the awards show now debuts a lot of new ads ala the super bowl. There were some really clever offerings. The home of Spuds McKenzie (did they use spuds in the beer??, or was that some of Spud's byproducts....) and tasteless bland ricewater had several new ads queued up. However, one was so ludicrous, and so disrespectful to the international brewing community, that I couldn't believe it. It was truely a new low and AB really should be so ashamed.
In case you missed it, here is what they did. As usual they had young attractive people sitting at tables drinking, well, you guessed it. They were laughing and gave the impression that they were having fun. In the different scenes, the young attractive people also were quite ethnic in appearance. As the pubs changed, if you noticed the backdrops (and the glassware), they were vistas (and glassware) from Belgium, England, Germany, Ireland, and other beer producing countries, I.E., countries that send imports to the U.S. to compete with AB's lifeless carbonated rice juice. The ethnicity of the pub goers matched the vistas. They were subtle, but without question they were the beer capitals of the world in the background. The gist of the ad was that St. Louis Ricewater Inc.'s tastelessly bland headache producing megaswill was being selected in these countries' pubs by these attractive local people, over the wonderful beers that are produced in those countries. Can you imagine what locals would say to you if you were in Belgium at a sidewalk pub in a city, and ordered an American Budweiser......I can hear the laughter now. That is of course after they threw you out of the establishment. Oh my goodness. The arrogance and complete disrespect shown in this ad was astonishing. Then, the beer that was in the glasses was a deep golden color, in fact it looked like Pilsner Urquell or one of the fine German lagers from the north. Have you seen the Rice Juice that St. Louis Ricewater inc produces lately?? It is almost clear. There is no way that those glasses contained today's carbonated ricewater that this megaswill giant produces unless they added food coloring. Well, in my opinion it was a tasteless and vicious bit of advertising. So the next time you see someone swilling the ricewater of Kings, warn them that their head will ache horribly tomorrow, and let them know that AB has apparently become political in nature now that they use these "negative" ad compaigns. On second thought, I'm not really as surprised about this as I thought........Be sure to support your local brewpubs, micro's, and regional brewers. Imagine what your life would be like without them.....I know you've see a Zima before........
Brew Day:
What a brew day I had. First, it was 65 degrees outside and I had the doors open!!! You have no idea how nice that was. I mashed in about 8:45 and finished cleaning about 2:30 or so. I tweaked the recipe at the last minute and ended up using a little more malt and Irish Ale Yeast. OK, so sue me or something, on second thought don't do that.....but give me a break then. The only hitch was the sparge. It was difficult getting the flows even, but I worked it all out in the end. Here is the final recipe for what I can only term as a subsistance type dry stout:
14lbs Pale Malt
1.5 lbs Roasted Unmalted Barley
0.5 lbs flaked barley
2 oz of Challenger Hops UK, 7.4% AA bittering 60 minutes
2 vials of White Labs Irish Ale Yeast
Strike at 164 F. and stabilize the mash at 155 F. I missed this target but was at 157 F. so I didn't adjust it.
Rest for 1 hour
Sparge with 165 F. water collect 11.5 gallons of wort
Boil one hour with Challanger hops
Cool, transfer to fermenters and pitch yeast when the wort is below 80 degrees
Ferment 6 to 8 days, prime, package, and condition. Serve on March 17th.
As all grain brews go, this is one of the simplest recipes out there.
Opening Gravity was 1.045
I was originally shooting for 1.042, but originally only had 13 lbs of pale malt in the recipe. I added 1 lbs of malt and got 1.045. This was about 70% efficiency.
Happy Paddy's Day.....
Here:
Finally, today is March 1st!!! It's coming in like a lamb, and I like it like that. Nuff Said!!!
Pour some black ale, lift the glass, drain, re-pour, re-peat..............
Mark, The Brewer, and got some Stout in the House.......