In case you are wondering, I.M. Hammered Brewing is:
Mark
-- Head brewer and drinker (brewer of over 65 batches of extract and all grain brews, drinker of many thousands of bottles and pints of beer), CEO and President of the finest Nano-brewery I know of, head bottle washer, and sanitation engineer
Liz
-- Vice President in charge of bar decorating, keeping me from becoming too fanatical in my brewing habits, and is also known as "she who must be obeyed"
Michael
-- Brewhouse assistant, equipment consultant, Chief IT Geek and self-appointed Official Beer Taster (great work if you can get it)
Schpankie
-- Newest convert from fizzy yellow water to finely crafted beers and ales, adds little value to the brewhouse, but we like him anyway
Scooter
-- The gas man (and I mean that in the kindest of ways) bringing propane and co2 when needed, also has keen interest in the brewing process
Knuckle Jefe
-- Newest convert to brewing (has four batches under his belt), has began a start up nano-brewery in Kentucky known as "Double-Wide Brewing" with the catchy slogan of "double wide beers at single wide prices". Boy has a brilliant future in marketing. IMH is helping with equipment in the start up. We all work for beer, then again, why wouldn't we.
Parrot Pete, aka, Pappa Draft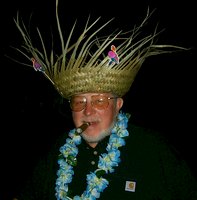 -- Bar designer, humidor raider, label celebrity, and Just because he should have been on the list the whole time.
We hope to make this site fun and informative and look for outside input, or inside output, whatever works.
Friday, February 27, 2004
Transfers......Still Pouring.....New Kegs......The Final Countdown (no, really).....
Transfers:
With all due apologies to Ernest Hemingway and his heirs, not to mention Kalamazoo Brewing Company, the For Whom The Bell's Tolls Pale Ale was transferred last night to secondary. the beer is beginning to clear nicely and is a very light golden color, much lighter than most pale ales. Everything looks and smells just fine and I should be kegging this brew in about a week, and it will be ready to drink by mid March. I am very interested to see how close this clone recipe of Bell's Pale Ale comes to the real thing. I'm sure you'll all be the first to know after we get this brew packaged, conditioned, and tapped. This of course frees up the primary fermenters for this weekend and a quick batch of stout. Brew day will begin very early on Sunday morning, and the weather is supposed to be fantastic. It's about time.....
Pouring:
Two more imperials last night and no end in sight to the Regeneration Stout. It will be done tonight no matter what. I'll be on a mission. That stout just keeps coming out of the keg though. Maybe its a sign and like up at the Straub brewery in the hills of northwestern Pennsylvania, I have found my own version of the eternal tap......naaahhhhh!! It's done tonight. For those of you who are saying Straub???? Eternal Tap????...There is a little regional, well really, probably micro brewer near Dubois, Pa that makes an American Standard beer called Straub. The beer actually is a barley and corn mashed brew that isn't too bad as American Standard beers go. It's better than the eeeevil big three anyway and given a choice of those four, I would pick Straub. Anyway, they have a tasting room at the brewery that used to be open to the public. You could go in and take a tour of the brewery, and then sit in the tasting room and drink Straub from the eternal tap, as much as you cared to sample, and you could stay as long as you liked during their business hours. Of course that has all ended now with the beer police and such. Just a little piece of real beer trivia for you. Anyway, it will be Deceased Dude Ale moving onto Tap #1 tomorrow.....
Kegs:
I got a package yesterday. She who must be obeyed opened it of course, but it contained 3 shiny cornelius ball lock kegs to add to the rotation. Yes that's right, they were fully rebuilt from Sabco in Toledo, Oh, which is about the only thing about Ohio that I like. These guys looked like new. Sabco does such a good job refurbishing these things. They are clean as a pin. All I have to do is sanitize and fill!!! These currently run $29.95 plus shipping. You won't find a better deal or better quality rebuilt kegs for that price. They replace everything, all of the gaskets, poppet valves, and the dip tube, caustic wash the keg, rinse with sanitizer, and ship them under pressure. I highly recommend buying kegs from them if you are thinking about kegging your beer. They also fashioned all of my brewing kettles as well. Their business is kegs, so they really know what they are doing. My kettles have some of the cleanest welds inside you have ever seen. they are as smooth as the original surface area of the keg at the port entries. Also, the false bottom was custom cut to the kettle it fits, and I generally only have to recirculate for about 5 minutes. It truely is superior design and excellent workmanship.....That puts me up to 11 kegs in service and officially puts me into my self-proclaimed maniac category.....
Countdown:
The next time I post it will be March 1st!!! That means that this is the final countdown day (really, I'm not kidding). Soooooooo:
2 yes count them, 2 days til March 1st!!! March is scheduled to come in like a lamb too with temperatures in the 50's and mostly sunny skies!!! Now that's what I'm talking about.
19 days to St. Patrick's Day -- yea I know, i'm cutting the stout fermentation and conditioning pretty close, don't worry and have a homebrew will ya...
64 Days, that's when the trumpets will blare and the horses will run like the wind around Churchill Downs, and I'll be having a homebrew with Knuckle Jefe. And they're off!!!
115 Days til the first days of summer. Isn't it amazing that baseball, the game of summer is already 77 dates into their season before summer even starts. Then the season generally runs til 40 days after summer ends. HHHHMMMMMM.......
Have a great weekend everyone, drink up, refill, repeat.....
Mark, The Brewer, and starting a big weekend of brewing fun, debuting beer, and family time..........
Thursday, February 26, 2004
You've Got To Be Kidding......All Grain Intimidation.......Brew Review........Almost There.........
Kidding:
How can a skinny little keg that weighs nothing continue to pour out stout!!!! I'm starting to get a little aggravated here!! Two more imperial pints out of this keg last night just as pretty as you please. I can't believe it!! When will this thing go empty. I'm almost tempted to send it to Chicago to get blown up with the Bartman Ball today. Please go empty, oh please!!!! I just want to clean the lines and tap a different beer. Is that too much to ask oh Gambrinus?? Grant me the ability to drink some Deceased Dule Ale.......
All-Grain:
I was doing my usual reading on the subjects of beer and brewing and I ran across an article on All-Grain brewing, really how to all-grain brew. It is no wonder that so many extract brewers don't switch over. I mean there are some time constraints in everyone's life, and I understand that the 2 to 3 hours it takes to extract brew is a lot less time than the 6 to 7 hours it takes to all-grain (including cleaning for both of course). This article was so full of technical and scientific terms that it would scare people who already all-grain, causing panic because it talked about things that would make them nervous about everything if they worried about items. For example, in this article (it was from a brewing magazine) there was a dissertation about vicinal dyketones. What are they and why do I need to know about them to all grain brew you ask? That's the point, the average brewer trying to learn how to all-grain brew doesn't need to care about them. You will get the proper outcome, good beer, if you follow your recipe, use fresh ingredients, have good procedure, and pay attention to sanitation. If you are trying to all-grain brew for the first time, you don't need to worry about vicinal dyketones (sounds like a punk rock band doesn't it)!!! I believe more people would move to making much better beer by all-grain brewing if there was an easy read out there that explains the process in layman's terms, takes away the mystique, gives better illustrations, and just plain keeps it simple stupid. Yes you have to know about time and temperature and what is happening, but things like the development of flavanoids in dark beer probably don't need to be discussed in an article on the basics of all grain brewing. Neither does the types of Humulones found in hops. As people get past the mystique of all grain brewing and realize that it is basically soaking grain in hot water for a while, draining and rinsing it, then boiling that extracted liquid with hops, they will naturally become interested in the overall science and want to learn more about vicinal dyketones, flavanoids, and the various types of humulones there are in hops. But before that, all you really need are good instructions on process and procedure for all-grain brewing. Things like what temperature should the water be when I mix it with the grain, how much water do I use, and how long should I let it sit there in the hot water. Don't talk about mash thickness and extraction efficiency yet. Get people started! Trust me, people will want to know more after they make a couple of successful all-grain batches. So to all of you brewing mags out there, if you want to get more people all-grain brewing, give them some simple to follow guidelines about extracting wort from grain, then boiling it with hops. When I first started to all-grain brew, I was terrified. I read everything and understood nothing. So I mapped out a strategy and a process and went with what I thought was the right way to go about it. When the batch got done and I had hit the opening gravity, I thought, that's not that hard. Why did everything I read make it sound so difficult. The beer turned out fine, and the all-grain batches have only gotten better. Now I know and understand a lot of the science too. But getting over the fear to get started was the hard part. To all of you extract brewers out there, take the plunge into all-grain brewing, your beer will only get better and in the end, you'll be glad you did it. It's not rocket science (unless you want it to be), it's just soaking grain in hot water.
Review:
Double Blonde Maibock -- Stoudt's Brewing Co, Adamstown, Pa: This is a seasonal brew from a small micro in central Pennsylvania. Let me tell you, these folks make great beers. The golden lager is outstanding as is their version of German Fest Beer. The Maibock is light golden or blonde in color with a firm white head. The aroma is malty with a hint of hops and a slight hint of alcohol (it is a maibock). Drinking this beer is a pleasure. It starts malty and balances with a definitive hop bite. The center is malty again with some slight alcohol warming. The finish is a clean malt flavor that lingers slightly after you swallow it. This beer has the dangerous combination of drinkability and a higher octane in the tank. Be careful with this one if you plan to have two or more and make sure you aren't driving. I really liked this years version of this brew. Last year I believe it was brewed using some honey and it appears that the honey was omitted in this years version. No matter, it is still quite quaffable. Those nutty German brewers, they seem to have a strong fest type beer for "special occasions" but that seems like there is one for every month of the year!! The Maerzen Fest Beer is for the February and March celebrations. Maibock takes care of the April, May, June time frame. Dunkleweiss seems to be the strong summer libations of July and August, with Octoberfest taking the stage in September and October. After that, they serve strong bock and doppelbock beers during the holiday season and during the cold winter month of January. Not only that, there's overlap. And then they make the great pilsners, alt biers, Kolch beers, roggan beers, and the beers in the Munich style for "everyday" drinking. Gotta love em for it!!!! Anyway, I highly recommend seeking out the Stoudt's Double Blond Maibock. It is a great brew!!!!!
Almost:
Well, we are winding down the countdown that started it all. There are only 3 days til the promise of spring begins, better known as March 1st. I promise I'll stop (heh, heh, heh) when we get there. No, scout's honor!!! No, really, I swear to Buddah!!! I'm not kidding as far as you know....Really I'm not!!!! You'll just have to trust me.
Fill, empty, repeat.....
Mark, The Brewer, and seeking out beers with Rams on the label.........
Wednesday, February 25, 2004
Stout Watch......Brew Day......Brew Review........Another Day Closer.......
Stout:
I can't believe it. I am totally amazed. That darn keg poured two more imperial pints last night and didn't even begin to look like a keg that was empty. I picked it up and it was extra light even before I poured beer. I'm going to try again tonight and if I have to, I'm going to look under the darn thing. I'm starting to think that this keg has another line out of it that is going under ground and ocean all the way to Ireland and pouring beer directly from some tap over there. GGeeeeezzzzzz. All I want to do is taste some Deceased Dude Ale. Is that too much to ask for goodness sake!!!
I have never in my brewing escapades seen a keg with this much resilience. Regeneration Stout apparently is doing just that. Regenerating itself. I wish I knew the secret to that!! Think of the millions that would be involved. We might even be able to upgrade the bar some more!!!! Yea, right......
Brew Day:
Sunday!!! It is stout day!!! She Who Must Be Obeyed will be working, and the kids can play, and I can brew. Actually, I'll be most of the way done before she even leaves for work. The simple subsistence stout for St. Patrick's Day. That's the ticket.
I will be racking the For Whom The Bell's Tolls tonight and preparing for the brewday. The kettles are shined and ready to go, so it's just a quick set up, crushing of some grain, a little water, and voilla, ready to brew!!! It'll be an early start for sure. I believe the weather is supposed to cooperate somewhat too, so that will be a bonus!! I'm looking forward to it.
Review:
Bell's Amber -- Kalamazoo Brewing Company, Kalamazoo, Michigan: Oh My Goodness!!!!! There isn't much else to say here!!! If you really love hand crafted ales that have to die for aroma, full body, wonderful maltyness, direct and clean hop bite, hop flavor, and finish cleanly with hop and malt accents, then this is your brewery. IF you like Cornwater Light, there is no need to look for this stuff. But, if you have a passion for a little extra, here you go. This beer starts with a wonderous malt and floral aroma that jumps out of the glass at you. You can't help but enjoy it because the whole room fills with the aroma as you pour this into a glass. This beer is bottle conditioned, just like a homebrewer makes too. Any yeast culturers out there?? The beer looks a lot like a clear homebrew in the glass and has a fluffy and light head of foam. That foam never seems to fully dissapate leaving at least 1/4 in. on top the whole way down the glass. The beer starts with malt and a balancing to strong hop bite...Nice....then the middle is chewy with malt accents and a hint of diacetyl and some level of hop flavors. Wow!!! You don't want it to end. Then you get to a lingering malt finish with hop like floral notes. You then look longingly at the glass and wonder what just happened and then you realize another sip will cause the same sensation. This beer is unbelievably drinkable, but beware as most Bell's products have some level of octane inside the bottle. The beer fits no style that I can tell unless you think an American Amber Ale should be like this. I know that I like it, will drink it often, and hope local pubs soon have Bell's brands on tap!!! I used to travel to Kalamazoo on business and that is where I first tasted these fine brews. The brewery capacity has now grown and distribution is finally reaching my area. Oh Happy Days!!!! Other Bell's beers that you will see reviews on as soon as I can find them are; Kalamazoo Stout, Two-Hearted Ale (IPA), Double Cream Stout, BPA (Bell's Pale Ale), Expedition Stout (Imperial Stout), and anything else they can conjure up. These are must find and drink beers. I really doubt that you will be disappointed in any way!!! Good Luck finding them!!!
Closer:
4!!! That's right 4!!!! Only 4 days left til March 1st, robins singing in your yard, and old man winter beginning to realize that he can't win the battle with spring and summer. I can't wait to watch him slink off to sleep for the next 7 or 8 months. Good riddance!!
That also means that there are 21 days to St. Patrick's Day for the wearing o' the Green and the Drinkin' o' the Black Ale.....Nice....
That also means that there are only 66 Days til the call to the post and the singing of My Old Kentucky Home. Man I love spring time!!!!
An finally, you better get the box with the shorts and the tee-shirts out because pitchers and catchers have reported, along with everyday players, opening day is April 5th, a short 40 days away!!! I wish my job had 40 days of training in Florida every February/March!!!
Yea, I forgot, it's 117 days til the first day of summer!!!!
Brew some stout will ya!!!
Mark, The Brewer, and the guy thinking about a Bell's beer all day at work........
Tuesday, February 24, 2004
The Keg That Wouldn't Empty......A Debut This Week......Brew Review.......Getting Closer.......
Keg:
It seems like forever ago when we brewed the Regeneration Stout. I didn't even have a name for the beer at the time, and it was only after the batch saving addition of amylase enzyme that we gave this brew a name. Given what the beer and the yeast went through to ferment this batch, it has turned out pretty good and has been enjoyed by many. The only problem now is, the darn keg won't empty. I've marinated steaks, filled imperials and the darn thing just keeps pouring. I can't explain it!! I just want to clean the lines and put a new brew into the cooler. But nooooo, the Regeneration Stout seems to be doing just that, regenerating. I've been able to lift the keg for two weeks with two fingers, it's as light as a feather, just keeps pouring!!!
Well, all good things must come to an end, and I would have to guess that this keg is as close to empty as it can be. Two batches made after this one are all gone. Not thes guy. This keg makes the energizer bunny look like a slacker!!!!! I guess we'll have to start a stout watch or something.......Stay tuned and does anyone want to make a wager on when this thing will stop pouring?????
Debut:
I've said this before and I'll say it again. The most anxious time for a brewer, well after waiting for a clean yeast start anyway, is when that first keg or bottle of a new batch is opened or poured and tasted for the first time. Yea, I know most brewers, me included, taste gravity samples along the way and have a decent idea of what a beer is going to be, but that first taste of the carbonated finished beer is nerve wracking. What if it didn't carbonate properly, what if tastes bad, what if, what if, what if..... Well, the Rogue Dead Guy Ale clone, properly named Deceased Dude Ale, is going to make it's long awaited debut this week. This beer has been in kegs now for 12 days and it's time to get to the tasting. All we are waiting for is an open tap. Now if that darn Regeneration Stout doesn't stop regenerating, it might be longer, but look for a review on this brew by about Friday's post.
The beer had a deep honey color at kegging and weighed in at 7.01% ABV or so. It is where a Maibock meets ale yeast. Watch for the debut of Deceased Dude Ale later this week.
Review:
Bitburger Pils -- A brewery that I can't pronounce or spell located in Northwestern Germany: This beer is readily available in our area in bottles and is very competitively priced. It is one of the larger brewery's in Germany and like Warsteiner is the closest thing to a mass produced beer made there. It is of course Reinheitsgebot pure. Tasting this version of this beer I was lucky to have it on tap. Let me tell you that the green imported bottles of this brew don't hold a candle to the draught version. The beer has a light floral aroma of hops with a thick merangue like creamy white head of foam. The beer is brilliant deep yellow golden color. The beer starts with a medium light mouth feel with some honeyed malt character and a drying nature about it. There is a clean noticeable hop bite up front. The beer maintains the medium light body throughout and has, for lack of a better term, a "softness, or roundness" about the flavor of the malt. The beer is extra clean and finishes very short and very dry. The overall balance is great and leaves you wanting another sip. This is a great thirst quencher. I have determined that this is a very good beer (ya think!!). It lends itself well to earlier in the day sipping and would be an outstanding complement to lighter fare at lunch or brunch. This beer would pair nicely with ommelets, fish dishes, or spicy fare such as mexican food or chinese. This beer is what the old American Standard style could be, should be, and maybe at one time was. The bottled version of this beer sold in this country doesn't do the draught version any justice at all. The Mega-Swill Incs of America shoud be ashamed of themselves. This is what we could have been drinking all along!!
Closer:
Well, time sure flies when you watch it everyday. Here we go:
It is 5, that's right, count em', five short days to March 1st and the hopes of spring will be upon us.
Mardi Gras is in full swing and TODAY is FAT TUESDAY, so try to behave yourselves a little bit will ya!!
It is 22 days til St. Patrick's Day. I'll have a simple stout bubbling by Sunday night.
I have again been chastised about the Derby Count. Knuckle Jefe is the one who insisted on this count and I agree. Really it is one of the times during the year that we get together. Another new low, I'm so ashamed. So Jefe, this one is for you!!!! It's a short 67 days to Derby Day and the singing of "My Old Kentucky Home". Just a nice quiet day with about 130,000 of your closest friends.
Finally, it is 118 days to the first day of Summer.
Soon we will be counting down to our summer Jimmy Buffett party!!!!! Ohhh Yeaaaa!!
Open, Tilt, Swallow, Tilt, Swallow, Tilt, Swallow, Tilt, Swallow, Repeat......
Mark, The Brewer, and looking forward to a great summer............
Monday, February 23, 2004
Cornwater Inc.......Quiet at IMHB.......Quick Brew Review........In Memoriam.....
Cornwater:
Saturday was bowling night. Now I love bowling night as I don't bowl read well, and neither do most of the other folks there. The company is very good, and it's a fun night out for us. The only negative there is, is the beer. The bowling alley is older and very small and we have the place to ourselves, but the bar only has Cornwater Inc., Ricewater Inc., and Colorado Icewater Inc. products. I opted actually for Allegheny River Water Inc. beer because it actually tastes more like beer. But in the end, I generally get nothing more than an adjunct driven headache. That's what I got Saturday night. I only sipped maybe three of them or so too over about a 4 to 5 hour period. Nope, still got the headache. Now I'm not one to complain, but man, how do so many millions of people subject themselves to such torture!!!!! Please frequent and support your local regional, micro, and brewpub breweries as they really do make great beer, and save yourself the headache like I had. Ouch!!!
Quiet:
IMHBC was very quiet this weekend. Very little going on, and the brewery is basically in wait mode as several beers are maturing, carbonating, fermenting. Next week should see some activity though.
Reviews:
Over the weekend I got to go to a pub that had been voted the best Belgian Pub in the United States on several occasions. That is the Sharp Edge Beer emporium. That means I got to try some really good brews:
Allagash XXX -- Allagash Brewing: An American Brewed Tripel with the unmistakable aroma of Belgian yeast was a golden color and medium bodied. At an estimated 8% ABV (it didn't specify) the beer was clean, easy to drink, and very good. I loved it and will drink it again. A great effort from a good up and coming brewer in the USA.
60 Minute IPA on Cask -- Dogfishhead Brewing: I was not enamored with this beer on draught, but on cask I have a better opinion. The malty background now comes through with a better serving temperature and a natural carbonation. It is a much better brew served in this manner and I liked it on cask. Much more malt character with good but more subdued hop bite. This is worth a taste on cask!!
In Memorial:
There was a touch of sadness at IMHBC this weekend as a good family friend lost his battle with cancer on Saturday afternoon. Life is like a series of roads. We never really know the way but have many options that we can take, we don't always understand the journey but continue along dutifully, and we never really know when the journey will end. His journey ended way too soon.
What defines a man in life is what is important. Some achieve fame and fortune and spend much of their life in the spotlight. Some live more in solidtude, going through life simply and keeping to themselves. Some are compasionate and charitable, though they prefer to stay in the background, not drawing any attention to themselves. All of these paths are acceptable.
Defining a man in his life really is more simple than you think and clearly more simple than the journey itself. When a man is talked about or thought of in a group of his peers, it is how he is remembered that is important. It doesn't matter which path that man chose from above, it is that in the company of other men who's lives he has touched, he is thought of as "A Good Man". I am here to say today, Mike Kotch, You were "A Good Man".
Mark, The Brewer..........
Friday, February 20, 2004
Extract Controversy......The Best Drinking Story Ever.......You Know.......
Extract:
For about a year now there has been a new school of thought on extract brewing. It is a little radical and different from anything that you have ever been told or read. The idea is hop tea boiling. The thought is that you will get better isomerization of your hops to make hoppier brews, and by not boiling your extract, you can make much lighter beer and the lighter styles will look better against the SRM scale. Are you interested? Here's how it works!!
Take your normal amount of water that you start with in your kettle to steep any specialty grains and proceed to do that as normal. After the steeping period, bring the grain tea to a boil and add your bittering hops. Boil the normal time making all of your hop additions as called for by your recipe. After knock out, quickly stir in your extracts. Cover this mixture and let it steep for at least 20 minutes keeping the temperature above 176 degrees F. You might have to add some heat occasionally to maintain this temp. This will pasteurize the extract so that everything should be microbe free. Cool your wort, pitch, and ferment as normal.
What have I just done, you ask? Well, you have boiled your hops in a wort of very low gravity. By doing so, you will naturally increase the isomerization of the alpha acids and hop oils into the solution. Boiling in a concentrated wort, like you normally would do, decreases the amount of bitterness extracted from the hops. By using this method, you should maximize your hop bitterness in your beer. You might actually have to cut back on the amount of hops you use in these recipes regularly because you will get higher levels of bitterness. The extract has in the process of being made, already been mashed and boiled. When it is packaged it should be free of contaminants. That said, steeping the extract into solution at above 176 degrees should pasteurize it and free it of any remaining microbes that could possibly infect your beer. In the past, it was always thought that you should boil your extract after adding it to the kettle. This method would eliminate that process. Boiling will darken your wort. It is a fact of science. By not boiling the extract, you will maintain it's natural color. This in turn means that you can make lighter colored beers much closer to their all-grain brethern in color. It also means that you can make that IPA you always wanted with enough hop character to make people a block down the street relaxed.
I will freely admit to all that I have not tried this method. I have read extensively of others who have and that they have had great success with it. So, if you really want to hop up your brew and keep the color light, give this method a try. If you read it here and had success, email me and let me know how it went!!! Good Luck!!!
Story:
The following is in my opinion, one of the all-time great drinking stories. Enjoy!!
THE BEST DRINKING STORY EVER
From the state where drinking and driving is considered a sport, comes a true story from Binghamton, NY. Recently a routine police patrol parked outside a local neighborhood bar on Clinton Street. Late in the evening the officer noticed a man leaving the bar so intoxicated that he could barely walk. The man stumbled around the parking lot for a few minutes with the officer quietly observing. After what seemed an eternity and trying his keys on five different vehicles, the man managed to find his own car which he fell into. He was there for a few minutes as a number of other patrons left the bar and drove off. Finally he started the car, switched the wipers on and off (it was a dry night),flicked the hazard flasher on and off, tooted the horn and then switched on the lights. He moved the vehicle forward a few inches, reversed a little and then remained stationary for a few more minutes as more patrons left in their vehicles. At last he pulled out of the parking lot and started to drive slowly down the street. The police officer, having patiently waited all this time, now started up his patrol car, put on the flashing lights, promptly pulled the man over and carried out a Breathalyzer test. To his amazement the Breathalyzer indicated NO evidence of the man having been drinking. Dumbfounded, the officer said "I'll have to ask you to accompany me to the Police station my Breathalyzer equipment must be broken." "I doubt it," said the man, "tonight I'm the designated decoy."
Oh, My Goodness!!!! Why didn't we ever think of that one!!!
You Know:
Counting Down is fun today. My weather forecast is for 62 degrees and sunny today. How about that!!!
There are 9 days, yes single digits, to March 1st and the hopes of spring (which will get heightened today).
There are 26 days to St. Patrick's Day and the wearin' o' the green.
It has been brought to my attention by a faithful reader that I am leaving out a very important date here that should also have a countdown. Upon about a nano-second of thought, I agree that he is sooooo right. So, It is 72 short days to the call to the post of the Kentucky Derby, the first real rites of spring party!!!
Finally, it is 122 days to the first day of summer. Spring training starts next week and many pitchers and catchers have already reported!!!!
Have a great weekend everyone!!!
Sit Back, Enjoy the weather, Open, tilt, swallow, repeat!!!!!
Mark, The Brewer, and hearing the call to the post..........
Thursday, February 19, 2004
Back on Schedule.......What's on the Horizon........Another Day Closer........
Schedule:
Though I doubt too many people care, but you'll all be happy to know that I have been able to get IMHBC back on the brewing schedule. The next scheduled brew day looks like it will be February 29th for those of you who might want to be involved. That will be the day I will brew my simple stout recipe (all-grain version) for St. Patrick's Day. The beer will be ready to drink and tap on the 17th. That brew puts IMHBC right back on the brewing schedule that I originally set out back in January. I now have Parrot Pete's ready to drink, Deceased Dude Ale is kegged and awaiting it's debut, probably next Wednesday, Anchor's Away (yea, I know it's spelled wrong) is resting nicely as it bulk lagers for a few weeks making it's debut probable about the end of March, and For Whom The Bell's Tolls is working nicely in primary fermentation and is also probable for towards the end of March. I'll get the stout made a week from Sunday and all will be good with the world. Except for the fact that there is some beer to drink.....oh yea, that makes the world even better!!!!!!
Horizon:
As we move into the spring brewing season, I have some aggressive brewing plans!! Next up after the stout looks like a quick Hefeweizen. I will make this from extracts and probably only a 5 gallon batch, but must do it as it is a request from the wife. After that, I am looking at a couple of other Bell's clone recipe's, a couple of the Rogue clone recipes, and then will need to think about making the Angry Dog Amber again. As crazy as it all sounds, I love to brew on the new system and the beers have been just great. I only want to keep making them, and keep making them better and better. We're getting new neighbors in a couple of weeks and I am sure they will think that I am crazy for sure, til they taste the beer of course. I also want to make more wheat beer, another batch of the light cream ale, this time with a hint of honey, perhaps a saison or a grand cru for the later summer months. If my math skills don't fail me, that would be approximately 8 to 10 batches made by the end of June. That is do-able and in fact, I just made that my brewing goal!!!!!
Closer:
With tomorrow's forecast at 55 degrees and sunny, it means that we are getting oh so closer to spring. I am so happy, though I know that old man winter doesn't give up the ghost real easy and tries to hang on til April if he can. Anyway, you know what comes next:
It's 10 short days til March 1st and the hope of spring
It's 27 days til St. Patrick's Day, the first real spring celebration (mardi gras is just a little too early, though I love the fest beers)
And finally, it's 123 days til the first day of summer!!!! I can feel the hum of the lawn mower in my hands even as we speak, along with the weeding, mulching, painting projects, home fix up projects, bush trimming, edging, gardening, flower planting, back breaking hauling stuff about, sweating, .....why did I say I wanted warmer weather again????.......Just kidding of course. Brew On!!!
Lift your grail and toast to the coming of summer!!!! Repeat as it makes you feel better.....
Mark, The Brewer, and listening to Jimmy Buffett while Havana Daydreaming.........
Wednesday, February 18, 2004
Fermentation........Stout is Next on the Horizon........Uh Oh, There Isn't a Cloud in the Sky and It's Feeling a Little Warmer These Days......
Fermentation:
Hey, there's a fungus among us!!!! You know, yeast!!! Have you ever really watched a fermentation?? If you ferment in a bucket, you may not have ever really seen one. Let me tell you it is a sight to behold. Fermenting in glass carboys does give you the ability to watch the fermentation take off. Last night I couldn't help but watch it for awhile as the For Whom the Bell's Toll Pale Ale worked (My apologies to Mr. Hemingway). The absolute frenzy of activity, the swirling and whirling action inside. The chunks and movement and instability of it, all the while with co2 chugging out of the airlocks. Wow!!!! Watching yeast settle to the bottom as they have finished their work and go dormant, knowing that they have created 4 or 5 more cell generations in their image during the process to carry on the clan's work. How the beer takes on an almost whiteish look about it, milky in a way, as the yeast do their bidding. All the while knowing that the yeast are happy creatures because I gave them wort, gave them life, and in return they are giving me beer. If you think about it, it is quite a fine arrangement, and one that is very acceptable to each of our beings. Did you know that if you could measure energy levels in a yeast cell, that the level is actually higher after fermentation?? Even after all of that work, the yeast is still vibrant and ready to go some more. That's why you can harvest and use them again and again. You have to love their tenacity, and their ability to eat sugar and give us alcohol.
A wise old brewer once wrote, "We are not brewers, but rather yeast farmers. If we treat them well, they will give us beer". This is so true. So the next time you brew, ferment in glass and take in some of the fireworks in a bottle that is known as fermentation. It will help you become one with your beer.
Stout:
With St. Patrick's Day quickly approaching, there will be a need to make an Irish Dry stout. Dry Stout is a very simple beer that ferments very quickly. There is no reason why you can't be drinking a Stout in 14 days from pitching. The beer needs a week to work and a week to carbonate in packaging. That's it. Because of it's roasty flavor, the brew doesn't need extended aging. It is best if drank quickly and fresh. The simplicity of the beer is amazing. For all grain brewers, there are only a couple of ingredients. Pale malt, roasted barley, flaked barley, water, yeast, and a bittering hop. That's it. There is no hop flavor nor aroma in most examples. Extract brewers can buy a stout "kit" or simply use pale extract as a base, steep some roasted and flaked barley in 155 degree water, boil with bittering hops and add yeast. Yeast variety isn't overly important either. Many advocate Irish Ale, but I think the hint of diacetyl that produces doesn't fit the style. I prefer a clean fermenter like California Ale yeast. If you use dry yeast, any dry ale yeast will work such as Munton's or Safale. Hops aren't as important either, just use a clean bittering hop that remains neutral in the beer.
Here is my simple 5 gal. recipe for Irish Dry Stout for extract brewers:
6lbs pale liquid malt extract
3/4 lb roasted unmalted barley
1/4 lb flaked barley
1oz Columbus Hops Bittering
White Labs California Ale Yeast or equivalent
Steep grains at 155 degrees for 20 to 30 minutes in 1.5 gallons of water, Remove
Add extract, top up kettle to typical boiling volume and bring to a boil
Add Columbus hops and boil for 1 hour
Cool, place in fermenter bringing total volume to 5.5 gallons (add cold water as needed and mix thoroughly) and pitch White Labs California Ale when wort is less than 80 degrees
Ferment at 68 degrees for 7 days
Prime and package, condition for 7 to 10 days and drink it.
OG = 1.042
FG = 1.010
ABV = 4.1%
The flaked barley will help give you that big creamy head that stout should have. The brew will be roasty with medium to high hop bitterness, no hop flavor or aroma, and will be very low on fruity esters if any. This recipe is meant to emulate the classic dry stouts of Ireland such as Guiness, Murphy's, and Beamish. This is a lower alcohol brew meant to be a session beer, at least on that one sacred day of the year.
Cheers!!!
Sunshine:
"The weather is here, I wish you were beautiful" is a line from a classic Jimmy Buffett song. Well, we're finally starting to get there!!! Not a cloud in the sky here today and the temps, well, they are going into the 40's today, and possibly the 50's tomorrow!!! Yes, I'm excited!! Oh, and there's only 11 days to March 1st and the hope of spring, 28 days to St. Patrick's Day, and finally only 124 more shopping days till the first day of summer!!!!
Have a very beery day today!!!
Fill the tulip with stout, drink it down, have another to begin the "session", repeat.....
Mark, The Brewer, and preparin' to be wearin' the green.........
Tuesday, February 17, 2004
A Lot To Cover.......Great Brew Day.......Using Sugars........The Now Infamous Countdown.......
Lots:
I've been gone a couple of days again. This time unexpectedly. I have two sick kids and that has been added stress to the stress of everyday. Anyway, there is a lot to talk about this week. We've had keggings, transfers, brewdays, and more in the past four or five days. I'm excited about it all!!!!
The Deceased Dude Ale is now kegged. The finishing gravity was 1.011 bringing the brew to an estimated ABV of 7.01%. Oh, it tasted real good even without gas on it. There is no alcohol bite and it has a malty backbone with hop balance. I look forward to tasting sometime next week when it has the proper carbonation. The Anchor's Away (yea, I know that it's spelled wrong) is now clearing and maturing in secondary. This brew is still at least 3 to 4 weeks away from drinking, one of the scourges of brewing lagers, even California Lager. But the beer is already showing a copper brilliance in color that only a lager can give you. This beer will get at least two more weeks in secondary and then 10 days in the keg before dispensing. Both of these beers are well anticipated and the inventory is suddenly looking much better to me.
Brew Day:
Like in the movie
Groundhog Day
, the brewing process is getting easier and better, and duplicated every time out on the new system. All phases of brewing process continue to improve and I hope to continue it over, and over, and over......
The Bell's Pale Ale recipe went very smoothly and produced a beer very light in color as pale ales go, and with a lot of character with accent obviously to the malt side. Being frugal, I added a little more Hallertau hops than the recipe called for as I didn't want to waste a half ounce of them. I doubt that it will make that big of an impact.
All went very smoothly and the beer is bubbling very nicely in the fermentation room at about 66 degrees. We had visible working fermentation in about 10 hours and big action in less than 24 hours. Given this beers quirky recipe, I will be anxious to see if it tastes similar to the real thing. I guess we'll know in about 25 days or so.
The opening gravity was right on the recipe at 1.050. That pretty much tells me that my system is operating at 70 to 75% efficiency as that has been the scale of the recent recipes and I've been hitting the gravities right on.
Sugars:
As homebrewers, everything we read tells us that putting sugar in your beer is a bad thing to do. That it will cause off flavors, cidery character, and that it will add harshness to your beer. Well, I'll tell you that using sugar is fine if you adhere to some simple rules and pay attention to the type of fermentable sugar you are using.
The myth that sugar is bad does carry some credence when talking about regular granulated table sugar. This is suchrose and is about 98% fermentable. This type of refined white sugar can lead to some level of cidery flavor if too much is used. If you keep the sugar addition to less than 20% of the fermentables, you probably won't see any effect other than a lighter colored and bodied brew. Other sugars that are fine to use in beer include, honey, brown sugar, molasses, maple syrup, rice syrup, invert sugar, and candi sugar. All of these sugars will do something for your beer that regular table sugar will not!!! These sugars add some level of flavor, color, or aroma to your beer. Table sugar just ferments. These sugars do to, but will add a little something else. For example, brown sugar, molasses, and dark candi sugar will add color, sweetness in the form of some dextrins, and in the case of molasses some level of flavor. They will lighten the body of the beer as well as contribute to the overall ABV. Honey is about 95% fermentable, but can leave a honey character in the beer depending upon when it is added in the process. Here are some simple rules to follow:
1. Sugar should be used to lighten the brews body and mouth feel, and as a substitute for other fementables. Trying to use sugar to simply up the octane of a brew can lead to fusel alcohol production, stuck fermentations, off flavors, etc.
2. Sugars should be less than 25% of the fermentables in the beer, and if table sugar, less than 20%.
3. Sugars influence the beer by when they are added in the brewing process, so be certain you get what you want out of the addition. As an example, honey can be added to the boil, or can be pateurized and added at bottling. Adding in the boil adds little to the beer except lightening the body and a little bit of honey character. Adding at bottling gives the beer much more noticeable honey notes. Molasses should be added in very small amounts as with maple syrup as they can become the dominant flavor of the brew if added in too large a quantity. Let your taste and experience be your guide.
4. Remember the importance of sanitation. Sugars should be added in the boil in most cases. Honey can be diluted with 176 degree water and held at that temperature for 20 minutes to pasteurize, then added post boil, or at bottling. The same is true for maple syrup.
5. Sugars will lighten the body of the beer and the mouthfeel. Structure your recipe's accordingly. I added honey at 40% of fermentables once early on in my brewing escapades. The result was not good. The beer ended up thin and "hot" with fusel alcohols and extremely big with little hop bitterness nor enough malt background to offset the exaggerated alcohol level. It wasn't a very good beer (though we drank it all).
Candi sugars are paramount in Belgian brewing. It is how a triple achieves its gravity and alcohol content while still remaining a light colored and bodied beer. Candi sugar creates that sometimes dangerous combination of easy drinkability and ABV level. Dark Candi sugar is often used to color a brew as in some abbey ales and dubbels.
The bottom line here is that a brewer should research what sugars work in a brew, how to add them, and then experiment with them as you see fit. Don't be afraind to add sugar the kettle, and don't be afraid to experiment with many types of sugars!!!! Have fun!!!!
Count:
It's only 12 more days till March 1st and 29 days till St. Patrick's Day. I'm already seeing the hope for spring in the air and this week is supposed to bring a day possibly in the 50 degrees range. A veritably heat wave!!! everyone will be out in their shorts and t-shirts and then will be sick the following week!!!! Have you brewed your stout yet?????
Have a beer, you've probably earned it!!!!
Mark, The Brewer, and brewing stout for St. Pat's real soon..........
Thursday, February 12, 2004
Brew Day......Specialty Grain and Hop Hunting......Is This Really a Pale Ale.........Still Counting......
Brew:
Sunday, Sunday, Sunday, brewing the beer in my three level three burner hemi powered brewing system!!!! Not really, there isn't a "hemi" involved. But Sunday is going to be the brew day. If the Humidor Raiding, Hat wearing, Pirate is out there, you're welcome to come and try the brew that is your namesake and has vaulted you into infamy and misfortune, and help get more top shelf beer ready to go!!! I even think that Geekboy is going to be in town, so it could get ugly. I better go get another commercial keg, just in case........
Grain:
I have everything I need to brew the recipe except Victory Malt and Hallertau hops. Jim, I'll be coming to see you either today or tomorrow!!!
Pale Ale:
Sunday I will be making a clone recipe of Bell's Pale Ale. Now this beer looks very interesting. In the Bell's brand history, Kalamazoo Brewing has done some very eclectic things in the brewing of their beers. Bell's rye stout comes to mind. To say they are non-traditional to style guidelines is a little bit of an understatement.
The grist bill for this beer starts out tame enough with a ten gallon batch requiring about 17 lbs of pale malt and 1 lb of Victory malt. That sounds like a pale ale and I have used this exact thought process on pale ales of the past. Hopping is where the first quirk comes in. The beer uses Hallertau, the German Noble hop, exclusively and only uses it in two additions. One of bittering, and another that is more of a flavor addition. There is no aroma addition for this recipe. That's interesting and really most English style pales have the third aroma addition in their structure. Next, the yeast called for is the proprietary Bell's yeast, but as a substitute for that, it is suggested that Irish Ale yeast be used. Irish Ale is most often thought of as a yeast for stout. I use it in my porter and mild recipe's as well. Irish Ale lends itself to a little hint of diacetyl, or a little buttery type of flavor. This is allowable in the styles porter and mild in small quantities, and I believe in these types of beer it adds a bit of richness to the overall flavor. Just one guys opinion. Pale ale, however, usually isn't the correct style to have a level of diacetyl present in the finished beer. Now I'm intrigued!! I'll be using German hops in an ale that will be fermented by Irish Ale yeast and only has two hop additions, is using American grown pale malt in the grist, and is being called a "pale ale". Stay tuned for details on how this puppy turns out.......
Count:
Here we go again.....It's 17 short days to March. I for one am looking forward to spring and warmer weather, and I know that deep down inside, you are too. Hey, I like mowing the lawn.....It's 34 days to the second best holiday of the year (behind halloween of course), St. Pat's Day. Not just because I like stout, but, well, because I like stout I guess is the reason. Oh, and it is only 3 days to the next brewday!!!!!!
open, fill, empty, refill, repeat!!!!!!! Don't spill!!!
Mark, the Brewer, and still searching for signs of the robins' return............
Wednesday, February 11, 2004
Confession To Make.....Oxygen, The Good, The Bad, and The Ugly.........Quick Brew Revew.......You Know What Comes Next.....
Confession:
OK, here we go!! I must confess something to you all. Last night I went to a swanky company dinner with some investment banker types. Hey, it was on them, so who am I to say no!! Anyway, we got to the restaurant, a very upscale joint that I won't name, and they had no draft beer. That's right, none, zippo, zero, zilch; none!!! What do you have in bottles?, I deftly asked. Miller Light, Coors Light, I.C.Light, etc., etc., til I hear Penn Pilsner. OK, I'll have one of those. Well, when we got seated, the investment boys started ordering bottles of wine. Sooooo, I must confess that I actually drank two glasses of wine last night in lieu of beer. I know, the dejection and disappointment that you are all feeling must be overwhelming. What, Mark the Brewer drank wine at dinner last night!!!! Oh, the shame of it all. Hey, its not that big of a deal. It was only one night, and hey, I didn't pay for any of it!!!! So, please, find room somewhere in your hearts to forgive me. I promise that it won't happen again (or I just won't tell you next time). Give me brew, or give me nothing at all!!!!!!
Oxygen:
It is safe to say that oxygen is a very versatile and important gas. I mean, without it we just wouldn't exist at all. Hey, I put that right up there on my list of important things, just behind my lifetime supply of Victory Hop Devil........Well, in the brewing process, there is a time for oxygen, and a time when oxygen is as bad as old satan himself.
The time that oxygen is good for your wort or beer, and this is really the only time, is just after your wort has been cooled to below 80 degrees F and before you pitch the yeast. The yeast need lots of oxygen in the wort to multiply during the anaerobic phase of fermentation. Without enough oxygen you will get slow lag times, short fermentations, under attenuated beer, and yeast that are weaker against any other roaming bacteria or wild yeast that is trying to get your wort as well. This was discussed before on these pages when I talked about the brew I lost because I didn't have viable yeast. That was not due to under aeration, just bad yeast. The point here is to give your yeast the best chance to dominate other micro-organisms in your beer, and to ferment your beer quickly, efficiently, and to terminal gravity. It is as complex as using an aeration stone attached to an oxygen tank, or as simple as shaking the carboy full of wort for two or three minutes to splash oxygen into the wort.
Bad Oxygen Pickup is any other time your beer could become in contact with air. This includes racking to secondary, racking to bottling buckets and bottles, and racking to kegs. The chore here is to eliminate splashing as much as you possibly can. Oxygen pickup here will cause your beer to stale more quickly, giving it a cardboard box type of odor and flavor. It is not a bad taste, just very bland. Now, homebrew in my house never seems to stay around much more than a month or so, but if you plan on keeping beer up to six months, this can become an issue later in the storage cyle. Another bad oxygen time is during transfer of hot wort. Again, splashing should be kept to an absolute minimum. This pick up of oxygen is known as "hot side aeration". Hot side can contribute to a compound in your beer known as diacetyl, which is buttery flavor and butter like coating in your mouthfeel. It will also contribute to faster staling of the beer just like the transfer pickups.
What can you as a brewer do to help keep this from becoming a problem? Good question!! If you are a homebrewer, racking is a fact of life that cannot be avoided. It is the only way to move the liquid. If you syphon or use gravity to move the beer, you still must move it. Having long enough hoses to reach to the bottom of your containers is one way to eliminate splashing. Be advised that these hoses
must
be clean and sanitized before they come into contact with your wort or beer. I can't stress this enough. You can rack without splashing, but the infection caused by bacteria on your hose will be much worse than any early staling of the beer. If you syphon, practice racking with water in your carboy before doing it for the first time. Become proficient at getting syphons started, or invest in a syphon starter at your favorite homebrew shop.
I hope this clears up any questions on oxygen in your beer and good luck to anyone learning to syphon for the first time.
Review:
Levity Ale = This is another product of the brewery in Phoenix. This beer is light golden in color and medium bodied. The aroma is of malt and the beer produced a tight white head of foam. I must admit that this beer was not my cup of tea. It tasted like it was mildly spiced with something in the finish. Otherwise, it was a nice non-descript light ale. I would imagine that it fits in quite well in the dry desert climate of Phoenix and is a great thirst quencher on a 100 degree day. That said, I would opt for other of this brewery's fine beers that I have tasted. Not a must find or must try, but might appeal to a cross over drinker just starting with craft beer, or a very dry and thirsty person looking for quick refreshment.
You Know:
Yep, you're right! It's that time of the post again. It's only 18 more days til March and 35 more days to St. Pat's Day. I know, I know, you're all tired of this diatribe every day. Well let me tell you this. One of my dinner companions last night is from West Palm Beach Florida, and he made it pretty clear that hanging out in February in shorts and a tee-shirt in sunny south Florida doesn't suck!!! Jimmy Buffett was way smarter than most of us (though he now lives part of the year in Long Island, NY for some strange reason).
Well, find, pour, smell, look at clarity, taste, drink, and repeat with something you have never tasted before!! It's a lot of fun as far as I'm concerned.
Mark, The Brewer, and hoping to have his priorities straight putting Victory Hop Devil ahead of Oxygen...........
Tuesday, February 10, 2004
Competition Thoughts.......American Standard--less........I'm Still Freezing, Therefore, I'm Still Counting......
Competition:
This time of year brings a lot of brewing competition to enter your beers into. I have done this in the past and had some level of success (and a couple of failures too). I have won ribbons in the past and made what I thought were good beers that didn't make the judging grade. I even had one bottle last year that was bad and got infected and would have won had I put into a sour beer category. Unfortunately, It was entered as a pale ale. EEEEUUUUUUWWWWW. Anyway, I'm not entering anything this year. Partly because bottling is a pain and I really don't want to go to the trouble, and also because I don't have anything that is to style in my brewing plans. I am out of style (but not stuck in the 80's) on all of my brews that are made, and all that are in my plans, except the Irish Dry I plan to make, but that's for drinkin'!!!
Here is the thing about competitions that everyone must remember. The best tasting beer may not win a category. That's right, it's not about the best tasting beer. It's about the beer that best fits the BJCP guidelines for a style. Another thing that you must always remember in a competition is that the judges are amatuer brewers or judges as well. That's right, they are people who just study beer and brewing, get as much experience with styles as they can, take the certification, and they judge. It has been my experience that judges take the responsibility of judging very seriously, so don't think they don't know what they are doing, they do!! But, they are just ordinary folks with passion for beer and brewing.
Judging is also a very subjective chore. The judge might have a cold or a sore throat, or be alergic to something in a room, dulling the palate and the sense of smell. One thing that I have noticed in judging of late is the bias towards beers with more hopping. Styles allow for beers to be in a range, such as pale ale which can be leaning toward malt or hops. The beers with more hops tend to win the higher accolades these days (best tasting beer doesn't always win). This isn't sour grapes here and I don't have any disgruntlement about any beers that I have had judged. I believe we enter competitions to get feedback on how we are doing and to get suggestions on how to improve. For me that is the most important. This gets me to my point and to why I won't enter anything in the upcoming local event. Last year I did quite well in the competition though I didn't win a ribbon. My overall scores were quite good (except the infected bottle of course) and I was pleased with many of the comments from judges and professional brewers who tasted my beers. When I looked at the comments to glom something to get better with, I got confused. Case in point. I brewed a stout. I entered it as a dry stout, though it could have been entered as an export level stout as well. Judge #1 thought the beer was thin for the style and didn't have enough malt character, though he liked it, scored it high in the mid thirties (on a fifty point scale, rating is very good) and liked the roasty flavors, head retention, etc. Cool, but the beer was OG 1.050 which is top end for a dry stout. Judge #2 went the other way. The score was about the same and he also like the beer, but commented that the beer was too heavy for the style, which would have been what I would have thought. Now, my question to you is, How can I improve this beer given these two comments???? I can't. What is it, too heavy, or too thin????? If I go with more malt, I will be outside of the style guidelines as I interpret them, and if I don't get that same judge, what will my score be?? Both judges were good judges with considerable experience. Who's right??? I guess I'll just continue to make the beer just like it is and go from there????? That is what I found as difficult from my experience last year. I always look to improve my beers and my processes, but comments like those above don't lend themselves to either........
So, this year, if you want to taste or judge an IMHB brew, you gotta come to the pub!!!!!
Standard--less:
I know I beat on the big three all the time. I read something recently in a local publication that was written by a well respected local beer writer. He noted that he was "appalled that people would want to drink beer that had no flavor!! We don't eat food that has no flavor, we enjoy it. We want our wine, cheese, and all other aspects of our lives to have flavor, why not beer??". I thought about that for a few nano-seconds and realized that he was right. I blame the big three and their accountants. The American Standard style of beer, aka, Bud, Miller, Coors has become so watered down, adjuncted to death, have barely enough hops in it to bitter the beer, and is the closest thing to fizzy icewater that I have ever seen. It is a disgrace!! Augie Busch, your grandfather is so mad at you for what you have done to his beer that he can't see straight!! Pete Coors, you got the same problem, plus, you know he would be appalled and shocked at your current advertising scheme of bimbettes on parade to try to lure the younger crowd in and make them believe that beer always tasted like icewater. Miller, you used to dub yourself as the "Champagne of Beers". Well, many (including me) consider most champagne to be toilet water anyway, so I guess your products fit. Don't get me wrong here, the expertise to make great beer is there in all of these organizations, just why have you made them Standard--less!!!!
Support you craft brewer, regional brewer, and brew pub owners as much as you can.
Countdown:
Only 19 more days till March, and 36 more days til St. Pat's. I so tired of being cold..
Speaking of cold, get a cold one (craft or regional please), tilt it up, drink it down, then get off your butt and go get another one, repeat at least 4 times daily (for medicinal purposes of course).......
Mark, The Brewer, and trying to maintain some level of brewing
Standards
..........
Monday, February 09, 2004
Fermenter UPdate.....Deceased Dude Ale.......Time to Brew Again......Countdown......
Fermenter:
The California Common is just now starting to clear a little bit in primary fermentation. It has worked very well and I have been able to maintain the temperature in the fermentation room at about 63 degrees. This should be a win - win situation in terms of how this beer will turn out. I am going to give the beer a full 10 day fementation in primary before racking. It has perfect color so far and the yeast is really going to town. A two week rest at the lowest temperature I can muster is next for this brew and we should be drinking it in time for St. Patrick's day anyway. This brew had an OG of 1.054 and I look forward to getting a taste of it at kegging.
Dude:
The Deceased Dude Ale looks nice and clear and is ready for kegging. I should accomplish this brewery duty by Wednesday or so. This beer has the perfect color again (always a good sign to start) and has femented nicely. It is also holding in the 63 degree fementation room. Though I would have preferred to cold condition this beer at around 50 to 55 degrees, the 63 degree temp will not be a bad item in the conditioning of this brew. I just hope I make John Maier proud with this version of his very good brew at Rogue!!
Brew:
It is time to brew again!!!! I hate when that happens!!! Not!!!! This weekend is Valentine's Day, but I know my honey will give me Sunday if I ask for it nicely....
This brew looks like it will be the clone recipe for Bell's Pale Ale. I like the quirky and sometimes downright odd brews that come from Kalamazoo Brewing under the Bells Label. After that, it will be a quick and roasty dry stout. I mean the real deal with the lower gravity, good mouthfeel, roasty toasyness, and silky finish. I plan to make this brew in the tradition of Irish Stout, dry and drinkable in quantity. Happy St Pat's Day!!!!
Anyway, looks like a brew day on Sunday. I'll alert the media!!!
Still Counting:
Yea, it's getting closer by the minute (duh). I even think I heard a robin this morning. It was that unmistakeable happy chirping sound that those little dudes make!!! I didn't actually see the robin, but I really believe I heard it. No, really!!!!
Anyway, it's a mere 20 days to March, that wonderful half winter, half spring month. That means that it is now 37 days til St. Patrick's Day. Remember, you need at least 14 days to have a dry stout bottled (or kegged) and ready to drink. thats 7 days to ferment and 7 days to condition. Yes, you can do it that quickly (subject for another day). Oh, by the way, it's now 133 days til the first day of summer!!!!!
Buy a case, fill the glass, bottoms up, repeat at least 3 to 4 times daily, for medicinal purposes of course.....
Mark, The Brewer, and needing two brew dates before the magical month of March..........
Friday, February 06, 2004
Slip Slidin' Away......Wit Beer......Attenuation Thoughts.....The Obligatory Count......
Slip:
What weather this is!!!! We had just about every type of precipitation known to man in about a 40 minute period last night!! It was snow, then sleet, then hail, then sleet, then ice, then snow, then rain again. Black ice is everywhere and the skating rink they were calling a road this morning was real fun to drive on!! There are pot holes the size of Delaware on the interstate highway and many of the secondary and neighborhood roads haven't even been touched!! What a morining it has been so far. Oh well, I guess we should talk about beer some......
Wit:
No, I'm not talking about your abrasive sense of humor (or lack there of), nor will I even pretend that there is any wisdom involved here either. This is a simple beer style that has evolved over time, was on the brink of extinction, and has since made a great come back!!
What is a Wit Beer? It translates literally to "white Beer" because of its turbid hazyness that gives the beer a whitish look in the glass. The beer is really quite nice with a crisp effervescence, a big rocky head of foam, and a light tartness that is very refreshing. It is very tasty in the warmer months of the year (I think I remember what those are like) and many folks enjoy it with a twist of lemon or orange.
Why is the beer white? That is a great question. In the early days in the village of Hoegaarden, just east of Brussels, Belgium, there at one point were 13 breweries and 200 taverns to service about 2000 people in the population. Now thats a beer drinking town!! This beer was made with traditional ingredients and was often 45% pale malt with the remainder of the grist in raw wheat and oats. In fact, oats often made up about 15% of the total grist. The combination of raw wheat and oats put great amounts of protein into the beer giving it a turbid, white look. The mash was often mashed and remashed to get every possible drop of dextrin and maltose possible out of it and the wort was spontaneously fermented in open fermentation squares. This is not dissimilar with the brewing of the classic lambics very near by. What this produced was a beer that was turbid and somewhat tart from invading bacterial contamination and wild yeast. These brews were lower in gravity and high in dextrins to enhance mouthfeel. These brewers got the maximum from the minimum for sure. Today, the most common example of the style is the beer named for the town, Hoegaarden. The beer is no longer spontaneously fermented, but uses top cropping yeast that imparts the expected tartness. Oats are no longer used in the grist, though many aficianados believe that has taken away slightly from the beer. Wit still imparts a refreshing effervescent tartness in the finish. The beer is very lightly hopped and instead uses spices or other items to impart bitterness. Wit often uses coriander and sour orange peel zest to impart much of the balancing bitterness. Hops were placed into the beer for some level of stability and shelf life and often were older and oxidized as their bittering properties were not the most important reason for their addition. What you get is a nice refreshing beer with a spicy zest and a tart finish. What a great way to quench your thirst after mowing the lawn!!! Hey, hence the term, "lawnmower beer"!!!
I will attempt to scare up a solid wit beer recipe for those so inclined to make it and post it on the recipe page. Enjoy one of these when the weather gets warmer as it is different and quite enjoyable.
Attenuation:
This is a term that is thrown around alot in brewing circles and is a needed thought for recipe formulation. Attenuation could be defined as the amount of gravity that the yeast eat. Yeast packages often list the attenuation at say 72 to 77% for typical ale yeasts. The correct term is actually "apparent attenuation". The wort gravity can have other item disolved in it besides sugars, so the measure isn't exact as you take the readings of your beer. Therefore, what you are measuring is actually the apparent attenuation of the wort or beer. To measure exactly would cost you a lot of cash for the equipment needed to measure the sugar content of your wort before and after fermentation. Since we just drink the beer anyway, don't sweat the small stuff.
So the next time you hear a brewer's forum speak of apparent attenuation, you'll know that it is simply the percentage of gravity consumed by the yeast, and that it is really just an approximation. See, you weren't careful and you just learned something!!!!
Count:
I know, obsessive cumpulsive behavior is not very becoming of such a gentleman as myself. I don't care!!! Here's the count down:
23 Days to March 1st, and I still haven't seen a darn robin anywhere, just those nasty pigeons.
40 Days to St. Patrick's Day
One more item on the count down. That Puxatawny Phil rodent apparently saw his shadow. I don't know how they can tell since everyone on the stage judging if he saw his shadow or not is drunk....but apparently he saw his shadow. That means six more weeks of winter (for the uninitiated to the ways of the groundhog). I propose that next year, if he sees his shadow, he should become groundhog stew and we'll just say he didn't see it so we can get an early spring. What do you think?? E-mail the brewer with your thoughts. Hey, its just a groundhog, who cares if it goes into a stew????
Pale Ale, Porter, IPA, Abbey Ale, or any amber to dark ale will go nicely with a hearty dish like groundhog....
Fill it, Drink it, Refill it, don't spill it, Repeat as needed....
Mark, The Brewer, and known groundhog hater........
Thursday, February 05, 2004
Heeeeee's Baaaaaack..........Brews in Process Update.......Countdown........Quick Revew.......
Back:
I was gone for a couple of days. I don't mean like when you zone out at your desk because you are in the Bahamas or your Carribean Island of choice (margaritaville??), but really out of pocket for a couple of days. Well, I know you all missed me so I'm back now!!!! We have a couple of items for today and we will be back in the swing of things real good by Monday!!! I actually was in a place that I don't like very much so I was grumpy for a couple of days. My kids quickly put a smile back on my face when I saw them last night. Anyway, it feels good to be back in here posting information, wit, and well, whatever else I can think of.......
Brews:
After hugging the wife and kids, I quickly proceeded to the fermentation room to hug my carboys!!!! Have you hugged your carboys today???? Anyway, I wanted to check on the brews that I have going. The Deceased Dude Ale is resting nicely in secondary and both carboys seem to be clearing out nicely to a brilliantly clear beer. This beer will probably need about 5 more days of rest before kegging. I am anticipating a pretty good brew out of this recipe.
The California Common is fermenting nicely and started day 4 of primary this morning. There is plenty of action still and I have the temp at about 65 degrees F in the room. This is the top end of this yeasts tolerance to maintain lager character, but I am still anticipating a very drinkable brew. The beer had a wonderful smell when the aroma hops were added at the end of the boil on Sunday. We got cooled very quickly and the yeast was robustly working in less than 24 hours. This all adds up to a pretty good scenario for a pretty good beer. Only time will tell......
Parrot Pete's Porter is pouring and it is a very good beer again. The old pirate needs to get up to the bar to enjoy a couple (hint, hint).
Count:
It is a short 24 days til March and 41 days to St. Patrick's Day. I still haven't spied any robins yet, but I know they'll be here soon. In the mean time, I'll just have to enjoy the Maerzen and Maibock season!!! It could be worse I guess!!!!
Review:
While away, I got to sample a couple of fresh draft pints of one of the 650 or so beers in my alltime top ten!!!
Great Lakes Brewing Co, Edmund Fitzgerald Porter -- This is beautiful ruby red colored porter that poured with a thick white to off white head of foam. The foam retention was great and the brew had a distinctive malt and slight roast aroma, probably from chocolate and black patent malts. This robust porter had a silky texture in the glass and was a very smooth brew. There were hints of chocolate and roasted coffee within a big malt flavor background. The beer is hopped to an excellent balance creating a medium bodied mouthfeel. The finish was malty and clean. This was as good as I ever remembered it being and I was very impressed with this version of the beer. Kudo's to Great Lakes for continuing to make superior products!!!
Until next time, have a couple beers, will ya!!!!!
Mark, The Brewer, and hopeless Porter lover!!!!!!
Monday, February 02, 2004
The Parrot's in the House.........Successful Brewday........Gone a Couple of Days.......Countdown......
Parrot:
Parrot Pete's One Particular Porter made it's long awaited return to the taps on Sunday afternoon. It was quite a successful one too. The beer is everything I remember and the slight changes to the recipe turned out to be "Brilliant". The beer is a winner and I don't look for it to be around very long. It got rave reviews from Chilly Draft, Uncle Draft, and Aunt Draft, along with praise from some of the locals. It was a fine accompanyment to the super bowl, which by the way was indeed super for once. Good show!!!!
I suggest getting by for a taste of the Parrot if you're a local visitor to the pub, very soon, or you might not get any.....
Brew Day:
Well, the Anchor Steam clone brew day went without any major hitches. The mash went as planned along with the sparge and boil. The wort cooled quickly and had yeast in it within 15 minutes or so of knockout. It looked good and I am going to bet will be good. The recipe is quite authentic and should give us a good go at a California Common. The new space heater for the brewhouse worked like a charm as well. To all of you out there who, well, chastised me for being a big baby, thanks for the inspiration!!!! I'll be a brewing fool now (or just a fool, whatever works).
Some late "help" came from members of the Draft contingent when Chilly, Uncle, and Aunt came in looking for some beer. I guess they came to the right place. They got there just about pitching time I think. Hey, chilly held one of the vials for me. Does that count???
I will be looking forward to sampling this truely American Beer when it is completed.
Gone:
I will be unable to dazzle you with my wit and charm over the next couple of days. I'm sorry, but I will be unable to access the site. Tune back in on Thursday for another instalment of How The Mash Paddle Turns!!! Remember, if you miss a day, you might miss a lot.
Count:
Uh, Oh.....It's only 27 days til March!!!! Where are those darn robins at anyway!!! Hey, that means that its only 44 days til the wearin' o' the green!!!
Now that's what I'm talking about. Better get those stout recipe's dusted off pretty quick. That dad gum rodent, I mean groundhog saw his shadow too which means 6 more weeks of winter. Ouch!! Somebody go make some groundhog stew or something.......
Have a great week, fill it, tilt it, don't spill it, and refill it.......
Mark, The Brewer, and ready to brew again already!!!!!!!