In case you are wondering, I.M. Hammered Brewing is:
Mark
-- Head brewer and drinker (brewer of over 65 batches of extract and all grain brews, drinker of many thousands of bottles and pints of beer), CEO and President of the finest Nano-brewery I know of, head bottle washer, and sanitation engineer
Liz
-- Vice President in charge of bar decorating, keeping me from becoming too fanatical in my brewing habits, and is also known as "she who must be obeyed"
Michael
-- Brewhouse assistant, equipment consultant, Chief IT Geek and self-appointed Official Beer Taster (great work if you can get it)
Schpankie
-- Newest convert from fizzy yellow water to finely crafted beers and ales, adds little value to the brewhouse, but we like him anyway
Scooter
-- The gas man (and I mean that in the kindest of ways) bringing propane and co2 when needed, also has keen interest in the brewing process
Knuckle Jefe
-- Newest convert to brewing (has four batches under his belt), has began a start up nano-brewery in Kentucky known as "Double-Wide Brewing" with the catchy slogan of "double wide beers at single wide prices". Boy has a brilliant future in marketing. IMH is helping with equipment in the start up. We all work for beer, then again, why wouldn't we.
Parrot Pete, aka, Pappa Draft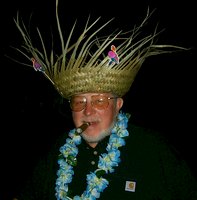 -- Bar designer, humidor raider, label celebrity, and Just because he should have been on the list the whole time.
We hope to make this site fun and informative and look for outside input, or inside output, whatever works.
Friday, January 30, 2004
Got Grain?......The "Parrot's" Debut.......Yeah, Still Counting......Get Ready to be Deluged with Cornwater (Ricewater) Inc's. Commercials........
Grain:
There's something about loading a 50lb bag of malted two row barley into your car that makes you feel good. It means you are about to brew some beer. Yeah, I know it involves some work and planning and such, but brewing beer is like getting back to nature. And let's face it, barley really was put on this earth to make beer. I mean, it makes lousy flour, its hard to work with in any other form, it has the perfect enzymatic quality that is required to convert starch to sugar, and other than feeding livestock with it, what else would you do with it? Its beer as far as I'm concerned.
That means I also picked up the other needed grains to make a California Common. I'll be firing up the kettle on Sunday morning (early). Wish me luck!!!
Parrot:
Well, the award winning Parrot Pete's One Particular Porter will be showcased starting Saturday. The beer is ready to drink and the first keg will get tapped Saturday night. I can't wait!! This is one of my favorite recipes as I have alway loved porter. I can see why it was such a popular style for so long and I'm glad it has been reborn. I tinkered with the recipe (of course, I am a homebrewer) and added some black patent malt to give the beer a little bit more of a bite behind the malty backbone. The gravity samples were great and I anticipate a good beer with gas on it. You go you Parrot Hatted One!!!!
Counting:
You know that you come here to this site everyday to read this section!!!
It's 30 days til March 1st!!! I can see those Robins in my yard now (assuming of course the snow ever does melt....). That means its a short 47 days to St. Patrick's Day!! Better get that stout brewed soon!!! And finally it is only a short 82 days til the first day of spring. It's hard to believe, but there will be buds on the trees and Easter lily's coming up in your beds before you know it!!! At least, I hope so. See, I'm still optimistic!!!!
Deluge:
Sunday brings the Super Bowl, which is usually pretty much a yawner. Unfortunately, not only will the game probably be bad and one sided as usual, but there will be a deluge of advertising for our nemisis and arch enemies, Cornwaters Inc. and Ricewater Inc. These big three here in the USA will be running ads the entire game, before the game, and after the game. They will do everything from trying to make us laugh with goofy characters and situations, to putting the largest breasted women they can find in great quantity on your TV screen. None of them (well Miller might try) will tell you anything about their beer, nor will they do anything other than try to convince you that you will have an enhanced lifestyle if you drink their product (regardless of the fact that it might make you gag). Resist the temptation!!!! Stay the course!!!! Be sure to stock up on your favorite craft, pub, or regional beer long before the game!!! Let them spend their money on Super Bowl Advertising, heck you can even laugh at Mr. Too Much Cologne Wearer, or stare at the "twins" if you want to, but don't ever buy anything that they make!!!! Enjoy the game, and have a craft beer for me will ya!!!!
Get the special game glass, fill it, empty it, and repeat while you laugh at Mr. Too Much Cologne Wearer!!!! (I wouldn't try the fill part of this equation while the "twins" are on TV as you might be somewhat distracted)
Mark, The Brewer, Porter Lover, Football Lover, and the one drinking Penn Brewing's Penn Gold during the game.........
Thursday, January 29, 2004
Goin' To Get Some Grain..........Megaswill Marketing Hype.......Countdown......
Grain:
I'm going for grain and Hops today. We are undertaking a very busy weekend, but brewing will be part of it. I am getting another sack of grain and the specialty grains I need for the california common brew. I will also be procuring some Nortern Brewer hops. I hope to brew a super beer on the day of the super bowl. I also get to visit with the nice folks at Country Wines (see link). Can't wait to brew.
Marketing:
I get pretty sick of the marketing hype of the EEEEEEvil magaswill brewers. At least Miller is actually trying to sell their product, no matter how bland and tasteless it is. Coors just parades a bunch of large breasted women around on your TV screen and make no mention of the fact that their light beer is the defacto "Icewater Of Beers". They make no apologies about their product either (shameful). Some of the other stunts are just as goofy and are pure marketing. Here are some of my favorite items in the attempts to actually sell the products from both TV and print:
"Cold Filtered".....Yeah, here's the deal with that. All light lagers are cold filtered. It's what is done to the beer to clear it and make it devoid of all yeast before packaging in bottles and cans, and heat pasterurization. It's nothing special....
"Ice Beer"......Oh please!!! There is a region of Germany that makes the proverbial Ice beer and that only pertains to the temperatures of fermentation and aging (plus higher alcohol content). All light American lagers are cold aged for a period of time to age the brew and to help clear it. In this country the term "Ice Beer" is not the same meaning, because it's all marketing hype. Ice beers here actually resemble malt liquors. Hey, Where my forty at????
"All Natural Ingredients".....Beer is a food product remember???? Chemical agents will kill the yeast. Actually, many breweries use Polyclar (a polymer or plastic) to do just that and clear the beer. Does this count? Are American's that dumb as a group????
"Fully Kruesened"......Well, this one sounds real German and like it is an important step in the making of beer. Kruesen is the foam that appears on top of
all
beers during fermentation. Kruesening is the process of using partially fermented beer (fermenting with the foam on top) to naturally carbonate a finished beer. I'm not real sure what the term "Fully Kruesened" actually means, unless it means fully fermented or fully carbonated????? I mean, Duh....a beer has to be fully fermented and carbonated if you want to sell it. That is the only thing it can mean, Or could it be a marketing term to make the beer being brewed sound important???? I'll let you decide.
"Only the freshest imported hops"......This claim from AB may be accurate, but how would anyone know. They only need a small amount of hops to bitter their light and bland product, and use no aroma or flavor hops in the beer. All hop additions are designed to be below the threshold of human tongues and noses to detect. Geez....
"Finest Moravian Malts"......Mega Colorado leads you to believe that they use the Moravian Barley from Czechlosavakia in their beer with this statement because only that barley is truely designated Moravian. What Mega Colorado actually uses is domestic barley that is grown with seeds that are of some level of Moravian Barley descent. HHHHHMMMMMMM, that's like calling a wine made in Texas a Bourdeaux (an appelation that only wines made in the Bourdeaux region of France can use).....They should stick to organizing parades with large breasted women as it appears to be what they are best at....Old Man Coors would be very disappointed in you boys if he was alive today.....
"Naturally Brewed".....Well, I know that Iron City and Iron City Light are still naturally brewed, or full batch brewed, but I can't say that about too many of the rest. They actually take a page out of the homebrewers book and use high gravity brewing techniques. They then add water to the beer either at some point during fermentation or at packaging to bring the beer to normal strength. That way, they can brew more beer with every batch than by the full wort boil/batch method. Don't let them fool you, just about all of the EEEEVil mega's do this.
"All Grain Beer"......This is also accurate, but they don't tell you which grains. The marketing ploy here is to lead you to belive two things; 1. all grain = all barley....It doesn't, and 2. all grain as opposed to adding sugars to the kettle, i.e., the competition regularly does this (maybe I'm just a conspiracy theorist or something). No, they don't. What all grain is covering up is the fact that these beers are cut with up to (and now maybe over) 50% corn or rice (hey they are grains you know). These beers aren't even close to the all barley malt beers that a homebrewer or craft brewer makes. Double Geeez.....
"Beechwood Aged".....This was one of my all time favorites. This leads you to believe that AB put their beer into wooden casks for aging or something. What this meant was that the mash got stirred by a beechwood paddle (which many all grain homebrewers use to stir their mash tuns). The actual "aging" might have been about the 90 minutes or so that the mash works. Even if they put beechwood chips into the secondary fermentation cycle, I mean, come on guys......Triple Geeeez......
I hope this sheds some "light" (pardon the pun) on some of the EEEEvil Mega's and their high paid marketing firms.
Still Counting:
It's 31 days to March 1st, 48 days to St. Patrick's Day, and 83 days to the first day of spring. Oh, yeah, by the way, the high outside my window today is 17 degrees with a wind chill of 7. Have a great day (yeah, if you live in Miami maybe).......
Find yer mug, fill it up, drink it down, refill as needed (to get through these cold weather doldrums that everyone I know seems to have).
Mark, The Brewer, and hoping to make some yeast food on Sunday........
Wednesday, January 28, 2004
Give Me a Break.......The Stupor Bowl........Yes I'm Going to Brew.......Countdown......
Break:
You all are brutal.....Yea you!! I got several e-mails yesterday and all of them told me to quit whinning and buy a space heater for the garage!!! I thought you all liked me......
Well, OK, I've already talked to the "gas man" and he is going to procure me a heater and tank, probably today. Ya happy???? Geeez!! Just because my cheap butt takes more coaxing than most people. So, to steal a conceptual phrase from
Wayne's World
, one of my alltime favorite movies (you know, one of the 672 movies that are in my all time top ten); Brew On!!!!!!!
Stupor:
Two weeks is way too long to let a bunch of unscrupulous journalists, all trying to scoop each other, run around a city partying and looking for dirt on everybody they run into. Not only that, networks and papers that don't give football a second thought suddenly are requesting press passes and sending people to the city and game that don't know which end of the ball is which. Yea, the period prior to the game is known as the Stupor Bowl. This period of time elicits the dumbest questions in journalistic history. Who can ever forget the question to Doug Williams of the Washington Redskins, the first african american quarterback to play in a super bowl. "Doug, how long have you been a black quarterback?". Classic stupidity. Just yesterday, a rotund defensive lineman was being grilled about his playing weight by several reporters to which he replied, "Obviously ya'll can't read because my height and weight are listed in the media guide, you know that book they give ya'll so you'll know our heights and weights....". Well, I'll watch some of the game, but I can't get into it too much when I don't have much of a stake in the game. It is a good reason to get together with friends and family and partake of some good beer, good food, and good times. For that, I'll watch......
Brew:
Well, since I'm going to buy a heater for the garage, of course I'm going to brew. I'm guessing that it will be an early brew day on super bowl Sunday. If I get started by 6:30, I'll have yeast pitched by noon or so. Pleanty of time to clean up before the game. Anchor's Away.......
Count:
Yes, that time of the read that most of you (judging by your e-mails) are beginning to hate. It's 32 day's till March 1st, 49 days til St. Patricks Day, and 84 days til the first day of spring. Aw, ya knew I had to start doing it......
Mark, The Brewer, and hoping to make some super beer on super Sunday.......
Tuesday, January 27, 2004
Weather, More of the Same........I Need to Brew.........Went Yeast Shopping......Countdown.....
Storm:
AAAAAARRRRRRRRGGGGGGGHHHHHH......Another storm is coming to visit me today and could drop 5 to 8 inches of snow. You don't know how wonderfully happy that makes me.....NOT!!!!!! A wise man once told me that all things eventually come to an end. This winter better be one of them. It's going to be in the mid seventies in Miami today, but their gettin' rain!!!!! Serves 'em right......Oh, please, be warm enough to brew on Saturday, please, pretty please.......
Brew:
All right. I'm a week behind on my brewing schedule and it's only January still. I'm not happy. I have many beers to make and need to get this show on the road!! The system has been performing well and I want beer!!!! I hope to brew this weekend for sure, probably Saturday. I'll be checking the weather charts to see if it's safe outside. Wish me luck!! I hope to get back to the gold rush days and make a California Common, or steam beer. Anchor Steam is a great brew and one that I want to emulate. The key.....Northern Brewer hops. Those spicey morsels that help make steam beer what it is. The yeast is an interesting lager yeast that will ferment with lager characteristics, i.e., low esters, malty goodness, and brilliantly clear beer, at ale temperatures. I've never made one of these before, so it will be a fun day of brewing to be sure!!!
Yeast:
I love gift certificates, especially when they have my name on them. I recently was given one to MOREBEER.com, one of my favorite internet shopping sites. I used the cash to buy enough yeast for 5, 10 gallon batches. We then had sub-zero weather during their quest to get to me, but they made it in one piece and without being frozen (and ruined). I am now very stoked. They have excellent "use before" dates and will be long gone before even getting close to them. All are White Labs and consist of California Ale, Irish Ale, and California Lager. These will be earmarked to make the California Common (Anchor's Away), more Rogue clones, and a couple of interesting Bell's Brewing clones. I love brewing good beer.
So a hearty thanks to those who took care of me with this gift. You will get some beer to drink, I assure you of that!!!
Counting:
There are 33 days til March 1st and only 50 days to St. Patrick's Day. This winter blast has to end sometime. I could have swore I saw a robin this morning. Well, between the freezing rain drops, and in the fog, and well, it was 6:40 am and all. I'm pretty sure it was a robin....No, really, I am....I'm not kidding.....Really......
Anyway, fill it, drain it, refill it, and for goodness sake stay dry and warm....
Mark, The Brewer, and swearing I saw Mr. Red Breast today....No, Really.......I'm not kidding......
Monday, January 26, 2004
Let it Snow, Let it Snow, Let it Snow..........Racking Day for the "Dude"........Brew Review......
Snow:
My plaigeristic tendicies are kicking in today, because the weather outside is certainly frightful!!! (my apologies to whomever penned those lines so long ago) With 6 inches of snow outside, I am about to go shovel so I can then wait patiently for the snow plow to come through so I can get to my real job. I am soooo sick of winter!!! I can't stand it anymore!!!! Oh, sorry, just venting a little. It was 74 and mostly sunny yesterday in Miami. I Know, softly set down the remote and slowly step away from the television so we can turn off the weather channel. Ok, Ok, I'll quit obsessing about the weather. It's just that it's too cold to brew in the garage and I'm having withdrawal symptoms, not to mention losing ground on my brewing schedule!!! This coming weekend is looking better though.......
"Dude" Update:
Deceased Dude Ale is getting racked tonight so it can rest for 10 or so days in secondary. Beer looks great and should be well on it's way to being a good batch.
With the Regeration Stout on its last gallon or so and Parrot Pete's the only back up brew. I got some work to do......
Review:
Sonora Brewing Company's Burning Bird Pale Ale.....This is a nice dark golden colored pale ale with a tight white head and ester and hop aroma. The beer starts with a nice honeyed malt flavor with noticable hop bite and flavor. The beer finishes crisp and clean with a hop note. I liked this beer a lot and I'm sad that I can't get it here!!! I guess I'll just have to get to Phoenix one of these days to sit in their pub. This brew is a good effort and is my favorite of the Sonora beers in the sampler. This is great work by what appears to be a very good brewpub.
I case you haven't noticed today, the weekend was just very slow and cold. There wasn't much going on in the world of beer, or any other world for that matter. Hopes for spring are increasing.....
Only 34 days til March 1st and a quick 51 days to St. Patrick's Day. I'll keep hoping for better weather and counting the days......
Mark The Brewer, and needing to brew some beer soon.........
Friday, January 23, 2004
I'm Cold.......Kegging.......Still Counting Down.......
Cold:
If you read this and live in Florida or some other place that is above 50 degrees....I HATE YOU!!!!! Not really, but I do hate this deep freeze we are mired in. Will some warm southerly air please come to see us soon!!!! I have beer!!!! And I'm willing to share it!!!!! Does anyone remember when it was this cold this long?? I do unfortunately. Wasn't it 1977 when we had the 3 month deep freeze hit us?? I think it was. Now that was cold. All of you folks out there that spout that liberal diatribe about global warming.....I got your global warming. Come spend a few days here and I'll show you global warming. Yeah, right......
Anyway, please warm up so I can brew again in my garage......
Kegs:
There are only so many ways that you can package your finished beer. Most homebrewers use the standard bottle. Brown, non-twist off, in the 12 or 22 oz size. Some get lucky and have a friend who likes Grolsch and saves the flip tops, or inherits some money and buys some flip top bottles. They make bottling a little easier, but still not much fun.....and can be expensive if you buy them. Plus, you always lose bottles in your Homebrew bottle "float" to your homebrew swilling buddies who hit you up for beer.
I got into kegging beer a couple of years ago. Man am I glad I did. I'm not even sure I remember how to bottle anymore and I certainly don't miss cleaning bottles!!! Like everything else in this hobby, you can spend the kids college fund if you want, but kegging doesn't have to be that expensive....
To get started, there are a whole host of companies that will get you a complete keg system for anywhere from $129 to $180. That generally includes a co2 tank, regulator, gas and beer lines, quick disconnects, a cobra head tap, and one rebuilt soda keg, usually a ball lock (pepsi) one. These are great!! The kegs are all stainless steel and these rebuilt ones should have all of the gaskets replaced. If you care for this keg, it will never wear out and may not even ever need new gaskets given your level of use (these things were made to hold soda syrup and be refilled and reused many times per week). If you think about it, that's not real expensive to get started with the ability to pour fresh draft beer in your house!!!
Your biggest problem is finding a way to chill a soda keg that is 25 inches tall and 11 inches in diameter......It will fit in some fridges, but will take up an enormous amount of room. If your single, this is a moot point, but for those of you with wives and kids (I don't know why they have to eat every day...), You almost have to have a second fridge that you can dedicate to it. Another alternative is to find a cheap used chest freezer (or a new one) that works. A used freezer can often be obtained for $50 and new ones that will work are only about $150. With that freezer, you use a temperature controller, or external thermostat, to maintain temps of 40 degrees inside for chilling your beer. These are about $40. Voilla', you have a draft system.
Now, lets get real, 1 keg ain't going to cut it. I'm guessing if you are a "normal" brewer and brew about every month, you will need at least 2 - 4 kegs. If you are an avid brewer of 5 gallon batches (maybe 2 times a month) you will need at least 4 - 6 kegs. If you are a maniac, you will need 8 to 10 kegs (probably 10). This can get expensive too. Look for used kegs. I have seen UNREFURBISHED kegs on the net for as little as 6 kegs for $85. Remember, these kegs must be dissassembled, thoroughly cleaned and sanitized, and reassembled with new gaskets and possibly a new dip tube. To get all of the gaskets and a dip tube is anywhere from $15 to $20 additional per keg. This might not be the best option as sometimes, you don't know what you will find inside the kegs. Every creepy crawly in the world want to get inside of these things and make a new home. Beware of "bone yard" kegs. There are several companies that will sell you kegs completely reconditioned. Two that come to mind on the net are St Patrick's of Texas and Sabco. Remember that there will shipping charges to factor into your decision as well. St. Patrick's will sell you multiple kegs for a discount and they are pressure washed, and have needed gaskets replaced. These kegs are in good condition and will hold pressure when you get them. If you buy quantity, they get down to about $24 per keg plus shipping. Sabco kegs are difficult to tell from new ones. They cost a little more, but they are acid washed, sanitized, all gaskets replaced, hold pressure when you get them, and have very few nicks and I haven't seen one with a dent. Sabco kegs run about $30 each plus shipping. There is now volume discount. Remember, you can abtain these things over time so you don't have to put out big bucks up front. One other method of obtaining kegs is to check with your local Pepsi bottling company (for ball lock kegs). Many bottlers are getting away from these kegs and slowly moving to the bladder boxes. They may sell you these kegs very cheap (or give them to you), but these will all have to be refurbished, cleaned, new gaskets, dip tube, etc. If you get rootbeer kegs, it is almost impossible to get the licorice smell out of them and It will infuse into any beer you put in these kegs. Good luck if you go that route.
Kegging is also a snap compared to bottling. To bottle a ten gallon batch like I make will take at least two hours not including bottle washing and sanitizing work. Kegging will only take about 30 minutes and that includes washing and sanitizing the kegs. Another bonus is that you can force carbonate your beer if you chose to and be drinking a finished batch literally hours after kegging it. You can still prime and condition in the keg also (real ale!!!) and basically you have made a cask conditioned ale. In my opinion the work and time saved has made my investment into kegging worth it.
My set up includes a chest freezer, two shank and faucet set ups for taps, a temperature controller, and I currently have 7 kegs in service. I haven't quite gotten to the maniac stage yet (but give me some time).
My total cost:
Freezer.............New $129 (on sale at home depot)
Temp controller..............................$45
Shanks/faucet/lines/disconnects....$65
co2 tank, double regulator............$114
6 Sabco Kegs................................$210 (includes shipping)
1 Gift Keg......................................$0
Draft beer in my basement pub......Priceless
Oh, sorry!!!
Total........................$563
I have a pretty nice system for that outlay. You can start kegging for way less than that if you have the ability to chill the kegs and keep them cold, and then build from there. If you are the ultimate scrounger, you will be surprised what you can get for very little money.
Good luck and I can't tell you how great it is to drink fresh draft beer thay you made, from your own taps. Just like in the Enzyte commercials, you (like Bob) get some well deserved respect (envy) from the rest of the neighborhood......
Counting:
You can bet your booty I'll be counting down the days as cold as it is around here!!!
It is now 37 days til March 1st. I'm watching for the robins to return everyday now........and know that they will be here any day now.....
Also, it is now 54 days til St Patrick's Day. Make sure you give that stout at least 20 days to be ready now!!!!!!
Mark, The Brewer, and trying to get all seven kegs filled and keep them that way!!!!!..........
Thursday, January 22, 2004
Brew Updates........Clint Eastwood's Favorite Recipe From WSB........Hurry Up March.....Brew Review.........
Brews:
IMHB beers are working even as we speak. The loss of the IFA has been mourned sufficiently, but the cold hard fact that remains is, I got an open tap. Oh the shame and humility of that!!!!! Parrot Pete's was kegged last Sunday morning. That means that I still got about 7 days to complete the natural priming process. On a side note here, the gravity sample tasted outstanding and I can't wait to get gas on this brew. The Regeneration Stout is still pouring on the other tap, but that keg is less than half full at this writing. Losing the IFA is truely a tougher pill to swallow than you can imagine. I didn't want two roasty style beers side by side. The plan was to have the porter and IFA running together with Penn Gold or Penn Pilsner in the "guest" tap. The best laid plans of mice and men.......
On a brighter note, the Deceased Dude Ale is fermenting like a champ and is in day four of fermentation. The fermentation was quick and vigorous and I expect this beer to be pretty darn good. The down side here is that this beer requires a little bit of extended aging so it won't be ready for about 28 more days or so. I may have to do a quick extract wheat batch as a fill in. I can have that beer in a keg ready to drink in 14 days. HHHMMMM......Let me think some more on that.
On the brewing front, California Common could be next, followed by the Bell's Pale Ale Clone recipe I have. St Patrick's day requires a stout and I also want to brew a clone recipe of Rogues Younger's Bitter. Man, I got some work to do!!!!
Recipe:
Art, of West Side Brewing Infamy and a respected contributor to the site, sent me an interesting recipe for a no style ale that sounds really yummy. These guys brew like maniacs with at least 5 beers going at any given time. Their wives must be really "understanding" (or thirsty). Check out the recipe page for the details. It sounds like a brew that Clint would be proud of..........and all hop heads will want to make!!!!!!
Countdown to March:
I gave everyone a day off from this, but with the weather this week and a forecast of 20 below zero wind chills for tonight, I gotta do it.
It is 38 long dreary cold days til March 1st and thoughts of spring!!!! It suddenly sounds and feels like it is an eternity away given the cold nasty bone chilling air we have had around here the past week. It's in the 70's in the Miami area though (we got that goin' for us which means absolutely nothing). I'm sick of winter at this point and want spring and nice weather to get here!!!! I hope these 38 days are a blur and it is the warmest nicest spring of all time. Oh, for those of you scoring at home, its 55 days to the second best holiday of the year....St Patrick's Day.
Brew Review:
Odell Brewing's Porter.....This is a brewery in Ft. Collins Colorado and really is a brewpub if the truth be told. It is family owned and operated. This is one of the brews in my beer of the month gift. I'm liking this gift more and more!!! This porter pours with a silky look about it as it moves into the glass. The head was tight but a little thin, though there was foam on the edges all the way to the bottom. The head is a bright white color and the aroma of the beer is unmistakably roasted grains with hints of coffee and chocolate. There is no hop presence nor ester hints in the aroma. The beer has a strong malt backbone with clean balancing bitterness. The roasted grains come through in this beer and I am guessing it has chocolate malt, and a hint of black malt or roasted barley in the grist. The beer is tastes to me like it is in the robust porter category either way. The brew finishes clean and with some chocolate notes. Very good beer and very well made. Quite enjoyable to drink, though I doubt you will find it outside of Colorado.
Good Luck on any beer hunting you might do.......and send me any beers you have tasted that I clearly have not and that are good!!!
Pour, Drain, Re-pour, Re-peat.......
Mark, The Brewer, and stressing about all this beer to be made........
Wednesday, January 21, 2004
Say It Ain't So........Yeast Thoughts......Brew Review
Say It:
Remember the IFA (India Fest Ale). Well, IFA unfortunately now has another meaning. Infected Fest Ale!!!! Remember we had a long lag time and actually had to add more yeast on about day 3.5?? Then there was another 24 hours before we got any type of start?? Well, I do!! Because of the long lag time, this beer has become hopelessly infected. It is a real nasty one too. It makes the beer very cloudy and has a real funky smell and even creates chunks that float around in the beer. Pretty disgusting. Well, that means that I spent last night flushing out my draft system with cleaner and iodophor solutions and I still have to completely drain the kegs, disassemble them and sanitize everything to a tee to get rid of this stuff. It's a lot of work and what should have been a great beer just went down the drain (literally). And it is a lesson well learned. Bacteria wants your wort just as badly as you and your yeast do and if you don't get a quick yeast start, you could be doomed just like I was. This is only the second batch in the last 60 or so that I have had some sort of infection. This one was by far the most nasty one I've seen. There were a couple that probably did get me back in the Mr Beer kit days too, but since I have been semi-seriously brewing, this is only number two. At least I am reasonably sure this wasn't a sanitation issue and was just that the yeast didn't get started fast enough to kill all of the nasties.
Yeast Thoughts:
Getting yeast started quickly, as you can clearly see, is one of the most important parts of brewing. It could be said that I am a fairly experienced brewer, and absolutely fanatical about the sanitation side of the hobby, and one got me. I didn't plan well enough and didn't have viable yeast on hand. Also, I didn't have any dry yeast on hand as a backup!!!! I've even harped on this site how important it is to have some dry yeast handy to make this type of situation work. Physician, heal thyself!!!! I will be stocking some dry yeast this week, you can count on that!!!
If you use liquid yeast cultures such as wyeast or white labs, you should have viable yeast if you follow the instructions carefully, and watch the freshness date. That is what happened to me on the Infected Fest Ale. I didn't watch the freshness date on the package of wyeast and it never really rose up. I pitched it anyway of course and got nothing. With no dry yeast handy, I couldn't get to Country Wines to get yeast for another day. In the interim (like 4 days), the bacteria took hold and stole my beer. How did bacteria get into my beer??? Well, I hate to tell you, but bacteria is pretty much always going to be in your beer. You can have perfect sanitation procedures, but airborne bacteria and wild yeast will still find a way to get into your wort during cooling. Some bacteria will hang around your brewhouse because you might just feed it something good!!! You can't stop it from happening. What happens is that when the yeast starts, it overpowers the small amount of bacteria in the wort and kills it. It also changes the PH during fermentation to a level that the bacteria can't function in. They lose and yeast win. This happens most of the time (or in my case the yeast have won about 96.8% of the time). That is why it is important to cool your wort quickly, aerate it to give the yeast plenty of oxygen during the anaerobic phase, and to put viable yeast into the wort as quickly after shut down as possible. You want the yeast to start VISIBLE signs of fermentation within 15 hours. I didn't get anything for 4 + days!!!! Ok, ya don't have to rub it in ya know......Haven't I suffered enough knowing that I lost 10 gallons of beer and about 25 hours of my time.......
One last solution to getting a good start is to make a yeast starter. If you have used wyeast in the smack pack, you have essentially done that. That is what happens when the package swells up. It is a mini yeast starter inside. Pitchable liquid yeast is still quite viable as well. It is made to start 5 gallons of wort (under 1.070) and ferment it quite fine. If you have doubts, make your own starter. I'm not going to go into that process in detail here, but it is all the rage here on the net at most retailers. Search and you will find. It is actually pretty easy to do and will give you more yeast cells to pitch than come in the vial. If you want to make lagers, you almost have to make starters. Good luck and please, keep the bacteria dead. I know I plan to in the future.
Brew Review:
Sonora Brewing's Desert Amber.....This beer came as a gift to me from Christmas. My old boss gave me a beer of the month club for a couple of months. I had always been a little skeptical of these clubs, but to my great surprise, I was wrong. This brew is an American Style Amber with a nice fruity hop bouquet and a lighter amber color. The beer is extremely smooth and clean looking and had a beautiful creamy white head that remained about 1/5 of an inch thick the whole way to the bottom of the glass!!! I haven't seen a beer do that out of a bottle in a long time. This beer had a soft malt background with hop flavor and aroma present at all times. The beer was well balanced, not overly hoppy, and had a smooth fruity note on a dry finish. Very enjoyable. I really liked this beer. It was very easy to drink and at 4.5% alcohol could be a session ale. I have to admit I was impressed. This brewery is located in Phoenix, AZ near the Sonora Desert, duh. Good luck finding this one in the east, but if you are out there in Arizone, look for it and you won't be disappointed.
Fill 'em, Drain 'em, Fill 'em again!!!!
Mark, The Brewer, and looking forward to trying the Sonora Porter that came in the same package!!!!!!
Tuesday, January 20, 2004
Big Weekend......Lot's to Talk About This Week.......Brew Review.....
Weekend:
I love three day weekends. It's like the bear saying, "you know, I love honey, but for me it's more than that, I mean, it's like, I really love honey, you know!!". Yea, I know.....
A lot happened this weekend in the brewery. Some of it was good, some of it was not so good. I'll get to all of the items this week, so be sure to check back in every day for "As The Kettle Turns". But seriously, it was an eventful three days and there is something in it to learn about brewing process as well. Stay tuned for that.
Brew day was Sunday. Deceased Dude Ale is bubbling nicely in the fermenters. The brew went without a hitch. Mash temp held at about 150 degrees F, wort recirculated clear in about 10 minutes, runoff and sparge were no issue, and the boil went clean and with no problems. It was a cold day so my wort cooled in record time (though all of the heat ups also took record times, longer than usual) with the chiller running and the brewhouse temperature at about 45 degrees F. I bet we were at 70 degrees F in about 10 minutes. Wort was well aerated and the yeast went in ready to go. Opening gravity was 1.066. That is a pretty good shot at the target of 1.068 (I'll take two points variance every time on a target gravity). I had visible signs of fermentation within 6 hours (when I went to bed that night exhausted). I love it when the yeast goes very fast (more on that tomorrow). All in all, it was a great brew day!!!! We'll know just how good in about 6 weeks!!!
This Week:
This week looks informational. We will talk a little bit about kegging, take a look at Parrot Pete's Robust Porter with an update on that brew, and have some more talk about yeast. I can't tell you how important the yeast talk will be!!! We should also have a recipe later this week!!!! Miss a day, you'll miss a lot!!!
Brews:
I had the opportunity to taste a couple of very good beers. Geekboy, his step-father, and myself were able to sneak away on Saturday and sample a couple of the finer beers out there (not to mention a couple of very fine cigars). Pairing beer with cigars is fun and tasty. Be forewarned that you will dull your palate a little bit with the cigar, but it will also accentuate certain flavors in the beer!!! I don't recommend smoking them while judging beers, but for the fun of tasting them together, go for it!!!! Anyway, here are the brews of note that were tasted (pre-cigar smoking) and my thoughts.......
Dogfishhead Brewing's 60 minute IPA on Cask......This beer is quite hoppy regularly and almost covers up the malt in the regular pint you drink. On cask, the malt has a little more backbone and the beer tastes a lot fuller bodied than on regular draft. This is probably due to the serving temperature of cask ale. This beer is quite light colored in appearance and had the typical creamy white head that cask drawn brews will have. The hops are still assertive, but don't dominate the flavor as much. The cask version's malt flavor is very honey like and the beer overall is on the light side of medium bodied. Hop bitterness and flavor is evident througout. The hop aroma is nice and floral. As IPA's go, I think this one is a little thin on the malt side, but is quite drinkable and enjoyable. The cask version can easily be sessioned. I would give this a try if you can find it on cask, but on regular draft, there are other better options (Victory Hop Devil or Harpoon IPA). Good Hunting!!!
Pennsylvania Brewings Maerzan Fest Bier.....The spring fest beer has been released by Penn Brewing. It is a home run. This beer is copper colored with a tightly bubbled white head that stays around the whole way down the glass. The beer is very malty in character with substantial balancing hop bitterness. There is minimal hop flavor as the malt flavors dominate the middle. There is clearly a lot of Munich and some German Crystal malt in the grist. The beer finishes clean and dry at the end. This beer has a wonderful malt and hop aroma and I am guessing Hallertau is the aroma hop of choice here. This is a great fest beer and one that I will continue to enjoy until it plays out (and the maibock is released!!!). If you can find this beer try it. It is the perfect way to celebrate Mardi Gras and St Patrick's day (if you are not a stout drinker, though that could be considered a mutiny). It is a must try beer!!!!
Let me know if you have tried any great brews lately and give us your thoughts!!! I will post them right up. I would love to chase down some good brews that you recommend!!!!
Drink up, refill, Repeat......
Mark, The Brewer, and already planning the next beer............
Friday, January 16, 2004
Recipe Day.......Sunday, Brewing Sunday!!!!! Sunday Brewing Sunday!!!......Still Counting.......
Recipe:
Today is recipe day. I know what your thinking. What a lame excuse to not have to be creative today. Well, your wrong about that. All of this takes a lot of planning and is time consuming. I bet I spend at least 3.6 minutes thinking about each day's topics and then another 4 to 5 minutes actually writing the material. That's a full days work you know!!! Hey, it's not easy having a full time job that you are actually expected to produce something of value, plus run a brew pub part time as well as a web site. That is some serious mult-tasking if you know what I mean!!! So don't be so critical so early in the morning thinking that I'm not being creative today!!! I might just write something witty about you the next time I post!!!!!!
Oh, by the way, I do want to state for the record that I am not responsible in any fashion for typo's, dangling participles, prepositional faux paux's, and any other myriad of items that might butcher the English language as we know it on this site. I'm just a poor working stiff trying to have a little fun. I might even be purposely butchering the written English language for effect (as far as you know). What was I supposed to be talking about again??? Oh, yea, recipe day. I will post the official extract recipe on the recipe page today for the Rogue Dead Guy Ale Clone that I'm dubbing Deceased Dude Ale. Following this inconsequential diatribe will be the all grain version of the recipe. Happy Brewing......
Deceased Dude Ale (10 us Gallons)
16 lbs pale 2-row
4 lbs Munich
2 lbs light crystal 10 - 15 LOV
Mash in 6.75 gallons of water, strike at 160 to stabilize a mash at 150 degrees F.
Rest for 60 to 75 minutes
Sparge with 175 degree F. water to collect 13 gallons of wort to boil down to 11 gallons.
Boil for 90 minutes.
2 oz Perle Hops bittering for 90 minutes
1oz Saaz Hops flavor 10 minutes
Irish Moss the final 10 minutes if desired
Cool, Aerate and pitch yeast
White Labs California Ale or any American Ale strain with clean properties
Ferment at 68 degrees F for 7 to 10 days
Transfer to secondary for 14 days, cold conditioning at 40 to 50 degrees is recommended.
Package and Prime, condition and drink!!!
Sunday, Brewing Sunday!!!!!
Just like the U2 song......never mind.....Sunday is the brew day for the above ale. Be there, Aloha....
Counting:
It's only 44 days til March 1st..........and 61 days to St Patrick's Day.......Do you hate this yet??????
Have a great weekend, fill the mug, empty the mug, refill the mug....
Mark, The Brewer, and firin' up the kettle on Sunday..........
Thursday, January 15, 2004
Placing a Beer in Style.......Countdown.......
Style:
If any of you enter homebrewing competitions, you know what I am about to tell you. When is a pale ale american, or just pale ale??? Can that beer also be a special bitter??? Is cherry stout a stout or a fruit beer??? What about raspberry wheat??? I made a beer and substituted half the pale malt grist with munich or vienna malt??? Is this beer still in the style???
All good questions. One of the reasons you may not place in a competition, even when you know you have made a superior beer, is because is doesn't fit the style you entered it into!!! One of the biggest mistakes homebrewers make when entering competition is to enter their beer improperly. The judging is based upon how closely the beer fits the style category that it is entered into, not necessarily that it is the best tasting beer in the flight!!
How do you tell what style category your beer fits into. There are two ways that I know of to tell. One is sample and taste beers that are recommended to be in style from the BJCP guidelines. Then try to make beers that taste similar. Remember how I went on about tasting as many beers as possible to ingrain the flavors of the style in your head!!!! This is important when you try to emulate the beer to enter a competition. The other way is to look very closely at the typical ingredients (also listed in the BJCP guidelines). If you use ingredients that are typical for a style, pay close attention to brewing process and sanitation, you will most likely make a beer that fits somewhere into the style range.
When can you tell if your pale ale is American or English in style. Tricky stuff. Both can be quite hoppy in nature as that is allowable in the style guidelines for both styles. Ingredients can be domestic two row or British two row and the hops can be very similar in nature as well. American usually has more spicey aromatic hops like cascade in it, but those are allowable in the British style too if muted enough. That is a tough call. If you have decided that your pale ale is say, British, is it hopped and strong enough to be an IPA???? The dilemma continues.
Here is an example of what I mean about difficult decisions in entering beers to styles. The AHA Ninkasi award winner this past year for the homebrewer with the most medal points in the national competition
won two gold medals with the same beer in two different categories
. How did he do that you ask???? He made an Imperial Stout that was flavored with vanilla beans. He entered this beer into the herb/vegetable category which allows a lot of leeway with ingredients, and he entered it into the experimental beer category. The base beer here was an imperial stout which didn't place in the imperial stout category. He knew were to enter his beer to have a chance to win, and it wasn't necessarily the obvious category that you would think based upon the base beer!!!
Brewing to style is an art and that is why the competition guidelines are very stingent. It shows your real brewing talent with the use of set ingredients to make various styles. Brewing to style can also be boring. If a beer isn't being brewed for competition, brew it with flair and try something new. You might get something that actually tastes like beer!!!! The biggest thing in brewing is to have fun and make good beer, but if you want to enter a competition, my advice is to study the BJCP for ingredients, taste beers that emulate the styles your interested in, and brew some beer to see how you do!!!!
Countdown:
It's 45 days to March 1st!!!! I can see the buds on the trees already, well through the snow storm we're having today and the high temperature of 15 degrees, it's a little tough, but I have a pretty vivid imagination!!!! For those interested, it's 62 days til St Patrick's day. In a couple of weeks, you'll be like me and not be able to wait til March 1st (probably because you'll be tired of this countdown stuff every day).
Drink Up, Refill, Repeat!!!!!
Mark, The Brewer, and still practicing tasting the styles.................
Wednesday, January 14, 2004
Guiness Ads........Buy a Wort Chiller.........Countdown.........
Ads:
Have you seen the new Guiness commercials on television???? Brilliant!!!! They are a hoot. I love the Monty Pythonesque backdrop and animation. Brilliant!!!!! You have to get a kick out of the dialogue too. Brilliant!!!!! The best part is watching the two guys' eyes as they talk to each other. Brilliant!!!! Carrying six beers at the same time, to a party???? Brilliant!!!!!! Sliced white bread???? Brilliant!!!!!! Drinking beer from a bottle????? Brilliant!!!!! A bottle opener???? Brilliant!!!!! The new Guiness Ads????? Brilliant!!!!!
Chiller:
One of the most important elements of brewing is cooling your freshly boiled wort down to a temperature low enough to pitch the yeast. Most beginners who boil partial worts simple use an icewater bath for the pot in the sink. This method works but can take up to an hour to get your wort from 208 or so degrees down to under 80 degrees. The reason this is so important is because at temperatures from 90 to about 160 degrees F., your wort is in the most danger of catching bacteria that can cause spoilage. This is the danger time and the longer your wort is in this temperature range, the higher the potential of infection.
The best way to eliminate risk of infection is to cool the wort faster. I recommend using a wort chiller. These items come in many shapes and in all sizes and represent an excellent investment in equipment that will improve your beer. Even if you partial wort boil, there is a chiller that will fit into your 4 gallon pot and cool your wort right in your kitchen sink!!! Faster cooling will also help to precipitate the hot break to the bottom of the kettle so that you can keep more of that material out of your fementer.
I brew with a starting volume at the boil of about 13 gallons, so I have a super chiller. That is simply an immersion chiller that is large enough to use in a converted keg. With this chiller, I can cool a finishing volume of about 11 gallons in about 18 minutes. I often pitch the yeast in less than 45 minutes post boil. That's quick given the volume. With an icewater bath and 3 gallons of wort, I was often taking 45 minutes just to get the wort temperature down. I only had 1 beer that I believe was infected with something in all the brews I made using icewater baths to cool, but that was 1 too many.
Using a chiller will get your yeast into cooled wort faster with less break material in the fementer. This leads to faster fementation starts, more vigorous fementation, and better beer!!!
Ask your retailer about chillers, or search the net. You will see that there is a chiller made out there that will match your process. These items cost anywhere from $30 to $75, depending on the size needed, or can be fashioned at home with copper tubing, a bender, and some assorted hardware. Either way, you can have a quality chiller that will make your brew day faster, more efficient, and help you make better beer for not a lot of money. It is an investment that I highly recommend!!!
March 1st:
Only 46 more days to March 1st. Your gonna hate this section of my daily ramblings before long. Oh, by the way, it is only 63 days til St. Patrick's Day. In case you were wondering........
Bottoms Up, Refill, Repeat.....because you know it's good for you!!!
Mark, The Brewer, and just Chillin'
Tuesday, January 13, 2004
Beer Tasting Reviews: Penn Brewing........Brewing a California Common..........Count Down to March 1st.......
Tasting:
Pennsylvania Brewing Company is a historical landmark building that was a brewery at the turn of the century. The old brewery was called the Eberhardt and Ober Brewing Company. I can't find anyone still alive who ever drank their beers, but what I can find tells me it was a thriving business that made a lot of beer!!!!!
A gentleman named Tom Pastorius bought the building from Pittsburgh Brewing Company in 1984. He used federal landmark grant money to refurbish and to set up a German made brewhouse. Fantastic stuff. PBC was just letting the plant sit and rot and only bought it to be sure it went out of business. Thanks to Tom, Pittsburgh's North Shore and Germantown Brewing traditions live on in this wonderful old building. The Beers???? Outstanding, brewed with German recipe's and ingredients and conforming with Reinheitsgebot laws of Germany using only water, malted barley/wheat, hops, and yeast to make their award winning beers.
Penn Maerzen Fest Bier
: This is a wonderful spring fest brew clean and malty with great hop balance and aroma. Copper in color the beer starts with a nice pleasant hop aroma, then the malt flavors take over. There is a depth of malt character and clean dry finish to the beer. I'll have another please!!!!! It is a must try if you can find it.
Penn Kaiser Pils
: This beer is not available in bottles, only on draft and I believe only at the brewery. They will sell kegs to individuals of this fine beer, I know as I have one currently at my home on tap. This is a Northern German Pils, bright golden yellow in color with a finely beaded tight glowing white head of foam. The aroma is unmistakeably Hallertau Hops and the beer is loaded with hops from top to finish. There is a honeyed malt backbone from German Pilsner malt and an assault of Hallertau hops. This is what American beer should be today, and perhaps what it once was. This beer is clean and hoppy and finishes dry and wanting of another sip. I case you can't tell, I like it!!!! If you ever get to Pittsburgh this is a stop you must make and if this beer is available, you must try it. It is not really made on a schedule, heck they can't make beer fast enough as it is, but they do have it three or four times a year.
Steam Beer:
California Common, or as it more likely known as, Steam Beer, is an interesting brew. It is considered to be really the only truely American style of beer that was fashioned here completely. This beer is a lager style beer that uses a curious yeast strain that is very temperature tolerant. This yeast will brew a beer up to 65 degrees during fermentation and still keep lager beer characteristics of very low esters, good attenuation, and clean malt flavors. This is a good time to brew this beer if your basement floor can maintain temps in fermenters of 65 degrees or lower. You should still lager this beer after primary fermentation if possible, though you will still get good results if you can only hold the beer between 60 and 65 degrees.
Steam beer in this country is mostly associated with the commercial variety Anchor Steam. They own the copywrite for the term Steam Beer and they are the only brewer that can call their beer by that name. Everyone else must use California Common as the name of their beer. It is a light amber in color, medium in body, and quite hoppy. The only hops used in this style are Northern Brewer Hops from the Pacific Northwest. DO NOT RUIN THIS BEER WITH CASCADE HOPS!!!!! This is not authentic to the original steam beer recipes. NB hops are used to bitter, flavor, and for aroma. They are spicey in nature, almost agressive, and project a piney aroma. With a nice malt background, the beer is quite aromatic and very tasty.
The origins of the name steam beer are vague and there are several versions. The one that makes the most sense to me is that the beers were conditioned in the wooden kegs in the beginning. When the publican tapped these kegs, it is said the pressure would spew out foam from the keg with a hissing sound resembling the steam thrown out by the old locomotives of the time.
If you aren't sure if you like this beer, try an Anchor Steam. It is considered one of the things that is truely American!! It is also very good beer!! I may be brewing this beer style this weekend. If I do, I will post both an all grain and extract recipe on the recipe page!!!
Countdown:
It is now only 47 days to March 1st and counting. For those interested, it is 64 days to St. Patricks Day!!!!! Better start getting the stout and Irish Red Recipe's ready!!!
In the meantime, Drink up, Refill, Repeat.......
Mark, The Brewer, and steamin' to make some beer..........
Monday, January 12, 2004
Who Created The Six Pack...........Only 48 Days...........Weekend Brew Date Coming Up......
The Six Pack:
There are a lot of questions out there about "who done it". Who killed Kenney??? Who did Ben cheat on JoLo with???? Did Horton really hear a Who???? Who's on First???? Well, another important issue is who created and marketed the six pack????
The actual answer is, I don't know. The actual person that created the six pack, I don't know. I do know why the origins of this staple of life were thought about. It's interesting....
About 60 or so years ago, beer was finally being mass packaged in bottles. These bottles were thick and heavy glass. Prior to bottling, you had to go to the pub to get a brew, or in the old days, send the kids down to the pub with a bucket to get the original "bucket of beer". In those days everybody lived in city neighborhoods where everyone pretty much knew who everyone else was. There was no air conditioning so in the summer, you had to be outside in the evenings as the buildings were too hot to be in. Air conditioning ruined this country in my opinion, but that is a rant for another day......
Anyway, the "local" knew who you were and knew your kids. They would fill the "bucket" for you when you sent the kids down to get you some beer. When beer was being mass packaged in bottles, the quest was in what denomination to sell it??? Cases of 24 were put together to help effectively transport beer. It is a stackable compact size that effectively loads onto pallets.....Makes sense. But why the six pack??? Easy.....
Through market research etc, it was found that one of the highest points of sale of beer was at the grocery store. It was a convenient place to purchase, beer is basically a "food", and it lent itself for one stop shopping for the consumer. That said, research found that in those days, the grocery shopping was predominately done by the woman of the house. The six pack was considered a package that was light enough for that woman of the house to lift into in the cart!!!! Hence, I give you, The Six Pack. No real reason or volume concern, just easier for your significant other to lift......
Things have changed today, and women would be offended by the mentality of 60 years ago. But the package of 6 beers has survived the test of time.
Long live the six pack!!!!!
48 Days:
That's right, I'm still counting down to March 1st. 48 days and counting. Now, for those of you with an interest (I have one) it's only 65 Days to St. Patrick's Day!!!!! You better get that St. Pat's Stout brewing soon!!!!
Brew Day:
Brew day is coming this weekend. It is a banker holiday type 3 day weekend for me with MLK day off on the 19th. Cool!!! Check back as we decide which beer will be the beer of the weekend??? Right now I am leaning toward either the Rogue Dead Guy Ale clone, a Steam Beer or California Common, Bell's Pale Ale Clone, or Rogue Special Bitter clone. So many choices........ What would you like to see me brew??? Let me know if you have a preference.
I don't know for sure what day it will be (I'm leaning toward Saturday), but it will be one of the three.
Have a great week!!! Fill, Drink Up, Refill, Repeat as necessary!!!!
Mark, The Brewer, and might have to have a couple of beers to help decide what to brew!!!!!!!!
Friday, January 09, 2004
IFA Almost Ready........Estimating Finishing Gravity and ABV...........A Big Brew Review......Only 51 Days.........
IFA:
The IFA has been in kegs now for a week. I like to condition in a primed keg for at least 10 days, so that puts this brew ready for drinking on about Wednesday of next week. I have a feeling that by then the Fargin' Bastige will be just a memory as it is going to be real cold here the next couple of days!!! I am looking forward to trying the IFA with it's quirky grist bill and hop additions!!!! Time will tell and this time next week you should have a review of how we did!!!
Gravity:
In business we always have to assess the gravity of a situation when things happen. Well, in home brewing you have to do the same thing. When you look at a recipe, it almost always gives you what the OG will be at the end of the boil. What you don't always get is the FG number. Why??? Well, that always is decided by a number of factors. Is the wort all grain or extract based? Is the wort well aerated? What is the yeast strain? Why are these factors important you ask? Well, I'll tell you.
All grain wort very naturally contains about all of the nutrients that yeast need to propogate and be very healthy and active. Extract based wort however might be a little light in these nutrients. This isn't always the case, but again, you don't know exactly how the extract used to make your wort was prepared. This is easily fixed with 1/4 to 1/2 of a teaspoon of yeast nutrient. Yeast nutrient is basically vitamin B complex with some other items and is easily and cheaply obtained from your local homebrew store. Also, sometimes extract based wort has a higher level of dextrin and it just won't ferment down as far as all grain wort. This might make your beer have a little more body than you expected. Aeration is very important. This is the only time that oxygen should be introduced to your wort (after is has cooled to below 80 degrees, and right before pitching the yeast). Oxygen is essential for the yeast to propogate and multiply exponentially so they can ferment your wort to the finishing gravity range. This is harder for extract brewers, specifically if you brew concentrated wort and top up with water before pitching yeast. Be sure to shake the fermenter for about 5 minutes to introduce oxygen to the topped up wort before pitching the yeast. It will introduce some level of oxygen and will help the yeast get to work. The yeast then is the last component. Different yeast have differing levels of attenuation, or the ability to stay in solution and eat sugar. Good examples of the difference is comparing a Scottish Ale yeast with a 55 to 60% attenuation to California Ale which is 72 to 77% attenuation. California Ale yeast will simply process more sugars from the wort before falling out of solution. That is partly what gives a Scottish Ale it's sweet character!!! Yeast producers give you a range of attenuation because yeast are living organisms and each colony can be slightly different. The producer also has no clue what type of wort you will introduce the yeast to.
If you are comfortable that there are plenty of nutrients in the wort, and that you have aerated as best you can, then the attenuation rating on the yeast package can be your basis for figuring your ending gravity. If your opening specific gravity is 1.050, then you have "50 gravity points". If your yeast is 70 to 75% attenuation, then you can estimate what your finishing gravity should be with the following formula:
OGpoints - (OGpoints * Attenuation%)
In this example, I will take the middle of the attenuation range as my attenuation percentage.
50 - (50 * 0.73) = 50 - 36.5 = 13.5
Your ending gravity expectation in this example would be around 1.0135. Remember, there is an attenuation range and if your FG fits in the range, your wort probably has completed fermentation. As a standard for the mathematically impaired, that range is generally 20% from the mid point (1.0135). In this example, FG could be from 1.011 to 1.016. If you are in this range after 14 days of fermentation for an ale, your beer is most likely finished.
You can now take this information to estimate your ABV. This is a fixed formula and gives you a quick and easy way to estimate.
(OG - FG) * 127.5
The factor 127.5 converts the gravity difference to Alcohol By Volume (ABV). This is a standard factor that doesn't change.
(1.050 - 1.0135) * 127.5 = 4.65% ABV
These simple formulas can even be done by the most mathematically challenged and provide a very quick and easy way to estimate what your beer will be like given your ingredients. This is one of the bases for scaling recipes. We will look at other items in scaling recipes later on (such as expected extract from base grain, malt extract, and specialty grain). See what you've gotten yourself into!!!!
Review a Brew:
I recently got to taste the 90 minute IPA from Dogfish Head Brewing. This beer is hoplicious!!!! It assaults your palate with hops, but still maintains a very solid malt backbone. It finishes with a floral hop note on top of honeyed malt. I found it quite refreshing and I would pair it with very spicy food (mexican or chinese) and I also believe it would complement certain fish dishes. If you love lupulin, you should look for this one and give it a go!!!!
51 Days:
It is only 51 days til March 1st!!!!!! You keep reading and I'll keep counting them for you!!!!!
Mark, The Brewer, and Still Assessing the Gravity of the Situation............
Thursday, January 08, 2004
A New, Dangerous (too Consumers), Stupid, Unenforceable, and Chaotic Law in New York...........Brew Reviews......
Law:
The state of New York never ceases to amaze me. I'm just glad that I don't live there. I have several friends that do, and they truely have my condolences. Now don't get me wrong, I like to go and visit, specifically in the summer when it is barely above 60 degrees, and in the fall when the leaves are changing, but overall, I'm glad I don't live there. When you see this new law they just passed you'll know why. Beware too, because if they can even come close to enforcing this thing, your state might follow suit!!!
In order to buy a keg in the great state of New York, you now will have to jump through many hoops. Not only that, the breweries that provide kegs in New York will also have to incur some expense and headaches as well. Here is the deal:
1. Breweries will be required to put some type of traceable ID number on each keg for sale (scanable?). It must be permanently affixed to the keg. If you know how a brewery cleans (pressure washing with caustic), sanitizes, and fills kegs, and the overall abuse that these things take in the process, you know that this will be a big headache (and expense that will trickle down to the consumer) for the brewerys.
2. Retailers must be able to catalogue these ID's and must fill out a form (always a form) that will be sent into the state agency controlling alcohol sales.
3. Along with the keg ID trail, there will be a form that the consumer must also fill out in great detail (I believe they want the names of your children and your annual income)
4. For the inconvenience of all of this, the consumer will now be required to put down a state deposit of $75 to be held by the retailer. When the keg is brought back, the retailer will refund the deposit, and notify the same agency (with another form) that the consumer did in fact bring back the keg with the same ID number on it that they left with and their money was refunded. IF the ID number is no longer legible or on the keg, the consumer will forfeit the $75 deposit to the state with the retailer being required to facilitate the payment.
5. The $75 deposit will be in addition to the normal deposits one might encounter for the keg itself, a tap, a tub, or any other item that party stores send out for the use of the keg. That means that the consumer will need to pony up about $150 in deposits (or more) and the price involved just to purchase the keg. A typical keg of megaswill could require an outlay of about $220 to purchase. Real bucks are getting involved here.
6.
NOW HERE'S THE DUMBEST PART.......YOU MUST RETURN THE KEG WITHIN THREE DAYS OF PURCHASE IN ORDER TO GET YOUR $75 BACK!!!!!!!!!!!
Can you believe that!!!!! I have a commercial keg refrigerator in my house. The purpose is to be able to buy beer for half the cost of bottled beer. Not to have a big party and get 20 people so drunk they might kill themselves.
What idiots these legislators are!!!!!!
Because I am a law abiding citizen, I would get penalized and be forced to return to buying bottled beer just because it takes several weeks to finish a keg at my house, and that I don't give beer to minors, and don't allow people to get drunk in my house!!!! These people want you to finish copious amounts of beer in a short time period!!!!!!
Now the purpose of this law obviously is to stem underage drinking at big keg parties, and to be able to tie back intoxicated people that break the law to where they were drinking to create liability (and litigation) against the person who originally bought the keg. The intent here is understood and if people serve minors they should be held responsible. Adults however, in my opinion, should always be held accountable for their own actions and should act responsibly at all times. You might have bought the keg, but you didn't force Joe Blow to drink twenty pints out of it, nor can you watch him every second he is at your house or party. This law really hammers law abiding citizens who drink beer responsibly in the comfort of their own homes and control who drinks the beer. The sole purpose for owning a keg fridge is to save money and have better beer to drink as fresh draft beer is always better than bottled beer that has been pasteurized. If I did live in New York, I would be livid at this law and would be hammering my, and everyone elses congressman and senators about how my rights as a law abiding citizen are being infringed upon to control a very small portion of the population. Again I say, IDIOTS!!!!!
Now enforcement of this will be a nightmare, both for the retailer and the breweries. Retailers will continue to let kegs out without reporting them to their better customers in order just to keep the buisiness. If you live on the border, well, I won't say what will happen there, but I believe importing that quantity of beer from state to state is called bootlegging whether you have intent to sell it or not. The ID's will become illegible quickly, even if they are stamped into the stainless steel, just because of the physical abuse kegs take in there day to day use. This will create an expensive red tape nightmare for the retailers.
If you can't tell, I think this is a real bad idea, and I hope it fails miserably. It will put some retailers out of business too. Just another example of "Do Gooders" infringing on the rights of law abiding citizens through legislation that is not designed to help the majority of the constituents, but rather to give a very small lift (if any) to a few people who have an agenda against social issues.
I'm off of the box............
Brew Reviews:
Bell's Winter Ale -- A white ale made with wheat and spices. It is light and refreshing and easy to drink, but I would also say beware as the alcohol content is evident. I don't know what it is, but being a Bell's product from Kalamazoo Brewing Company, it is at least 6.5% abv. An interesting twist on winter warmer type ales and I recommend trying it for a change of pace from the amber ales that predominate these beers.
Stone Smoked Porter -- One of the 300 or so beers on my all time top 10 beers list. A deep ruby porter with lots of hops and a hint of smoke. The brew is subtantial in mouth feel and offers hops, malt, smoke, and hops, and malt in the flavor profile. It was excellent and I recommend it highly as a must drink. Find it, drink it, enjoy it.......
Mark, The Brewer, and Don't Stop Me Now Because I'm Drinkin' the Smokin' Brew.........
Wednesday, January 07, 2004
All's Quiet on the Fermentation Front.........Why We Have Beer Styles (One Man's Opinion).......
Front:
The fementers have finally stopped whistling!!!!! Wow, what a robust fermentation in the intial primary phase that was. We are now in day 4 and the hot activity has subsided and the porter is now fermenting quietly in the carboys. That sure was a sight to see though.
I will give this beer till Saturday in primary and will then rack to secondary for about 7 more days. HHHHMMMMM, could be another brew day coming this weekend!!!! And why not? This is the time of the year to make as much brew as we can before the summer heat gets here. I have a goal of full kegs always for 2004 anyway, so here we go!!!!
Styles:
Why do we have designated beer styles? Most of the brews are traditional types of beer that have been made in brewing history, plus style guidelines for experimentation with new ingredients available now for competition as well. That is really the gist of it, to make beers for competition. The styles also keep some of these traditional brews alive. English Mild and Porter are two very good examples of this. Our light lager mentality world with beer color yellow to golden put both of these styles on the endangered list. Pale ale almost made both of these styles disappear years ago as people gravitated to the lighter colored and lighter drinking ales and even to the lighter cleaner tasting lagers. Thank goodness for the beer revolution and the craft brewing scene, plus the advancement of homebrewing specifically in the United States. Because of the efforts of a lot of people, and a lot of smaller brewers (and homebrewers) many of the these traditional styles have been rekindled.
For years, Belgium and Belgian style ales were little known in this country. Again, the craft and homebrewing scene has now brought many of these wonderful and eclectic beers and beer styles to your local craft beer pubs and brewpubs!!!! Ten years ago, you couldn't find an Abbey Ale, a Flanders Red, or a Tripel on tap anywhere, and you would have though Delerium Tremens was a small California earthquake!!! It is a great time to be a beer drinker!!!!
For these and other reasons, specifically to set guidelines for brewing competition, beer styles are important to both the professional and home brewer. Now, do you have to always make a beer that fits a style???? HECK NO!!!!! That is the beauty of it!!! Your beer can be whatever you choose to make it!!! It can be malty, hoppy, sweet, sour, and everything in between!!! You can mix characteristics of several styles into a beer!!! You can use non-traditional ingredients in your beers. You can use adjuncts in your beer!!! And, you can use one of many yeast cultures that are now so readily available to homebrewers. It's great to be homebrewer now too.
Sooooo, the style guidelines administered by the BJCP serve a very important purpose in terms of maintaining brewing history, tradition, and fostering competition, but don't get caught up in making every one of your beers to fit a basic style. Experiment, and have fun with it. What you make will probably taste a lot like beer!!!!!!
Drink UP, Refill, Repeat as necessary!!!!!
Mark, The Brewer, and waiting patiently for
I
ndia
F
est
A
le to condition.........
Tuesday, January 06, 2004
Fermentation the Way It's Meant To Be..........IMHB Taps Update......
Fermentation:
I get home last night and my wife is in a panic. She should have been too. My beer fermentation room was making funny noises. She had a good idea of what to do, but didn't really realize the situation.
The fermentation of the porter I just made was outrageously strong. In fact, other than wheat beers, which can have very robust fermentation do to the yeast and temperatures, I have never seen an ale do this in a 6.5 gallon carboy for a 5 gallon batch at 67 degrees. Normally the headspace is quite sufficient to simply use an airlock. Well, the foam was rising up through the airlocks on this batch. Now one of the airlocks was quite plugged, I would guess about 80% with hop resins. This is a very dangerous situation as if the pressure builds too high in one of those things, it will explode. Luckily that didn't happen and with my wife's faithful help, I was able to relieve the pressure and replace the airlock with a clean
sanitized
one. But then the foam rose up again. This was happening in both 6.5 gallon carboys!!! Too make a long story shorter, It was about 2 hours before the gas was blowing out without foaming up into the airlocks necessitating several airlock changes. Wow!!!!!
Is this a problem you ask??? No!! The fermentation was putting out so much co2 that no oxygen had a chance to get into the fermenters even pulling off the airlocks several times. All replacement airlocks were sanitized before putting them into the carboy necks, and really
this is what a good clean, vigorous fermentation should look like
. It means that I put fermentable wort with a 1.054 specific gravity into a sanitized carboy with plenty of oxygenation, and that I had a very good, fresh, active yeast culture from White Labs. From a science standpoint, it was great (though slightly dangerous for a while).
If you ever tour a brewery that will actually show you fermentation squares, or open fermenters, and if there is a fermenting beer in there, you will see this type of action, often spilling over into an overflow area. This is what you always want to happen, a very quick start and a very vigorous fermentation. This reduces the chance of infection to almost zero!!!! Cool!!!
IMHB Taps:
The IMHB taps haven't changed, yet!!! The Fargin' Bastige is just about played out. I didn't expect a very long stay for this one and I was right. The Regeneration Stout is still pouring strong and should be around a while longer. Next up is the India Fest Ale which is conditioning is kegs even as we speak. Parrot Pete's Robust Porter is now fermenting (see above) and will be following up after the Stout runs down. Brewing is on the horizon again and another fine IMHB brew will be born soon!!!
Here's to sipping fine hand crafted ales, refilling your grail, and repeating (I love this job)...........
Mark, The Brewer, and soon to be brewing again!!!!!
Monday, January 05, 2004
First Brew of the Year.......New York Brewer Worth a Taste........Dumb Megaswill Ads.........
First Brew of the Year:
I'm excited about the upcoming brewing year. I brewed the first batch of 2004 yesterday and I'd have brewed again today if I had the fermenter space, well, and the time, oh, and if I didn't have to go to my "real" job. Anyway, it was fun and went extra smooth. I love the new system that has been put together and it is getting great extraction rates, and most important of all, is making good beer!!
Yesterday I made a modified version of Parrot Pete's One Particular Porter. I added some dark crystal and black patent malts to the grist and made a robust porter instead of a brown porter. I guess that makes it Parrot Pete's One Particular Robust Porter. Anyway, the brew day started about 7:30 am and ended about 2:00 pm, in time to watch some of the NFL playoffs. The mash went without a hitch and runoff only took about 5 minutes before the wort was running clear. The sparge time was about 1 hour or so and the boil went for 75 minutes. Here is the final grist for the brew:
13lbs 2-row pale malt
3 lbs Munich Malt
1.5 lbs Chocolate Malt
1.5 lbs Light Crystal 10 LOV
0.5 lbs Dark Crystal 145 LOV
0.25 lbs Black Patent Malt
0.5 lbs Flaked Barley
2 oz's Columbus Hops 75 minutes bittering (15% AA)
2 oz's East Kent Goldings 30 minutes flavor (5% AA)
White Labs Irish Ale Yeast
This recipe makes 10 US gallons of porter.
Mash strike water at 164 degrees, stabilized the mash at 154 degrees F.
I collected 12.5 gallons of wort. Boil for 75 minutes. O.G. = 1.054
Give it a try!!!
New York Brewer:
If you haven't tried any of the beers from the F.X. Matt Brewing Company from Utica New York, do yourself a favor. These beers are great, are well made, and only cost about the price of Budnasty in bottles. For craft brew, that is a great value. I just helped empty a sampler package that featured 12 different beers. The beers of note from that group are:
Stout
India Pale Ale
Scotch Ale
Black Forest Lager
and Octoberfest
Give these guys a try and you will be pleasantly surprised!!!
Dumb Megaswill Ad:
Well, Budnasty does it again. They have insulted the intelligence of all craft beer brewers and drinkers with their ad about "only the freshest imported hops" that they put into their beer because "the freshest hops make the best beer". Wow. Isn't that interesting??? What they don't tell you in the ad is that the amount of hops that they use in their Budnasty product is so miniscule, that hop flavor and aroma are both under a human beings threshold to taste or smell the said hops!!! How would anyone know what kind of hops or their "freshness" level is if you can't smell or taste them in the beer!!!! They use the barest minimum to bitter the beer, and that has decreased dramatically with the increase in the amount of adjunct rice (which adds no flavor or sweetness that needs bittered) that they put into Budnasty. What do they think we are, idiots!!!!! Once again the jokes on them as I get a good laugh everytime I see this lie on TV. On the other hand, the jokes on me because millions of budswillers believe all of this tripe and continue to overpay for less. That is why I go on these crusades and tirades, to try to convert as many budswillers or megaswillers as possible. You should too!!!!!!
As always, drink up, refill, repeat as necessary.....
Mark, The Brewer, and loather of megaswill lies............
Friday, January 02, 2004
First Brew of the Year..........IFA in Kegs........
Well, the Red Suited Mayhem is finally over and the New Year is upon us. I was unable to get my final brew of 2003 done, so I am going to proceed with the 1st brew of 2004 as quickly as possible. I hope it doesn't cause me any lasting bad luck during the year. That quickly as possible is going to be Sunday. Parrot Pete's "One Particular Porter" is going to be brewed. I love this beer. It is outstanding and very drinkable and enjoyable. I can't wait for it to be ready.
The brew schedule is going to be aggressive in 2003. I hope to be brewing just about every weekend in January. Parrot Pete's is just the start. I hope to do the dead guy ale clone, Bell's cream stout clone, and a round of the regulars as we roll on into the year. My goal is to keep the kegs filled and at the ready at all times and to make some really great beers. When I brew these beers, I will be sure to put their recipe's on the site, and to let you know how they turned out. I look for 2004 to be nothing short of beertastic!!!!!
If you are interested in the porter recipe, it is posted already on the recipe page. If you want an all grain version, e-mail at the link above and I will get that to you right away.
IFA Update:
I have decided that the beer I last made will be called IFA, or India Fest Ale. With the hop schedule used and a gain bill that included 41% Munich Malt, plus the yeast involved, there can be no other name. This brew will hit kegs tonight, which means you will have the initial taste thoughts very soon.
I expect this beer to be quite different and enjoyable. Okay, at least it will taste something like beer. I am getting real stoked about the brewing season's second half as we move into spring. We may have to experiment with some different things this year, maybe a Saison, or Belgian Abbey ale. The sky is the limit and we're going to be brewing beer!!!!!
I hope you get brewing too!! If you make a great beer, let us know what it is and how it turned out, and by all means, share the recipe. We'll post it up on the recipe page!!!
Happy New Year to all, and Happy Brewing to all in 2004!!!!
Bottoms Up, Refill, Repeat......
Mark, The Brewer, and stoked about brewing in '04..............