In case you are wondering, I.M. Hammered Brewing is:
Mark
-- Head brewer and drinker (brewer of over 65 batches of extract and all grain brews, drinker of many thousands of bottles and pints of beer), CEO and President of the finest Nano-brewery I know of, head bottle washer, and sanitation engineer
Liz
-- Vice President in charge of bar decorating, keeping me from becoming too fanatical in my brewing habits, and is also known as "she who must be obeyed"
Michael
-- Brewhouse assistant, equipment consultant, Chief IT Geek and self-appointed Official Beer Taster (great work if you can get it)
Schpankie
-- Newest convert from fizzy yellow water to finely crafted beers and ales, adds little value to the brewhouse, but we like him anyway
Scooter
-- The gas man (and I mean that in the kindest of ways) bringing propane and co2 when needed, also has keen interest in the brewing process
Knuckle Jefe
-- Newest convert to brewing (has four batches under his belt), has began a start up nano-brewery in Kentucky known as "Double-Wide Brewing" with the catchy slogan of "double wide beers at single wide prices". Boy has a brilliant future in marketing. IMH is helping with equipment in the start up. We all work for beer, then again, why wouldn't we.
Parrot Pete, aka, Pappa Draft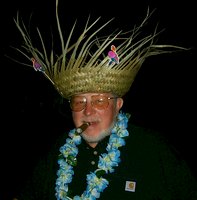 -- Bar designer, humidor raider, label celebrity, and Just because he should have been on the list the whole time.
We hope to make this site fun and informative and look for outside input, or inside output, whatever works.
Wednesday, November 26, 2003
HAPPY Thanksgiving!
Just a little holiday wish from all of us at the IMHammered Brew house to all of you. Hope your thanksgiving is wonderfull and full of good food and great Beer! Enjoy
-Michael, The proud roaster and cutter of the festive bird

Tuesday, November 25, 2003
Death of a Wheat Beer.......An Arrogantly Presented Fargin' Bastige Update.......Next Up on Tap..........Luke, Be One With the Turkey.....
A sad moment occured last night just before kickoff of the Buc's vs Giant's football game. I got that dreaded sound from the Uncle Buck's Wheat beer tap. The sound that signifies the end of an era, the end of the earth as we know it, the....naw, just that the keg is empty. Uncle Buck's has already been a documented success from those who had a taste. The recipe is good and I'll make it again at some point in the brewing schedule, probably this spring. So raise your glass sometime today in honor of the Uncle Buck's Wheat. IT was a dunkel to remember and I miss it already.....
Fargin' Bastige Update:
Now hear this. If you are not worthy, turn you head to the side and cough or something as you scroll past this blurb. Only those that have survived the IMH brewing experience are worthy. You must have the scars, well, and the tee shirt, to prove your worthyness and thus have the ability and the courage to read on. Upon further inspection, the Fargin' Bastige Ale is percolating perfectly. It is working harder than a king's court juggler with one arm. Now that guy would be worthy!! This brew is going to be a new experience that will bring out the Bastige in all of us. The brew is working hard and right on schedule. Are you worthy?????? We'll see........
Next Up on IMH #1 and #2:
With the untimely death of Uncle Buck's Wheat, that means that there is a tap open. Don't you just hate when that happens???? I don't. Not to fear, as a keg of the ReGeneration Stout, yes that beer that was rescued from the depths of dextrination, is in the cooler and will be ready for tapping tonight. The demise of the Buckster will also now leave room in the cooler for the first keg of Angry Dog Amber. Now, these are two of my favorite beer styles, so I will be happier than the Derby winner on a stud farm.
Also, I went to the beer store and stocked up on the winter warmer style or Christmas beer style brews. There were too many to choose from and well, only so much money. Here were the winners for now:
Stoudt's Winter Ale (First Timer for me)
Penn Brewing's St. Nicholas Bock (of course)
Sierra Nevada's Celebration Ale (hoplicious)
Toeg Brewing's The Mad Elf (brewed with honey, chocolate, and cherries to 11.5% ABV, HHHHMMMMMM)
When I have thoroughly inspected and adequately sampled, sampled, and sampled again, I will report on all of the above (assuming I am still conscious of course).
Turkey Day
:
Well, it will be Turkey Day on Thursday this week. I am going to be overrun with company, so there may not be any posts until next Monday here on the site, and I'm sure I will have plenty to talk about as there will be reviews on no less than 6 new beers, both IMH and commercial, and all of the fun that goes with that.
I want to tell you all that I am thankful for all of the support that the site has had from all of the varied visitors. We have had visitors from as far away as Australia on the site, and I hope we have entertained a little and taught a little about brewing over these past 6 or so weeks. The level of viewers and the feedback from many has been great and we thank you all.
I also wish everyone a happy Thanksgiving, and hope everyone enjoys the family and friends that make life so enjoyable these next few days. I know I plan to. Teach your kids what it means to be thankful, and I hope everyone gets the piece of turkey that you want. Personally, I prefer ham and don't really eat turkey, but for those of you that do, be one with the Turkey. I plan to be one with the ham, and anyone else who wants some of it has to come through me........
Oh, by the way, wheat beer is a great choice with turkey as is west coast style pale ale (the citrus hop character meshes well with the bird). An amber, scottish, or porter go well with the ham as you want something a little more malty to accentuate the sugars that are cured into the ham. Have a great Thankgiving everyone!!!
Mark, The Brewer and huge ham and ale lover on Thanksgiving.......
Monday, November 24, 2003
Brew Day a Success, Arrogantly Speaking.......
Well, I gotta tell ya that the two Indian Summer days that we just experienced were nothing short of spectacular. I got a lot of little Odds and ends taken care of around the house, and it is nice to cross them off of my list.
Saturday was a brew day for the ages. The weather was perfect and so was the brewing!! Parrot Pete came to the brewery to add his usual wisdom (and fine cigar smoke, hey, he was smoking my cigars....) and after a quick water heat up we had a 154 degree F mash going. After 60 minutes we arrogantly sparged out 7+ gallons of wort. Then, as if we were the kings of the castle, we boiled the wort for 90 minutes hitting three very large alpha acid content hop strikes with very worthy Centennial Hops. After the typical cool down, to about 74 degrees F, strong aeration of the wort, and a smooth transfer, we arrogantly checked the specific gravity to the tune of 1.075. After strutting around the brew house, we then added a copius amount of White Labs California Ale yeast to the wort. There was visible fermentation at 6 hours, co2 expulsion at 12 hours, more vigorous fermentation at 18 hours with 1 inch of kreusen on the top. At 36 hours the kreusen had risen to about 3 inches on the top. Wow, is this great!!!!!!!! A parade of the worthy through the fermentation room will happen during the next 24 hours with a transfer on day 8 to secondary planned. How about siphoning with arrogance!!!! Oh, we nailed the color as well. It's great to be the king!!!! We are well on the way to being the Arrogant Bastard Ale drinkers our worthyness entails.
The target tapping date for the Fargin' Bastige Ale is Christmas Eve. Stay tuned to this channel for updates as they are.......worthy.
Christmas Ale Update:
I am going after work today to acquire a supply of Christmas or Holiday beers for the season. I scoped out the holiday ale situation the other day, and I was very pleased with the selection that was available. Here are some of the finalists:
St. Nicholas Bock
Sierra Nevada Celebration Ale
Troegs Mad Elf
Anchor Christmas
RedHook Winterhook
Sam Adams Holiday Lager
Sam Adams Christmas Ale
I'll let you know what I got.
Until tomorrow; Drink up, refill, repeat!!!!!!
Mark, The Brewer, and feeling Fargin' Arrogant today.........
Friday, November 21, 2003
Ya Miss a Day, You Miss Alot............Weekend Looks Good for Brewing.......
Wow!! I had quite a day yesterday, but because of it, I didn't get to post anything here on the site. For those of you who are daily visitors, I apologize greatly!!! I guess I'll have to make it up to you real soon.
Christmas Ale Follow Up:
I was in the beer store a couple of days ago (imagine that) looking over the selection of winter warmers and Christmas Ales for the season. In a follow up to an earlier post this week, it looks like the selection this year is outstanding. Here's a couple of more I saw that I'm adding to my list for this year:
The Mad Elf
; Troeg's Brewing: somewhere in eastern Pennsylvania -- This beer is huge at 11% ABV and was brewed with honey and cherries. Yea, I'm gettin' a case 'o' dis.......
Sam Adam Christmas Lager
; Sam Adams; Boston, Mass -- A little twist as usually these are ales. HHHMMMMM, I'll look for this one on draft somewhere.
Anchor Christmas Ale
; Anchor Brewing; San Francisco, Ca. -- First time I've seen this one. I'm guessing it's a must try also. This is going to cost me a fortune this year.
Anyway, the selection is the best I've ever seen this year for holiday brews and winter warmer type ales and lagers. Treat yourself, you've earned it!!!!!!!!
Weekend Brewing:
The weather report is set up for brewing perfection. 50 Degrees F in the morning and will be in the mid sixties by knockout. The straw hatted pirate is coming to assist in the brewing on this day. This ought to be fun, and at worst will be a couple of homebrews and cigars. We'll be making the big amber for Christmas. Wish us luck!!!
Have a great weekend, and take my advice and go Christmas Ale shopping. You won't believe what's out there this year!!!!!
Mark, The Brewer, and planning on staying warm these winter months...........
Wednesday, November 19, 2003
Partial Mashing Part 3..........
When we left off, we had completed the conversion portion of the partial mash regime. Soaking grain in hot water......cool!! Now comes the end of the process!!
After the mash has worked for about 60 minutes in the oven, it is time to mash out and
lauter
, or rinse the grains of the sugary goodness. Here is what you do next:
While the mash was working in the oven, you should have heated 2 to 3 gallons of water to 165 degrees F. This will be the rinse water to remove sugars from the grains. Remove the pot from the 150 degree oven (you can turn it off as you are now done with it). Place the pot on the stove burner. We are going to now mash out on the stove. Mashing out is simply raising the temperature of the mash to about 170 degrees and holding it there for about 5 minutes. Stirring the mash at this temp thins the sugary wort and makes run off easier. Be very careful not to get above 170 degrees F. Use the floating thermometer right in the middle of the mash. After mash out, it is time to start the lautering process.
Simply pour everything (carefully) in the pot into the colander placed on top of the boiling kettle. The mash will remain in the colander while the sugary wort drains into the boil kettle. Now take the 165 or so degree water and slowly (but methodically) ladle that water over the grains. This water will continue to dissolve and draw wort into the boil kettle. After you have used all of the water to rinse the grains, simply discard them (if you garden this is unbelievable fertilizer). Remove the collander and use the small strainer to fish out any stray grain in the boil kettle.
Now all you have to do is add the malt extracts as per the recipe, and bring your kettle up to your normal boiling volume of liquid with water. Now you simply boil and hit the hop strikes as you would in a normal all extract brew.
Congratulations, you have just made your first partial mash beer!!! See how easy that was!! Here are a couple of other tips to this process. Don't get caught up on the opening gravity. This is what I have heard called "about" brewing. Scale the recipe to a range. You will get conversion, but the lautering or rinsing isn't very efficient as compared to an all grain set up. Also, the more wort you can boil the better. I strongly suggest moving to the 7.5 gallon pot (or larger) and boiling 6 gallons of wort to get 5 gallons in the fermenter. Your beer will become soooooo much better. If you do this, get a ball valve set up put in and a propane cooker. Your significant other will be so happy that this process is outdoors or in a well ventilated garage. Finally, take Charlie's advice, don't worry and have a homebrew. What you make will taste like beer.
Use this process to experiment with base malts like munich and vienna. The flavors will be more than you can imagine. Your beer will improve and you will begin to understand the all grain mystique. Remember, your just soaking grain in hot water for a while, not performing brain surgery. Good Luck to all who attempt to move to "The Next Level".
Mark, The Brewer, and lover of Munich Malt laden brews............
Tuesday, November 18, 2003
Winter Warmers...........Stillers Stink.........Get Ready for Partial Mash Part 3.....
It is getting to be that time of year again. There has been some frost on the pumpkin around here already. The regular seasons of college football are winding down and the NFL only has 6 games left as well. We even had some snow flurries the other day!!!! That's right, its time to check out some of the better Winter Warmer type brews that will be available this year!!!!!
Now, a winter warmer is usually a higher alcohol beer that has some other characteristic or spiciness that is meant to be slowly sipped by the fire. These are not for the faint of heart nor are they for sessioning, i.e., mass consumption. These brews can range anywhere from a higher gravity ale to a barleywine to a spiced Belgian Triple to a smooth malty dopplebock lager. These brews are definately not akin to the Ice Water of Beers or the self-proclaimed King of beers. No, these are brews that are meant to savor, to enjoy, and to reflect on the day with. The beer police don't get it and liken spiced beers to the mass produced alco-pops that are marketed to the underage and just of age crowd because they "hide the taste of the beer and make it possible to drink large quantities without any harsh beer flavors". I just read this!! I couldn't make something that stupid up!! Idiots!! These brews are highly malty, highly hopped, unique in flavor, enjoyed by experienced palates only, and can be quite expensive!!!!! Only experienced and discriminating beer drinkers need apply. I don't think there are too many 18 year olds (or 21 year olds for that matter) that are going to plunk down $35 to $45 for a case of Christmas beer, do you?? Sorry for the rant.....
Anyway, here are some of my favorites and just about all of the them come in over 7% ABV:
St. Nicholas Bock; Pennsyvania Brewing, Pittsburgh, Pa. -- This a big dopplebock with smooth malty flavors and clean hop bitterness. The malt takes control and this beer is nothing short of spectacular year in and year out.
Sierra Nevada Celebration Ale; Sierra Nevada, California -- This brew is all about the hops, lots and lots of hops. They are balanced by a big malt base. This beer will warm you up quick.
Delerium Winter Solstice; Somewhere in Belgium -- I have not seen this beer in bottles and have only found it on tap. I'm not complaining other than I have to go out to get it. Watch this brew as it is so easy to drink. A spiced ale with a big hop bite and smooth malt underneath. Please don't drive if you drink more than two of these.
Redhook Winterhook; Redhook Brewery; Seattle Washington -- Every year I seek this out and go wow. It's never the same as they tinker with the recipe every year. And every year it is sooooo goooood. Find it, drink it, enjoy it.....
Rogue Seasonal (the name is always different to protect the innocent I'm sure); Rogue Brewery; Oregon -- Rogue only does things in a big way. Their winter seasonal is no different. Mr. Maier, the head brewer, has been using non-traditional ingredients in beers since he got here over 10 years ago. In fact, I highly recommend just about anything Rogue brews year round. Whatever the seasonal is called this year, try it if you find it.
Sam Adams Christmas Ale; Sam Adams Brewing: Boston, Mass. -- Every year the Sam Adams seasonal offering is excellent. This brewery was one of the leaders of the craft movement from day one nearly 20 years ago. Again, you can't go wrong as these are consistently great.
Celebrator Dopplebock: Ayinger Brewing: Germany -- I know this one is available year round, but it always seems to taste it's best around the Holidays....
Other craft breweries that often release winter seasonals that you should try include:
Harpoon (Boston)
Victory (Philadelphia)
Dogfish Head (Wilmington, De)
Bluegrass Brewing Company (Louisville, Kentucky)
Your Local Brewpub (don't forget to support them!!)
Buckeye Brewing Company (Cleveland)
Great Lakes Brewing Company (Cleveland)
Three Floyd's (Indiana)
Goose Island (Chicago)
So many more that I'm getting tired typing them....You get the idea, try 'em all!!!!!
Stillers Stink
My condolences to all out there in yinz'er land as the mighty Picksburg Stillers now officially stink. No one is a bigger Stiller fan than me, and I can't even begin to express my disappointment in the season. The problems are many and the fix may be several years away. The prospects of winning in Cleveland this week are few and the season is for all intents a purposes, OVER. I just hope they don't take the best linebacker available with the 5th overall pick in next springs draft..........
Partial Mash Part 3
-- Coming later this week to a beer and brewing website near you........
Join me later this week and we will cover the lautering and brewing of your first partial mash brew.
Mark, the Brewer, and patiently waiting for the Holiday Brews to be Released..........
Monday, November 17, 2003
The Dog is in the Keg................Another Big Win....
Good morning and I hope everyone had a great weekend. Good news is upon us today. Last night the Inaugural Angry Dog Amber All-Grain beer was successfully kegged. There are now 10 gallons of the "Dog" beginning to carbonate even as I write this. The process went without a hitch and the beer tasted right on target. The finishing gravity was 1.012 for an ABV of 5.86%. Next up on the brewing schedule is the Fargin" Bastige Ale which is going to be brewed this coming Saturday morning with a tapping date estimated as, well, Christmas Eve of course. This will be the IMH winter warmer type ale and only a limited 5 gallon batch will be made. The brewing schedule after that looks like it will be a pale ale or bitter in early December, then the famous Parrot Pete's Porter after that. After the brew on Saturday, I will be in brewers nirvana as I will have something on tap, something kegged and ready, and something bubbling, and I like it like that!!!!
This past Friday night I was sent an email with a great question that I can't answer. IT came from Pappa Draft, Uncle Draft, and cousin Chilly Draft. The question was, how does Guiness get that widget thingy in the can, and how does it "spew" the nitrogen into the beer? My answer is, I honestly don't know. Now Chilly Draft sent in some visual thoughts on how this process works. Well, to answer Chilly's question, No, I don't think that what you sent me is the actual configuration of the Widget thingy in the can, though it was quite amusing and proper decorum prohibits me from showing this to everyone else reading today.......
The Big Win....
It is no secret that there are several things in life that are just the way they are. You can't explain them no matter how much you try. One of those predisposed things is that if you went to a certain university and were a football fan there, there are just certain rivalry university football teams that you have an ingrained hatred for (well at least for the 4 hours during the actual playing of game). When my WVU Mountaineers line up every November to play the Pitt Panthers in the annual Backyard Brawl, I hate them. No, you don't understand!! At that moment in time, there is nothing more that I loathe than the Pitt Panthers. Now this only lasts about 4 hours and I have many friends and co-workers that went to Pitt. We are friends before the game and friends after the game, but during the game, all bets are off on anything but total domination of their team on the field.
Well.......this year we got them again. Yeah, I know, they lead the overall series and have a heisman candidate and all of that, but all I know today is that my 'Eers ran off 35 unanswered points and proceeded to administer a total butt whipping in the second half of that game. Congrats to my 'Eers and good luck this weekend up at the Carrier Dome on that hard carpet. It's another big game on the road and a must win. It is fitting that after the defection and total disregard that Va Tech and Miami have shown for the schools that had been there partners for so many years that it is quite probable that either WVU or Pitt will win the Big East. If any Pitt fans are out there, get ready, because this could be the biggest game of the year for both of us for many years to come as it will almost always have conference champion implication for one, or both teams. Oh, and beat Miami, will ya..........
Mark, The Brewer, and one proud Mountaineer today........
Friday, November 14, 2003
BEER and History!
Beer has been a major part of history. If it wasn't Vikings conquering the world and raising a frosty mug then it was Pilgrams having a thanksgving meal with a few frosty ones. either way over time Beer has been a big part of life. I listed a few quotable quotes about our favorite elixer below. Enjoy!
24 hours in a day- 24 bottles of beer in a case,
coincidense ?
The mouth of a perfectly happy man is filled with beer. -.Ancient Egypt 2200 B.C.
He was a wise man who invented beer. -Plato
Beer is living proof that God loves us. -Benjamin Franklin
Some people wanted champagne and caviar when they should have had beer and hotdogs. -Dwight D.
Eisenhower
Beer soothes the upset soul. -Thomas Mann
It is a perfect brew that makes you feel exactly like preaching a sermon. -Christian Reuter. 1696
I wish to see this beverage (beer) become common instead of the whiskey which kills one third of our
citizens and ruins their families. -Thomas Jefferson
I will make it a felony to drink small beer. -Shakespeare
I'd have to think hard to name an interesting man who does not drink. -Richard Burton
"Not all chemicals are bad. Without chemicals such as hydrogen and oxygen, for example,
there would be no way to make water, a vital ingredient in beer." — Dave Barry
"Give me a woman who loves beer and I will conquer the world." — Kaiser Wilhelm
"Time is never wasted when you're wasted all the time." — Catherine Zandonella
"Why is American beer served cold? So you can tell it from urine." — David Moulton
People who drink light beer don't like the taste of beer; they just like to pee a lot." —
Capital Brewery, Middleton, WI
"You can't be a real country unless you have a beer and an airline. It helps if you have
some kind of a football team, or some nuclear weapons, but at the very least you need a
beer." — Frank Zappa
"You're not drunk if you can lie on the floor without holding on." — Dean Martin
"If you ever reach total enlightenment while drinking beer, I bet it makes beer shoot out
your nose." — Jack Handy
"I drink to make other people interesting." — George Jean Nathan
"The problem with the world is that everyone is a few drinks behind." — Humphrey Bogart
"Without question, the greatest invention in the history of mankind is beer. Oh, I grant you
that the wheel was also a fine invention, but the wheel does not go nearly as well with
pizza." — Dave Barry
"I gave up drinking once — it was the worst afternoon of my entire life." — Humphrey
Bogart
"Sir, if you were my husband, I would poison your drink."
— Lady Astor to Winston Churchill
"Madam, if you were my wife, I would drink it."
— his reply
"Always do sober what you said you'd do drunk. That will teach you to keep your mouth
shut." — Ernest Hemingway
"A woman drove me to drink and I didn't even have the decency to thank her." — W.C.
Fields
Cheers!
Michael, Official keg kicker and often creator of slurred quotable qoutes.
Partial Mash Part 2.......No Really!!!!!!!
When we left off our adventure into partial mash brewing, we had accumulated all of the necessary equipment to get the job done. IN this installment, we will visit the actual mashing technique.
What is a mash? That is a great question. Barley is a remarkable plant. It has evolved to self preserve itself so that it can regenerate. The barley corns or seeds, have starches in them. The plant also contains certain enzymes within the corns. These enzymes naturally activate at certain temperatures and carry out a "conversion" of the starches to sugars. The new growth of the plant then uses those sugars as food to grow and regenerate into new barley plants creating a barley "circle of life". When we mash base malted barley, we are creating an artificial environment to activate the enzymes within the barley corns to convert the starches to sugars. Then we rinse away the sugars to create wort. When you buy malt extract, the malting company has already performed this step for you, then has concentrated the wort by removing some or most (liquid vs dry malt) of the water.
How does this relate to a partial mash? Another great question. By using base grains and "mashing" them for a period of time, we are creating natural wort that will contribute a substantial amount of the fermentable sugars for our brew. We will supplement those sugars with malt extract and specialty grains for color and flavor characteristics.
The Partial Mash Process:
A partial mash begins with properly crushed grains. Most partial mash recipes use 3 to 4 lbs of a base malt or combination of base malts such as pale, pils, munich, or vienna malt. Also crush the specialty grains for your beer and include them in the "grist". Crushing the grains requires a grain mill. Most homebrew stores will crush the grains for you for a nominal fee when you buy them.
A specified amount of water is used to soak the grains. That water needs to be heated to a temperature that will stabilize downward when the room temperature grains are added. The idea is to get the "mash" to the optimum temperature for conversion of the starch to sugar, i.e., the activation of the enzymes within the malted barley corns. The water to grist ratio that works best is about 1 to 1.25 QUARTS of water per pound of grain. So if you have 4 lbs of base malt and 1lb of specialty grains in the grist, you need enough water to mash 5 lbs of grain. In this scenario you need 5 to 6.25 QUARTS of water. Note this is QUARTS of water, not gallons.
The temperature range needed to mash grains today is called the saccharification zone. Today's malts are generally highly modified (we'll talk about that another day too) which means that they can be mashed in a single step mash called a single temperature infusion mash. Wow, thats a lot of stuff! Not really. It means that the mash needs to be stabilized to one temperature and then left alone to convert. The temperature in which the enzymes are active for conversion (sacchrification) range from 144 degrees F. to 160 degrees F. There is a discussion on enzymatic activity that could take several hours to write and days to discuss. We're not going to worry about that today, just that below 152 degrees means lighter drier beer as the wort is more fermentable (light lagers) and greater than 152 degrees F. means thicker sweeter wort that is less fermentable (english and scottish ales). I like to mash in between 152 and 154 Degrees F for my ales. In order to achieve that termperature, the strike water, or the 5 to 6.25 QUARTS of water need to be heated to 168 degrees. Putting 5 lbs of room temperature malted, crushed barley into 6.25 QUARTS of 168 degree F. water should stabilize the mash temperature to 152 to 154 degrees. The temperature change created by the room temp malt will adjust the temp about 14 to 16 degrees F.
Soooooo, put the proper level of water into the smaller pot and heat till you bring that water to 168 degrees F. Methodically stir in the crushed grains. Stiring will cause the loss of heat too, so work steadily and quickly. It is important that all of the grain be wet with no dough balls. They are bad as they won't convert and your sugar yield will be lower. Once all of the grain is stirred in and wet, check the mash temp (floating thermometer). It should be about 152 degrees and look like chunky oatmeal.
The OVEN:
I know you remember the oven being mentioned the other day. Well, now is the time to use it. Did you know that your household oven is probably calibrated to be 150 degrees when set on its lowest setting? It is. Take a pot of water and place your floating thermometer in it. Put it in the oven on low and check back in 30 minutes. It should be 150 to 155 degrees F. Before you mash in your grain, preheat the oven to it's lowest setting. After you have mashed in, put the lid on the mash and place the entire pot into the 150 degree oven. Set the timer for 60 minutes. The enzymes will convert the starches for you while you wait.
Congratulations!! If you followed these instructions to the letter, you have just partial mashed grain. See, it isn't rocket science. You're just soaking grain in hot water...........but, there is a lot of science that is happening. This is not the forum for that, as all I am trying to do is give you reasonable instructions to succeed. To get more science, I suggest reading the vast amount of literature that there is out there on mashing. Be forewarned, some of it is VERY technical and hard to follow. Good Luck.
In part three, we will explore what to do after the 60 minutes is up. You have to extract all of the sugars you can from the grain. We will look at how to do that in the next installment, and then how to proceed making your partial mash beer. See!! I told you it wasn't that hard......
Have a great weekend, drink many craft beers, and enjoy your family and friends.
Mark, The Brewer, and becoming beer geekier by the hour........
Thursday, November 13, 2003
Jefe's Football Game Day Dilemma........Partial Mash Part 2....
It has come to my attention that my main man Jeff has a huge decision he must make every Saturday. Jeff is from Nebraska, so as you may have already gathered, bleeds red and white on every Saturday from September through New Years. Well, unfortunately for him, he lives smack dab in the middle of SEC and Big Ten country. Getting a Big 12 game of any kind on network TV is kind of like kissing your sister. It just isn't done. So he is faced with the question of "Should I shell out the $12.95 to $19.95 for the PPV of the Nebraska game every week?". Now, I know he agonizes over this decision every time it comes up. $19.95 is nearly 2 1/2 cases of Keystone Light, and well, you know......The other alternative is to go to a sports bar with satellite and beg the TV dude to hook up your game. Most places are very accomodating in that respect. Well, here is the decision point.
Pay Per View = $14.95 for game. $10 for beer (1 6-pak of craft brew and a 12-pak of Keystone Light). $10.50 for the pepperoni pizza from Pappa John's after the game when you suddenly realize you've downed at least 9 brews and hadn't eaten. Lay on the couch, belch twice and fall asleep watching some no account pac-10 game on Fox Sports. Total = $35.45 Danger Quotient = None Impact to Health = Minimal
Sport's Bar = $65 Bar Tab, Mostly Draft Beer. $15 for the gonzo appetizer plate filled with multiple collesteral enhancers. $8 for gas as he lives way out and must drive at least 15 miles to be anywhere. $750 for attorney and fines to get out of DUI while driving home. $21 cleaning bill after spilling a full pint of amber ale on the person standing in front of him (white shirt naturally) after a Nebraska Touchdown late in the game. Get home after midnight and still not be able to sleep. Eat everything in the house, fall asleep in an awkward position in the easy chair at 2:00 am and wake up on Sunday with a stiff neck and a headache. Total = $859 Danger Quotient = High (opposing team fans outnumber you, conversation with police officer after being pulled over, etc, etc.) Impact to Health = Great, given potential for having to sleep in jail and the other improper sleep posture problems this situation will promote.
As you can see, once you run the numbers, the choice is quite easy. The PPV solution is the best one for just pure game watching. However, if you are adventurous and money is no object..........
Partial Mash Part 2:
When we left off, we were hunting up some additional equipment that we might need to complete our equipment list for a partial mash. What? You haven't found all of it yet? Oh, OK. Well, I guess we'll give you one more day (today) to get everything together. Tune in tomorrow as we will (I really promise this time) continue with our partial mashing lesson.
See Ya, Bottoms Up, Refill, Repeat, Go Big Red, Go Mountaineers......
Mark, The Brewer, and opter for Pay Per View every time............
Wednesday, November 12, 2003
The Reason We Brew Revisited........Verdict on the Stout.......Postponment of Partial Mash Part 2
That wacky island hatted, cigar smoking, pirated, and parrotted one has e-mail responded to the key question at hand. I hope you all enjoy his reasoning as much as I did, and you know.....he might just be right.....
November 11, 2003
Hi Sunny Draft,
IE, Mark the brewer, IE, President and CEO of IMHammered Brewing Co., this is Papa draft the Pirate man himself. Sitting here reading your ponderings on this magnificent invention called the computer. The question you seem to be pondering "why do I like brewing so much", alas the time has come when I must answer the question for you---It goes way back to your Grandfather and Great-Grandfather, who a few years after the depression, in order to have a great libation ,which you are trying to duplicate, they had to brew it themselves.
You talk about the anticipation and excitement of brewing day, well I can remember that, it all started when I was a toddler. I was about the size of your baby draft, in the basement, with a wonderful invention "the electric light overhead". This is what made all the rest of this story possible. In the evenings after a hard days work, G.Grandad and Grandad Draft would meet in the basement, get out the hidden 10 gallon stone crocks, go over their inventory, getting ready for the great brewing session. Light heartiness was always in the air and I, just a small child, hardly able to see over the top of the 10 gal. Crocks as they were being prepared.
Water was heating on the kerosene stove, a modern invention of the time, the malt cans were opened and the special sugars were prepared. When the water was ready, it was poured into the crocks, the malt stirred in and the sugars added. Other secret ingredients were added to give this mixture a special taste and kick to this wonderful brew. I can remember putting my nose on the top of the crock as they stirred, giggled and tasted this dark brown, caramel colored mixture. Then came the yeast, at the right moment, the lid was slid on and the crock put into a special place to be watched until G.Grandad deemed it was bottling time.
Another day of great excitement was about to begin. G.Grandad, Grandad, Grandma, the whole family of drafts showed up in the basement for bottle washing time in the old galvanized tubs. Oh how the soap and rinse water did fly. It was now time to start bottling. With the hose from an old hot water bottle with medal water shut-off, this was our siphoning hose. Then the assembly line begins, sugar in the bottle, bottle filled, bottle capped and put away on the shelf to age. We pray for no explosions as it could be we bottled it a little soon. As you can see, our way of brewing at that time was pretty primitive compared to the fancy equipment you use today. As I got older, my urges wanted to brew more and more as Mama draft will attest to. My homemade brew was very popular with my fellow workers. My car represented my fancy bar, not like yours today. Pouring my brew was an art—pouring with a steady flow clear to the bottom of the bottle watching the yeast sediment, making sure none of it was in the glass. Always desired a clear glass of beer with a nice head on it. Not everyone wants to brew beer but those who do have a passion for more beer. What I am about to tell you is that you were born with the family brewing gene, IT'S IN YOU.
Ps------Place this in the archives of the IMHammered Brewing Co. vault as one day you might have to explain to Baby Draft why he has this insatiable desire to brew beer and cannot understand it all.
Give "she who has to be obeyed" and baby drafts a hug and kiss from me. This has made the old Pirate Man thirsty and I will have to resort to a Black & Tan and one of those Madura cigars with the black, oily wrapper to quench my thirst. I will show up at your door when you least expect it, roving thru your humidor to find one of your best cigars and sip your newest creations.
Love,
Poppa Draft himself
IE the Pirate Man
Well, there you have it......I never knew "The Rest of the Story". Parrot Man, rest assured the entire Draft family will get the afore-mentioned hugs and kisses from you, and the door to the bar and the humidors is always open to you. Do you still have those crocks????????? It's amazing that the older I get, the smarter he is!!!!!
Verdict on the Stout:
The stout is kegged and the Amylase Enzyme did the job. Finishing gravity is 1.014 with an ABV of about 5.8% I tasted the gravity sample (naturally) and it tastes like stout!!! It's in the kegs and carbonating as we speak. I think we've made it work. Thanks to Jim at Country Wines, we couldn't have done this without his help (see the link and click on it).
Partial Mash Part 2:
We will continue with the Partial Mashing saga tomorrow for those of you just tuning in to get that information. Sorry, but you have to remember, I run a brew pub and web site part time and have a real job that I have to do on occasion as well. It will be worth the wait.
Bottoms up, refill, repeat......
Mark the Brewer, and Enlightened about the Family "Secret"
Tuesday, November 11, 2003
Learning to Partial Mash, Part 1......
The progression of brewing technique moves from all extract brewing to brewing with extract and steeping grains. The upgrade in your beer by moving to using steeping grains for color, flavor, and texture are greater than you can imagine before you make the switch in technique. The next great progression of brewing technique is to a partial mash brew. Partial mash will teach you about some of the more intricate science of brewing, is easy to switch to, will give you decidedly more control over your beer, and serve as an easy to do and understand introduction to the world of all grain brewing. The best part is that you probably have just about all of the equipment that you need already.
In a partial mash, you will still use the specialty grains to extract colors and flavors for your beers. Because specialty grains are often highly kilned or dried, they do not add much in the way of fermentables to your beer. In a partial mash beer you will also use a quantity of base grain and perform an actual "mash" to convert starches in the base grain to fermentable sugars. By deriving a portion of the fermentable sugars in your wort from base grain, you can now not only have more control over the finished product, but also use some of the more flavorful base grains like munich and vienna malts to make your beers. Once you begin using these types of malts in your brews, you may never make beer with only extracts again.
Partial Mash Equipment:
You will need two pots one of which is at least 5 gallons, but preferably 7 gallons, and one that will hold at least 3 gallons. You will also need a large colander that preferably will sit on the top of the big pot. If not, you will need a brewing partner. You will also need a stainless steel strainer and access to an oven that the smaller pot will fit into. If you are using the 5 gallon pot for boiling, you don't need to move from the kitchen, but if you are going to
full wort boil
in the 7-gallon pot, then you may need to get an outdoor propane cooker. Most kitchen stoves do not provide enough BTU strength to bring 6 gallons of heavy liquid to a boil. I also recommend investing in a small wort chiller as well. It made a huge difference in the cooling process for me. If you do not have access to an oven, there are other alternatives. E-mail me if you need additional details. You also will need your floating brewing thermometer and a third pot that will hold at least 2 gallons.
If you are interested in this method of brewing, go home tonight and inventory your equipment. In part 2 we will explore a little bit of science, learn about how to get fermentables out of the grain, how to scale your recipe to hit your target gravity, and review the procedure to get the partial mash going. This method is fun, is a new challenge, and is in my opinion the best introduction to all grain brewing that you can give yourself.
Sooooo.....tune in tomorrow at the same bat time, same bat channel for part 2......
Mark, the Brewer, and was shocked at how easy this was to do the first time............
Monday, November 10, 2003
Kegging Stout and Miscellaneous Meanderings........
Today will be a monumental test. Today is the day I finally keg the stout batch. You may remember the batch that was temperately challenged a couple of weeks ago. Well, the amylase enzyme did it's thing and the batch worked pretty good for another 4 days or so after it was added. It has been quiet now for about 3 days and I am going to go ahead and package it. The ending gravity will be the big test and if we got another 10 to 15 points of gravity reduction, then Houston, we have ourselves a successful launch!!! Tomorrow will also be a great day as the amber beer will get it's first transfer to secondary. HHHMMMMM, time to brew again real soon. I might be feeling a tad arrogant......
Dis and Dat:
As you all know, I am quite metaphorically challenged as I often make extremely lame references to old television shows and movies in my assorted meanderings. From time to time, I wish I was back in that world, but we must all live in the now. This is too funny to not give you. Michael (my IT Geek and official self-appointed keg kicker/beer tester) was over last night to, well, kick the Angry Dog Keg and taste the new version of Jefe's Wheezin' Bavarian Wheat....and to watch some of the late football game (timing is everything). Well, we adjourned to the big screen in the den to watch. My den has these real fancy hewn wooden log cross members in it going across the cieling. Or one might think they were. Actually they are made of a foam type material and are not wood at all, but they really do look real. Anyway, we are sitting minding our own business watching the Rams deflate the Ravens when this loud crackling noise happens. We look at each other and say, did you hear that. Then there was another one and it was directly overhead. Our first thoughts were, oh no, the cieling is coming down!!!!!!! Then there was a third loud crackling noise. Michael bailed out of the chair and the room faster than a speeding bullet. He might have even taken a lap around the house he was moving so fast. I was stuck in the corner and was hoping for the best. Well, one of the fake beams fell down as the glue was finally so old and dried out that it gave way (they have been up there probably for about 30 years). We laughed pretty loud after we cleaned out our pants and got our heart rates back down to only double normal. It isn't anything that a little liquid nails can't fix....... What?......How is the Jefe's Wheezin'? Real good!!!! We poured it next to a Saranac Bavarian Wheat out of the bottle and side by side they were hard to tell apart. That means we nailed the color. The aroma's were a little different with the Saranac leaning toward a spicy clove aroma with Jefe's having a more pronounced banana ester. Taste you ask? The Saranac was more tart and a little thinner with a nice spice character and a clean dry finish. Jefe's had more body and a little sweeter palate, but then came a hint of tartness imparted by the wheat malt and clean dry finish. The consensus of the panel (Geek, She who must be obeyed, and me) was that both beers were very good. The other panel members had at least another Jefe's before calling it a night.......Football was great this weekend. The college games were fantastic with most of our local teams excelling again. Next Saturday is the annual Back-Yard Brawl. I can't wait for that one. Even the "Stillers" won a game. There is joy in Yinzer' Land......
Have a great week and check back often. Don't forget to email your questions or comments on the link above.
Mark, the Brewer and seeker of great metaphorical utterances.......
Friday, November 07, 2003
Why Do I Brew.......
I've often asked myself this question. In the early days it smelled up the house (kitchen brewing), made a mess, and generally got me in the dog house. Some of the early beers were, well let's just say they tasted similar to beer and leave it at that. There were a lot of reasons to just fold up like an old broken lawn chair and "bag" the hobby for good. But there was something else about it that kept drawing me in. I can't really describe what it was. I still can't!!
Yea, I know, there is the quest for real beer. The proverbial American Standard Lager was becoming much less than to be desired. The tastelessness of it all. But there were alternatives out there. Sierra Nevada, Sam Adams, and many other craft beers were readily available to me to keep me from having withdrawal symptoms. No, there was something else....
I used to brew at night, often not finishing til well after midnight, usually when my wife was working and the kids were in bed. There was a solitude about it all. I knew that if I carefully and meticulously used the ingredients, followed the recipe, and paid very close attention to sanitation that I was making beer as good as any I could buy, and better than most you can buy. I could listen to music, watch the game, and relax with the kettle. I love the smell of hops and the smell of boiling wort when hops are first added. Seeing the beer emerge from grain the correct color and consistency gives a feeling of great accomplishment. Hitting the gravity target and knowing as you pitch the yeast that you have made a great batch of beer is most satisfying. It is almost a feeling of euphoria, like when Dr. Frankenstein brought the monster to life, and marveled in his creation. "It's Alive"!!! That is how I feel when I taste one of my beers for the first time. Brewing alone can be fun, but its not always what you want to do........
I guess brewing also fuels comraderie. I have several good friends that like to help (and drink good homebrew) when I brew. Michael has been a huge help on many occasions. Jeff has moved on to make several excellent beers on his own down at old Double Wide Brewing. Scooter loves the concept and I bet will someday take the plunge. Others are now intrigued as well. All are welcome too. We have had some really great brewing sessions of late. With the quest for good beer comes good people having a good time together, and creating a single item of focus. A blood line for the group that the group created together. The plasma of life. Well, you get the idea.....
I've met some wonderful people through brewing as well. One of my first brewing friends from back in Louisville, Ky is BrewMaster Mike. He could flat make some great beer. He once made a porter that he called Rock & Roll Stew. Wow!!!!!! It was so good it was inspirational. He claimed that he overshot his mash temperature and made this porter to dextrinous so it had a sweet hint to it. Well, his mistake was all of our gains because it was fantastic!!!! Unfortunately, after I left that beautiful city some 6 years ago, I've lost touch with him. But I won't lose the inspiration to brew that his beers gave me.
My dad loves to come up to the bar (see Parrot Pete on the Recipe Page). It was his vision and hard work that helped create it. In some ways you could say he is the I.M. Hammered Brewing Company's founding father. HMMMMMM, maybe we need a picture frame.......Anyway, he loves to drink the porters and stouts that I make (as do I) and maybe enjoy a cigar or two. And I say "what's wrong with that". Not a thing. And I enjoy making those beers so he can enjoy them.
Why do I brew? For all of these reasons and many more. It's easy to get started, easy to make good beer, and with some work, you can make great or even outstanding beer. If your thinking about giving it a try, do it. If you haven't thought about it before, I recommend it. There is great satisfaction in offering a glass to someone, watching them taste, and getting the obligatory "did you really make this" question because they can't believe that your homebrew is that good.
If you already brew, keep doing it and keep getting better with every batch. If you don't brew yet, you don't know what your missing and you should get off of the sidelines and into the game. After a couple of batches, you'll know why you brew, and you won't be able to really tell anybody the exact reason either........
Mark, the Brewer and part time Homebrew Evangelist.........
Thursday, November 06, 2003
IMH Fermentation Room Update.....Cameo Appearance at the Bar...
I gotta say that I like the strong fermentation that is going on with the Amber beer we made last week. It's bubbling like my son's bathwater after a dinner of franks & beans and has a beautiful blanket of Kruesen on the top. Both fermenters are working like champs and I'm looking forward to the end result. Both took off in less than 8 hours after pitching so this should be a great batch. As always, keep the fingers crossed and rub the fat man's belly where possible.
The Stout has just about stopped and I hope to transfer this beer to kegs by the end of the week. I'm hoping for the beer to have worked off another 10 to 15 points of gravity and given how hard it has been working, I think that is what we'll get. That will give us an ABV of about 5.5% to 5.8%. Wow, it'll almost be to Export Strength. Thank you Amylase Enzyme!! Now I'm getting thirsty!!! Stay tuned for the outcome of this. What a learning experience this has been. The chemistry involved is cooler than Antarctica in July!!!
You'll Never Guess Who Came to the Bar.....
Well, we had a cameo appearance at the bar the other night. You'll never guess who it was. We were graced by an appearance by the one, the only, Schpankie!!!! That's right!!! We couldn't believe it either!!! There was a light knock at the door, and there he was, the flowing robes, crew cut, glasses.....striking!!! Well, he came in, declared that he hadn't been there in a while, drank the brews we had on tap, said they were good, and left. Just like old times. Thanks Schpank. It was great to see you!!!
Finally...
Try the recipe I posted yesterday for the Holidays. It will make you a champ with the Family as most everyone will like it. I would brew it now to have it ready by mid-December. The brew grows on you and then sneaks up on you. Perfect for when you need to numb yourself from your house guests (both invited and un-invited). The other Amber ale is also a great holiday beer, big taste, big hop bite, just plain big beer. It makes for an interesting evening with friends and family if nothing else.
Mark, the brewer, and contemplating the Holiday Beer Lineup......
Wednesday, November 05, 2003
Recipe Day.....
Today is recipe day!!!! Click on the recipe link to see a great holiday beer that if you brew it now, it will be ready for the Christmas Season of imbibing. It is one that I'm sure you will enjoy.
Mark, the brewer
Tuesday, November 04, 2003
Angry Dog Amber -- The All Grain Version......
My wife thinks I'm crazy. Well, she's probably right, but what can I say about that? I was up at dawn on Sunday, yes that's right, I said Sunday. It is something that I can't quite explain. It's brew day and you have to get it all going. I used to extract brew at night, but all grain takes quite a bit longer so the early start is imperative. I felt like an 8 year old kid on Christmas morning, sitting at the top of the stairs at 4:30 AM waiting to be told it's OK to come downstairs.
I set up the system the night before so it was clean, in place and ready to go. I crushed the grain the night before. 20lbs of base and specialty malts just waiting for that hot water. I still had the temperature issues from the prior week freshly ingrained in my brain. Not today, a second thermometer was going to go right into the middle of the mash this time. The weather report was for a tremendous day ahead with nice moderate temperatures and the possiblility of sunshine. I was ready, the system was ready, the grain was ready, the yeast was ready, and there was nothing else left to do but turn on the water.
I fired the kettles up at 8:30 AM and watched the water heat. I mashed in the grain at 170 degrees F. The mash stabilized at about 155 degrees. I sealed it up and let it do its thing. One hour later, I did an iodine test and had full conversion. The tun lost maybe 1 degree the whole time and I even stirred the mash every 15 minutes. Excellent. I started to recirculate and was into that about 1 pitcher's worth when Jim from Country Wines got there (see and click on the link provided for excellent service, great products, and professional advice). The recirculation went well also and the wort even had the correct color and smell (always a good sign). If I could get past the "Sparge Monster" it might be a great batch!!!!
Well, the "Sparge Monster" stayed away and the sparge went perfectly with only minor flow rate adjustments needed. We methodically collected about 11 gallons of wort and added about a gallon of water to the kettle to make 12 gallons for boiling. The wort came to a boil very quickly and made a good hot break. The hops went in and smelled devine. It was turning out to be a very good brewday.
To make a story that has gone way too long already, shorter, the boil finished up without a hitch, we cooled with the chiller in about 15 minutes or so (got good cold break), transferred to the fermenters and pitched the yeast. Jim liked the system and liked the beers already on tap and we declared the brewday a success.
My thanks to Jim for taking time out of his day to stop by and check out the I.M. Hammered Brewing Co., and for staying till the wort was in the fermenters and the yeast pitched. He got the deluxe brewery tour. I also thank him for the tips and advice he has given. It has made getting this new system running much easier. The opening gravity was a little higher than we anticipated meaning we beat the efficiency estimate of 73% so the system is working well. It is a good set up and I look forward to making many beers with it.
In conclusion it was a fantastic brew day and the all grain version of the Angry Dog Amber Ale is now safely in fermentation. I am excited about that and can't wait to brew again. Yea, I know, it's a disgusting obsession!! But I like it!!!!!!!!
I hope all of you reading this get to brew and have this much fun real soon too.
Fill, Drain, Repeat............
Mark the brewer, and total brewin' fool..............
Monday, November 03, 2003
Salvaged Stout........and a Beautiful Fall Day
Well, the weekend was fruitful. We have saved the stout batch. I'm very excited about that. Using some great advice from our consulting professionally trained brewer, we added some amylase enzyme to the stout. Within minutes there was co2 discharge and 24 hours later the beer was working again. This is a good thing. That means that the enzyme went to work on the dexrin loaded beer that we had worked already. IF you remember a few days ago, we talked about our brewing disaster from our first all grain brew on the new system. Well, what we got was a highly dextrinous wort. The yeast fermented all of the fermentables, but only about 50% of the gravity moved. This enzyme worked to break the dextrin sugars remaining in the beer down into sugars that are fermentable. This has roused the yeast (their always hungry) and now the yeast is fermenting these new fermentable sugars. The beer will finish out, have it's full compliment of alcohol, and shoud produce that wonderful roasty toasty flavor of stout that we all love. Stay tuned for the results of that. That beer should get kegged sometime near week end.
Beautiful Fall Day
:
Sunday was a gorgeous day here in my area of the northeast. I can't tell you how nice it was, or maybe I can. Well, it turned out to be a great day. We brewed our second batch on the new system. I'm not going to give the details of that today, you'll have to come back later in the week to get the bubble by bubble account of the brew day, but I can say that we didn't have the problems we encountered the first go round.
As for the day, it was 75 degrees and partly sunny most of the day. The kids had a ball and ran like wild dogs from 9:00am til we made them come in the house. How picture perfect is this, saved the stout, had tired kids at their bed time, and brewed another beer. I now have 20 gallons of beautiful homebrew bubbling away in the fermentation room. Now that's what I'm talkin' about.
Have a great week!!! Brew the beer, drink the beer, be, the beer!!!
Mark the brewer, and the guy counting every bubble that comes out of the airlock.......
Sunday, November 02, 2003
Support Your Locals....
Well, a beautiful Sunday is upon us and that means Football can't be too far off today. But before you settle in with a cold one to watch, let me ask you a question. What is your cold one?
I hope that where ever you are in this great land, you are hoisting a brew from a local craft, regional, or brewpub. You see, without your support, these great beers might disappear for good. In my area an outstanding brewpub that has won numerous awards for their beers recently and suddenly closed. This pub made one of the finest wheat beers you have ever tasted and the brewer was well acclaimed in the brewing circle and well decorated from competition. What happened you ask? I have no idea, but my guess is what happens to all places that close, they weren't making enough money!!!
Now, I am lucky as I have two regional brewers and a couple of brew pubs in my area that are fantastic. In fact, I can't wait for the seasonal offering of the St. Nicholas Bock from the Pennsylvania Brewing Company. It is one of the best brews I have ever tasted and seems to get better every year. I try to frequent their on premises pub whenever I get a chance, buy kegs for my home bar several times a year, buy cases of the seasonal offerings, and the annual brewfest is a must attend if you claim to like beer!!
The bottom line is, you have to participate. Buy the bottled/kegged product where available, visit the pub, and most importantly be a brew evangalist. Tell everyone you know how good the beer is to get others to partake as well. The evil three (Bud, Miller, and Coors) will do everything in their power (legal or not) to squeeze the little guy as much as possible and get their taps on line and in your face. Don't let it happen. Fight the good fight. Anything worth having is worth fighting for, and I want my craft beer. I hope you do to!!!! So get off the couch and go to your retailer and tell them what you want. Buy it! Drink it up! and Repeat!
Mark, the Brewer and lover of fresh craft beer.........
Saturday, November 01, 2003