In case you are wondering, I.M. Hammered Brewing is:
Mark
-- Head brewer and drinker (brewer of over 65 batches of extract and all grain brews, drinker of many thousands of bottles and pints of beer), CEO and President of the finest Nano-brewery I know of, head bottle washer, and sanitation engineer
Liz
-- Vice President in charge of bar decorating, keeping me from becoming too fanatical in my brewing habits, and is also known as "she who must be obeyed"
Michael
-- Brewhouse assistant, equipment consultant, Chief IT Geek and self-appointed Official Beer Taster (great work if you can get it)
Schpankie
-- Newest convert from fizzy yellow water to finely crafted beers and ales, adds little value to the brewhouse, but we like him anyway
Scooter
-- The gas man (and I mean that in the kindest of ways) bringing propane and co2 when needed, also has keen interest in the brewing process
Knuckle Jefe
-- Newest convert to brewing (has four batches under his belt), has began a start up nano-brewery in Kentucky known as "Double-Wide Brewing" with the catchy slogan of "double wide beers at single wide prices". Boy has a brilliant future in marketing. IMH is helping with equipment in the start up. We all work for beer, then again, why wouldn't we.
Parrot Pete, aka, Pappa Draft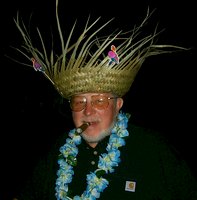 -- Bar designer, humidor raider, label celebrity, and Just because he should have been on the list the whole time.
We hope to make this site fun and informative and look for outside input, or inside output, whatever works.
Tuesday, December 19, 2006
See, I'm still Kicking.....A Year of Beer.....Brewmaster Update.....Get Well Soon.....What's Brewing...
Kicking: Yea, you can't get rid of me that easily. I'm still kicking and going strong. I know it's been a whole year since anyone heard from me, but that's just me recovering from web site burn out and working way too hard. That doesn't mean that there hasn't been brewing activity and more sampling and learning about the brews that are out there. That activity has continued, I just haven't been very good about attending to this web site. But it is still here and still active, and so am I. So here's to beer, and especially the brewing of great beer. Now, on to the rest of the information of the day!!
Year of Beer: There have been so many good beers going through here, I can't even begin to tell you. I am brewing very good beers these days, some say comercial quality at times. These brews have been great and fun to brew. There have been porters, ESB's, Kolsch beer, wheat beers, stock ale, pale ale, IPA, stout, Alt bier, strawberry blonde, cream ale, and more IPA. All of these brews have been very good and end up being DLL's (don't last longs). The brewing system has been very good to me and I have been experimenting with some malts from different malsters. Marris Otter from Munton's, Crystal malts from Weyermans, Durst malts, and others. Then there has been the yeast. Experiments with various yeasts has yielded new and better brews nearly every time out. I have even used yeast harvested from a new local brew pub (more on that in a minute) and have some special Belgian yeast from there waiting for a wort!! And the new commercial offerings are becoming too good, and too numerous to stay up to date with. Beers from Troegs such at Nugget Necter, and Victory Brewing such as Hop Wallop and 10 Year Alt have been nothing short of spectacular. Even old favorites have been getting tweaked and are getting better and better every time I try them. Favorites like Penn St Nicholas and Pyramid Snow Cap just keep getting better and better every time I drink them. The selection seems to continue to grow and grow. Then we have the sad news of breweries of repute changing hands, or selling off brands. The death of brewing in Old Latrobe with the sale of Rolling Rock to the Evil Empire, and Pittsburgh Brewing Company on the verge of being gone forever. Also, there have been some new adventures with Belgians and some of the upstart brewers out there like Dogfishhead, Southern Tier, East End Brewing, and one of my personal favorites, Hereford and Hops. Yes, it's been a big year of beer, and I look forward to brewing my way through 2007, hopefully documenting the I.M. Hammered Brewing Company's 100th brew day for example. It's going to be a great year for beer......
Brewmaster: It became official during 2006. Yes the Steelers won the Super Bowl and WVU became the Sugar Bowl Champions in college football, but that's not what I want to chronicle here. A good friend and fellow brewer documented in many of the archive pages here is making good and will soon be a decorated medal winner at the GABF or World Beer Cup as the new master brewer at Hereford and Hops. Jim Lieb, who is responsible for several of the great recipes served at IMHBC, is the brewmaster at Hereford and Hops in Cranberry, Pa, and is already wowing the beer drinking community in the area with fantastic beers. The IPA is as good as you will find anywhere. The ESB was authentic and just a joy to sip. A Begian Golden and a Barleywine (which I was fortunate enough to taste twice during fermentation from the tanks in the brewery) are going to turn some heads. Even the "crossover beers" that the pub produces to turn the Bud Light crowd to craft beer are well made, easy to drink, and emminantly enjoyable. Jim has a brilliant future in the industry and his beers are already a roaring success at the pub. If you haven't been there yet, shame on you, and if you have, then you already know what I'm talking about. Good luck Jim, and keep on producing these great brews.
Get Well: I would be remiss if I didn't mention a couple of people that we love very much and hope that they get well very soon. Lizzie's grandmother Nellie is in Chicago fighting her illness and we wish her the best and hope that she gets well soon. Also, one of my favorite people in world, my Uncle Nelson is also about to challenge his current condition with a vengence. Nelson is a frequent visitor to the pub and a big supporter of our brewing efforts. We wish both of these very special people our best and you are both in our prayers. Get well, whatever it takes, get well!!!
Brewing: Yes, there are brew days on the horizon. As mentioned earlier, I have some Belgian Golden yeast thanks to Jim, and I can only hope that I make a beer with it that is even remotely as good as the Belgian Golden he is currently serving at the pub. I also have the famous Pacman yeast proprietary to Rogue brewing company. I am going to make the Rogue clone of some repute and hopefully harvest it for another beer immediately after that. Can you say imperial IPA?? I knew you could. These two brews should be quite good for the "cold season" that we are about to enter. The I.M. Hammered Brewing Company should cross that 100th brew milestone this year. It has been an interesting trip to get this far, but the art and science of brewing continues to fascinate me as much today as it did when I first embarked on this journey many years ago. Thanks to everyone that has been so nice to tell me that the beers are good, even when I wasn't so happy with results. I hope that everyone who ever visits the pub or the site has a happy holiday season and healthy and prosperous new year.
Finally: I will be more active on the site. Come back often. I have so many good all grain recipes to post that I could spend weeks entering them. I also have reviews and other brewing knowledge to impart. If I can get one person interested enough in the hobby to brew regularly, I will consider my ramblings an unqualified success. Here's to a great year of beer passed, and a great year of beer upcoming. Happy Holidays to all.
Mark, The Brewer, and feeling good about being active on the site again....Drink Craft, and support your local brewers as much as you can. They really do make great beer just for you!!
Sunday, October 16, 2005
Where Do I Begin.....Successful Brew Day......A Moment About Football......Next Brew Day.......
Where:
Another week goes by in a whrilwind fashion. The older I get the faster time goes. I'm guessing that it isn't just me....Anyway, it has been a big week and I am already making bad on my quest to post more often. Shame on me....Beer season is upon us and the hunt can already begin. With October half over the quest for fest beer is really great. The selection is better than I have seen in years including a myriad of choices from our crazy German friends from overseas. The selection from there alone is about 14 or so brewers here in Pa. It might even be better in other areas. I love fest beer personally, and i say, the more the better!! Christmas beer will be here before you know it. Take advantage of this situation because the beer is better than ever. Clearly the craft industry has shaken out and only the best of the best are left, and I might add, that they are very good. I can't wait to see the Christmas beer selection and I'm going to make my list real soon.......
Brew Day.....
We had a very successful brew day last week. The beer is going to be a fest grist with an alt bier type of yest. Alternafest...yea, that's the ticket.....a nice looking copper color, lots of munich malt, a touch of crystal and a pinch of special B in the grist with all hallertau hops. Only the yeast can make this not be a fest.....or can it. Only time will tell. That's what makes brewing so much fun. Anyway, the brew day went flawlessly and the beer had fermentation in about 4 hours or so give or take. A nice starte of Euro-trash ale went into it and voila, a fest beer sort of.....Stay tuned for the tasting.....
Football:
In case you have been on line on a desert island or something, in case you haven't noticed, it's football season. Not just another reason to drink beer this year either. My WVU Mountaineers are 6-1 after a classic win against a tough Louisville team. It puts them in the drivers seat to win the Big East conference. The Cards on the other hand are finding out that it ain't easy to step up in class, and that these other team really can play football. The Steelers are also off to a decent start though they had a little stumble today with several regular starters out of action. Hey, that's the NFL. Trust me, the cream generally always rises to the top in this league. Notre Dame gave USC all they wanted and the college football in general is really good this year. Yep, football season is ready to go down as one of the best in years, and it will get us through to the real hockey season......but that's another story for another day.....
Brew Day:
I got the brewing bug. There is another brew day coming very quickly, and I can't even tell you about it. It's a big secret and you'll just have to stay in suspense on this one. Let me just tell you that it will end up being a real good thing. And brewing is always a really good thing....
Now get out there and get some great fest or Christmas beers soon, and support your local and regional craft brewers. You'll miss them when they're gone if you don't.......
Mark, The Brewer, and letting the quest begin..........
Tuesday, October 04, 2005
Beer, Beer, Beer......New Brews......Brewing a Belgian......Pub Update......
Beer, Beer, Beer:
Okay, I know, its been a while since you have seen or heard my smiling face. I can't help it. It's been crazy foolish outrageous in our lives the past 6 months, really the past 9 months. This isn't an excuse, just the way it's been. Now, that means that I haven't done a very good job of keeping everyone up to date on all of the beer!!! And there has been some good ones too. Summer means that everyone who used to make the obligatory wheat beer has started brewing the new obligatory beer, the Wit Bier. Sounds crazy, but I saw more versions of this type of brewing than I have seen in a long time. Good news for lovers of the style. The fest beer season is already upon us, and yep, lots of those too. I'll have to give the lowdown on the Penn offering another day. To make a long story shorter, it has been quite a year of beer around the ole' craft brewing corral. Go get some!!!!
New Brews:
I have made a couple. The brewing has included ESB, Kolsch, a preprohibition style ale which is really like a heavy cream ale type of beer, a special ale that resembles a vienna lager grist, but with light handed hopping and ale yeast to finish it. And there is more to come too. I am looking at a recipe to brew for an octoberfest type of grist to be hopped with german nobles but will use an alt beer strain of yeast. I will be brewing a holiday stout (probably at XX), and of course the wonderful Parrot Pete's Porter. Fall brewing season is in full swing and look for at least two brews per month from now until, well, until I get too tired of brewing at least 2 beers a month......
Belgian:
Speaking of brewing, Jim and I have concocted a Belgian style Saison beer and we brewed it last week. We even used about 3 lbs of rye in a 10 lb batch. Everything you have ever heard about sparging issues when you brew with rye is true. Unbelievable. I thought we were going to be here about 4 hours trying to sparge the batch. We finally got it going and kept it going, but suffice it to say, it is the pain in the tuckus that you always heard that it was. Nevertheless, this beer is really coming along and I am looking forward to bottle aging this puppy for a while and breaking out some bottles for the holidays. At an opening 1.062, this one might be a real good beer. I tasted the green beer at racking and it was already developing some intersting flavor highlights. Stay tuned as I believe that Jim has put together a great recipe that will be duplicated again later (more on that to come). We even put a couple of ounces of Jim's home grown Perle and Fuggles hops in this beer. I'm excited about the prospects of the finished product here......
Pub Update:
Finally, the beers on tap at the pub currently include Das Boot(y) Kolsch Style Ale, and Old Timer Ale, a preprohibition ale. The guest tap is Yuengling traditional Lager (imagine that), and there might even be a couple of surprises in the fridge. More decorations are up and we are going to have to get some updated photo's of the pub posted as well. The place is starting to take on a life of it's own, and I like it like that. As far as my man Jim is concerned, he will be starting a professional brewing gig at a new pub going in nearby called Hereford and Hops. He is going to be the head brewer and is really excited about the opportunity to show just how good a brewer he really is to the world. I have already volunteered to be the beer tasting guinie pig if needbe and also volunteered to pilot any recipe he might want to test brew. Hence, we have brewed a saison just for this purpose. This one might just get his name on the craft brewing map!! Regardless, it is nice to know that one of our favorite pubgoers and a great brewing partner have made it. Good luck Jim from the whole crew at I.M. Hammered Brewing Company!!!!
Remember, drink better beer, and support you local and regional brewers as much as you can!!
Mark, The Brewer, and happy to back brewing again on a regular basis.........
Sunday, August 28, 2005
Happy Birthday To Me....It's Been A While....The Beer Is Here....New Brews Update....
Happy Birthday:
I am in day 3 of my weekend birthday celebration. I don't know exactly why I'm in day three, but by now, I really don't care much. Everyone has been so very nice to me the past couple of days, that I feel like $20 dollars. I know, everyone is shocked to see that I am actually posting here, but more on that later. At the end of the day, I am giving my 16 try at being 29 as of tomorrow. You would think that I could get it right by now. I'm guessing however, that it will be several more years before I finally get that 29 thing going the right way. Wish me luck!!
A While:
I haven't posted since April. Yea, I know, your first thought is that I've become a lazy slug. Even Barry is standing behind me giggling at the notion. It has been a wild and crazy year. No excuses, but there have been some extenuating circumstances that have prevented my posting, including total web page updating burnout. For those of you who have been suffering from withdrawal symptoms, I apologize greatly. I know that you have a hard time coping with life without words of wisdom from me, and that you are hurting badly from not reading my witicisms on a daily basis, but to bad. No, I should be back now for a long time to come. The reason for the hiatus is not really important, let's just say, it's all good now (which is a She Who Must Be Obeyed saying). It's good to be back, and look for more in the future on a regular basis......
The Beer Is Here:
And I do mean here. We have still been enjoying some good brews at the pub. The IPA has been fantastic and in between we have enjoyed an ESB and some other goodies. The guest tap has been rotating various regional light beers as it has been one of hottest summers I can remember. Unfortunately, those are the ones that satisfy the most in the hot weather. It is coming up to high brewing season, and I am looking at an agressive schedule. In fact, I have already been brewing with more dates already scheduled, but more on that in the next segment. One highlight was last nights tasting of this years Penn O-fest. It is nothing short of phenominal (as usual). The case we had was extremely bad, and we properly punished it last night. I know, you would expect no less from the members of the pub club. Another highlight was the Nitro Ranger T-Shirts that Nitro 4 provided the group. Many thanks to him for his thoughtfulness on the design, though I'm guessing that several copyrights were probably infringed (probably not for the first time either). Nitro 4, we salute you. Look for more tasting information coming soon as we are moving into the fall season of regional and craft specialties. That's what I'm talking about.
New Brews:
I have two beers that I have brewed that are now in various stages of readiness. The first is a Kolsch. I have never done one. This is kegged and awaiting it's turn on line (next) and tasting of the finished beer at packaging indicates it could be very good. The next is a great experiment for a historic type of beer. I made a pre-prohibition ale. What a nice recipe and it looks fantastic so far. I will post more information on both of these brews later on. There are many more on the way this fall as I look forward to getting into several places I've never been in the brewing spectrum. Stay tuned.....
It's great to be back!! Be sure to tune it to see more fun, beer info, and other tom foolery as the IMHBC web site is back active!!
Mark, the brewer, and back in the saddle again.........
Monday, April 04, 2005
Change Is Coming Soon....Next Brew....More IPA News....Opening Day....
Change:
It happens all the time. One of the lines for the IMHBC products is about to open up. Nitro Ranger Stout, the first addition anyway, is about to tap out. The keg is very light and I'm guessing one to two pints are left tops, if that. Not to worry, I have a very special keg ready, chilled, and waiting it's turn on the tap. That's right, Parrot Pete's One Particular Porter is about to take center stage again. It is waiting patiently in the cooler for the taps to be attached so it can start running into the glass. I'm kind of looking forward to that day too. It won't be long, maybe even today......
Next:
Believe it or not, I have nothing fermenting anywhere in the house. What a crying shame that is. That means it's time to schedule another brew. I just got he latest
Brew Your Own
magazine, and it has a clone recipe for Fuller's ESB in it. It is very similar to the ESB I generally make except the hop types are a little different, and the beer recipe calls for flaked maize adjunct. I have always made my ESB with all barley malts, but I am not averse to adding a little corn to the mix to make this clone. I might have to adjust some of the hop additions, but generally speaking, I've been making an ESB all along when I make the Angry Dog Amber (not that I didn't already know that of course). This looks like a nice recipe for the Fuller's clone and deserves some attention. There were a couple of other recipe's in this addition that look pretty good too. So many beers to make, only a couple of fermenters and 10 kegs (as if that is so few that I can hardly keep anything in stock). Speaking of next, there are a couple of exciting beers waiting their turn in the "box". The For Whom The Bell's Tolls pale ale is now carbonated and can go on line at any time. The IPA To Be Named Later, is now primed and kegged and conditioning even as we speak. More on that in a moment. I hope to get an ESB brewed in the next week or so and then it will be time to get some of the summer brews made so they can be ready to go when the weather gets warmer. Yep, a brewer's work is never done.....
IPA:
Here are some additional statistics on the IPA I just kegged. The opening gravity was 1.064 with an ending gravity of 1.012. This makes for about 6.63% ABV. The color is a dark golden to a light amber. There is nice hop aroma and the taste test of the gravity sample yielded a nice clean assertive bitterness with a nice malt backbone. Waiting for gas to just verify it's as good as I think it is. Stay tuned for more on this beer in the coming months.....
Opening Day:
Last night maked the start of the 2005 baseball season as the Yankees hammered the Red Sox in a rematch of last years playoffs. The big different was that this was the first of 162 while last fall it was lose and go home. If I was the Sox, I wouldn't fret too much about last night's loss. My beloved Pirates begin another year of futility today at 1:35. Though there is a lot to like on the team this year, there are some real glaring holes in the team that are currently plugged by journeymen and pseudo major league ballplayers. Not to worry, I still have my share of tickets as a partial season ticket holder, and I have come to realize that I am a baseball fan first and a Pirate fan second. It is that mentality that keeps me going to the ball park. I have tickets to see some of the best teams and players in the game today. That is worth the price of admission whether or not the Pirates win. When they do, it's a bonus for sure. They will be competitive because they do have some real quality young pitching on this team, as well as an experienced good bullpen. The pitching will keep them in games a lot this year, it just is a matter of can the offense provide enough pop to win some games. Sadly, probably not. But it will be fun to watch none the less. Let's Go Bucs......
Oh, and enjoying a couple of fine Penn Brewing products at the ball park isn't such a bad thing either.....
Mark, The Brewer, and hoping to enjoy a couple of cold ones while watching the Buc's on TV later today.......
Saturday, April 02, 2005
It's Hard To Be Humble....Mama Draft....Light Beer Isn't So Bad....
Humble:
Okay, I'm not the perfect brewer, but then again, no one is. A wise brewer once said two things that bear repeating. One, "we are just yeast farmers, if we treat them well, they will give us good beer....Two, " there are two kinds of brewers, the first is the brewer that has had an infected batch, the second is the brewer who will get an infected batch".....All of that said, I just kegged the IPA To Be Named Later (note the hot stove reference with the impending baseball season upon us.....am I the only one who gets these jokes?????) and this beer is nothing short of what I envisioned. The hop character has muted quite a bit since I tasted the "green" beer when I transferred to secondary. The beer has become a hop and malt balance that is just great. The beer even had mild carbonation when I transferred it. It was good. I can't wait to taste the conditioned brew after it gets the proper gas on it. I am excited about this beer. As a brewer who has had the dreaded infections, and has made all of the mistakes that a brewer can make over time, it is a validation of my hard work and my dedication to making great beer that this beer tasted this good. I hope that every brewer gets to this point. The big benchmark is that you pass beer to friends and they say that it tastes like commercial beer. It no longer has that "homebrewed" taste. In effect, you now brew beer that is of commercial quality. That is what we all strive for and the accomplishment is much bigger than it sounds to a homebrewer. Keep brewing out there. You will someday reap the benefits of this designation if you study and pay attention to detail. This is one of the reasons that we brew. Enjoy.......
Mama Draft:
Mama draft isn't feeling the best these days. She is spending a couple of days at the local bed and breakfast, also known as the hospital. I won't belabor the fact too long other than to say, we love you mama draft, and feel better soon!!!!
Light Beer:
Okay, I'm a purist and like to brew adjunct free for most of my styles. I do however brew with adjuncts if the style calls for it, and I am not averse to brewing cream ales and pre-prohibition styles of beer that contain corn or rice adjunct. That said, I am having a new appreciation for some of the better light beers that are brewed commercially. A couple that rate some sort of recognition are Old Style Light, Miller Light, and Iron City Light. Iron City Light is a Pittsburgh tradition that has been popular since 1978. I am happy to say that I have been enjoying this brew on and off now since it's inception. The thing about IC Light that is different is that it is a batch light beer. What does that mean you ask? Well as always, you readers are very insightfull. In today's mega breweries, beers are brewed at high gravities, then cut with purified water to drinking strength at packaging. This increases the brewhouse output, and cuts costs. Well, one of the things that makes IC Light different is that it is brewed at working strength and packaged. This is a more expensive method, but it makes an overall better beer. I can't say that the other two mentioned are brewed this way, and I doubt that they are, but, they continue to have some beer flavor about them that is workable. Old Style is just a good beer that is made in the American Standard style, but continues to produce a beer with good flavor. Miller Light, if you believe the ads that sell this beer, is the largest market share growith beer going right now. AB has actually introduced a new beer that emulates Miller Light's taste known as Budweiser Select. Now why would AB introduce a new light beer when Bud Light is already the largest selling beer in America?? Well, it tastes like Miller Light, and that simply means that they want to squash the remaining market share that Miller brewing holds. Not working apparently, and I suggest that Bud Select will go the same path as Bud Dry went. To non-production. That said, don't give up on American beer just yet. There are a few that you can still enjoy and still have some good beer flavors. With summer coming before we know it, there sometimes isn't anything better that a nice American Standard Light. Might I suggest that if available, IC Light or Old Style Light might be beers that should get your attention when you go to the beer store. Don't take my word for it, give them a try at your local. You might be surprised......
Get some beer and drink it. Support your local, regional, craft, and pub brewers. You'll miss them when they close and your alternative is some syrupy nasty Budwieser......
Mark, The Brewer, and looking for gas on the IPA because I'm always thirsty........
Tuesday, March 29, 2005
Oh Please....Troeg's Trogenator Doppelbock....IMHBC Pub Update.....
Oh Please:
I'm still in denial. I thought for sure the Mountaineers had the game won. Wow. I guess it isn't over until the fat lady sings and she didn't even warm up Saturday. That said, it's a proud of a Mountaineer sports team as I've ever been. What a great group of guys doing what they do and handling themselves with such grace and humility off of the court. It was a pleasure to see these kids doing it the right way. In college sports there has been lately so much "me" and a lot less team, and to see a group that put the team and university first, and know that they are blessed to be there, and know that there is a greater scheme of things in life and that this is not the most important thing that they will ever do was very refeshing. Coach B. continue to do what you do for at long time at WVU and I'll continue to give you all the support I can. Thanks for a fantastic finish to a programs break through year.......
Troegenator:
Thanks Jim. Wow. This is about a 9% abv beer that tastes a little like a chocolate bar. There is virtually no alcohol presence in this really big German style doppelbock. What a great beer. I'm not surprised. I have an affinity for the Amber and the Pilsner as well. This is a great little brewer in the capital city of Pennsylvania. They know how to make beer and it shows in the finished product. The Amber was my sleeper pick last year at the Penn Brewfest. I look for big things from this brewer as they continue to break out in the bigger world of beer....
IMHBC:
Here is the the good thing. Really nothing has changed. But it is about to. We currently have Yuengling Traditional on tap on the guest line. On the IMHBC taps we still have Oatmeal stout (Nitro Ranger Stout) and the Bitter End Best Bitter. The stout is getting light however and up next is the one and only Parrot Pete's One Particular Porter. I look for this keg of this brew to be nothing short of outstanding. Following up the bitter will be a pale ale known as For Whom The Bell's Tolls. Waiting in the wings for a debut in about 3 to 4 weeks will be the IPA To Be Named Later. Brewing is inevitible and up next will be a true ESB (one of my favorite styles) and some summer brews are in the future. Perhaps a pre-pro ale and of course the obligatory wheat beers. Hey, I just brew it, I don't always set the lineup. After that, the world is my oyster. I know that Parrot Pete's will have to be brewed again to get ready for fall, and pale ale, IPA, and ESB are always on the list. I also am looking to get Deceased Dude Ale back in the fray and I would love another steam beer clone as well. Looks like I got a lot of work to do. Wish me luck.....
Get out there and enjoy some good beer. You owe it to yourself......
Mark, The Brewer, and contemplating the next brewing move.........